Specific to "Southern Cone" Spanish, i.e., basically the area encompassed by Chile, Argentina and Uruguay, a recova is a "covered arcade" in architectural terms. Tossing it out to friends in various places who speak Spanish far more fluently than I, the general suggestion seemed to be that it's a local adaptation of recoveco, a nook, cranny, corner, or hidden away spot. In other parts of the world a recova is more of a butcher shop, a meat market, and, here, throughout most of the 1800s, there was a large building, long ago demolished, called "Recova de la Carne", located along the west side of what today is Plaza de Mayo.
We have one here today. We actually have more than one, but there's a famous one, and when locals talk about "La Recova", everyone knows they're talking about the restaurant arcade underneath Av. 9 de Julio at the lower end, where Posadas crosses underneath. Here, a half dozen restaurants have blossomed, each, it sometimes seems, trying to outdo the other for being among the pricier in the city. It's an enclave that, for that reason, I've generally simply passed by. At some point, I knew, I'd check them out, albeit perhaps just a graze….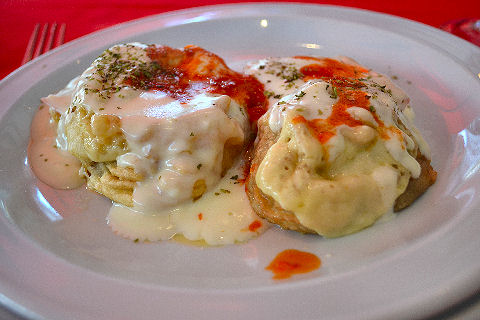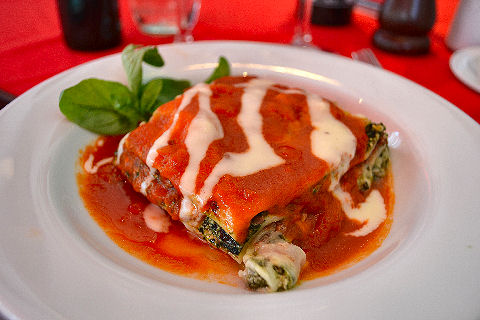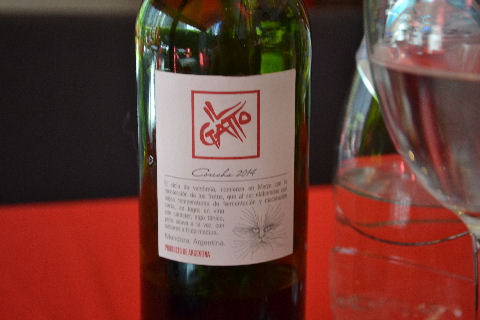 Let's start with the easiest Italian spot on the wallet, Il Gatto, Posadas 1025. It's a chain of trattorias here and in Córdoba, serving up what I always imagined to be a sort of "red sauce joint" level of Italian cooking. My imaginations are more or less on track. Though there are white tablecloths and waiters in black who rush to your table (jeez, let me sit down and actually take my jacket off, and, oh wait, I'd actually like to open the menu and look at it before giving you my order), the prices aren't all that bad. Appetizers stay, for the most part, well under the 100 peso mark, and main courses from the mid-100 to around 200, pastas generally being at the lower end of that.
A starter of baked eggplant with ham and mozzarella was a bit stodgy, with a thick, gloppy white sauce, and it was all a bit under-seasoned. No salt, nor pepper on the table, and it took a bit of flagging to get anyone back to the table to bring them. Once the plates are on your table, you become near invisible to the staff – in fact, it was finally the hostess at the door who came over to see what I wanted, after I unsuccessfully tried to get three different waiters' attention as they passed by. The lasagna, a bit better seasoned, though still needing a sprinkling of salt and numerous grinds of pepper, was five layers of pasta interleaved with two layers of ground beef and onions, and two layers of tomato sauce, then topped with a bit more and some white for color. I know there's a city-wide prohibition on restaurants using too much salt, based on a history of them doing so, but there's also a level of going too far the other way. Adding salt and pepper at the table only goes so far in fixing under-seasoned food, it's far better if it's properly seasoned while cooking. All in all, a bit average, and with a half bottle of house red and a bottle of mineral water, plus tip, lunch came in at 380 pesos (official rate, about $38, blue rate, roughly $25).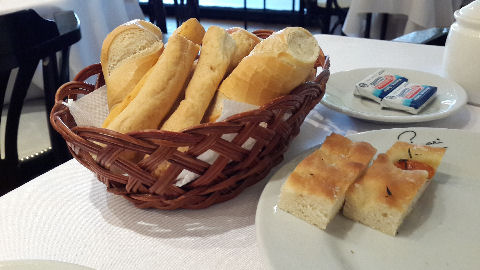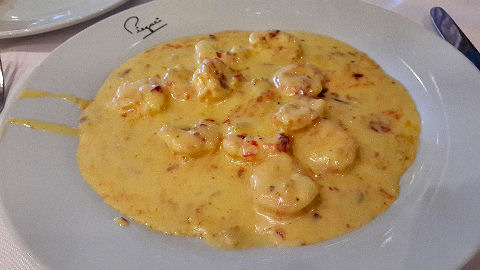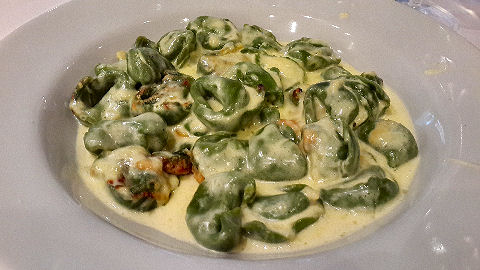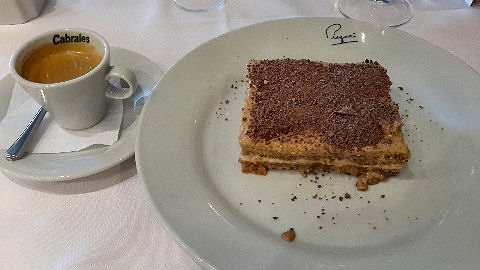 Many moons ago (almost a decade), I wrote about a mixed experience at a small outpost of Piegari. In the Recova de Posadas, there are two – one focused on meat, Piegari Carnes (to be checked out another time), and one on pastas, simply Piegari Ristorante, Posadas 1042. That outpost I ate at was short-lived, it just never took off, being too expensive for the neighborhood it was in (it's funny looking at the prices I was whingeing about back then, but of course the exchange rate was far different, as were the prices of pretty much everything in the city, and had I paid the full bill then, with tip, it would have been about 85 pesos, or at the time, roughly $33). I think, however, the experience put me off a bit, and I never made it until now to the original.
As the first time, a great breadbasket, and particularly really good focaccia. Service was prompt, attentive, friendly, and even involved recommendations! Narrowing it down between a few appetizers, I settled on the prawns in garlic cream sauce. If I have any quibble about the service, it's that the waiters bring out a piping hot platter of whatever you order, don't show it to you, head to a sideboard, and scoop it onto a cold plate that's sitting there on the waiters' station. It's a little messy, as you can see, and, well, cold plate, hot food, and all that. Still, absolutely delicious.
I hadn't thought through that my second course also had a cream sauce, or I'd have picked a different first course, because I wasn't going to not have the capelletti verdi, a traditional pasta from Val d'Aosta in the northwest of Italy. Mostly I picked it not just because it sounded delicious, which it was, but because I don't think I've ever seen a menu item from that region in an Italian restaurant outside of northwestern Italy. Parmesan cream sauce, gratineed, perfectly cooked. Totally the opposite of that experience so long ago. And, even, one of the better tiramisus I've had here in BA, if not the best. Bottle of water, glass of wine, complimentary glass of champagne on arrival, tip – all told, 1000 pesos, or officially, just over $100.