Over the years, I've visited Uruguay four previous times headed to wineries… a first solo visit to Pisano in February 2005, the first time I'd been to Uruguay (pre-blog days, and I'm not counting it as a winery tour), in August of 2005, with a former friend, just us, visiting only two spots Pisano and Pizzorno near to Montevideo. Then a whirlwind tour in June of 2006 with INAVI, the national wine bureau, which resulted in an article for Wine Business Online; and then again, less of a tour (with only one winery visit), but a wine judging event, last year in Punta del Este. So when my friends David and Rachel Cane said they were headed that way with the intent to spend a couple of weeks touring about, and invited me to join them, I decided to take two days in between all the other things going on and pop over and catch up with them, and see what's new. Rather than post copious tasting notes, I've singled out a couple of photos and wines from each that stood out during a quintet of winery visits.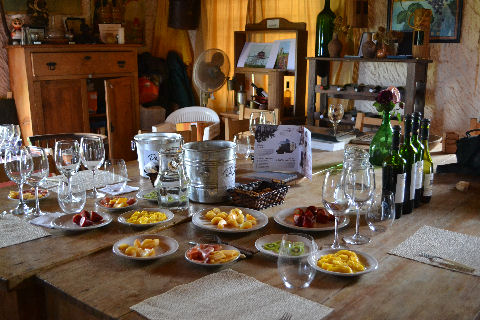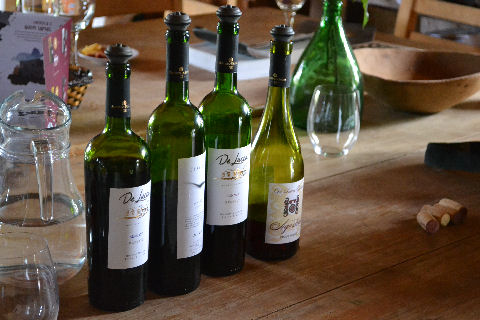 Our first stop was Bodega De Lucca, a winery I wasn't familiar with, despite a history stretching back to the 1940s (and prior to that in Piemonte, Italy). Currently run by the third and fourth generations in Uruguay, Reinaldo and daughter Agostina, they're producing some of the more… hmmm… individualistic style wines I've encountered in the country. Let's just say they have their own ideas.
2015 Marsanne Reserva – beautiful notes of apricot, loquat, lapsang souchang tea, all wrapped up in a well balanced, medium acidity package.

2008 Rio Colorado Reserva – deep, earthy wine with a mix of red and black fruits, jumbled together and dotted with notes of graphite, sweet, soft tannins, medium acidity, and a long finish. 40% Cabernet Sauvignon, 40% Tannat, 20% Merlot.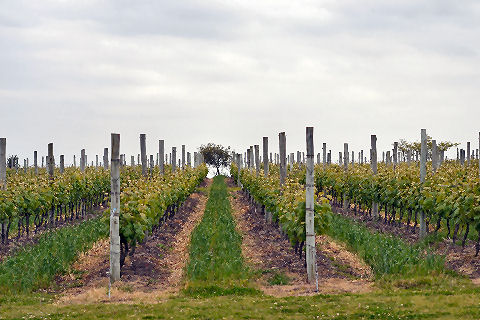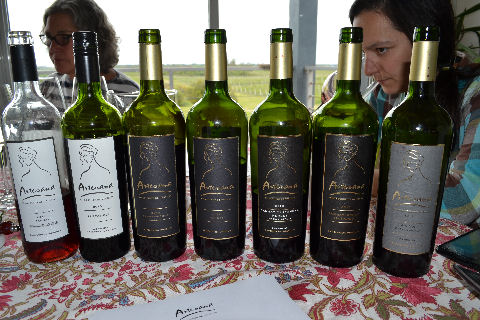 A wine I've both heard of and tried a few from in the past – in fact at last year's event, they had the standout wine of the competition for me, Artesana, a relatively recent entry to the Uruguayan wine scene, and is owned by Blake Heinemann, of Sunoco in the US – the vineyards having been planted in 2007 and the winery built in 2011. Neither winemakers nor anyone "in charge" was present, and the young woman who guided us through the tasting spent the entire time on her phone texting to one or another of them every time we asked a question. We were also supposed to have lunch at the winery, but no one was there to prepare it. A little disappointing organization-wise.
2013 Tannat-Zinfandel-Merlot Edición Limitada (US Export blend) – interestingly, this wine has been released in two different blends with the same label, one for US Export the other for South American consumption – the latter was not well balanced and showed signs of oxidation, the former, however, was excellent (the wine I really liked and that was my favorite of last year's tasting was labeled as "Reserva" and was the 2011 of, I presume this wine) – delicious fruit forward style with plenty of mixed red fruits, spice, milk chocolate, and just a touch of oak, well balanced, medium acidity, soft, sweet tannins, and a very long finish. (55% Tannat, 15% Zinfandel, 30% Merlot)

2013 Tannat Edición Limitada – not yet released, this was an inky, deeply flavored wine with blackberry fruit, stony minerality, star anise, bittersweet chocolate, medium acidity and soft tannins. The long finish really brought out the star anise character. To be released around the end of this year or early next.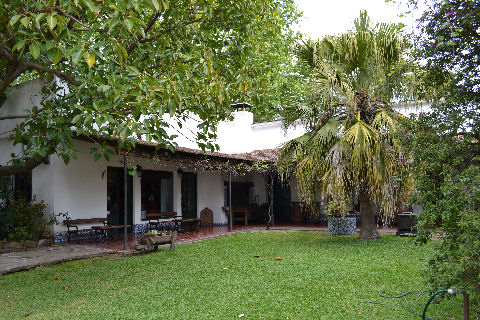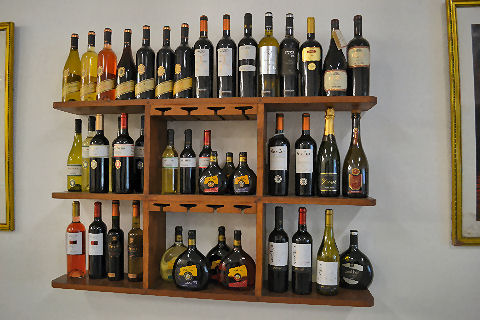 I spent a fair amount of time talking about the now 250 year history of Bodega Carrau in my 2006 writeup, so I won't go back through it. Brother and sister Javier and Margarita guided us through a tasting of a selection of some of the numerous wines produced here.
2013 1752 Petit Manseng-Sauvignon Gris – I don't know that I've ever tasted a dry Petit Manseng before, it's a grape that I've mostly encountered in dessert wines from southwestern France, and one from Mendoza – delicious, spicy, extra-ripe pear fruit with touches of toffee and minerals, medium-high acidity, absolutely delicious. (90% Petit Manseng, 10% Sauvignon Gris)

2013 Carrau Merlot de Reserve – spicy, black cherry cola, medium-high acidity, soft tannins, long spicy finish – probably the best Merlot I've tasted out of Uruguay.

Just as a side-note, we also tasted a fascinating wine from their Vilasar line, a grape called Sousão, that I don't believe I've tried before – it had an odd flavor profile of hierbabuena, candy-cane mintiness, very high acidity, red fruit, and tight, dry tannins – not a favorite, just interesting.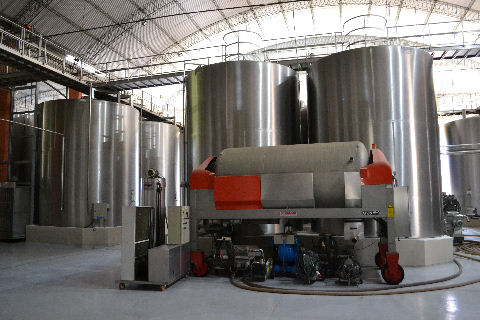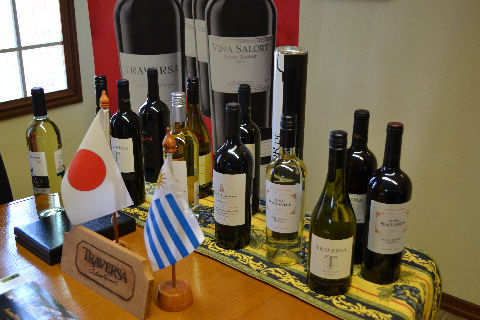 An originally unplanned visit, when our friends at Pizzorno couldn't keep our appointment, the person arranging the tours got Traversa to fill in. Kind of the opposite in scale, this is Uruguay's largest winery, mostly producing supermarket level cheap table wine (an interesting side-note, the person who picked us up and took us on the tour and tasting, let us know that Uruguayan table wine is really quite good, unlike table wine from any other country where it's just undrinkable swill…). Given the reputation, we were surprised at how good some of the higher end wines actually were. None of them are currently imported to the US, but Traversa is working on it.
2015 Viña Salort Chardonnay Reserva – spicy, vanilla, pineapple, cantaloupe, and touches of caramel, fairly high acidity though still quite well balanced, medium length finish.

2014 Noble Alianza Tannat-Merlot-Marsellan – not surprisingly, a blend of red and black fruits, plenty of spice, and bitter chocolate. Dry tannins that still need time to soften, medium-high acidity, medium length finish.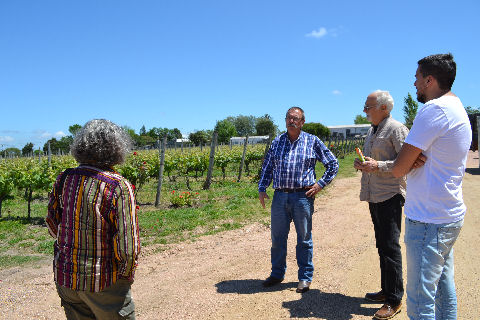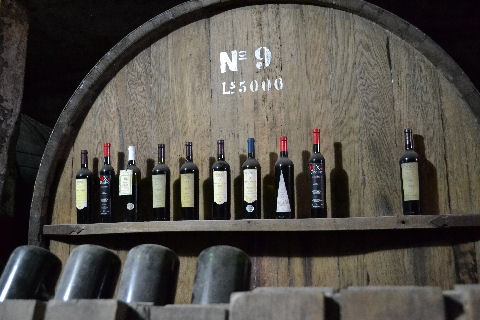 And, for me, no trip to Uruguayan vineyards would be complete without a visit to friends Pisano. We also got to try a couple of wines from one of the next generation, Gabriel, who has his own winery now, Viña Progreso, where he's making "experimental wines". We tasted a whole lot of wine here, especially as we stayed for lunch and kept opening more bottles… it was hard to pick just two, but:
2013 Pisano Rio de Pajaros Pintadas Tannat – beautiful expression of Tannat, with black cherry fruit, dark chocolate, well balanced, medium acidity, soft, dry tannins, and a long finish.

2011 Pisano Petit Verdot RPF (Reserva Personal de la Familia) – herbs and plums, wet stone, dry tannins, medium acidity, and just a hint of a pleasant bitterness, long finish.
A couple of really good dinners rounded things out, with steaks at La Otra and creative cooking at Tandory. The only negative of the trip, Aerolineas Argentina canceling my flight at the last minute, too late to take the Buquebus back, and not willing to put me on any flight until afternoon of the next day, so I headed to the bus station at 9 at night and grabbed the overnight bus back to BA – it turns out not to be a bad 8-hour trip, and really cheap – slept most of the way, only waking up to pass through immigration at the border.