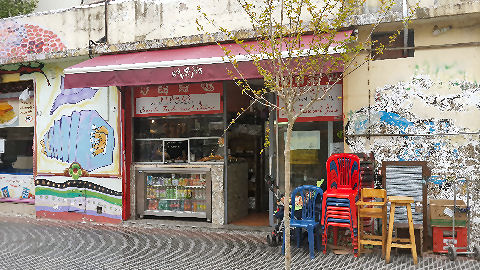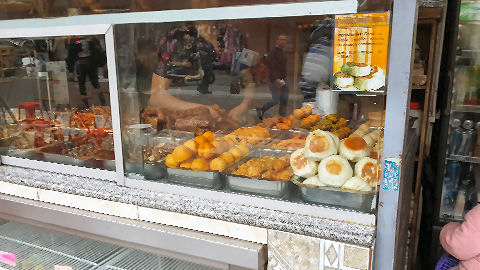 Let's start with He Who Cannot Be Named, or, rather, the restaurant that apparently cannot be. Those of us who spend any time in Barrio Chino know the place, it's at Arribeños 2122, it's got lacquered ducks hanging in the window and all sorts of buns and parts and such on display, and is basically the poster child for -a hole-in-the-wall. Everyone calls it Comida Tradicional China, including all my fellow blogger folk, because it's the only sign that isn't in Chinese characters in or on the place. But the exact same sign is on almost every Chinese restaurant on the block – they all bought the same stencil.
Now, it's a place I also hadn't eaten at until recently. Over the last decade plus, I've often grabbed one or another of the snack type things in the window on my way home and had it to nibble on the way or when I arrived, but I'd not entered and ordered. The place specializes in noodle dishes, both in soup and stir-fried. Once I'd ordered on my first visit, I thought I'd ask the young man attending the room what the name of the place was. He seemed confused. Why did I want his name? Not his name, the place.

He squinted at the characters, swallowing nervously, clearly sort of sounding them out in his head, and then finally opined, "It can't be translated into Spanish". (My guess, given his flawless local accent, he grew up here and doesn't read Chinese.) Challenge accepted. Turned out to be really easy in the end – the characters, once you set aside the flourished calligraphy, are pronounced Táng chéng lăo yā, and translate quite simply to Pato de Barrio Chino, or in English, Chinatown Duck. Hey, lacquered ducks in the window and all that. On to the food.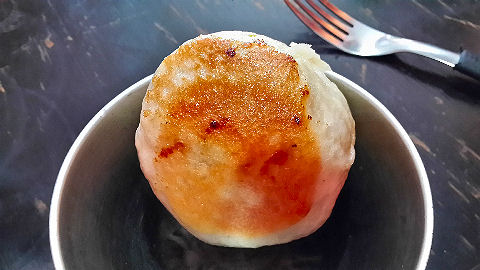 A traditional steamed bun filled with a lightly spiced pork filling. It's really good, albeit not what I expected the first time I had it – which is that slightly sticky, sweet, and szechuan peppercorn char-siu pork filling – this is more like a really good pork and green onion meatball inside.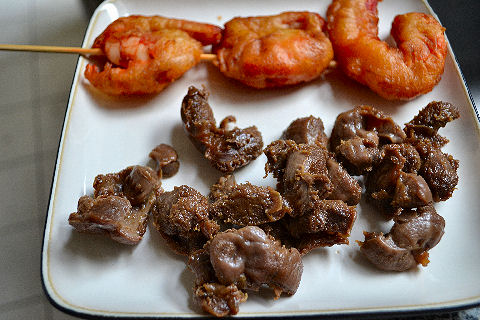 As I said, I often just grab some snacks for home, here the tender, soy infused chicken giblets, and a trio of fried prawns.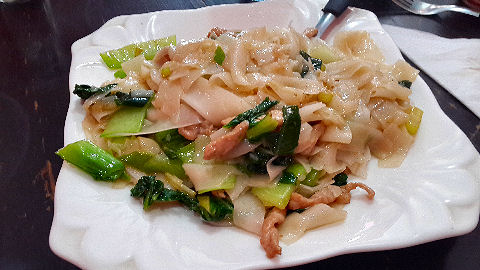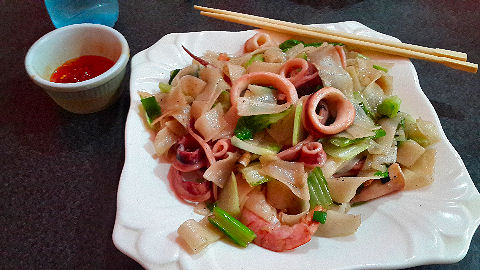 Although there are different types of noodles available, I like the wider ones (they're available thin, medium, and wide), and I think only rice noodles are on offer, though I could be wrong. Available with either pork or shellfish, the former are my favorite. Hot sauce on the side to add to taste (I usually just dump the whole amount on, as they're a little stingy with the quantity they serve – I'm guessing not many people go for it).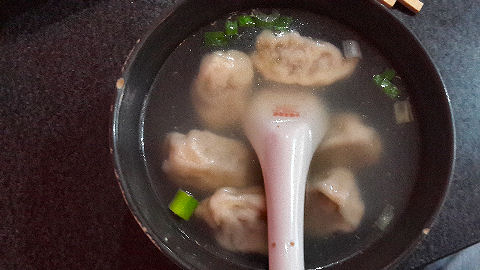 In soup, my favorite are the "empanaditas", the filled dumplings – again with the pork mixture from the buns above.
Plenty of other items to try that I haven't gotten to. And I guess, given the Chinatown Duck moniker, I ought to get one of the ones hanging in the window for lunch one day….