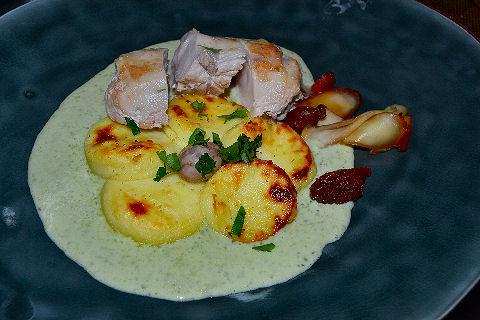 "Best rabbit I've ever eaten!"
New plate that's been in the works for a bit:
Rabbit Loin with Semolina Gnocchi.
Rabbit: Salt and pepper a rabbit loin inside and out, roll, and tie. Sear until lightly browned on all sides, finish in hot oven for 6-7 minutes, until just medium. Rest. Untie. Slice. Separately, saute the kidneys (there's usually one with each loin, at least the way they arrive to us), in a little olive oil, salt and pepper.
Semolina gnocchi: Bring 5 cups of milk to a boil, very gradually whisk in 1½ cups of fine semolina, then over low heat continue cooking for anywhere from 15-30 minutes, stirring slowly and continuously – it really depends on how finely ground the semolina flour is how quickly it will cook through. It should start to pull away from the sides and form a sort of elastic, doughy mass. At that point, off the heat, stir in 3 tablespoons of butter, ¼ cup of grated romano cheese, and 2 egg yolks. Spread out on a cold, smooth surface (if you have a marble countertop or slab, as we do, that's perfect), or in shallow sheet pans. Use a spatula and keep dipping it in water so it doesn't stick to the dough – spread the semolina out to about ¼" thickness. Let it cool and firm up. Using a small round cookie cutter. Arrange in a ring. Melt 5 tablespoons of butter, drizzle it all over the gnocchi, pop it in the oven at 375°F for 30 minutes (until lightly golden brown), and serve, sprinkled with chopped parsley.
Mushrooms: Saute thinly sliced king oyster mushrooms in butter and olive oil until golden, season.
Sauce: Make a roux with 60 gm butter and 45 gm flour and cook until just starting to color. Add 1½ cups each of chicken stock and cream, a few anchovies, and a couple of hot chilies. Simmer together, whisking, until thickened. Puree with a handful each of hierbabuena (or a bit less of mint), and parsley. Season with salt and white pepper.
Chili paste: Our version of a Korean gochujang – 9 tablespoons miso, 3 tablespoons smoked paprika, 2 teaspoons Korean red chili flakes (gochugaru), and 2 tablespoons sugar – mixed together well and left to sit for at least a few hours. We usually have some in the refrigerator.