I've written in the past about the annual BA Food Week event. It's one that in general I've ignored, I sort of gave my reasons there. That was 2013. Last year, I decided to throw myself into it and give it a shot, rather than just whinging, and made it to six spots (here, here, and here), out of which, I concluded, I'd only return to one of. This year, I went back to ignoring the whole thing, except when a friend invited me to join her for lunch at one. And so, a day last week, we toddled off to Topinambour, Bonpland 2275 in Palermo.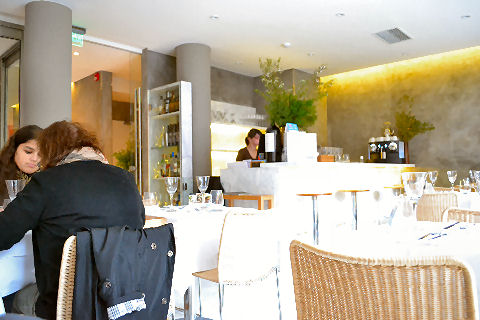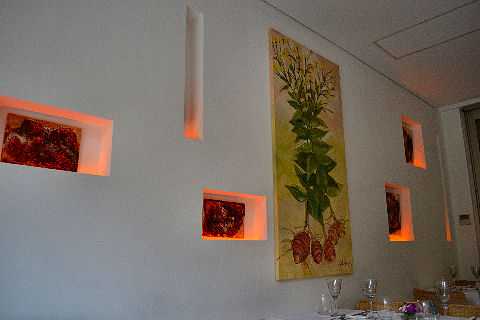 It's a pretty little room, with seating for 20-some people, at the rear of the lobby of the Palo Santo Hotel. The name, topinambour, is the French name for a sunchoke, a.k.a. Jerusalem artichoke, sunroot, or earth apple, which makes up the theme of the decor. It's a root vegetable not easy to get here, a shame, as it's a delicious one – while the regular menu includes a dish or two using it, the Food Week menu didn't. Overall, the menu is relatively classic French brasserie style food.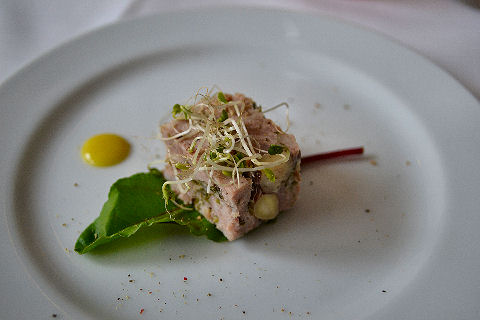 Friendly waitress, nice ambiance. Brought us our little promo cocktails without being asked (something I mentioned last year that most places seemed to skip over), and a little extra, an amuse bouche from the kitchen, a house-made paté. Minor misstep on service – waitress had no idea what kind of paté it was and had to go ask. Good texture, lacking a bit of seasoning, but a nice start.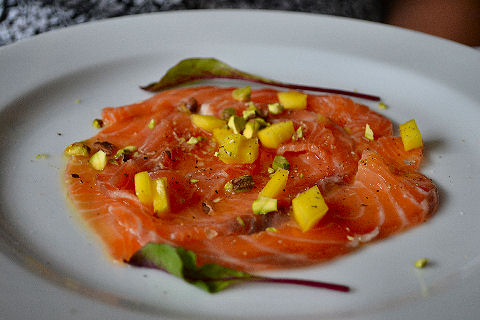 Salmon carpaccio – the salmon fresh, little touches of mango gave some sweetness to the dish, but it was lacking the promised citrus, and to the other side, had too much salt sprinkled across it. Easily remedied with a couple of lemon wedges brought by the waitress, but, we shouldn't have had to.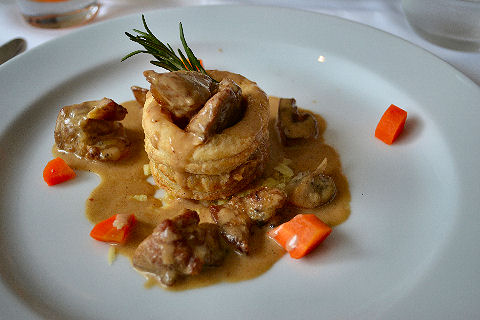 Dish of the day – sweetbreads and mushrooms in a puff pastry shell with a spectacular cream sauce. Perfectly cooked, perfectly executed, beautifully presented. If I have any critique about it, the use of a rosemary sprig as decor – there was no rosemary in the dish, so… why?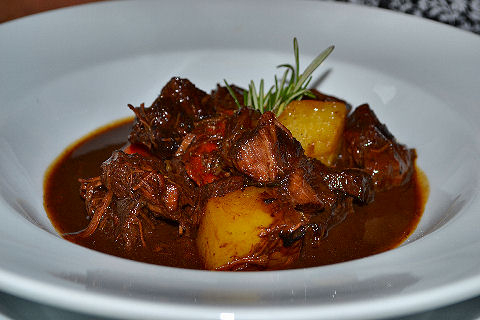 A very good rendition of a beef bourguignon, completely classic, filling and tasty. Same bit on the rosemary sprig though… although it's possible that there was some rosemary in the dish. I'm just not a fan of putting branches in dishes.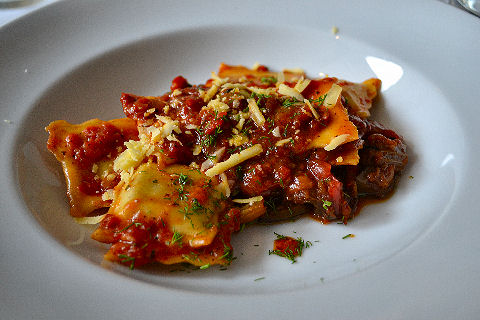 Decent, if not overly interesting ravioli filled with ossobuco "crocante", which means crispy – I have to admit I was expecting something like a toasted or fried ravioli. I'm not sure where the crispy comes in, if anything, it was the other direction, a very soft, almost pureed filling, and slightly past al dente pasta. The sauce, listed as a piperade (a Basque medley of onions, green peppers and tomatoes), plus tomatoes perfumed with curry was good, but a bit underseasoned, and no hint of curry.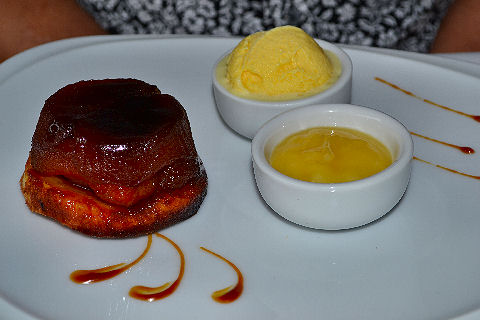 Desserts were fine, but again, just not that interesting. An apple tart tatin arrived as more of a muffin with some caramelized apple in it, the vanilla ice cream was light on vanilla flavor, and the black pepper creme anglais had no flavor of pepper at all.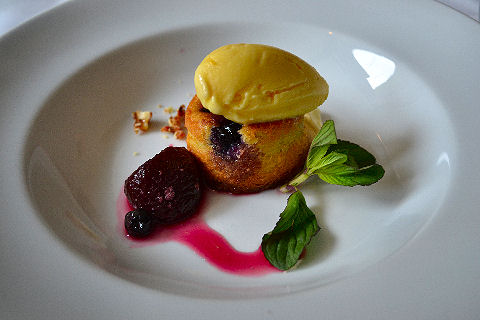 The other dessert, a supposed clafoutis of seasonal fruit, likewise arrived seeming a bit muffin-ish (maybe they only have muffin tins for baking), and not at particularly clafoutis-ish. The yogurt cream needed more zip, the almond ice cream was muted.
Overall, a kind of underwhelming, if acceptable brasserie style lunch, at least at the Food Week pricing. There are some dishes on the regular menu that are intriguing, though given that the regular pricing of the menu means paying as much for just a main course as the entire three course meal of Food Week, makes it unlikely I'd go back to try them.
Since the title of this post promises "sundry", just a couple of quick bites over the last few weeks.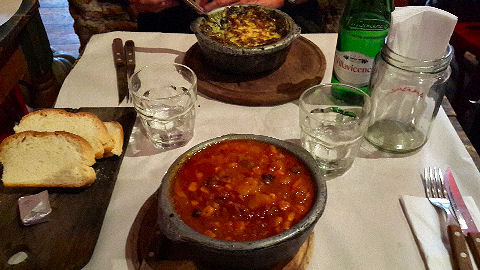 A stop by an old favorite, Cumaná, Rodriguez Peña 1149 here in Recoleta, with a winemaker friend who was passing through on his way to Mendoza. Reminded me of just how good it is. Great carbonada and a squash and spinach casserole. Cheap. Delicious. Given that it's just a few blocks away, we should go there more often.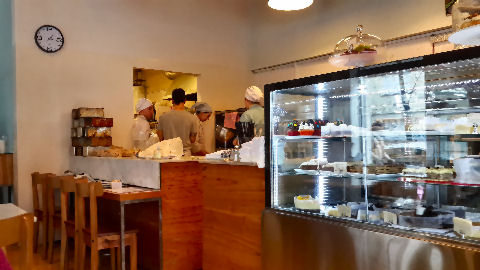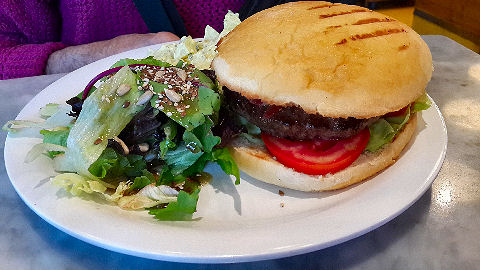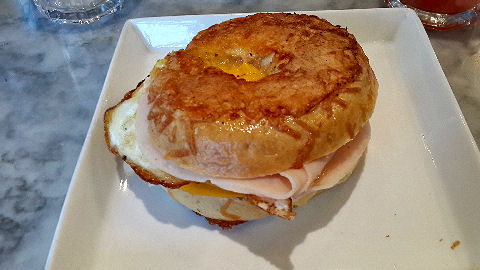 Lunch with a friend in Villa Crespo at Don, Malabia 601 (not to be confused with Don Restó in Belgrano). This place is basically a bakery and pastry shop, with an interesting menu of sandwiches and salads available for lunch. My friend had the burger and liked it, plus it came out pretty close on to the requested rare cooking – since I didn't try it I won't enter it on my list, but I may go back and give it a shot one day, it did look good. I went for a turkey, cheese and egg sandwich on a bagel. Not really a bagel, more of a bread roll with a hole in it, but good flavors. Since we often meet up in that area, we'll probably be back.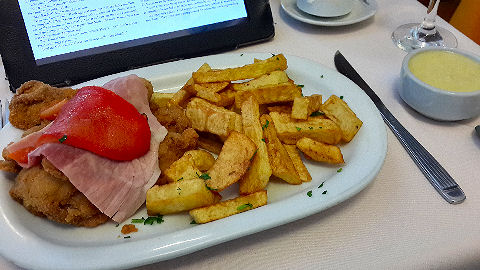 And, back here in Recoleta, lunch solo at Los Pinos, Azcuenaga 1500, mostly just to try their version of one of my occasional quests, pollo maryland. Good sized portion, nicely cooked, decent flavors, not the best I've had, but quite acceptable. What was I reading, you ask? I'm working my way through this list of fantasy novels. On the screen, The Way of Kings, by Brandon Sanderson, an excellent read!