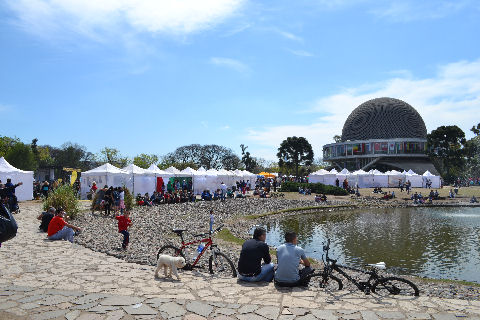 I've never figured out why, but all of the 2-3 dozen ethnic food festivals here in BA seem to take place over the winter – which to me seems the worst time of the year to have outdoor events. Those are quickly followed on by the big gastronomy festivals, like Bocas Abiertas (this past weekend), Raíz (mid-October), and Masticar (though this year it was moved to early, in April, I don't know if there's another one coming up in November, as in past years). Somehow, we missed all of the June ones, and I only made it to a few of them in July – Venezuela, Colombia, Peru (skipped Brazil this year, which happens the same day as Peru, but I just couldn't deal with more food); then of course, we missed all the events in August while we were traveling (they're held almost every Saturday and Sunday, in different locations around the city – you can find them each week on the city's cultural agenda website – plug in the date and choose "Aire Libre" for outdoor events).
The day I got back was Portugal – I slept all day. I spent the day of one of my favorites, Mexico, in bed with a cold, and also the same day missed the annual kosher food festival. I managed to make up some time though the past two weekends – a week ago Saturday was the Southwest Asian food festival, out in Barrancas del Belgrano, a small affair, and unfortunately one where the organizers expected far fewer people than showed up, virtually every stand was out of food within an hour or so of opening; last Sunday was the 50th anniversary of the Korean community in Argentina, and literally hundreds of stands, both food related and not (everything from tech firms (Samsung showing off their Virtual Reality goggles) to karaoke stages, to a huge K-pop staged show (including an appearance by superstars of the genre, SHINee), and fireworks), took over almost all of Parque Chacabuco – the only disappointment, almost all of the food was "dumbed down" in spice levels for local tastes. This past weekend was the wind-down, with Saturday being the Chilean festival along Av. de Mayo, and Sunday being the big "one booth for every ethnic community in town" taking over the park surrounding the Planetarium that ends up the "BA Celebra… X" series of festivals.
Let's cap it off with the video.