It's starting to seem like every week I hear about another new gourmet burger spot that's opened up. Where just a few years ago, it was an actual search to find a burger worth even considering, now my list of places to try is getting longer than I can keep up with. I suppose I could concentrate and just go out there and try one or two a day for a couple of weeks and get all caught up, but much as I like my burgers, that seems like a poor diet plan. I'll just trudge along and who knows, maybe somewhere in there, it'll all even out.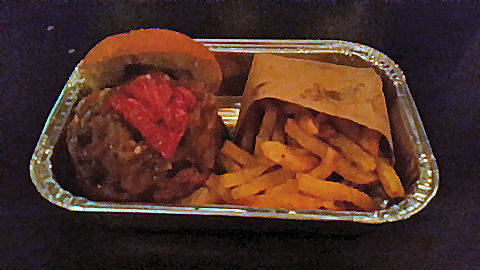 Let's start with what, for BA, is more or less a classic. One of the first spots to head down the "gourmet burger" route was Burger Joint, Jorge Borges 1766 in Palermo. I gave it a shot not long after it opened two years ago (which shows you just how recent the gourmet burger boom is), and I gave it a thumbs up, though not an overly enthusiastic one. At the time, it tied for me with Sugar Bar's burger, both of them topping my list as the only "4 Napkins" – I had yet to find a 5-er. Yet, reviewer after reviewer out there, generally, I'd say, "newbies" to the expat norteamericano community here, have given the place breathless raves reminiscent of a teen in an after-school TV special writing in a secret diary about her dream prom date. And I had said I'd go back again, though that was before the boom started. Perhaps I'd been hasty, perhaps it had improved? It was time to find out.
Headed there a recent evening with a friend, another chef here in town, who hadn't been there and we ordered up a couple, me going for a rare cooked Le Bleu, him a medium American. Now first off, hmmm, the place is bigger than I recall – is it my memory, or have they expanded? They have seven burger combos available now instead of two. They had fries at the ready. They have a couple of good, craft beers on tap. The prices have close to doubled (still very reasonable, at 100 pesos for a combo with fries and a beer, or 90 with a soft drink). And… thoughts post-burger? It's still a very good burger, but we weren't wowed by them. A little under-seasoned, and once again, over-cooked – my rare burger was more or less medium to medium well, and his medium, the exact same. The toppings are good and fresh though rather scant (perhaps I should have tried the Mexican again just to see if it's changed). The fries, crispy outside and soft in, one of the few places that double fries them (the main reason most fries here are soft and squishy, they're only single fried), but mostly broken up into shorter pieces. Verdict? For me, it may have been one of the first, but it's been surpassed by a good number of the new spots, and remains in the 4 Napkin world.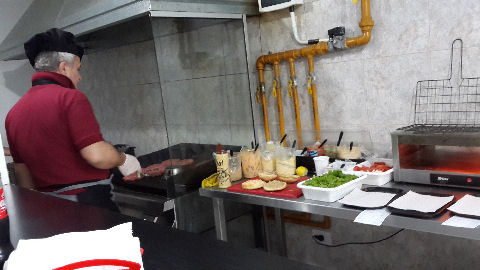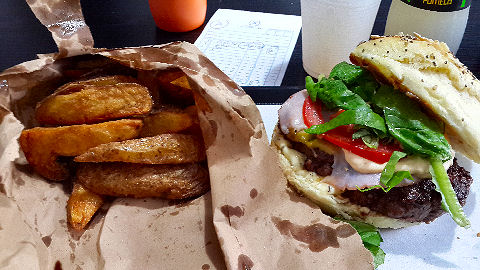 What do the French know about making a good hamburger? David Lebovitz, an American pastry chef who lives in Paris, has written on the topic more than once. Then again, just because a place is named Paris Burger (Suipacha 180 in Centro), doesn't mean that it has anything to do with France. Though, it does, the trio manning the stations behind counter and in front of grill, are imports from the land of the Eiffel Tower, and are riding the gourmet burger wave with Gallic enthusiasm, chatting away with each other in French and with customers in heavily accented Spanish. The place is primarily a takeout counter, there are only five barstools on which to perch, and not overly comfortable, as the line of folk waiting for their to-go orders crowds in behind, breathing down your neck, talking over your head, and reaching across you for their lunches. If you have the choice, sit at the furthest from the door.
One claim to fame in their combos, a quartet of "French cheese burgers", which doesn't specify on the menu, but turns out to be a rotating selection – only one of them is available at any given time, changing every fifteen days. I went with one of the regular menu items, a Bastille burger, topped with tarragon-shallot sauce and cured pork loin. Well seasoned, the burger came out a perfect rare to medium rare as requested, and I liked that it's one of the things they actually ask when you order, rather than assuming the porteño preference for medium well. Excellent seeded bun, one of the best I've had for a burger here. The sauce could have had more tarragon in it for my tastes, but it was a nice change from the usual selection of condiments. Choice of regular fries or steak fries, the latter, a bit salty for my tastes, but big pillowy bites of potato. It did look like they were double frying, so the regular fries, while I didn't try them, looked crispy. And quite reasonable prices, ranging from 40-70 pesos depending on toppings. Fries and drinks extra, no combos. A solidly high 4 Napkin entry, bordering on the 5 level.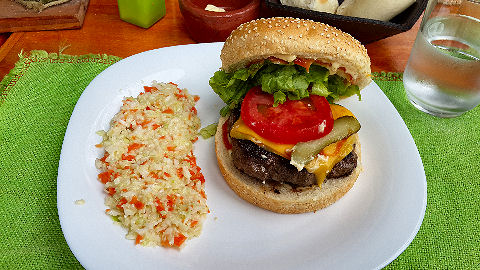 One of the newest, I think this place has only been open a few short weeks, perhaps a couple of months, La Carbonera, El Salvador 4401 in Palermo, offers up an interesting mix of Argentine parrilla (only at night), Venezuelan arepas and patacones, and American style hamburgers. A trio of burgers are on offer, and the "American" is a simple cheeseburger with lettuce, tomato, and pickles, plus "salsas", which turn out to be a squirt or two each of mayo and ketchup. The burgers come with fries automatically (80 pesos), but as coleslaw was on offer, I asked for a substitution. The conversation about the temperature on the burger went something like this:
"I'd like that rare to medium rare please."
"You don't want it cooked well done?"
"No, I'd like it pretty close to rare."
"Very strange, that's just not normal."
And, the burger arrived well done. I almost sent it back, after all, I'd just had the conversation, but it was tasty, well seasoned, good toppings, a very good bun – I ended up loading the coleslaw on top and munched my way through it quickly. Waitress returned, and in one of the more WTF moment conversations I've had…
"How was your burger?"
"It was delicious, but it was overcooked, it came out well done."
"Yes, at lunch we only cook them well done. At dinner time, when the parrilla is open and we have higher quality meat available, we can cook them rare."
… umm, as I said, WTF? I mentioned it to the friend who'd recommended the place, he said, that yeah, he got it well done at lunch too, despite having asked for medium rare. He checked in with the person who recommended the place to him, who confirmed that he'd had the same experience at lunch, but at dinner time, getting it rare was no problem. Still, even being overcooked, and now wondering just what's different about the meat quality at lunchtime, it was delicious.
So… three solid "4 Napkins" for this round.