Given the last two exceeding long posts, albeit focused on tasting menus, let's just wrap this up and return to our regular scheduled programming. It's still going to be long, because I'm covering four restaurants, but no more tasting menus… promise.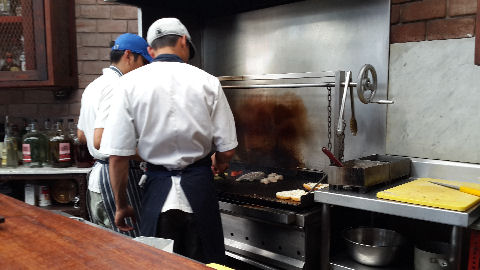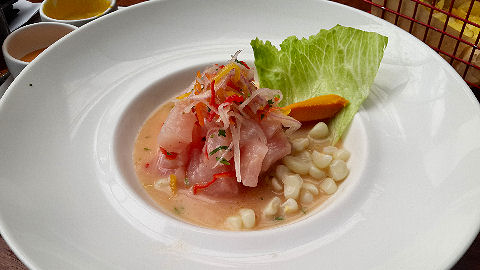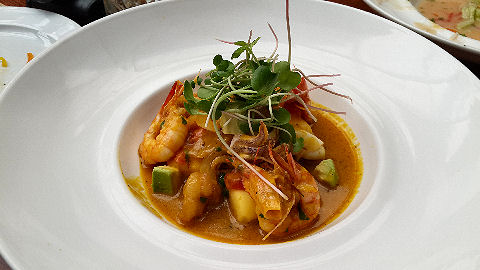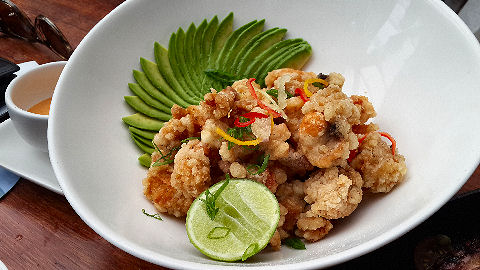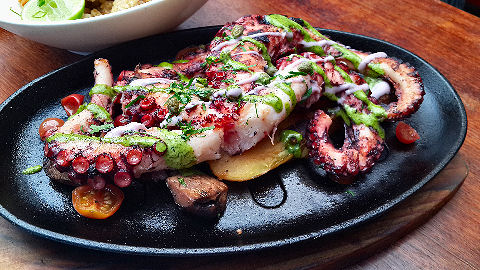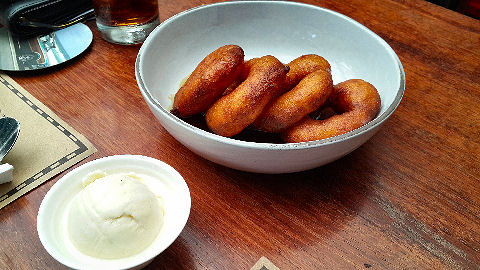 Wayback… Henry's and my first visit to Lima together, in 2007, and back in touch with someone I knew in high school. Since that time we've gotten to know each other a little better, meeting up in NYC for a bite one day, keeping in touch online, and, by pure chance, it turned out he had popped down to Lima for a couple of days during the same time I was there this time around. So, we met up for lunch at one of his favorite spots, El Mercado, Av Hipólito Unanue 203 in Miraflores. Bustling, big, open grill, trendy, noisy. Part of the restaurant group of Rafael, which I really wasn't fond of when I visited last year. Far, far better experience here. Excellent ceviche, a tasty, warm causa chiclayana, great grilled octopus, and a decent bowl of hueveras (fried fish roe). Great food, decent service given how busy it was. I'd go back.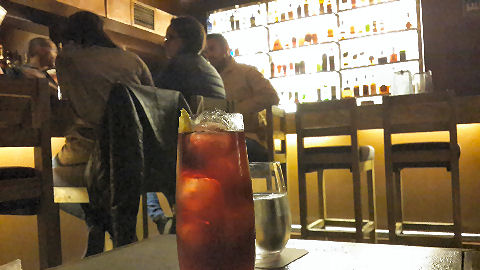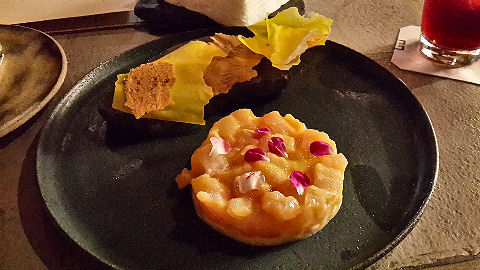 I'd hoped to be able to spend a little time, as I mentioned in the last post, in the kitchen at Central, where I'd had dinner a couple of years ago, but I don't think my friend Gregg ever got an answer back from chef Virgilio. And, unfortunately for my tastebuds, but probably not for my waistline, there were simply no reservations to be had in the dining room there at last minute (he said the first available spot was mid-October – that's what getting voted #1 does for you). But, he got me a small table in the bar, only no option to do the tasting menu there, nor even order from the regular menu – just a short bar food menu. Mildly disappointing, but at the same time, given the big lunch (above), it turned out that two small plates was about all I could handle anyway – a scallop tartare with "charela" (no idea, and my waiter didn't have a clue either) and root "peelings" – chips; and a warm paiche ceviche. Both tasty. Ah well, maybe one day for the tasting menu.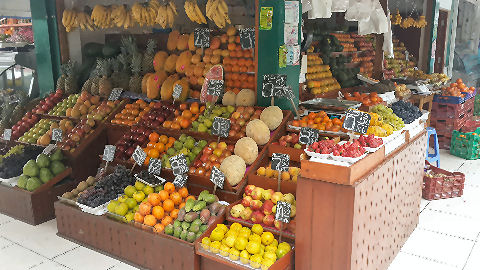 A morning wander through Miraflores and San Isidro – the only thing of interest other than some nice scenery along the water was the Mercado San Isidro. Much smaller and a bit more limited in selection than the Surquillo markets, and a bit more modern/upscale feeling, but a pleasant visit. There was even a group of foodies on a tour through it with a local guide.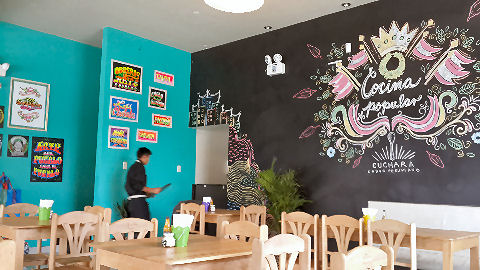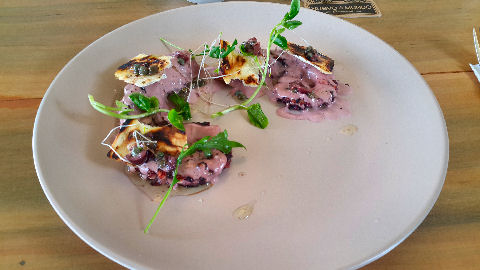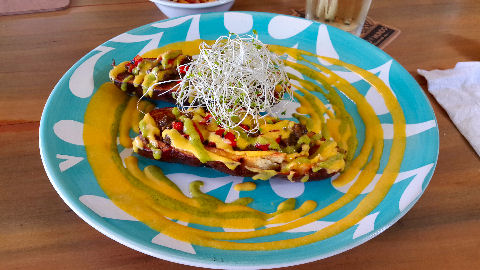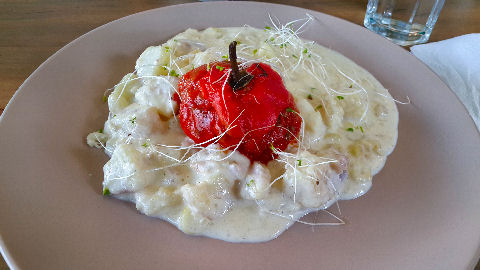 Way, way back (again), on our first visit to Bardot, we'd met and talked a little with chef Dennys Yupanqui. He long ago moved on to various projects in various locales outside of Argentina. We've kept in a sort of on and off touch – more just "liking" each other's posts on Facebook and such. When I suddenly discovered I had an entire extra day in Lima (my bad – I thought I'd booked a noon flight back to BA, but it turned out it was a midnight flight – damn I wish all those sites used a 24-hour clock, 12am just didn't register as midnight, what can I say? – my hotel was great about it, giving me a 6pm late checkout with no charge), it meant two more meals. I suddenly remembered Dennys posting something about opening a new place soon – and went to his page and sure enough, he'd opened up Cuchara, Av. Rosa Toro 690, in the San Luis district, just 11 days earlier. I'm just going to say, if you're in Lima, go there. [Unfortunately, closed. Dennys is working on a new project – more news next time we visit!] This is my kind of food. No fussiness or pretension, but still has all the little touches of doing something modern and vibrant. Love the space, it's my kind of place, kind of hate that it's in San Luis (which is apparently a slightly dicey 'hood (more at night than during the day) except for a four block stretch of cevicherias – lots and lots of cevicherias (that I want to come back and sample one by one) – so take a cab to and from (more of an issue is that it's just so far from most other things visitors do, but then, cabs are cheap). Interesting infused cocktails (aguaymanto chilcano for me), and only artisanal, small producer beers (Dennys sent me over a Nuevo Mundo Amber Ale, made in Surquillo, right in Lima – yum). We sat, we talked, I ate. Even better grilled octopus than at El Mercado the day before – a really cool take on the classic pulpo al olivo; a cross between a papa rellena and a potato skin with both huancaina and ocopa sauces; and a killer rocoto relleno with creamy potato salad. Basically a lunch spot – he's open from 11:30 in the morning until 5:00 in the afternoon – he says that the neighborhood just isn't one where people would come to for his kind of food in the evening. I'd be there for lunch every week if I was in town.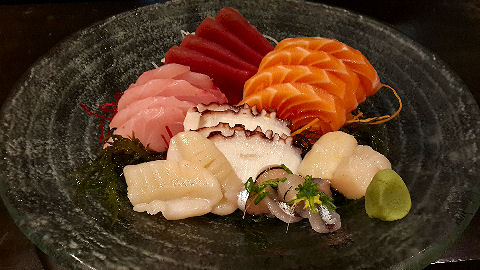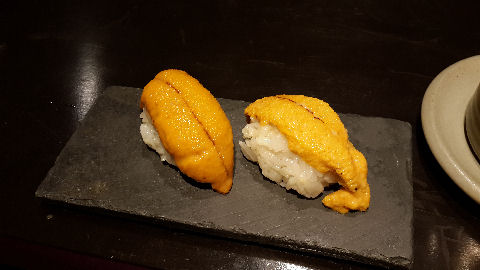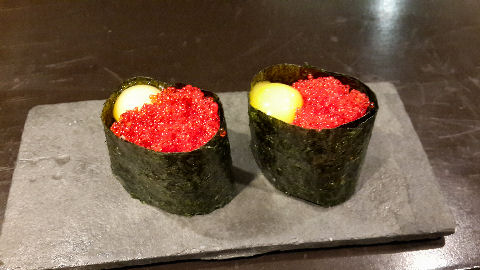 Given a combination of timing, and food overload, I decided to go lighter for dinner and just finish off my time in Lima with some sushi. I've heard excellent things about Ache (pronounced "ah-chey", the Spanish letter "H"), along the same strip with ámaZ, Los Bachiche (Gaston Acurio's Italian spot), and another that I don't recall. Classic and modern sushi, and a few nikkei dishes. I ordered up a mixed sashimi plate, all excellent, a couple of pieces of uni and a couple of tobiko (I really wanted ikura, but none available in the market according to sushi chef Oscar), and they gave me a sample of a hanger steak one. I could see it being my neighborhood sushi joint! (Ah well, back to BA with salmon and cream cheese as the mainstay… some day, maybe….)