You may recall a couple of years ago I had lunch with some Lima friends at ámaZ, Av. La Paz 1079, here in Miraflores, where I'm back for a three day food binge before returning to BA. (Like I really need more food. I foresee a whole lot of salad eating over the upcoming weeks.) I liked the food, but didn't like the service style or the menu "rules". But I thought I'd give it a try on my own and see how it went, because, well, I really liked the food. Now, vague memory, the menu is the same – I don't think there's been even a jot of change to it in terms of dishes (I have copies that I could compare, but I'm not going to do a line by line check). However, they no longer give the whole speech about how to order (it wouldn't make sense to do so for a solo person anyway, but there was a table of four seated near to me and they didn't get the speech). Instead, almost everything on the menu is now listed in both full and half portions. Smart move. Can I claim credit?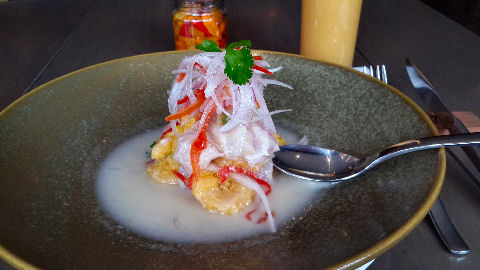 Their classic ceviche was to come with plantains and charapita chilies, the fiery little round balls of goodness we discovered on our trip to Iquitos. Neither was to be found on the plate – it was a tasty ceviche, but with orange segments and bell peppers. Needless to say…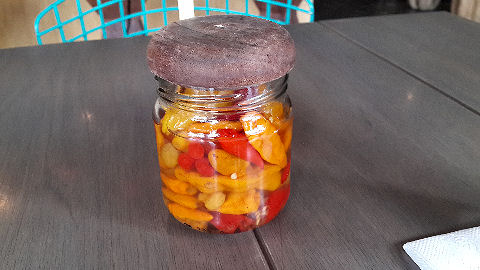 I started adding chilies. The waiter ran over to warn me off, telling me that these were too hot for me. A) Then why are they on every table? and B) no, no they're not.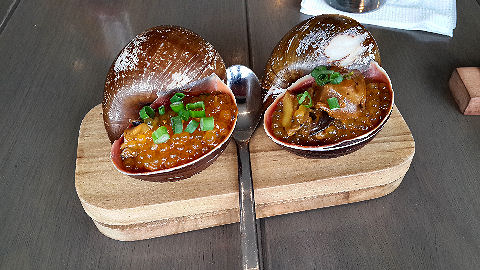 The river snails that I mentioned (and that are in the background of the photo) last time have stuck in my mind. Plump, delicious, and with tapioca pearls cooked in chorizo stock and sofrito. I was enthusiastic. A woman dining by herself a table over was clearly not happy with her meal and was watching me – she actually went and got a manager and brought her to my table and pointed, asking what they were – I switched to English and told her, then had the waiter bring a small plate and dug a little portion out for her to try. She loved them, and another manager (and also the sommelier, who I chatted with a bit) also replaced her original dishes with something else – no charge – improving her experience all around. Turned out, she was a visiting chef from California!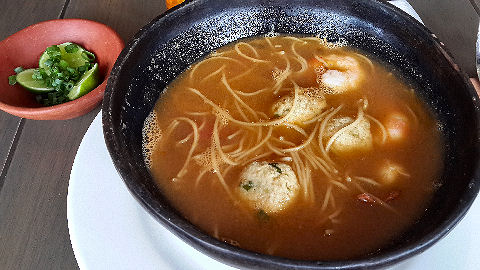 Obviously, for those who have seen our version of the dish, this is a way different approach to timbuche. It was kind of an Amazonian ramen – the broth made from dried shrimp and cecina, the cured and dried pork "jerky" of northern Peru, with a mix of shrimp, cecina, some sort of fish balls, tapioca pearls, and housemade pasta in it. It was good, but missing a little zip – provided by the lime cheeks and green onions on the side, plus digging out a half dozen charapitas from the chili jar. The waiter ran over again, to remind me they were too hot for me. C) Go away.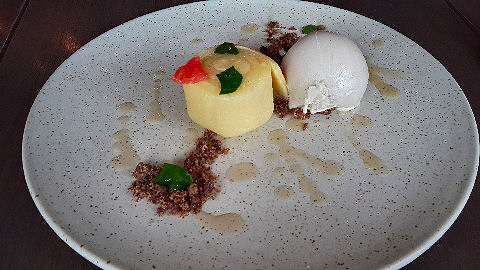 Some interesting sounding desserts on the menu, I let them pick one for me, and this was good, though I think I'd have picked a different one. A sort of slightly chewy yuca cake with coffee soil and charred corn ice cream. Not bad, not exciting.
Overall, far better service style (other than, really, do you think anyone digging into a chili jar doesn't know that they're spicy?), more relaxed feeling. The food still quite good, and definitely recommended.