Colombia and Ecuador behind us, it was time for a visit to Henry's family in Trujillo. Things have come a long way since my first time nine years ago. (Here, here, here and here.) Bit by bit, Henry has been helping his family out (technically, it's his property to begin with, inherited from his grandparents) – the house that I showed pictures of now has either concrete or tile flooring throughout, a roof over it, doors and windows, running water and electricity (with actual outlets) 24/7 (still no hot water, that's next on his list), kitchen appliances and a real table and chairs (more stuff to come too). They're happier, he's happier, I'm happier when I visit. We decided that after all the eating out at restaurants along this trip we were going to either cook, or his sisters would, or if we ate out it would be at little neighborhood spots that are basically just houses in the 'hood where people serve up meals, often only one or two plates of the day available. On to the pictures: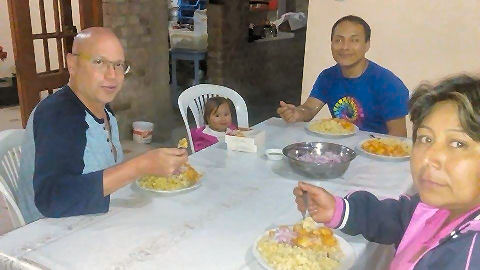 Welcome dinner with Andean potatoes and mote. Those little girls from 9 years ago are growing up, 2 of them even have their own little girls now.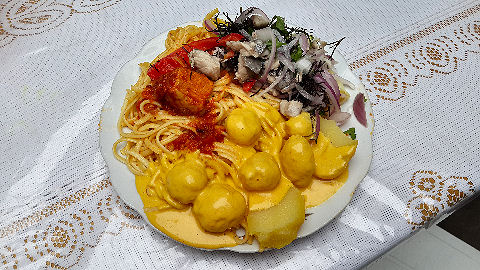 Combinado lunch – a classic in Trujillo of pollo con tallarines, papas a la huancainia, y ceviche de jurel (chicken in spicy carrot sauce over spaghetti, potatoes in cheese and chili sauce, mackerel ceviche).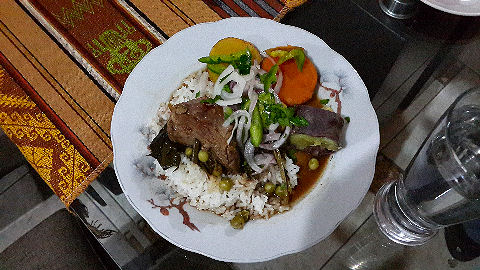 My turn to cook – huatia sulcana, our slow cooked herb and chili beef.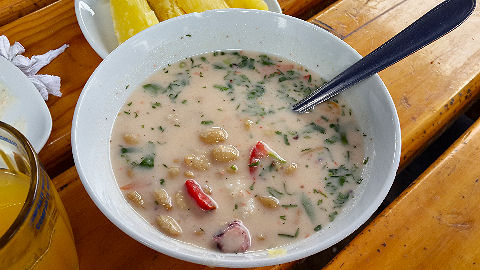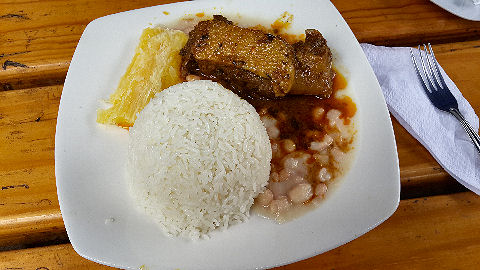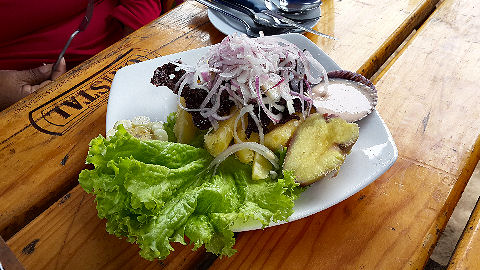 Saranjada (white beans in leche de tigre), seco de pato (braised duck), cecinas (basically pork jerky "stew") at a roadside stand near the huacas.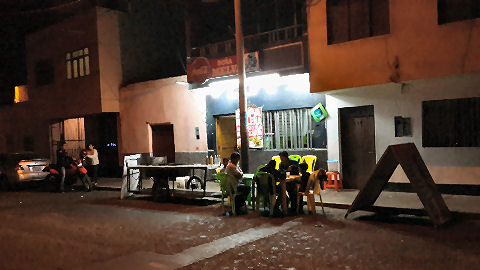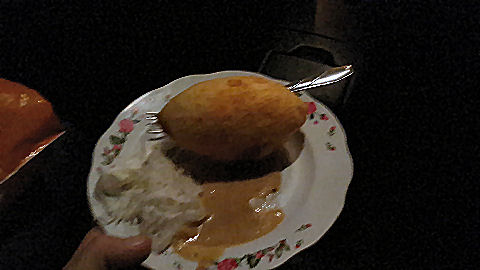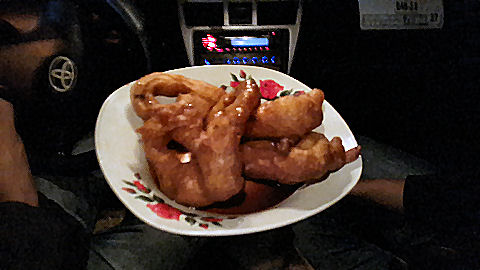 Layne would be proud of me – late night snack with our taxi driver – stuffed yuca and sweet potato doughnuts. Since they only have one table, the waitresses come out to the cars, mostly taxis, take your order, your money, and then bring you the plates, then you just wave them over to pick up the plates when done.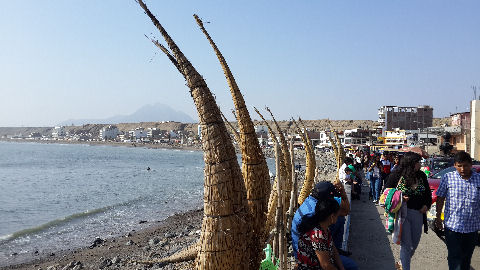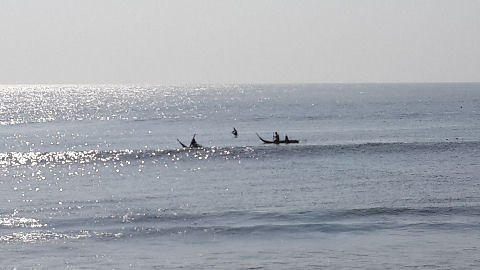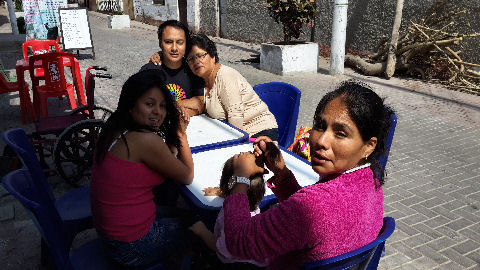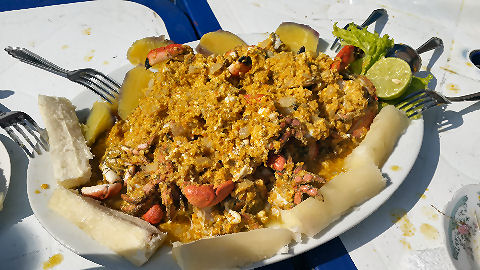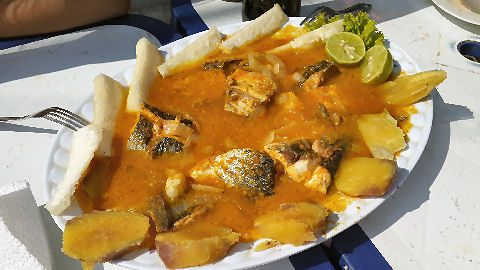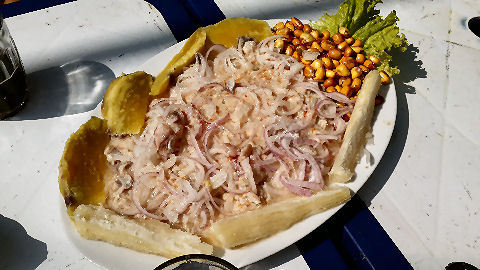 Back to Huanchaco Beach, and lunch near the ocean – crab "reventado" (not my favorite version of this dish), and excellent sudado (chili fish) and ceviche.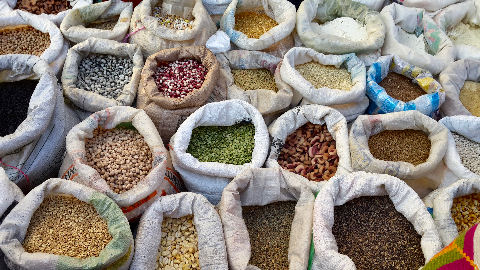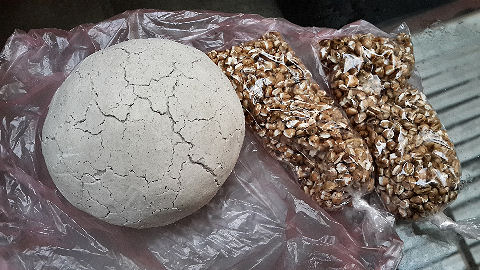 A visit to the Sunday afternoon La Union market, though this time we didn't eat there, we just bought things to make the next day – all the fixings for shambar, and then a pan de chuño (which isn't a bread made from potato starch, but a packed ball of potato starch for, well, you'll see in a moment) and pelonas, which are a sort of puffed grain to snack on, that I can't find information on under that name.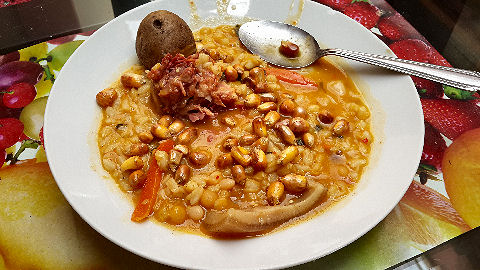 Maria showed me how to make shambar, the traditional "Monday soup" of Trujillo and surrounds – wheatberries, various legumes, pork skin, smoked ham hocks, chilies and hierbabuena.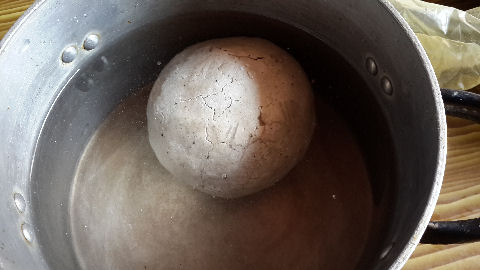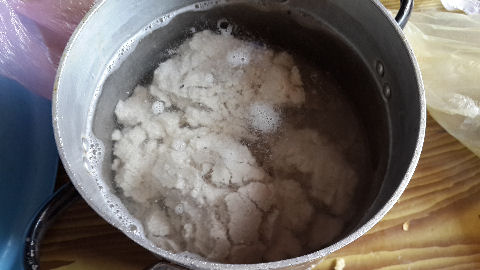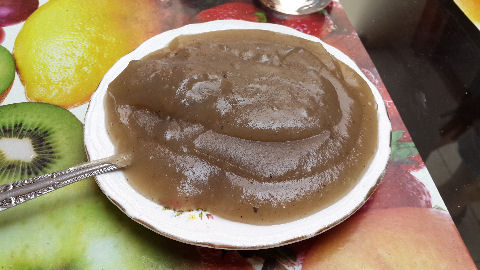 So you soak that mass in water until it falls apart and then add a ton of sugar and boil until thick. No flavorings. So basically, it's potato starch "pudding". It's grey-brown and kind of rubbery. It tastes grey-brown and kind of rubbery.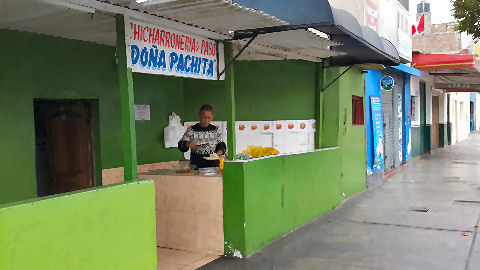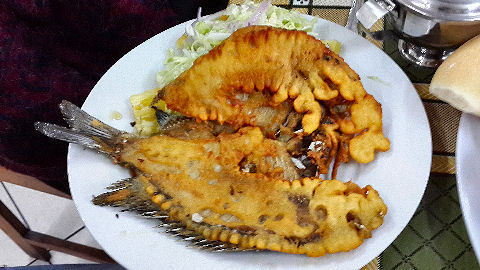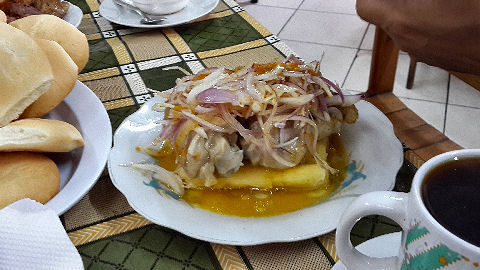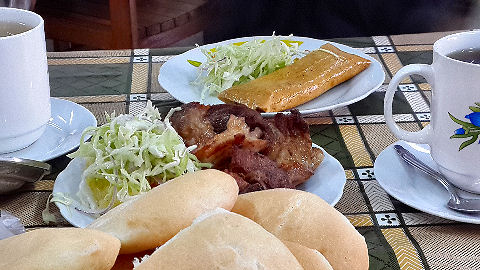 Same taxi driver (he's a friend of the family), and breakfast (yes, breakfast, see the coffee and rolls?), with fried chita (a type of grunt, a fish), stewed cow's feet in escabeche, a tamal, and really, really good chicharrón (sorry Colombians, even at this little hole in the wall, a huarique, so much better than what we had there).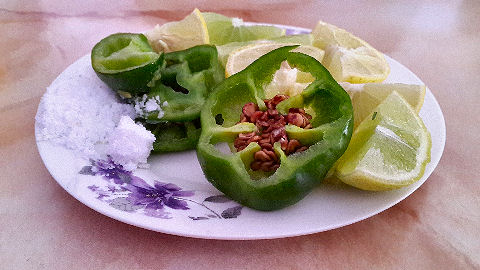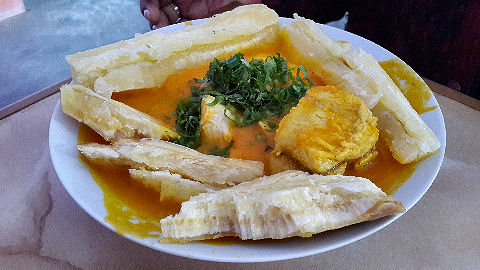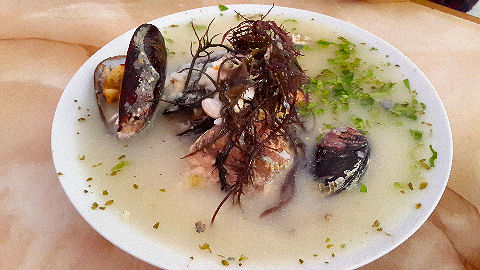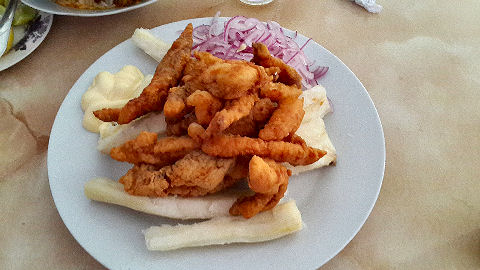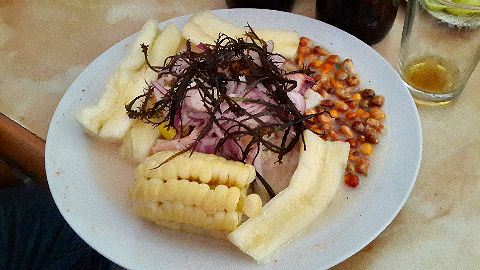 Lunch down the street from the house, where a woman serves up four different daily fish dishes – guisada – a fiery chili stew (amazing, best I think I've ever had), chilcano (a sort of watery algae and shellfish and fish broth, not a favorite), spectacular fried fish – just a perfect, light, crispy batter, and really good ceviche.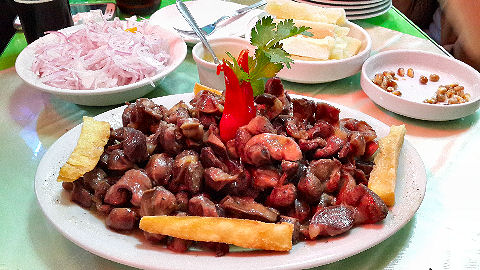 And, fittingly I suppose, a final night out with the family (and taxi driver) back at the very first place I ever ate at in Trujillo, with mollejitas – garlickly chicken giblets. Perfect way to end my visit – Henry's staying on for a couple of weeks, I'm in Lima for two days (some fun stuff coming up), and then back home.