Definitely more interesting food in Quito than we'd had in Medellin, a mix of traditional and modern. Surprising to both of us, Ecuadorians seem to be even less enamored of the idea of picante than then Colombians. We both expected the food to be more similar to Peruvian, and many of the dishes even have the same names, but are completely different. And what passes for hot sauce in Quito, at least at the half dozen or so places we tried, makes cocktail sauce look fiery.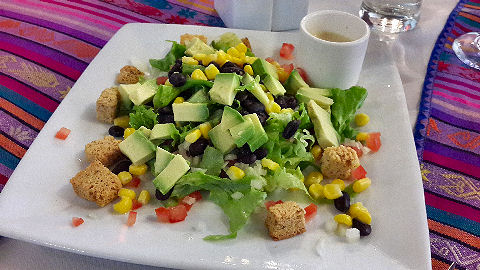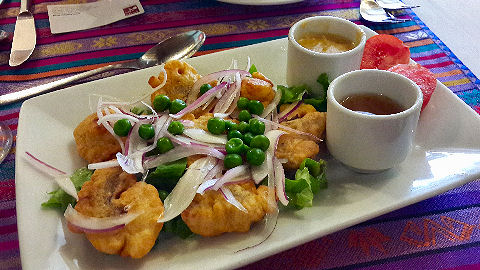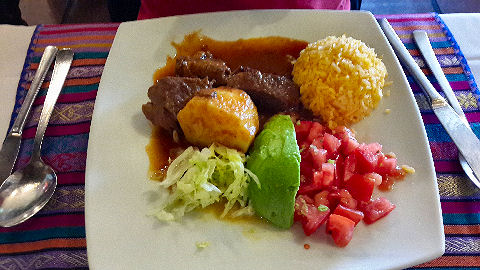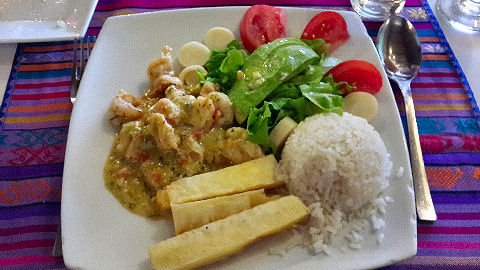 Lunch at La Choza, recommended by many as one of the best spots to try traditional local dishes in a slightly nicer setting – a large, airy room, decorated with lots of Andean designs, colors, and replica artifacts. On Friday night, one of the folklore groups Henry is hooked up with offers a dinner "theater" show.
A little salad, just because we really, really, needed some green in our diets. A traditional Ecuadorian street snack is the emborrajado – in its most basic form it's two slices of fried, flattened plantain, much like the Colombian and Venezuelan patacones, but with a slice of cheese melted between them. In modified form, as slightly nicer restaurants do, it seems to be any sort of stuffed plantain fritter – in this case, not even with plantains, just shredded, slow cooked pigs feet in a batter that could have been a bit crispier for our tastes, but had great flavor, especially dipped in the accompanying peanut sauce. Henry went with the seco de chivo, the Ecuadorian version of seco de cabrito – similar but far less spicy sauce to the Peruvian version, and instead of being served over rice and white beans, it's served with rice, potato, avocado, lettuce and tomato. I went with a coastal dish, langostinos encocados, juicy prawns in a heavily herbed coconut sauce, plus rice, fried yuca, avocado, and, lettuce and tomato. All delicious! Wish we could have been there for the show. Tip included, a couple of glasses of housemade chicha, waters, $60.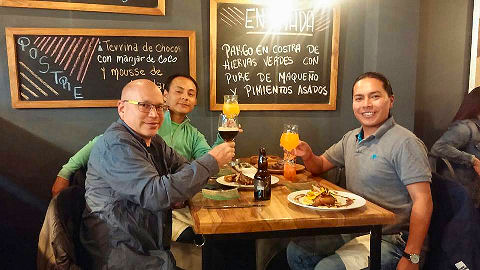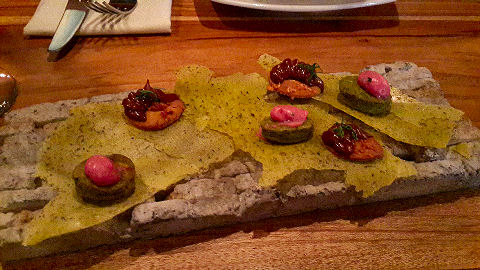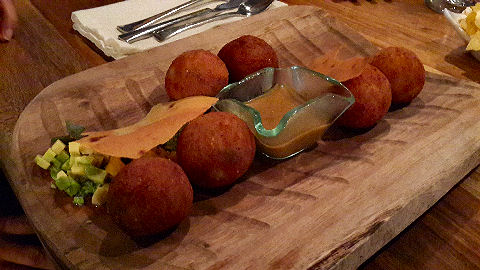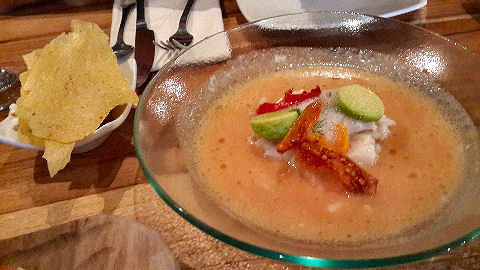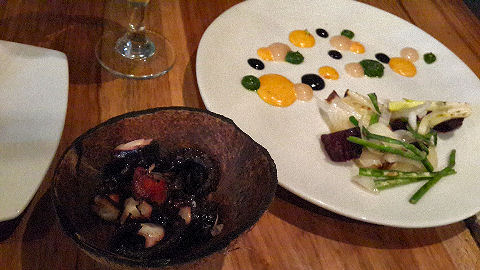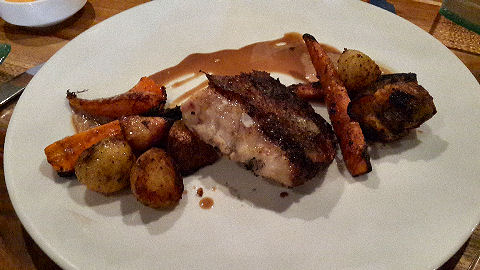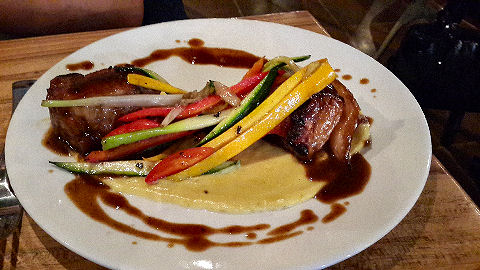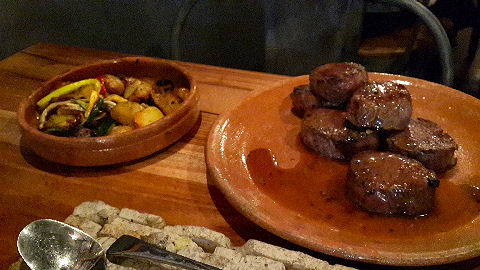 Oh, URKO, I don't know quite how to judge you. Widely touted as one of the best restaurants in Quito, as well as one of the few doing really upscale, creative cuisine featuring native ingredients, we had really high expectations. We invited along Javier, the choreographer for the folklore group I mentioned above (and the only indigenous choreographer in all of Ecuador, surprisingly), to make a night of it. Made a reservation for three for 9:30, talked with whomever it was that was taking the reservations and told him who we were, and that if it was possible would love to meet the chef. Arrived at 9:32, no greeting, just "do you have a reservation?" – they'd given our table away to a party of three locals who had just walked in because we were "late". All that was left was a table for two, which they stuck a third place at – I refused, there simply wasn't enough room – and we started to leave. The woman from the trio that had just taken our table apparently saw what was happening and ran over and offered that they'd move to the small table (which given, as it turned out that all they did was have drinks and shared one plate of food to nibble at while they drank, was not just really gracious of her, but more… fitting?)
So we got our table, ordered some of the specialty cocktails – well prepared, albeit a little light on the alcohol and heavy on the mixers. A little concrete shingle arrived with some amuses on it – I remember the dehydrated sheets were spinach, there's some beet and some avocado in there, but I don't recall exactly what. Honestly, kind of tasteless other than the spinach crisps. Hmmm…. Some appetizers to share – here the food picked up beautifully. Croquetas autoctonas were fried balls of delight with a mix of three different secos – goat, chicken, and suckling pig, with lettuce, cubes of red banana, and a sauce of naranjilla and sweet chili. An escolar ceviche with avocado, ground cherry, pickled chili, confited tamarillo, passionfruit juice, cilantro, "lemon air", and "citrus essences" – great balance and even a hint of heat to it. And smoked octopus in a bowl with herbs, and separately on a plate – yuca puree, beet puree, octopus puree, charred onions and green beans. All happy campers, the beginning kerfuffle receding into the background. Each dish, by the way, served by someone from the kitchen rather than the waiters, and that person would then rattle off a list of all the components of the dish, then turn and walk away.
Main courses were less impressive. A simple fillet of red snapper (the menu said "scallops of fish", so we were expecting a different presentation), lightly charred. Andean potatoes cooked sous vide in cocoa butter, baby carrots caramelized with more of those citrus essences, and a caramelized coconut sauce. Tasty, especially the sauce. That was the good part. I ordered one of the two specialty of the house plates of cochinillo, suckling pig – about 15 minutes after ordering, our waitress returned to say that they didn't have either that or the other suckling pig dish available – there are three red meat dishes on the menu, and you don't have two of them? Okay, let's look at the menu. She interrupts – there is a special of the day, caramelized pork leg with steamed vegetables…. The pork sounds good, the accompaniment not so much. No problem, the chef will serve it up with the mixed roasted vegetable garnish from your original choice. Great!
Only it arrived with the steamed vegetables – chef refused to prepare it any other way. And overly sweet in a reduced fig sauce, albeit perfectly cooked. The third plate, the sirloin – we didn't realize it was a plate for two, but okay, we're sharing everything. And at least we're getting a different selection of roasted root vegetables to accompany it. Cut into the meat, it's still mooing. It was sous vide cooked, but barely having reached rare. We asked if they could cook it for a couple minutes more to a medium rare. No problem. Only it arrived back blackened on the outside – in retrospect, wish I'd taken a picture of the "after" – and well done on the inside. At this point the kitchen was already closed and cleaning up, we decided to eat what of it we could and call it a night. No visit from the chef, no thank you from anyone – in fact, all interactions with the staff were pretty stiff and unwelcoming – and it wasn't just us, they seem to be treating their customers as some sort of nuisance for simply being there. All told, $123 for nice ambiance, mediocre service, and mixed thoughts on the food.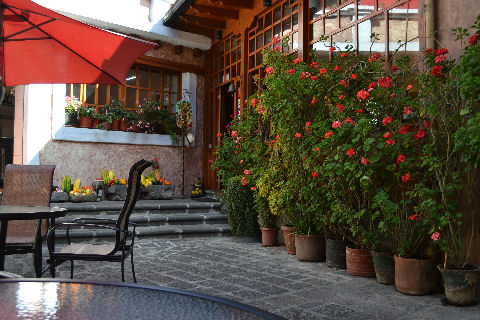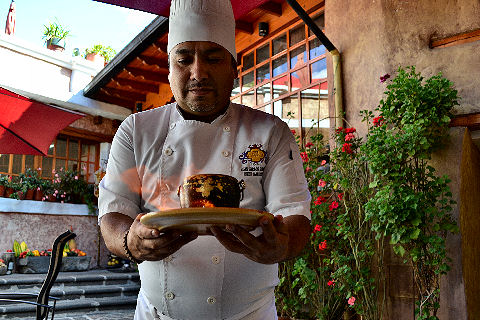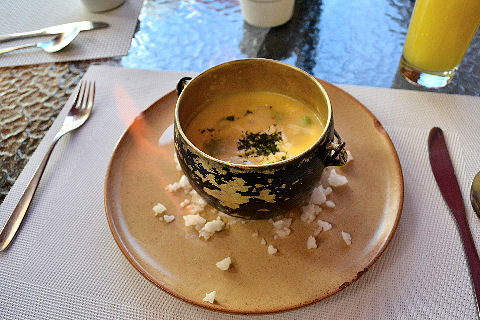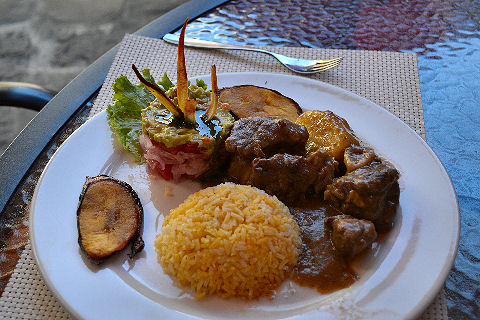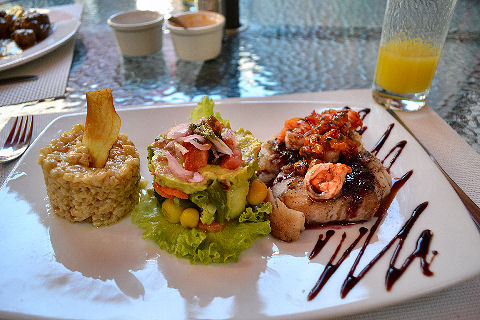 Last lunch at Los Geranios along the pedestrian "village" of La Ronda, just outside the centro historico (it's a long street filled with restaurants, bars, and hostels). Beautiful setting, loved the patio, and fittingly for the name, filled with geraniums. The chef came out and introduced himself, we chatted, he took care of our table the whole time, making suggestions, serving the food, and talking about it as we went. Waiter took care of the minutiae and was equally friendly and helpful. Tried one of the versions of Ecuadorian locro, very different from Argentine style – in fact, has me musing about doing some research into the various national and regional styles of this ubiquitous stew. Here, it's a thick, creamy, yummy potato porridge with pieces of three different kinds of potato, cheese, and avocado. Nice touch, serving it in a bowl set over rock salt with flames coming up around the sides from some oil underneath. We almost ordered another bowl to split.
The menu is split into traditional and modern (the chef, Juan Carlos, worked with Gaston Acurio in Lima for a time). Henry decided to try another version of the seco de chivo, here served with rice, roasted plantains, and a vegetable salad. For me, the modern side, a perfectly cooked fillet of corvina (drum), with a raspberry and chili sauce (maybe just a touch too sweet, it used more of a raspberry jam than just raspberries), with a parmigiano infused wheat, and a vegetable salad. A couple of juices made from a local fruit called babaco (interesting mixed fruit flavor, described as a blend of strawberry, papaya, kiwi and pineapple). Waters, tip, and all, $55. Best meal in Quito we had.
For the evening, we met up with Javier and some of his friends at the local "indigenous bar", Runa, for beers and some snacks. Early morning flight to Trujillo to visit with Henry's family for a few days. Video of sightseeing in Quito coming up.