Welcome along on the start of this year's vacation! We began our journey yesterday morning with alarms (I hate alarm clocks) at 4 a.m., showers, a pickup at 5 a.m., to the airport, all the usual check-in stuff, and on a plane shortly before 8 a.m., heading first for Lima. Four plus hours later landing there, more of the usual stuff, an hour and a half wandering the terminal, then back on another plane heading to Bogotá, the first time for both of us to visit Colombia. Around 4 p.m. local time (6 p.m. BA time at this time of year), landed, more of the usual official stuff, and finally at our hotel in the Parque 93 area of the city at around 5:30. Showers, rest, and, hey, we were hungry, all we'd had were… well, let's see, at BA's airport we grabbed coffees and tostadas mixtas – toasted ham and cheese sandwiches; on the flight to Lima LAN served coffee, juice and tostadas mixtas; on the flight to Bogotá LAN served juice, soda, water, and, hey, ham and cheese sandwiches, just on a different kind of bread, and not toasted.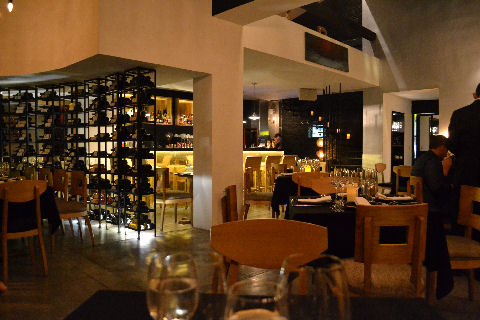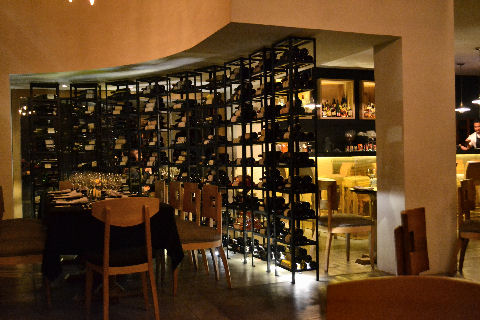 We've looked through numerous travel guides, and talked to all sorts of people (and we have people here we've been in touch with and will see over the few days in town), and decided to go with the one nicer restaurant recommended by the Michelin Green Guide, Leo Cocina y Cava. What it didn't say, and what we didn't realize, was that it's one of the restaurants that made the list of Latin America's 50 Best Restaurants last year, in position 49. Bogotá now has four of the fifty (it had three in 2013), with the addition of Leo; though all three other restaurants dropped in position. If I was soloing this trip, I'd probably hit all four, but that's not going to happen.
Beautiful, comfortable room. More than attentive service – they pride themselves on "traditional French" service – I'm not sure I'd give them that, but it's definitely "correct" while at the same time having an air of informality and hospitality that feels very welcoming. Two tasting menus available, but with a "minimum of 2-1/2 hours" estimated time-frame, we decided against. The regular menu includes ten appetizers, eight main courses, and four desserts – each of which has a year date next to it, as they're all dishes created "in the past" that according to our waiter, rotate regularly (though he proffered that the menu hadn't changed in about 4-5 months). There are a lot of native ingredients listed, and that's the focus of the cuisine, along with modern technique, and to help, the entire interior of the four-fold menu, so four out of eight pages (two of which are the menu itself, two of which are front and back covers), is a glossary of every ingredient – it's a little hard to read, but the waiter stays with you through it all describing dishes and ingredients (though some of that may have been that they knew who we were, and there was only one other table in the place when we arrived – as it got busier they spent less time at each table). Wine list is a mix of "New World" – Argentine and Chilean, and "Old World" – mostly Spanish with some French and Portuguese. No sommelier on duty, but a waiter who was "more familiar" with the wines came up with a nice selection to accompany our dinner, Koden Rioja 2011 from Luis Alegre, that wasn't on their list but that he had a bottle of. Excellent. On to the food: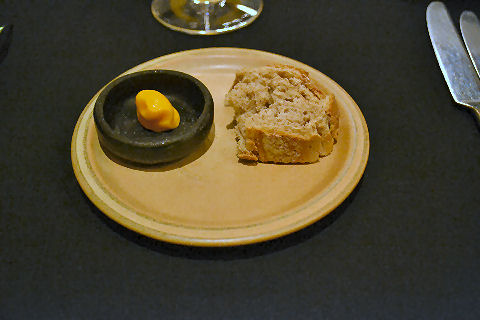 Bread service – I didn't quite follow his explanation as to why we each got a half slice of torn bread made with some sort of special root flour and accompanied by a butter whipped with a type of currant – and no more bread (the plates were whisked away as soon as we'd eaten the bread, which was, it seemed, a requirement before our appetizers were served. Delicious, and we wouldn't have minded more.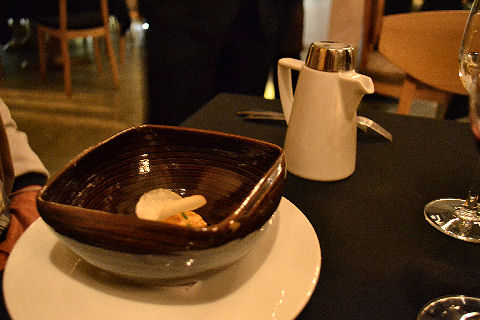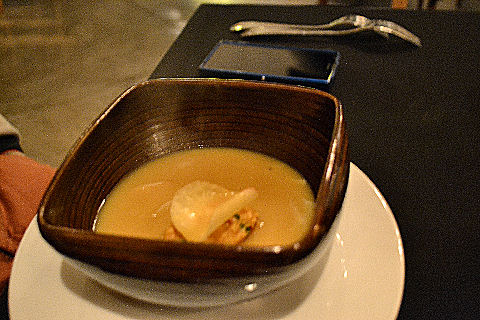 Henry had the sancochito, Leo's take on the traditional Colombian soup (traditionally a meat and root vegetable based soup). Here, and I'm sure I'm missing elements, as they're not all listed on the menu, a sort of rillettes of smoked hen, a puree of green plantain with, I think, coconut cream, and a broth added at tableside that was a very rich, thick puree of taro root.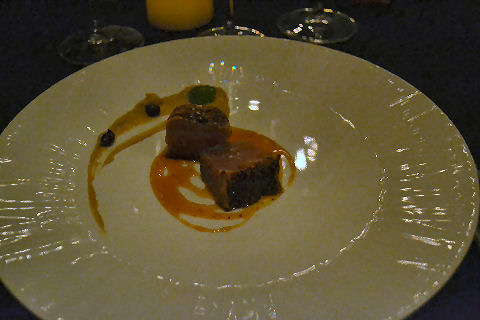 You know I was going to go for the most offbeat of appetizers at a place like this (and it turned out that this is one of the dishes that made the place's reputation), seared tuna crusted in crushed hormigas culonas, a type of leaf-cutter ant, yes, ant, and a local chili, the pipilongo, served over sugarcane honey, and accompanied by a puree of guandú, or pigeon peas. And those two dark balls in the back on the puree are whole toasted ant culones, which basically translates to "big ass". The whole dish had this really intense, smoky flavor. We did both feel that the appetizers were a little small, and seemed almost more like tasting menu portions.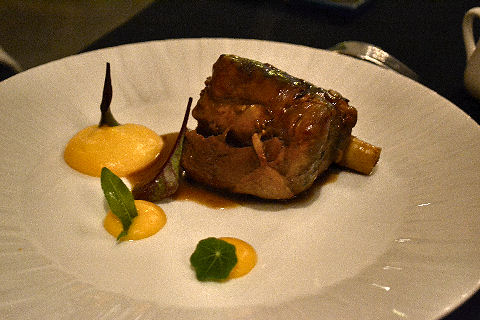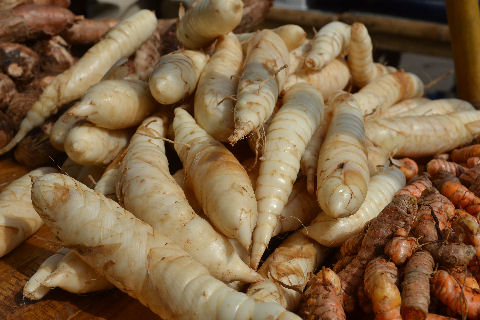 Henry ordered up the cabrito lechal, slow cooked, falling off the bone, with a puree of arracacha, a root vegetable that looks like a white carrot, sort of, and has a texture similar to yuca, which I'd first encountered in Costa Rica earlier this year. There was an allspice infused gravy poured over the whole thing. In looking at my copy of the menu, one thing seems to be missing, the dish was supposed to have peas, and, Henry and I both felt like the dish was missing vegetable of some sort.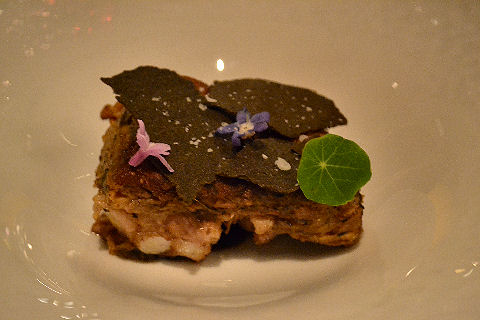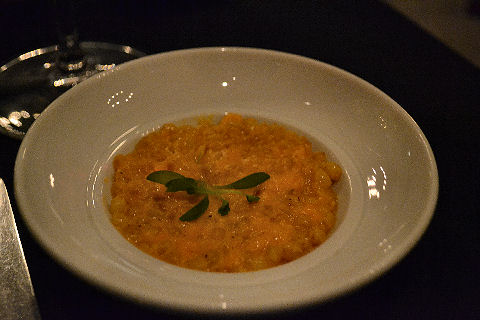 I went with the likewise slow cooked and barely clinging to the bone pork shortribs, topped with a crispy black olive cracker of sorts, a puree of icaco, a type of very small plum, also called the cocoplum or Paradise plum, about the size of a grape, with a very mixed sharp and sweet flavor. I got a little side dish of pearl barley mixed with a slightly gooey, slightly fruity and slightly, almost, cheesy, palm fruit puree. I, too, kind of felt like the dish was mostly just a piece of meat, missing vegetable of some sort. But both of us were completely happy with the flavors and combinations that we got to try.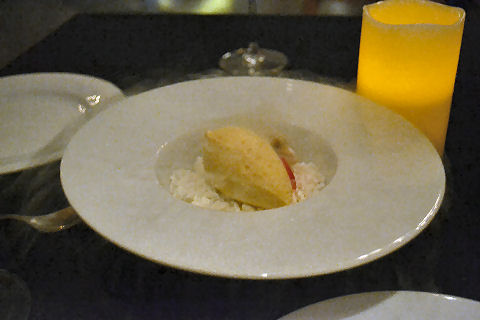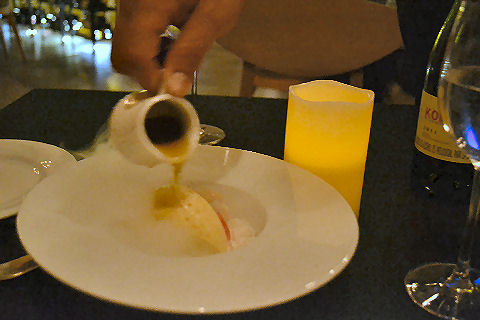 We finished off sharing one of the desserts, the piedras de limonada – essentially liquid nitrogen frozen lemonade pebbles, with a ripe plantain ice cream and a jelly made from achín, a type of yam. The whole thing got a bit of a "vapor" treatment with the pouring over of a guayusa syrup – the berry of a type of holly. Individually, all the components worked, but neither of us felt like the combo of all four elements did, and the syrup poured over the lemonade rocks just sort of fused the whole thing into a hard mass that was hard to break pieces off of. Our waiter's response, and probably the only slip from absolutely impeccable service, was, "I told you to order the chocolate dessert".
Overall, great space, great service, really an amazing dining experience. Fantastic flavors, and even the dessert gave us something to think about in terms of new flavors and ingredients. The place is a little hard to find, being on a small pedestrian walkway in the La Macarena district, with only a small sign, and a door knocker to get someone's attention – our cab driver hadn't a clue where it was and had to stop and ask. (An interesting side note, we've take three cabs, and despite the fact that Bogotá is laid out in a numbered grid pattern, all three drivers have seemed completely lost in trying to figure out how to get to where we wanted to go.) And I thought quite reasonably priced – for 2 apps, 2 mains, 1 dessert, 3 bottles of water, a bottle of wine, and tip, it came to 327,450 pesos, which at the exchange rate is just under $114 (a third of which was the wine, 8% sales tax, and the tip was automatically added at 10%).
Definitely recommended, and worthy of being on the top 50 list. (For me, this makes 19 of the 50 I've been to the actual restaurants, and another 5 that I've been to branches of winners that are located in other cities.)
In bed around 10:30 and up early this morning around 6:30. The sleep was needed.