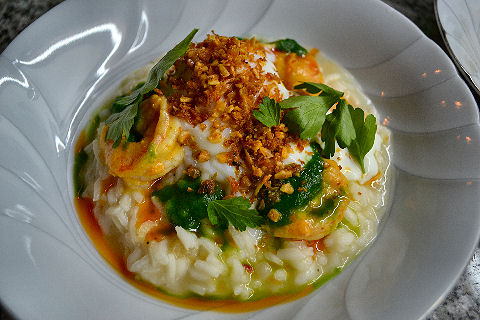 Pretty as a picture, no?
Basically, prawns/shrimp, five ways.
Risotto of shallots and dried baby shrimp, made with broth from some prawn shells. Finished with a little butter.
Ají de langostinos – the same yellow chili sauce we use to make ají de gallina, with prawns sauteed at last moment and then tossed with the sauce, then arranged on top.
Sous vide 64° egg in the center.
Crispy prawn head crumble – fried the prawn heads in oil until crispy, then drained them and blitzed them with toasted almonds and lemon zest. [Credit for that idea to Sara Oteri, a contestant on this season of MasterChef Australia]
Took that same oil, added in the balance of the shells, and made an intense prawn oil.
Parsley puree and parsley leaves. I think the only change I'd make would be to stir a little chopped parsley through the risotto at the last minute as well.