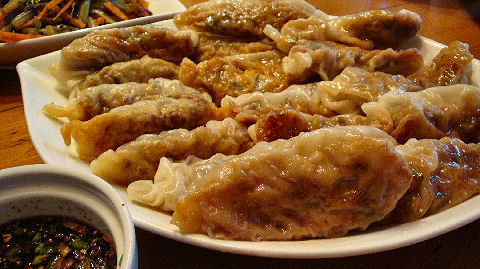 I'm not going to get into the whole origin of these little dumplings. Some of the history is fairly well known – in China they're called jiaozi, in Japan, gyoza, and in other countries, other things (here, pretty much regardless of which ethnic version, they're called empanaditas chinas, then again, anyone looking remotely Asian is also referred to as a chino). There are numerous variations and there's plenty of overlapping. Whether or not the first pastas in the world really did come from China will probably always remain a debate, but that China was the origin point within eastern Asia is probably not in dispute. The purpose of the original pastas may be a bit murky – there's some evidence that some of the first pastas were actually used as medical treatments rather than food, including that the wrappers used for making jiaozi were quite possibly an "invention" for wrapping frostbitten ears….
What I do want to discuss is a strange ripple of disbelief when I posted a picture last week of the making of said wrappers: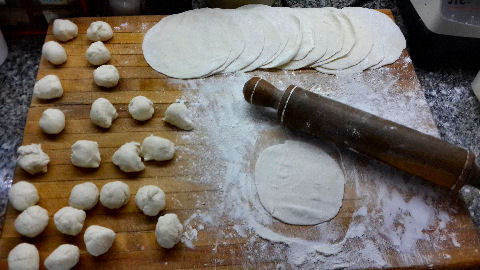 While the majority of respondents approached it as a sort of "cool", there were a few who expressed disbelief. Not that I was actually making them, but that I would. After all, it was noted, I could have gone to barrio chino and bought either these or wonton wrappers (there is a difference in composition and thickness). And yes, that's true. I could have. I could also not make my own ramen noodles – but no one protested that experiment. I could also not make any of my own Italian pastas, there are far more outlets for purchasing fresh and/or dried pastas here in Buenos Aires than I could possibly count – but no one protests when I make my own. So what is it that makes the thought of homemade Asian dumpling wrappers something that stands out as odd? I have no idea, and neither did any of said claimants – in response to this question, each rebounded with something to the effect of, "I don't know, it just seems so different/strange/hard."
I'm just going to say – they're actually really easy. Here's the version we make in our vegan Japanese cooking class:
Vegetable Gyoza with Spicy Dipping Sauce
Wrappers (2 dozen)
1 cup all-purpose flour
1/3 cup water
Combine flour and water in a bowl. Turn dough out onto a floured surface; knead 5 minutes. Cover dough; let rest 20-30 minutes.
Divide dough into 2 equal portions. Roll each portion into a 1″ thick rope. Cut each rope into 12 equal pieces. Shape each dough piece into a ball. Roll each ball into a 4-inch circle on a floured surface (cover circles with a damp towel to prevent drying).
Filling
1 tablespoon neutral oil
2 cups diced mushrooms, shiitakes are traditional, but whatever you like.
2 cups finely chopped cabbage – Chinese, Napa, or even common white cabbage
1 tablespoon finely chopped green onions or garlic chives
1 tablespoon mirin (sweet rice wine)
1 tablespoon soy sauce
1 teaspoon grated peeled fresh ginger
1/4 teaspoon salt
A few drops of sesame oil
2 garlic cloves, minced
To prepare filling, heat a large skillet coated with the oil over medium-high heat. Add mushrooms; cook 3 minutes or until moisture evaporates, stirring frequently. Add cabbage; cook 3 minutes or until softened, stirring frequently. Stir in remaining ingredients, simmer 2 minutes. Remove from heat; place in a bowl or spread out on a sheet tray to cool.
Working with 1 wrapper at a time, spoon 2 teaspoons mushroom mixture into center of wrapper. Fold in half. Fold top edge of wrapper at 1/2-inch intervals to form pleats, pressing against bottom edge to seal (if wrappers are a little dry, you can lightly wet the edges to help them stick together). Place dumplings, pleated sides down, on a large baking sheet dusted with flour; cover loosely with towel to prevent drying.
To cook – you can boil them, steam them or make them "pot sticker" style, which I prefer. In a large frying pan for which you have a lid, heat a couple of tablespoons of oil. Place the dumplings in the oil, one side down (Japanese tradition, the Chinese generally stand them up, so the base is fried rather than a side). Cook until lightly browned on the down-facing side. Add a cup of water or vegetable stock to the pan and cover with the lid. Turn the heat down to low-medium. Steam for 4-5 minutes without removing the lid. The idea is that one side is browned from the frying, and the other is steamed, giving a dual texture to the dumpling wrapper.
Serve with:
Dipping Sauce
1/3 cup rice vinegar
1/4 cup chopped green onions
1/2 cup soy sauce
1/2 teaspoon crushed red pepper
Combine and set aside.