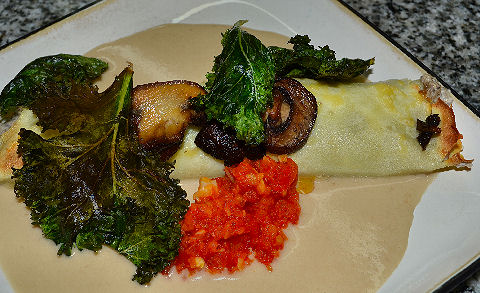 A ficelle, or really, a ficelle picarde, is a type of stuffed, rolled crepe, coated in grated cheese and broiled. Since a ficelle is also a type of bread loaf, similar to a baguette but much thinner, I assume the etymology of the name relates to the shape. Literally, I guess, the word means "string", which would obviously be even thinner…. I've made relatively traditional ficelle picardes for a couple of our French themed dinners way back, here, and here. This week's version, given our selection of guests, had two restrictions on it – vegetarian, so no ham, and gluten free, so, crepes made from rice flour, right out of our gluten free baking class series.
The crepe:
1 cup rice flour
1¼ cup milk
4 large eggs
good pinch of salt
Whisk together and let sit for about 30 minutes, whisking every few minutes, to make sure the flour fully hydrates. In a crepe or omelette pan, drizzle a little vegetable oil and pour in just under ¼ cup of batter, swirling it around quickly to coat the bottom of the pan. Cook until just set and slice out onto a surface to cool. This amount should make a dozen crepes.
The filling:
1½ lb button mushroom caps, chopped
– save the stems to make sauce
1 large shallot, chopped
¼ cup port
8 oz mascarpone
salt and black pepper
Over lowest heat, cook the mushrooms, shallot and a good sprinkling of salt with a teaspoon of butter – really just enough so they don't stick and burn. Stir regularly, cook down until the vegetables have given up their liquid. Add the port and cook until absorbed. Remove from heat and mix well with the mascarpone. Season to taste. Chill to firm up the filling and make it easier to work with.
When cool, divide the filling between the crepes and roll up into long thin tubes. You want the filling to not quite reach the open ends, as it will spread somewhat in cooking. When ready to serve, grate some aged cheese (we used gouda) over the top and stick under the broiler until lightly browned.
The sauce:
1 head of garlic, cloves broken up and coarsely chopped, skins and all (just remove the root)
½ cup olive oil
½ cup butter
mushrooms stems from above
1 shallot, chopped
salt, white pepper
1/8 tsp xanthan gum
Combine the olive oil, butter, mushroom stems, shallot and garlic, with enough water to cover and cook over medium heat for approximately 20 minutes. Puree, strain, season to taste. Return to blender (you should have about 2 cups of sauce) and add the xanthan gum to thicken while it's running at high speed. Keep hot.
The garnishes:
½ lb baby portobellos, sliced
several large leaves of kale
olive oil
salt
Toss the portobellos with some olive oil and salt and spread out in a single layer on a baking sheet. Put in a hot oven and cook until nicely browned and just starting to get crisp around the edges, about half an hour.
Do the same for the kale, stripping pieces off the thick central stem first, so that you have more "bite-sized" pieces. The kale will only take about 10 minutes to cook.
The matbucha:
A traditional middle eastern condiment –
1 bell pepper
3 plum tomatoes
2 cloves garlic
1 hot chili
olive oil, salt, pepper
Char the outside of the pepper over a flame, then remove the charred skin. Coarsely chop in a food processor with the tomatoes, garlic, and chili. Coat a wide saute pan with olive oil, pour in the vegetable mixture and over lowest heat, cook down until it becomes paste-like, about 2 hours, stirring occasionally. Season to taste.