First off, I haven't abandoned you all, I've just been working on redesigning my personal website where I archive all my published articles and such, and it's taking more time than I thought it would, around dinners and cooking classes and all that. On to the latest hotspots.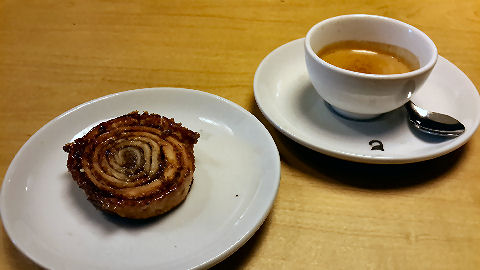 Just an attitude comment. As things like gourmet burger and gourmet coffee spots are becoming more prevalent in BA, so is the whole "hipster" attitude. I've seen it happen more and more at these kind of places, and it's just annoying. Stopped in at LAB Café as I happened to be in the 'hood and had heard good things about it. The coffee's good, and you can have it brewed via any of several methods, to your tastes, the selection of coffees are either provided by Establicimiento de Café, or by the same distributor, as the half dozen choices echo a half dozen of the latter's specific plantations that they import from. I sat down at the counter and was ignored. After waving one of the barristas down, who gave big, shoulder shrugging sighs, and came over, and snapped, "you can't sit there without a coffee, you have to go to the cash register and order one and then after you get your coffee you can sit." Okay… fine. Did so. While I'm waiting for him to brew my coffee, a duo come in and snag the same seat I'd been in and one next to it. Barrista pops over, gives them both kisses, and asks them what they'd like. They ask for a minute and he goes back to finishing my coffee. I ask him – "How come they get to sit, and don't have to order first?" "They're friends, and they haven't ordered anything yet." I return to the counter and sit on the stool next to them, the last seat at the counter. They order their coffees, he makes them, they don't pay. A friend of theirs comes in, greets them and the barrista, she looks around for a seat, the young man of the first two, "We tried to save you a seat, but this jerk took your stool and won't move." (Hadn't spoken to them, they hadn't spoken to me.) She moves over and stands next to me glaring, the two others turn and glare at me, the barrista does too. Excuse my French, but fuck all four of you. Drained my coffee, left without tipping, or a word to any of them. Won't be back.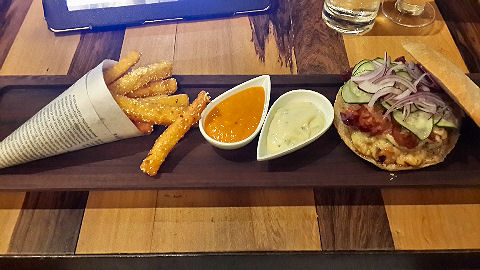 The new lunchtime only burger at UCO, in the Fierro Hotel, Soler 5862 in Palermo. I reviewed their dinnertime tasting menu a few months ago. Excellent burger – an interesting blend of 75% ground veal (not the milk fed white meat, but natural raised) and 25% smoked pork, which gives it a great flavor. Comes topped with white cheddar, crisp bacon, tomato, red onions, lightly pickled cucumbers, and a chimichurri based sauce, all on a really great bun that held together through the whole eat. Ordered rare to medium rare, arrived more just past medium, barely pink in the center, but still nice and juicy, likely due to the addition of the pork. The accompanying polenta fries are delicious on their own – I'm not overly convinced by the slightly murky flavored, warm herb mayo or the "salsa picante sin picante" ("hot sauce without the hot"), which more or less came across as a housemade ketchup with maybe some roasted pepper blended in. Nicely priced, with a beer, 150 pesos all told.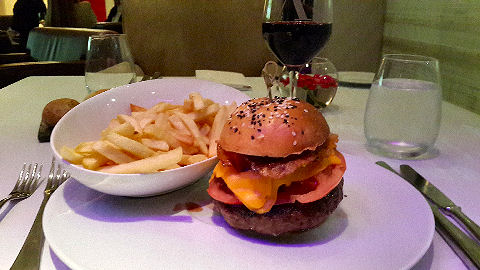 Many moons ago I reviewed Chez Nous, at the time the restaurant in the Algodon Mansion Hotel. Two chefs and two name changes later, and a bit of remodeling, and the hotel's dining spot is simply called the Algodon Wine Bar, Montevideo 1647 in Recoleta. The menu is short and sweet. They serve up excellent cocktails, though pricey – 180 pesos for a Hendrick's Gin martini – that's a $20 cocktail, in BA. In fact, that's more than the already expensive burger (175 pesos), served up with a glass of house wine (the hotel is owned by the same folk who own Algodon winery in San Rafael, Mendoza, and all the wines by the glass are their own, i.e., minimal cost to them) at 90 pesos. The burger itself, delicious, and properly cooked to a nice, rosy, medium rare as requested, though somewhat dense from being ground too fine. Made with 100% Black Angus beef, topped with beautifully caramelized onions, crisp bacon, lettuce, tomato, mustard and mayo. Two disappointments – the "cheddar" was just a single sandwich slice of orange "cheddar" (really what we'd call "American cheese") – given the price and the Algodon's seeming commitment to quality ingredients, they could do better with that addition; and, the bun, as you can see, is at least an inch smaller in diameter than the patty, the bottom part dissolved to pulp within a minute or two and the top part just fell apart – it ended up being a knife and fork burger, again, they could both size the bun to the burger since they're making them in-house, and something with a little more stability to it. The fries, perfectly cooked and golden brown with a crisp exterior and soft interior – everything a fry should be, dusted with sea salt, and served up with condiments on request (I miss Chez Nous' little mini, individual condiment jars, albeit that they were somewhat wasteful).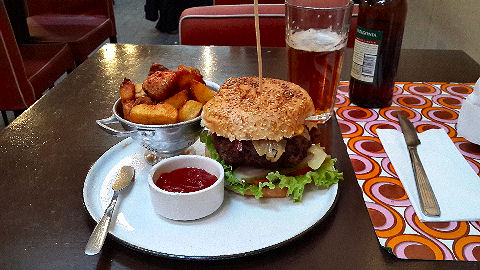 I've also reviewed Malvón before, though they now have a second branch, closer to home, at Lafinur 3275 in Palermo Chico – almost right across the street from Mishiguene. Ordered up the burger my usual selection of rare to medium rare. Still, when it came to the table roughly 5 minutes after I ordered it, I was a bit surprised – in that time, all I could think was that it would be raw inside. Especially because it's a huge, plump burger, more than an inch thick, which was promising for a 95 peso plate. But, that was not to be the case, instead, it was cooked way past well done, dried out, and with, well, squidgy bits inside. I'm only speculating, but I'd guess that first off, the burgers are made from ground scraps, that include bits of tendon, nerves, and silver skin, resulting in the texture, and second, they're pre-cooked and probably either kept in a steam-line tray so that they're already hot, but way overcooked, or they're micro-waving them to heat them up. The lettuce and tomato were fine, the barely cooked onions, not, the cheese, another single orange cheddar slice (options available for blue cheese or parmesan, and for an extra 5 pesos, an egg). The best, actually, the only thing good about this burger, were the excellent pickles. And the bun was acceptable. The accompanying "papas rotas", "broken potatoes", were delicious, and the only real saving grace to lunch. [Closed, replaced by De Rosa pizzeria]
Respectively, rating a 5, 4, and 2 on my burger ratings list.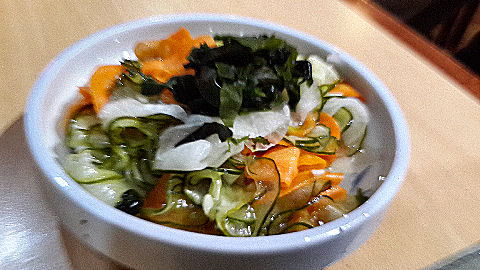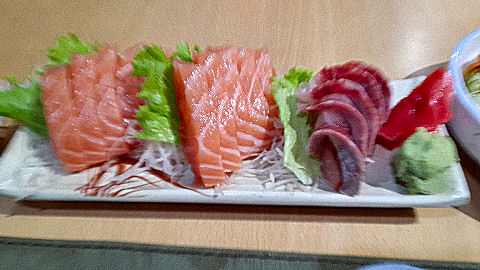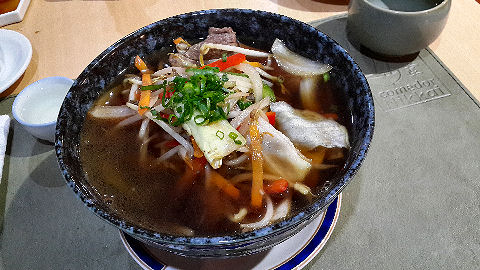 And, last up, another entry in the ramen search. Only about a year and a half after arriving in BA to live, I reviewed Comedor Nikkai, Independencia 732 in San Telmo, after a couple of visits. At the time I was impressed, but in retrospect, that was in comparison to the mediocre level of the Japanese restaurants I'd tried to date here. As time went on and I discovered places with far better food, the memory of Nikkai slipped into darkness. But, they offer up ramen, so it was off to try it. I'd forgotten how the place feels – it's brightly lit, bustling, there are TVs mounted on the walls, playing at all times at a low volume. The waiters are abrupt, the service is fast, but haphazard – dishes come out at random – somehow or other I found that charming nine years ago. But looking at it in the "hard, cold light of day", I realize that the place is really just a "comedor", a simple "dining room" – in fact, it's the dining room for the staff and visitors of the Japanese Cultural Center in which it's located. It's a cafeteria, just one where you have waiter service instead of having to stand in line. That should have been obvious when, within 6-7 minutes of placing my order I received a plate of mediocre sashimi (the "selection of various fish" – which turned out to be 10 pieces of salmon and 5 pieces of mullet with the bloodline left in, making it taste metallic – compare that to the selection provided back nine years ago of five different kinds of fish); a bowl of pickled vegetables, and the gomoku ramen (one of two on the menu), all within a minute of each other. The ramen broth, described as a dashi broth (dried bonito flakes and kelp) was tasteless other than a vague hint of smokiness, the noodles were overcooked and a bare handful at the bottom of the bowl, the vegetables were raw, the meat was a couple of scrap cuts of beef that were chewy and gristly. I didn't even eat half of it, shoved it away and asked for the bill. No comment from the waiter on my not finishing… anything. Moderately pricey (pickles 65 pesos, sashimi 215, ramen 120), and just not worth it.