Because I've been focused on my ramen quest, there have been fewer other sorts of restaurants that I've turned my attention to, but I'm not slacking off. At first, before my ramen binge started, I thought I might do another round of seafood parrilladas…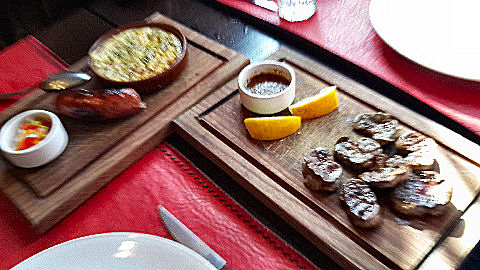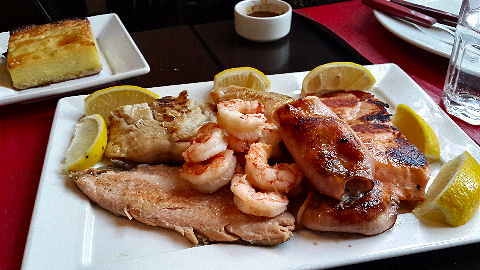 …and Henry, myself, and a friend toddled off to La Bandurria, Nicaragua 6078 in Palermo. We started off with a lovely provoleta, some grilled kidneys that were perfectly cooked, and a reasonably decent chorizo. And then the platter of fish arrived. These poor sea creatures were well and truly dead, twice over. The fish and shellfish both were so overcooked they were dry as dust, there was no seasoning of any sort, and neither the wedges of lemon nor the salt on the table created the slightest glimmer of hope at resurrecting either the frutos del mar nor our appetites. We said a prayer over the remains and beat a hasty retreat.
And then the ramen trail began. Online searching has led to the creation of list, a reasonably lengthy one to which I am addressing myself with gusto. And so I found myself at the relatively new branch of Osaka, Juana Manso 1164 in Puerto Madero Este. Right there on their webpage, a picture of beautiful, glistening ramen – unfortunately the link at the top of the page that says "La Carta" turns out only to apply to the flagship restaurant in Lima. Way down at the bottom of the page there's a little link to view a pdf of the different menu offered up at this branch (and presumably, each branch has a similar link). So, no ramen. In fact, no one, not the barman nor waiters, nor even a cook who came out to talk to me (I really didn't mean to poke a hornet's nest – they wrote up an "incident report" and asked me to give my contact info so that management could contact me – they never did, not that they needed to) had the foggiest idea what ramen was. Already being all the way over in PME, I decided to stay and give the place a try.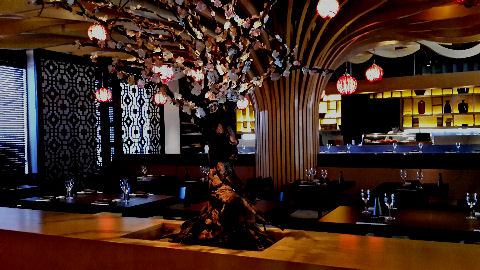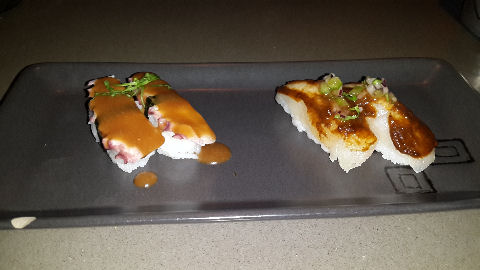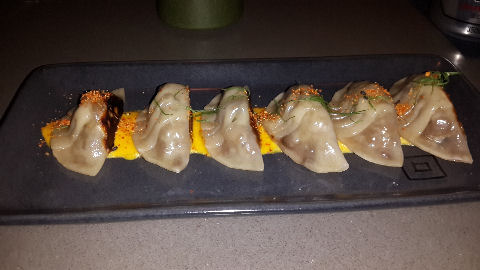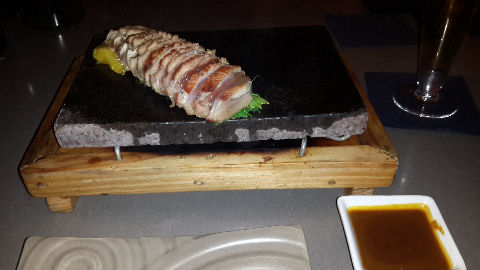 Now, I've liked the Osaka branch in Palermo, though I've not been for several years. My one complaint has been that the place is expensive. If you check out my last followup comment on that review, a lunch with friends in 2009, for the time, a whopping 750 pesos (at the time $195) for a light lunch for six of us seemed excessive, and to date it had been one of the most expensive meals I'd attended in BA. Contrast to today, with a plunging peso, lunch for one with the three plates you see above, and one small beer, with tip, came in at over 1000 pesos (roughly $110). Yes, you read that right.
The room is tranquil, beautiful, and really dark, very dim lighting and the windows are covered over with a grill that eliminates almost all natural light – to the level I had to use the flashlight app on my phone to read the menu. At lunchtime on a Sunday it was dead quiet, empty when I came in – the whole time I was there only two other small parties arrived. Apparently, dining solo doesn't offer one the possibility of a table. The young woman at the door told me that my only options were the regular bar or the sushi bar. Look, I can understand that if you're busy (well, not really, but I can at least understand the logic), and I don't really mind sitting at a bar, but, to be told those were my only options seems a bit inhospitable, especially when the place is basically empty. On to the food.
Four pieces of nigiri sushi. Four. Excellent, no question. Two pieces of tender octopus with a soy, wasabi and lemon glaze, and two of sole with a "pachamanca" sauce (a reduction of the sauce used in the traditional Peruvian dish of, typically, beer, cilantro, huacatay, garlic, olive oil, cumin, oregano, red wine vinegar, and ají panca (red chili) and this tasted reasonably close to what I'd expect). That was followed by six gyoza filled with caramelized onions and duck confit, served over a huancaina sauce (yellow chili, walnuts, cheese) – good flavor, though they were undercooked and a bit gummy. And finally a basically raw duck magret ishikaya – the skin was pre-browned (though not enough to render out the fat and crisp it up), but no more than that, and sliced and served on a sizzling hot stone with some grapefruit segments and herbs underneath – then cooked by myself on the stone. A can of Asahi beer, which was left for me to pour by myself. 947 pesos. I mean, it was all delicious, interesting, creative, all that, and I even came away with some interesting ideas, but some missteps in the cooking, which for these prices shouldn't happen. I imagine there must be a more expensive restaurant in town, but I'm not familiar with it.
[Revisit, April 2017: Pretty much the same comments on quality. Pricing is just astronomical now, with appetizers and desserts running 300-400 pesos and main courses 500-600. For two of us at dinner – 1 beer, 1 cocktail, 2 bottles of water, 2 glasses of wine, 2 appetizers, 2 main courses – with tip, 3800 pesos or basically us$250 – making it the most expensive meal we've had in South America to date.]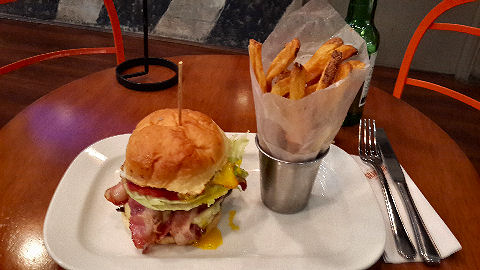 I'd heard rumors that BASA Basement Bar and it's casual next door sibling, Grand Cafe, respectively at Basavilbaso 1328 and 1340, Retiro (and connected inside, despite separate entrances), serve up a mean burger, the Hamburgusa Re Grossa, or "Really Fat Burger", topped with bacon, egg, cheese, tomato, lettuce, pickles, red onion, and housemade mayo. I can't tell you why I still haven't made it to BASA, it really sounds like my kind of place – and so I set out to rectify that one recent day for lunch, only to discover that, for whatever reason, they were closed that day for lunch. However, the cafe next door was open, and, they claim, both serve the identical burger (given the layout, it looks like they actually share the same kitchen, so that seems likely. Although cooked far beyond my requested "rare", to a solid medium well, it was still juicy, well seasoned, and a good size, coming in at 200gm, or 7oz, presumably pre-cooked weight. Generous toppings (the excellent bacon and the sweet-sour pickles really stood out), a really good bun, and actual crispy fries to accompany it. Slightly expensive at 126 pesos (they also offer one without bacon and cheese for 110, and I don't know what the price is next door at BASA).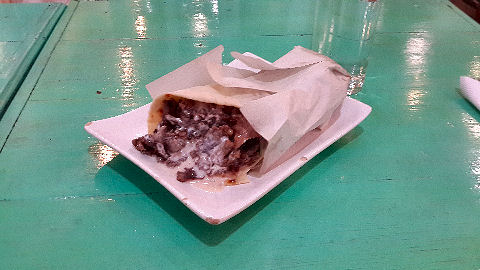 Pure serendipity stumbling on the very new La Mil y Un Noches, Tucumán 938, in Centro. Spotting the rotating spit of shawarma (beef) in the window as I was passing by, I veered in. A young woman spending her time texting on her phone and chatting with a visiting friend was the waitress – she was friendly and quick to take the order. The cook, the only word that comes to mind is schlub ("unkempt in appearance, either due to lack of effort or lack of awareness"), trudged out of the kitchen to prepare the shawarma – the complete lack of hygiene ought to have been an inkling. The shawarma arrived, generously packed with lightly charred meat, plus bits of onion, lettuce, tomato (which, interestingly, he grilled before sticking them in the sandwich, I've not seen that before, and just drowned in a somewhat watery, though tasty, yogurt sauce. I bit in, and drew back a long, long, long hair. I flagged over the waitress, who apologized and whisked it away. The question was – try again or no? I mean, it happens. It shouldn't, but it does. I've been around the restaurant world enough to know that. So give it another try. He trudged out, made another one, and it was duly delivered. It was good, but still just sloppily made, as unkempt as the cook, and despite whatever logic versus emotion was telling me, I couldn't get the hair out of my mind. I ate about half of it, left the rest, paid (35 pesos), and headed out. I'll give it an "average".