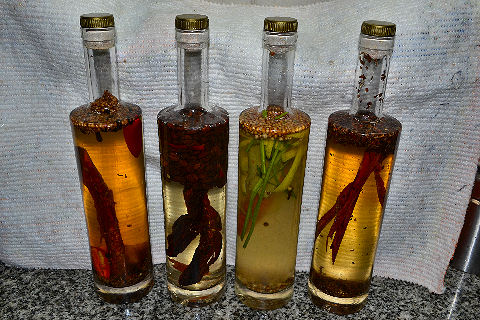 I've started making our own bitters for our welcome cocktails. We'll see how they turn out in some upcoming cocktails. In each case it's a judgement call as to how long to leave the various spices (not ground, I'm using whole spices) and such infusing – a matter of tasting them, but in general, 2-4 days. Then I let them sit to sort of "meld" for a few days before using them.
Ras al Hanout bitters:
1 T@ coriander, cumin, ginger, black pepper; ½ t@ mace blades, grains of paradise, cardamom, ¼ tsp cloves; 1 cinnamon stick, 2 cayenne chilies – top off 500ml vanilla vodka
This one we've played with before, paired up with vodka, fresh plum juice, sugar syrup, and Legui, a local liqueur flavored with lime zest and vanilla.
Hellfire bitters:
½ cup coffee beans, 1 each – deseeded aji amarillo, aji panka, cayenne chili – top off 500ml vodka
Our first tryout, a blend of aged tequila, creme de chocolate, tia maria, and the bitters – a hit
Watermelon Pickle bitters:
1 tablespoon each of fennel seed, star anise, szechuan peppercorns, 1 teaspoon cloves, 2-3 whole cinnamon sticks; top off 500ml with vodka
These are the spices I use for making watermelon rind pickles. In the long run, I think it will be better in summer when I can use it with freshly "squeezed" watermelon juice, but for now, it's pairing great with vodka, watermelon liqueur, and fresh lemon juice.
Preserved Lemon bitters:
1 stick cinnamon, 2 bay leaves, 2 cloves, 1 T coriander seed, 1 T white peppercorns, several parsley stems, peel of one lemon – top off 500ml with vodka
Still working on a cocktail for this one – the infusion is based on what I use to make preserved lemons for Moroccan style cooking.