I've been in the middle of finalizing a menu for a private party coming up for a long-time friend. He'd decided that at one point in the meal he wants a manchego cheese plate with some sort of accompaniments, but, rather than going the direction of something creative, he wanted to keep it a simple cheese plate. But, it already had me thinking….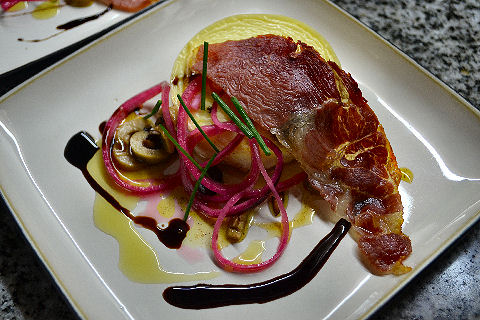 The star of the plate, a manchego cheesecake – using a younger manchego, because you want something that will melt easily. Basically, just using a classic baked cheesecake recipe, but eliminating the sugar and vanilla, adding some salt, and substituting manchego for half the cream cheese. It's crustless, so I baked it in buttered ring molds that I'd created a bottom for with buttered foil.
Beneath the cheesecake, matbucha, a middle eastern condiment that's basically a slow cooked compote of charred bell peppers (most of the charred skin removed), tomatoes, garlic, and chilies in a little olive oil, salt and pepper.
Surrounding it, sliced almonds and green olives sauteed quickly in olive oil; quickly pickled red onion rings (rice vinegar, sugar, salt, white pepper and coriander seed simmered together and then poured over the thinly sliced rings, then let sit for about 2 hours).
A crispy strip of serrano ham – a really easy way to do this, take two microwave safe plates of the same size, top one with a couple of squares of paper towel, lay the strips on the paper towel in a single layer, top with a couple of squares more and the other plate, microwave on high for a minute – if not crispy, do it for another 30 seconds – much of that just depends how thick it's sliced.
Drizzle of a good, spicy olive oil (frantoio olives), and a reduction of sherry vinegar to the point where it's a thick glaze (balsamic is also fine). Scattering of chive "batons".
So much nicer than a slice of cheese and some almonds on a plate. You tell him.
Wine: Philipe Caraguél Rosé Brut N.V., Mendoza