I realize that there's more to Mar del Plata than just the coast, after all, the whole reason the South Beer Cup was held there is that it's kind of become the center of the microbrewery movement. (Albeit that, if I followed the seminar that covered the topic correctly, microbreweries across South America more or less account for 0.4% of the beer production, across Argentina it jumps to 0.5%, and in Mar del Plata it jumps to a whopping 0.6% – still, as someone said, "it's 50% higher here than in the rest of South America!") At the same time, I really just had an afternoon to explore, and basically, I spent a chunk of it walking from the convention space, La Normandina, to my hotel, along the coast – about two hours, so maybe 4 miles or so (I was casually meandering, not putting effort into getting anywhere fast). Given that the draw of the place for visitors is the beach, or series of beaches, they're not overly attractive beaches. It seems we felt the same way on our one and only other visit to MdP, some eight years ago (series of three posts starting here).
And then, there was the food. Apparently things haven't changed much in that vein either, though I did manage to avoid eating fried calamari for nearly every meal….

The first day, given that I was ready for a serious nap, I decided to go for somewhere close to the hotel. Zafarrancho, Belgrano 2361, came highly recommended for their seafood. They don't offer an individual sized version of a seafood parrillada, and my waiter informed me that ALL the specialties of the house are sharing size, far too big for one person to eat (bizarre, no?), and recommended the sole with shrimp sauce. Even that was whopping – three fillets of fish, none of them small, smothered in a shrimp cream sauce, and accompanied by two potatoes worth of mash, plus another mound half that amount of squash puree (oddly, decorated with those candied cherries usually used to decorate cakes). Meh.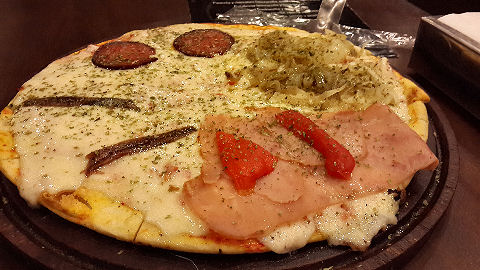 In the evening, perhaps influenced by all those hotdogs and choripans on offer, I was in the mood for a good burger. Apparently "THE" place is one called Viejo Dave, so I had the cab driver take me there – unfortunately, being a Friday evening around 9:30/10, there was an estimated hour and a half wait for a table (the line stretched down the block), and then, likely another 30-40 minutes to actually get a burger. I hopped back in another cab and set out back for the hotel area, where I found a small, nondescript "pizza libre" place down the block. For 65 pesos, all you can eat pizza, including a beverage. I ordered a slice each of four different types (he said they were small), only to find that apparently they only give you two each of whatever you order, no option to just get one. I gamely made my way through a good portion of it. Meh. (As a note, my second cab driver, suggested another burger place that he'd not been to, but heard good things about, where they served up enormous burgers… hold that thought, I declined, but thanked him.)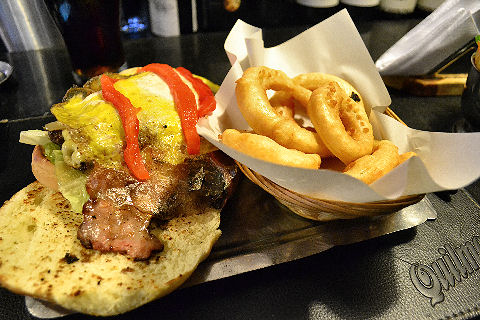 Still in the mood for a burger next day, I checked into heading to Old Dave's spot only to find it's only open at night. But, a second highly rated spot showed up on my radar, Crip, Diag. Juan Martín de Pueyrredón 3224, and only about a ten block walk from the hotel. Saturday afternoon at lunch, they too had a long line waiting, however when the host took my name, he said, "everyone else is waiting for a table, if you want to sit at the bar, there are empty seats there." There were – half a dozen, all of them empty. I have to guess that this is the place my cab driver the night before was talking about. The buns, the burgers, are probably close to 8″ across, and weigh in at well over half a pound. And topping that with cheese, lettuce, tomato, onions, bacon, and a fried egg, and all accompanied by a mounded basket of either fries or onion rings, it's a hell of a lot of food. It also quickly becomes a knife and fork proposition – I started by cutting it in quarters just to be able to pick it up, but as the bottom bun quickly collapsed under the juicy weight of everything, I switched over to the fork. Actually, a quite good burger. A shame, given my purpose down there for the weekend, that the only beers they offered were a couple of the big commercial brands – hey, you go to the effort to put out a high quality burger, why not offer the same in beverage? And next time, I'll listen to my cab driver.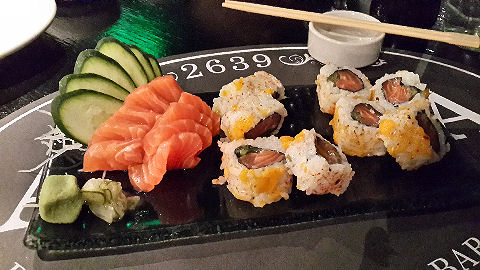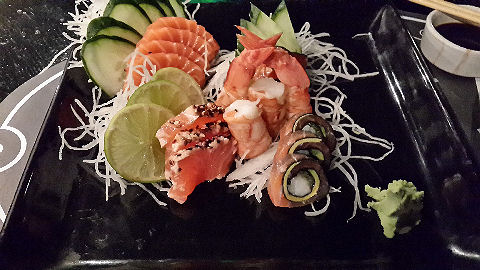 And, a late night visit to what seems to be the highest rated sushi bar in the city, Alsina, Alsina 2639, though I find that hard to believe. First off, it looks like an old English pub. The menu consists of sushi and (mostly) Spanish tapas. It mostly seems to be a bar for 20-somethings to hang out, though the atmosphere is odd for that, go figure, but they made up the majority of the customers. I ordered a 20-piece sashimi combo – salmon, a selection of white fish, prawns, and octopus, plus a salmon skin roll. What arrived was a 9-piece salmon sashimi (they only had 5 or 10 piece combos on the menu) and a roll of salmon, avocado and mango with a little togaroshi (the spicy condiment mix of Japanese cooking). I thought I'd gotten the wrong order, but my waitress insisted that that's what I ordered. It wasn't. She offered to bring "the rest of the combo", but noted that they don't have any salmon skin, so she'd picked a substitution. I just wasn't in the mood to go there, so I acquiesed. The roll wasn't bad, though I could have done without the mango. The salmon sashimi was really fresh, but, really little slices. And then, the second plate arrived – with 13 pieces more of salmon (some large, some small), prepared four different ways, and 2 prawns, each cut in half. I pointed out that I'd already had salmon and was looking forward to the selection of white fish, prawns and octopus. They don't have white fish or octopus. They just prepare salmon in various ways. And have prawns. Which they cut in half and count as two pieces of sashimi. I gave up, ate it – again, really fresh, tasty even in its different preparations, just not what I ordered. And not cheap – the sashimi combo, one roll, and a bottle of water, with tip (why did I leave a tip given the service?) came in at nearly 500 pesos. I really hope that this isn't MdP's best sushi bar.