Roughly eight years ago we met Pete and Amy Slosberg when they came to town to learn a little Spanish and check out the local micro-brew scene. It was in its infancy, and the two of them were part of the infancy of the same movement in the U.S., back in the day (Pete's Wicked Ale). We've kept in touch, and now and again had a quick visit with them when they passed this way. Pete was one of the instigators in creating the South Beer Cup, South America's answer to the World Beer Cup. This weekend it was held for the fifth time, I believe just for the second time in Mar del Plata. I've not been, but it aroused my curiosity, and this year, with advance notice from Pete, I built it into our schedule and managed to get there for two of the four days (actually, the first day is pretty much official judges only events).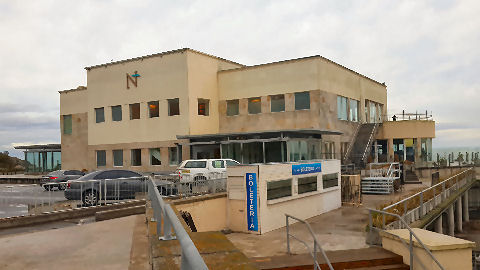 The weekend consisted of daytimes at a series of seminars, the first day presented by Argentine and Brazilian microbrewers, the second by folk from the U.S. They were held at an event hall, La Normandina – though that was a last minute switch (unfortunately, too late to change hotel reservations, a hotel I'd quite carefully picked because it was a few minute walk from the original site of the seminars, instead of a 15 minute drive away). Apparently it was a boon for the local taxi drivers – each trip I heard about how many trips a day they were making to and from the site and hotels back in the center of town.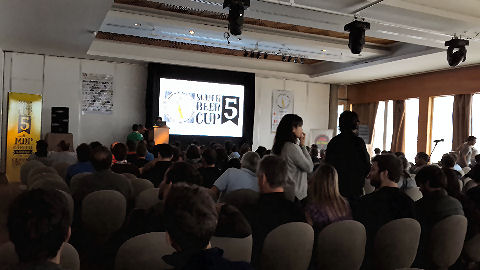 Somehow, I'd got it in my head that theme of the weekend was around both homebrewing and smaller microbreweries. As it turned out, it was mostly oriented around artesanal brewers who are putting out some volume, or those who want to. As such, I found some of the seminars, particularly those on different methods used in beer making, interesting, while most of the marketing and growth and organization ones I passed on. That gave me mornings in seminars and afternoons free to wander a bit of MdP (actually, the first day, having finished up service at Casa S around 1 in the morning and having to fly out at 6, I'd had virtually no sleep, so I just went to my hotel and napped).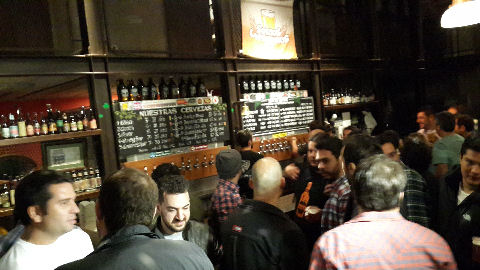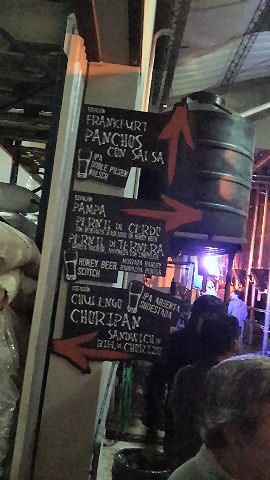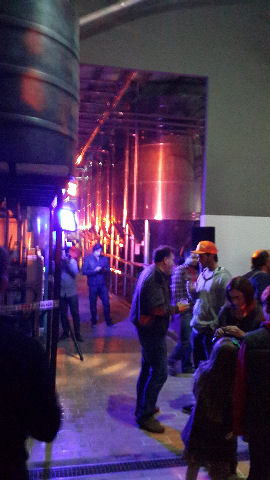 The first evening was a "dinner" at the Antares brewery, a fairly large operation here in Argentina, and other than the dinner, they weren't really participating in the weekend (no beers submitted for judging apparently). It was an open bar for sampling any of their beers as well as about a dozen that were on tap from other brewers around South America. Favorites of the night, from Grunge Brewing Company here in BA, their IPA Oceanica and from Cerveza Cheverry in Mar del Plata, their Old Ale. The "dinner" turned out to be an offering of hotdogs, choripanes or roast pork sandwiches. I decided to bail after trying about ten of the beers and spending a bit of time with P&A learning about the styles, and then headed out to eat.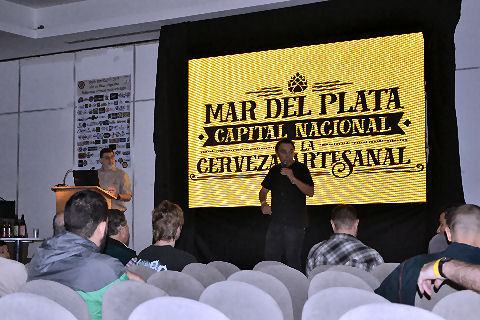 Next day, the norteamericanos. That's Pete at the podium on the left. The organizer, Martin, is introducing him. Pete called me out during the day, introducing me to the group and suggesting that all the microbrewers contact me about creating beer dinners. At that point I realized I'd forgotten to bring a pack of business cards….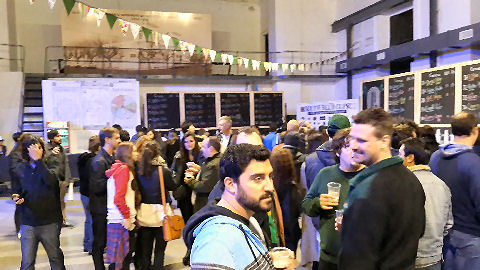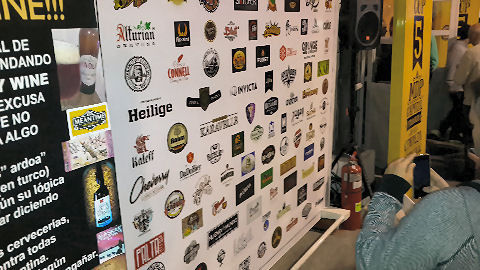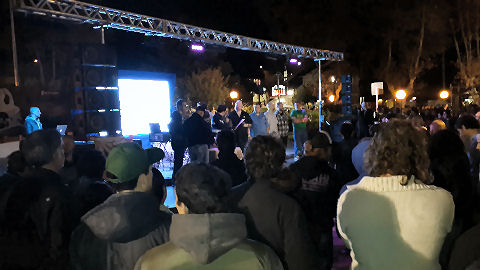 And, an afternoon off where I wandered the city, mostly the coast (more on all that in the next post), and then the evening open to the public festival. 100 pesos got us in the door and one free beer. Additional beers were 35 pesos apiece. A little pricey given the setup (and the same food on offer, but for a price), but the biggest issue is they were serving roughly half pint glasses of each beer, which meant a limit to how many you were going to try unless you had a couple of friends to pass them around. Smaller serves, lower price, would be the way I'd go I think. They had a VIP area which was where all the beers from the competition (not the same as the beers on offer in the public area) were, and thanks to my connection with P&A, I got in and got to sample about a dozen of the better ones. Favorites, and both ones that won medals – from 3 Lobos (part of Cervejaria Bäcker) in Belo Horizonte, Brazil, their Bravo, an Imperial Stout with 4% of it aged in a local wood called umburana that gives it an almost cinnamon or nutmeg character (apparently much more than that and the beer becomes astringent), and from Cervejaria Tupinquim in Porto Alegre, Brazil, their Chocolate Stout, which was not at all sweet, but a nice bitter, dark chocolate flavor. There were roughly 600 beers entered into the competition that the judges spent three days tasting through. A quarter of them received awards – either gold, silver or bronze medals in each of roughly 50 categories of beer – who knew there are officially 108 "styles" of beer? Needless to say the awards part went on a bit long (and it was chilly outside where they held that part of the evening). Oh, and the title of this post – the overall three top breweries of the weekend, didn't get a "cup", despite the name of the event, they got plates. I headed out early once again in search of food.