I don't know why, but I had near baseline expectations for this place. There was something about the whole "Asian tapas", the location, the ambiance, maybe even the name, that just had me avoiding setting foot in Sintesis, José León Pagano 2689, just barely inside the Recoleta line from Palermo. I was sure it was going to be mediocre sushi and faux-Asian lounge food. And no one I know in the food biz has even mentioned the place. So I'm going to mention it here. Go there. Just, go there. This is some of the most creative, pan-Asian food that I've come across in this city in the decade I've been here. I wish they didn't call it "Asian tapas", I wish I liked the ambiance, and maybe even the name, just a bit more. But the service and food has been impeccable, over several visits. The only service negative – while they have a stocked bar, they don't have a bartender, so they won't make cocktails – very strange – but they have a good wine list, and various tea options, including iced (though I'd personally prefer iced green tea to iced jasmine tea).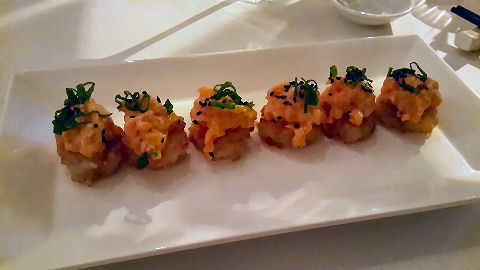 Spicy salmon tartare that's actually decently spicy, served over what amount to arancini made with sushi rice – brilliant.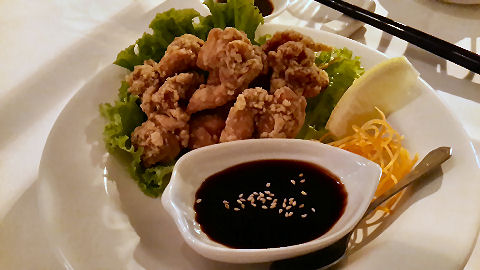 Crispy fried chicken marinated in intense flavors of ginger and sesame, served with oyster sauce – a simple and punchy combo that just works – these are chicken nuggets for adults.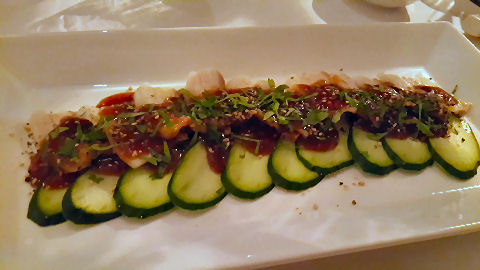 Slow cooked slices of pork over pickled cucumber, ladled with an absolutely bang on, intense garlic sauce that I want to know how they make, and steal it.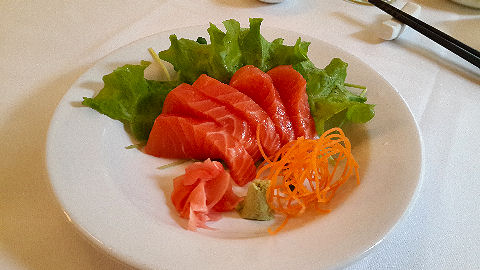 Pristine, perfectly cut slices of salmon sashimi, with pungent wasabi that had to have just been made within the last hour or two, and house pickled ginger that didn't have that sweet syrupy overlay so many places have. Hidden underneath the lettuce leaf, a salad of carrots and pea shoots.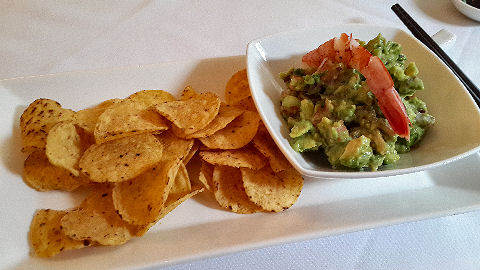 Made to order guacamole with two large chopped prawns in it, a simple idea, yet why is no one else doing that? Topped with another prawn atop, all perfectly cooked, and accompanied by, well, the one disappointment of all the dishes, commercial tortilla chips.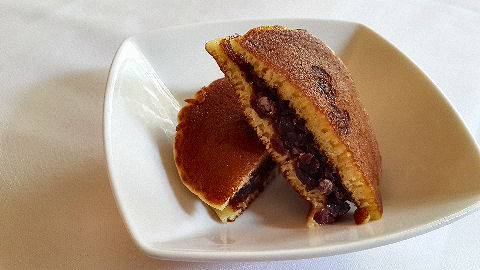 I've never seen dorayaki offered at a Japanese restaurant here, actually, in very few places anywhere that I've been – sweet, sponge-cake-like pancakes sandwiched around a gooey red adzuki bean filling. You can get one or two, and with or without ice cream. Yum.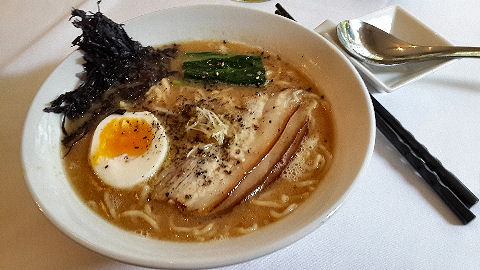 But, I've saved the best for last. Absolutely palate awakening, beautifully made, Tonkatsu ramen. Rich, mouth coating broth, vegetables, al dente noodles, gooey-yolked egg, smoky seaweed, delicate slices of braised pork belly. To date, the best ramen I've had in BA (I've started on a bit of a ramen search, so you'll see more coming this way), and one of the best I've had anywhere in years.
Relatively reasonable pricing – the various small plates run from about 50 to 100 pesos each, the ramen and other main courses were from about 110 to 140.
May I repeat… Go there. Just, go there.