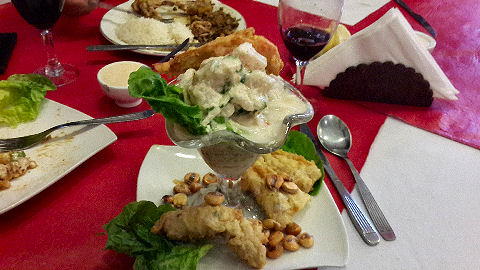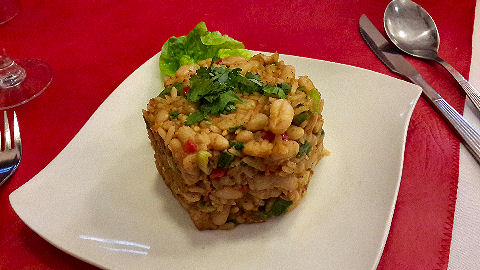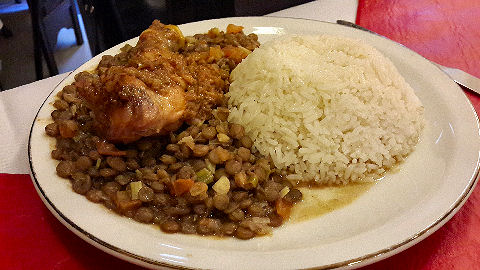 You may vaguely remember my mentioning Coya, Tucumán 874 in Centro, in regard to my search for a great ajiaco con conejo, or "chili rabbit". I've continued to stop by now and again to see if they actually have the dish available – they haven't. They've continued to use my photo of the dish from a different restaurant for their own website. One day Henry suggested we just sit down and see how their food was, rabbit or no. The room is pretty barebones, a lot of older wooden tables that don't seem overly stable. Service is friendly and charming, which is a nice plus. Henry decided on the "menú" for the day – the soup a sort of basic chicken noodle, lacking in seasoning (and without the usual, in Peruvian restaurants, accompaniments of lemon and hot sauce, until we asked, also no bread served). His main course of chicken with lentil stew was quite good. On my side I went for a leche de tigre, with a side of tacu-tacu, or rice and beans – I wasn't overly hungry. Their version of the tiger's milk, a whole lot more than "the milk" – pretty much a whole ceviche in a sundae glass, plus two small fillets of fried fish and a fried prawn. Now, that makes it a deal, especially because it was very good, but, was way too much food for what I was looking for and I nibbled at the fish and then scooped the liquid from around the rest. The tacu-tacu was pretty good too. All in all, not bad, and I don't know of another downtown homestyle Peruvian food option. Maybe one day they'll even have the rabbit, and I can take a photo of theirs.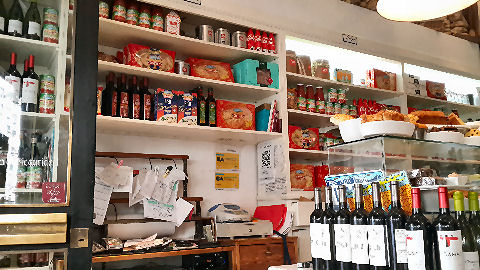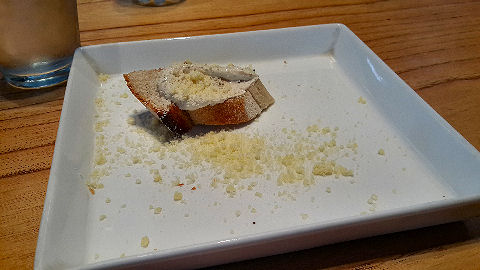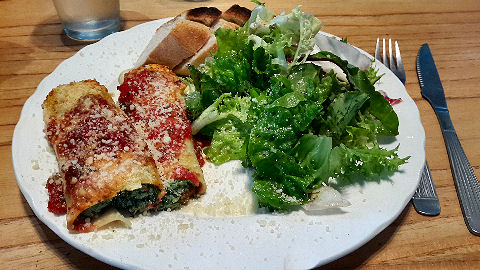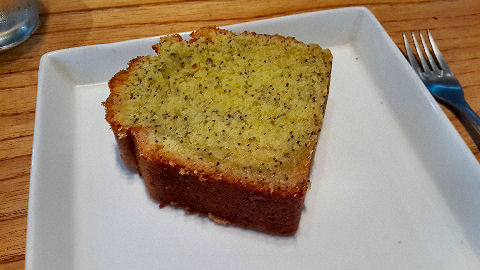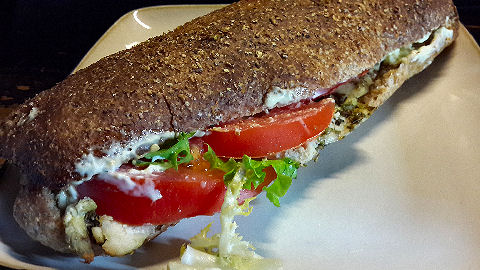 Moca, Av. Callao 2034, here in Recoleta, is a little gem of an Italian spot that is often overlooked. From the outside, it just looks like a neighborhood cafe, but when you enter, you find it chock-ful of high quality Italian goods for sale, or, for sitting down at one of the small tables and enjoying on the spot. It's only open for lunch and on into early evening, and the offerings are limited to paninis and salads, and, a single pasta of the day. The owner, if I understand right, is from Rome, and likes to bring in classic flavors from his hometown. On a recent visit, the meal started off with a small bruschetta topped with whipped ricotta and generously strewed, freshly grated parmigiano. The pasta that day, perfectly cooked canneloni filled with a spinach and garlic saute and topped with fresh tomato sauce. Beverage and a coffee are included for a mere 85 pesos. Dessert is extra – a slight disappointment – not that the poppyseed and vanilla budín, or poundcake, was anything but delicious, but I asked the waiter to pick something from the array that was traditionally Italian – which this really isn't. On another visit, I grabbed one of the panini to go – fresh baked bread, juicy chicken breast, fresh basil pesto, tomatoes – what's not to like?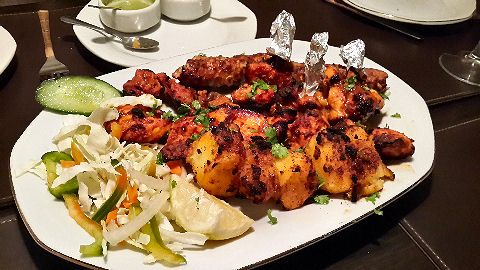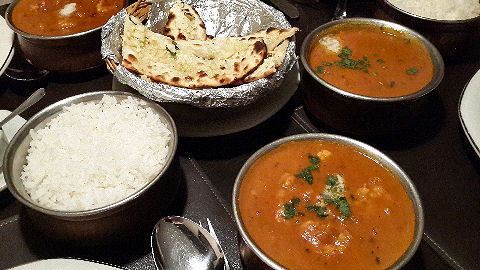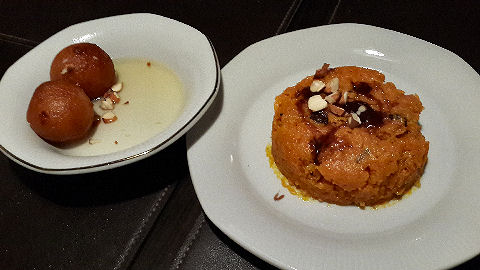 It's been five years since we first visited Taj Mahal, Nicaragua 4345 in Palermo. I remembered liking it, but as I noted in the followup exchange with a local reader friend, given that we have an Indian restaurant of equal quality a few blocks from home, it sort of isn't on the radar when we want "comida hindu". But we were meeting up with friends over that way, and one of them works for another restaurant whose owner is friends with the owner of Taj Mahal, and he made arrangements for us, coming in at a 20% discount in the end. Pretty much, I'd stand by my original review, which I didn't go back and read before venturing out. Service is great. The kitchen is a bit slow – for a three course meal we were there for 2½ hours. We decided to share the tandoor grill sampler platter (215 pesos) for the four of us – a mix of absolutely mouthwatering, and fiery spicy (on request, which we did) lamb, chicken (two ways), and potato appetizers. Henry and I would go back and just have that with a couple of beers and some rice and be eminently happy. As it turned out, two of us ordered the lamb curry and two the prawn curry. Our waitress misunderstood and ordered only one of the prawn dishes "spicy", so the other three were pretty mild – but they still have that great hot sauce, so we perked it right up. Both lamb and prawns delicious, though pretty small portions – the bowls themselves are fine, but they're mostly just sauce, I think my prawn curry had five or maybe six prawns in it. We split a couple of desserts, both excellent. Overall, along with Tandoor, I'd say the two best Indian spots in town, both of them a bit pricey for the quantity of food (without the discount it would have been almost 1500 pesos for four of us, including one bottle of wine and tip), plus there's a 25 peso per person cubierto charge, but both serving up great fare – and, I guess if I look at the pricing on small plate food, like in my last post, or, in the next spot up, it's actually pretty much in-line with prices today. It's probably unfair of me to expect Indian food, especially really good Indian food, to be cheaper than some other cuisine – most likely because I spent near twenty years living just down the street from NYC's Little India stretch on East 6th.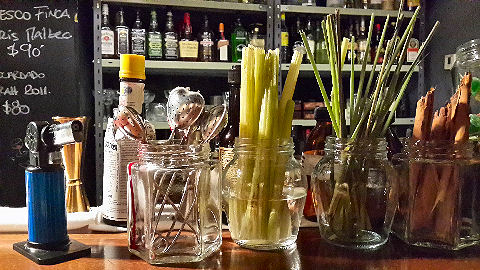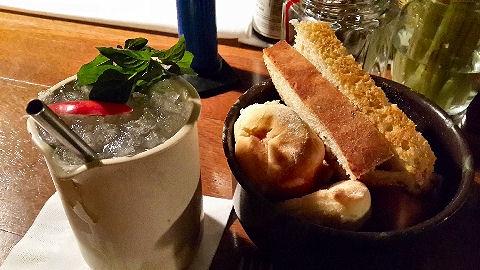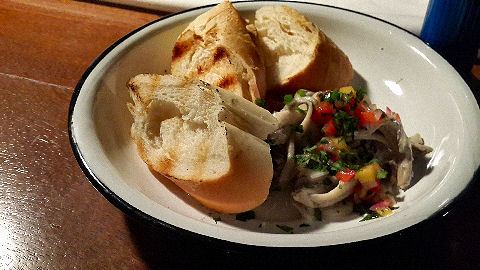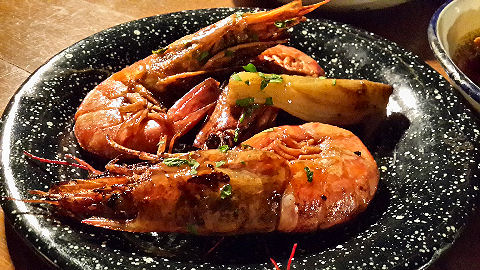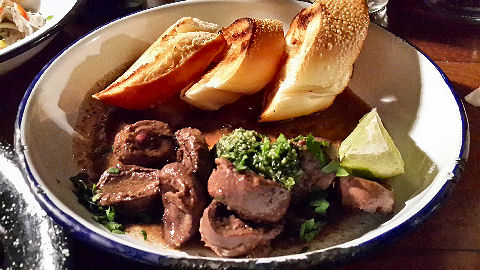 Oh, the secret flower shop bar, it's a love-hate relationship I have with you. Opened up in partnership a couple of years ago with the owner of 878, Floreria Atlantico, Arroyo 872 in Retiro, is another sort of speakeasy entirely (they're all the rage the last couple of years). By day, a flower and wine shop – well, really a wine shop with a bunch of flowers in it – at night you enter through what looks like the flower cooler door and plunge down a flight of steep stairs to find a long, long, narrow, narrow bar stretching out before you. The love part? Great cocktails, truly creative, along with an excellent wine selection. Charming, good looking bartenders who are serious about their craft. The hate? Crowded, noisy, and often, just too packed with the sort of folk who frequent cocktail bars of this type because they think it affords them status – and they're pretentious about it. To whit – on my visit earlier this week I sat down at the bar – there were five barstools empty to my left. A trio of master of the universe wannabes came in, grabbed the end three, and then actually said out loud – "we don't want some couple sitting next to us in those two seats", so they knocked one of the barstools over onto the floor, and then spread their three out so there was no room to put it back. I believe the actual, technical term is "douchebags" or maybe "assholes". Apparently just used to this sort of behavior, one of the hostesses just went over, picked the stool up, and moved it over to the side. But, back to the drink, and food – an example of the creativity – I tried for the first time a "Bolivia Trago Para Hombres" – Bolivia Cocktail for Men – a tasty blend of Principe de los Apostoles gin (locally made, flavored with yerba mate), grapefruit syrup, mint, locally made tonic water, and a rocoto chili infusion, served up like a terere, or iced mate. This was actually the first time I'd tried any of the food, and I went for a trio from the tapas menu – a nice little heap of excellent boquerones (cured white anchovies) in a salsa criolla, grilled prawns (I like shell on prawns if you're going to make the shell crispy enough to crunch into, these weren't, which meant having to peel them), and lamb kidneys in provencale sauce (garlic and parsley). All good, nothing outstanding, but solid. And a trifle pricey for tapas, running 85-110 pesos apiece (plus one over 200 for imported octopus) for basically, nibbles. One cocktail, three tapas – 380 pesos – basically the same as I paid at Brač a week or so ago for two cocktails (less creative but still delicious), three tapas (more creative, tasty, and interesting), and a dessert (spectacular), in a less trendy, but more relaxing for dining, environment. In Palermo. Just sayin'.