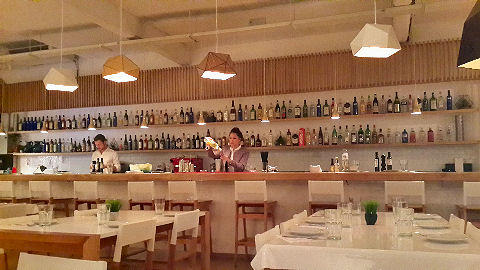 The owner's idea – bring the relaxed ambiance of a Croatian island paradise in the Mediterranean to the heart of Palermo. Without Croatian food, nor drink. Instead, a laidback style of small plate eating – not quite tapas – somewhat like the "grazing" trend that took place in Europe and North America two decades ago, resurgent. Named after the inspiring isle, Brač (pronounced "brahts") is plunked down in the recently vacated space of the short-lived (unfortunately) Chira, at Humboldt 1864. The island appears quite beautiful:
It might (or might not) also be worth noting that a brač is a type of mandolin from the same general region of the world. Should you care to listen in while reading the rest of this missive:
As you can see in the photo at the top, it's a light, bright, airy space, with distressed wood and a lot of white plastic. There's a small outdoor area in front where there are hanging basket chairs and a sort of more loungy feel, if that can be done outside. It fits the "island" theme. Service is friendly and helpful, perhaps a bit too intent on communicating the owner's vision – on my first visit not only my waiter, but a second waiter, and the manager, came over to give a virtually word for word identical spiel on "The Concept". It's small plate food, some of it for sharing, some of it just so you can try more than one plate. Got it. It's not that hard to understand.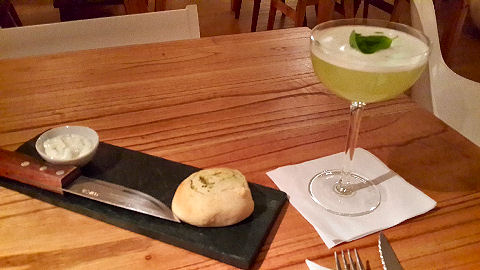 There's a great cocktail list, with some quite creative options – I tried both the Green Field (gin, basil, celery syrup and lime) and the Ron Ronero (aged rum, mint, lime, vanilla tobacco, pineapple juice), both excellent. A single herbed bread roll is served up on a slab of slate (actually, most of the plates are served up on the same slabs), with a whopping big steak knife that seems a bit of an overkill. As soon as you finish your bread roll, someone runs over and whisks the slab and knife away. There is a bit of hovering going on.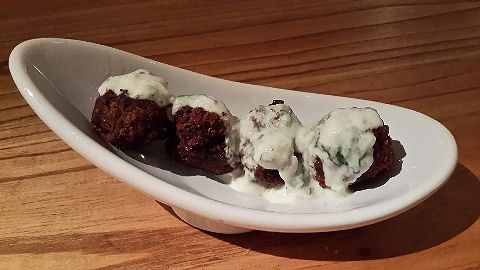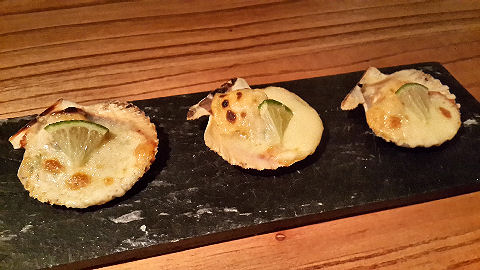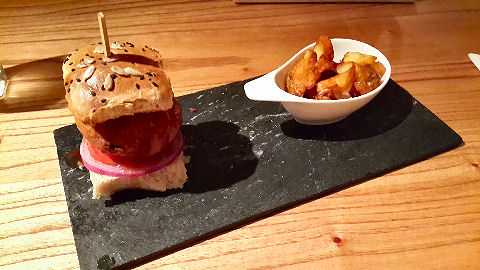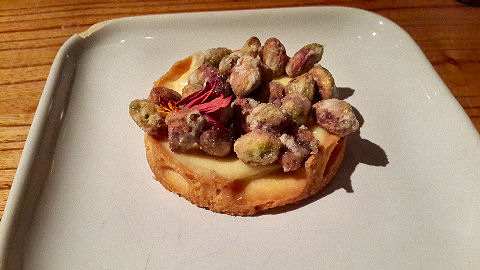 There are different menus at lunch and dinner. My first visit was for the latter, where I ordered up a plate of scallops to be followed by the much touted mushroom burger, then lamb meatballs, and finally dessert. It made sense to me to put them in that order, but the kitchen sent out the meatballs – excellent, well spiced, with a lovely yogurt sauce. Then a bit later the scallops – disappointing – teeny, 1cm bay scallops in the shell, drowned in gloopy melted cheese, with a little sliver of lime and no evidence of the promised tabasco (more in a minute), nor any seasoning. Next up, the mushroom "burger" – basically a deep-fried, breaded portobello cap on a bun with red onion and sweet chili sauce – worth all the hype – absolutely delicious, if a bit hard to eat given its height. That, and the dessert, a white chocolate custard tart with candied pistachios and cardamom, were the stars of the four dishes – worthwhile just to go in and have those two.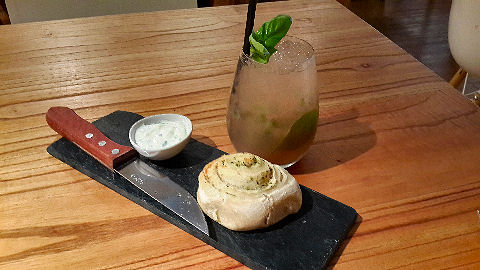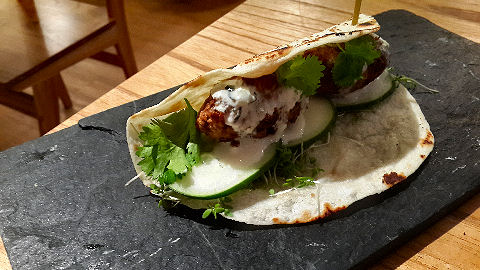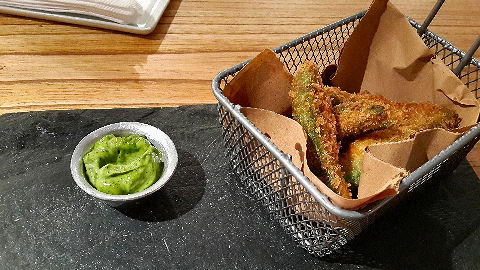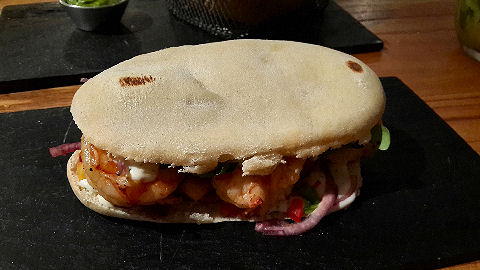 At lunch, a few days later, opting for a non-alcoholic beverage – some equally creative juices and virgin cocktails – here a pomelada – fresh grapefruit, basil, lemon, and a touch of soda. One note – great cocktails and juice type beverages, creative, interesting winelist, all clearly put together by someone with some flair. But, only two beers, Stella Artois and Heineken, both the lighter versions, available. Just disappointing that they haven't given any thought to some interesting beers, of different styles. Leaning more towards sandwich fare for lunch: The "falafel quesadilla" was an interesting idea, but "quesadilla" implies "queso", or cheese – here I was expecting a couple of tortillas with gooey melted cheese (maybe take it from those scallops) with the falafel in there somewhere. Instead, chalky, unseasoned balls of fried chickpea (where's the garlic, the herbs… the salt?), with some slices of cucumber, a little tzatziki (also no seasoning – tasting of plain yogurt), in a folded over tortilla – meh. On the other hand, the prawn sandwich with greens and a peach, lime and jalapeño salsa was simply glorious – immediately putting it into my pantheon of top sandwiches in the city. And a side of avocado fries with cilantro mayo was the perfect accompaniment.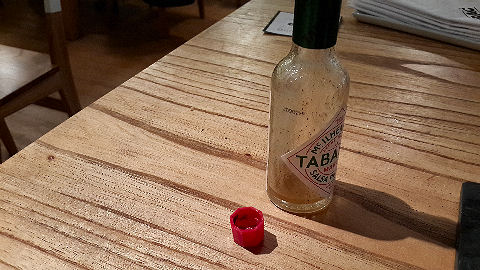 Last note on seasoning – this was the only bottle of tabasco in the entire place, a few drops in the bottom, when I asked for some hot sauce to perk up the falafel. That's sad, and there's really no reason that either the kitchen or bar or both shouldn't have a couple of full bottles around, especially given that they make a point of offering it.
So, overall – nice, casual ambiance, great service, modest prices (plates range from about 45-85 pesos, depending on which – dinner with four plates and two cocktails ran me about 400 pesos, while lunch with a juice and three plates was only 200. Creative, interesting food, a couple of missteps, mostly in lack of seasoning, but the majority, excellent!