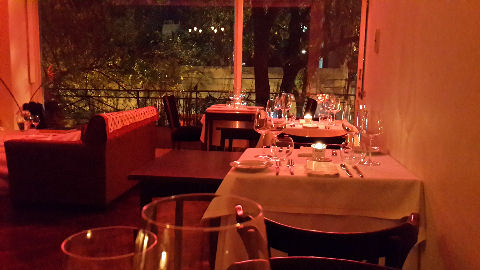 It's a rarity that I get to try out another puertas cerradas here, but on a recent Saturday, we awoke to find that six out of eight people had cancelled overnight, for differing reasons, leaving us with just two folk attending – luckily they were flexible with timing and could come another night. Henry decided to spend the evening with a group of friends from a Bolivian dance troupe, so I reached out to Ivana and Pablo at Paladar Buenos Aires to see if they might have space for one. They did, and at shortly after 9pm, I made my way to their beautiful home. It's a quite different setup from ours – separate tables, reservations spread out slightly in terms of timing (actually, that may just be when people showed up rather than intentional, I'm not sure – but there were just myself and a table of six tourists plus their tour-guide there at the beginning, three tables of two and one of four showed up one by one over the next two hours). I have to admit, it felt a little odd dining solo in this sort of setup, versus a regular restaurant where I might feel comfortable pulling out a magazine or book to read while dining, or chat with a bartender…. I would recommend going with at least one other person.
Pablo pretty much stays in the kitchen other than to help Ivana deliver plates – she takes care of the dining room – not all that different from Henry and I. He has the advantage of a duo of cooks to assist him in the kitchen, plus a dishwasher, so it gives him a little more time to come out and chat. Service is, not surprisingly, warm and friendly, though as the evening got busier, and especially as different tables were on different courses, it seemed like Ivana was struggling to keep up with wine and water service at the different tables, having to switch between different bottles and answer different questions about both wine and food at each table.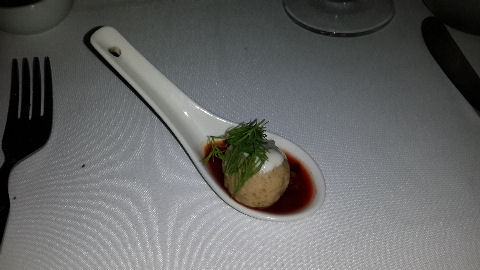 While ostensibly a "five course" meal, it's really a three course meal plus an hors d'oeuvre and a later palate cleanser. It still turns out to be a sufficient amount of food by the end, and has me thinking about whether or not we ought to cut down on some portion sizes – my standard joke is that I was raised in a Jewish household and trained in Italian restaurants, so ours "are small portions", but they're really not, and I know people often feel a bit stuffed to the gills if they eat it all, or they end up leaving food and feeling bad about that. It's hard for me to put small bite sized things on a plate and call it a dish.
We started the evening with what was basically a small fish dumpling (not quite gefilte fish and not quite a matzoball, somewhere in between) in a reduced broth of beets, with some mascarpone cheese. Delicious – I could have eaten a small plate of those. A selection of breads also hit the table – thin grissini in a tall vase, and a trio of different breads in a basket.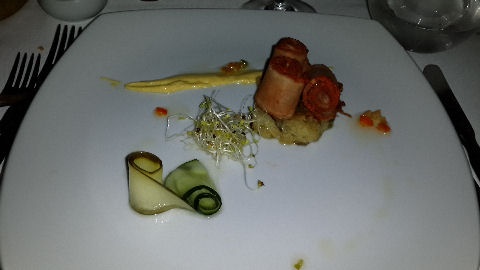 I liked the sort of deconstructed pastrami sandwich of the appetizer in terms of flavors, though given that none of Pablo's other food is of the "deconstructed" sort, the presentation felt slightly odd – the strips of pastrami are too big to eat in one bite, and need to be unrolled and then cut. Still, great combination, and, put that all on a sandwich and I'd be happy.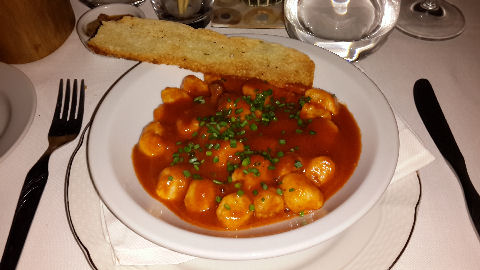 The main course – good, solid, honest cooking, though suddenly veering off from the sort of modern Jewish feel of the rest of the menu, with light gnocchi in a lamb, rosemary and tomato broth. Not quite the ragú conjured to mind by the menu, which is a chunkier, more packed sauce, but all the flavor was there.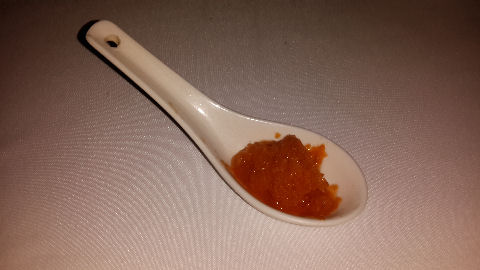 A quick palate refresher of carrot, plum and ginger sorbet.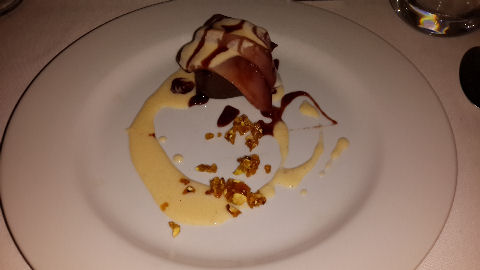 An interesting chocolate dessert – basically a block of bittersweet chocolate ganache topped with wine poached pear slices, vanilla creme anglais, and caramelized pistachios. Dense and rich, all the flavors worked, great finish. Overall, a great value at 300 pesos for the menu – 400 if you want the wine pairing (four wines, one with each course except the sorbet). Water and coffee or tea are included.
Obviously our setup is different, but it might be nice to be greeted with a little something to sip on, and have a few minutes at least at the beginning to mingle and meet the other guests, then again, that may not be workable given the staggered arrival times – still, perhaps a small shot of something or mini-glass of champagne – rather than just heading straight to the table on arrival with food service starting almost immediately. I'd have liked a chance to feel a little more "arrived" in their home.
Overall, quite good food, and probably a great place for a romantic date, or to celebrate with a group of friends. Just a little odd solo-ing it. I'm sure they'd have been fine if I'd have pulled out a book, but it would have felt strange to me given the setting. Fair notice, and not anticipated, Ivana and Pablo insisted on comping the dinner for me.