Just a quick glimpse at a couple of new dishes from the last couple of weeks.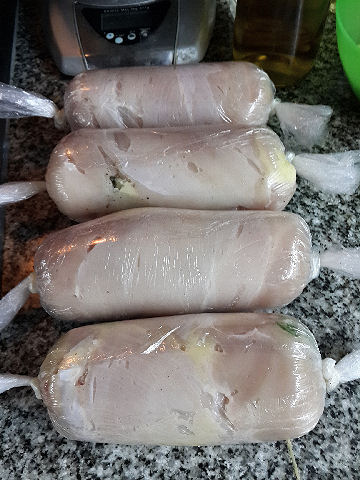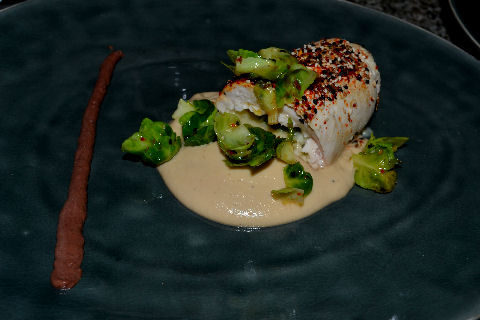 Chicken roulade – pounded out breast of chicken layered with fresh spinach and rolled around potato puree flavored with roasted garlic – wrapped in cling film and then poached for about 15 minutes to just set it. Then unwrapped, coated in a mix of white and black sesame seeds, cumin seeds, and chili flakes, quickly browned and finished in the oven to finish cooking through. Served over a brown butter and balsamic vinegar infused cauliflower puree, with a side of brussels sprout leaves sauteed with the same seed mixture, and a little sideline of morcilla sausage puree for a little "umami" hit.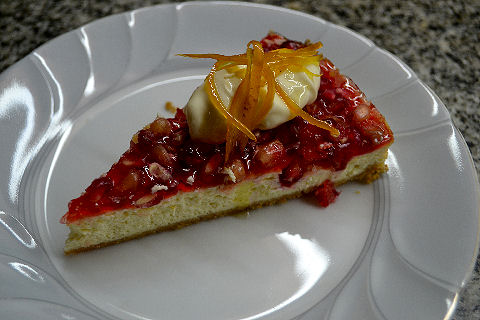 Orange zest cheesecake topped with fresh pomegranate seeds just barely set in a grenadine gel. Sweetened sour cream. Candied orange peel.
The rest of the menu that week – my "reinterpreted lime jello salad" to begin, followed by our roasted beet soup, though given the fall season, done as a hot soup with all the ingredients blended together, and semolina gnocchi with spicy chickpeas, followed by the chicken and then the cheesecake.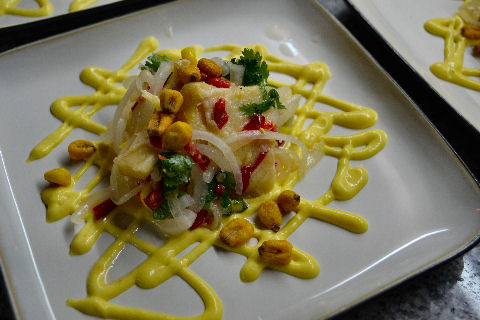 This last week, we began the evening with a take on a Paraguayan ceviche of surubí, or Brazilian tigerfish, cured in lemon, lime and orange juices and tossed with white onions, piquillo and limo chilies, fresh corn, and cilantro. Garnished with fried corn and a Peruvian yellow chili cream.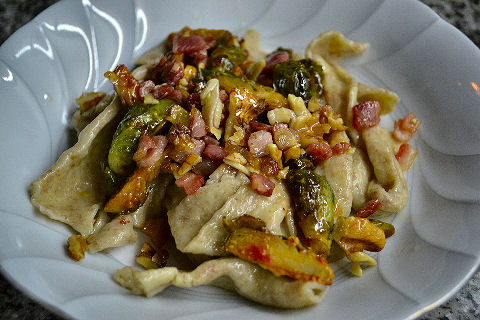 A new pasta dish – whole wheat langanelli – a thicker pasta similar to a short pappardelle with serrated edges. Tossed with caramelized brussels sprouts (quartered, sauteed over high heat in olive oil until lightly browned, then finished with port, smoked mustard and tomato paste), plus a sauteed mix of pancetta, walnuts and slices of garlic.
The rest of the menu – after the ceviche, our hummus soup with charred cauliflower, then the pasta, a take on sudado (garnished with rice and spicy white beans, and a small dice of zucchini, carrots and bell pepper), and finally a quince and almond tart (no kumquats, so a sweetened whipped cream and some pomegranate seeds).