Over the last couple of weeks I've been playing around with new versions of ceviche, and have a trio of presentations that we were quite happy with at the various dinners.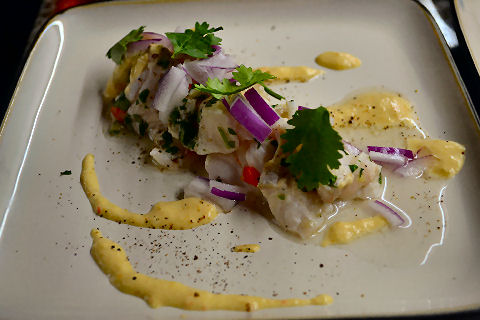 First up, a simple whitefish ceviche – lenguado and mero – or sole and grouper – cured for roughly 30 minutes in our "basic cure" – equal parts lemon and lime juices, grated garlic, ginger and celery, salt, black pepper. Lined up on the plate with red onion, cilantro, and finely diced rocoto chilies. And then a rocoto "cream" spooned over the dish – basically, rocotos, lemon peel, celery, leeks, onion, and garlic cooked slowly in olive oil, then make a mayo using rice wine vinegar and lemon juice, an egg yolk, and the olive oil from the cooking process, and finally puree in the cooked vegetables, salt and pepper to taste. Vegetarian version offered made with thinly sliced hearts of palm.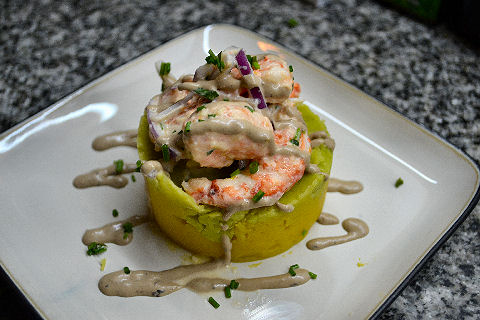 Technically not a ceviche, but inspired by the above, as I really like how the rocoto cream turns out. A new take on our causa – mashed potatoes flavored with olive oil instead of butter, and then, the bottom layer with lemon juice and ají amarillo, the Peruvian yellow chilies, the second layer with lime and pureed green onion, and then freshly cooked prawns that are tossed in the rocoto cream like a shrimp salad along with red onion and cilantro. Finally, a black olive mayo zigzagged over the top. Again, a vegetarian version offered up with hearts of palm.

And, finally, a new favorite, a mixed shellfish ceviche – quickly cooked small shrimp, thinly sliced calamari, and cockles, then a sort of half cure, half sauce of pickled jalapeños, orange and lime juices, cilantro stems, egg yolk and cornstarch, salt and white pepper – all blended together and then heated until it thickens, sort of like making a pastry cream, then strained, chilled, and tossed with the shellfish for about 15 minutes before serving, with red onion, cilantro, and chopped black olives. Underneath, a sweet pea "mousselline" – 3 parts cooked potato, 3 parts boiled peas, 1 part heavy cream, pureed together, then salt, white pepper and nutmeg to taste. Given that I'd used three different shellfish, I couldn't very well just offer up a vegetarian version with only hearts of palm – so a trio there as well – hearts of palm, small white butter beans, and diced butternut squash to the same effect.