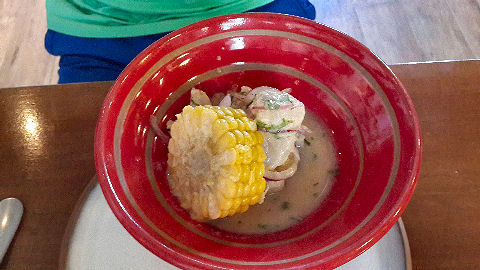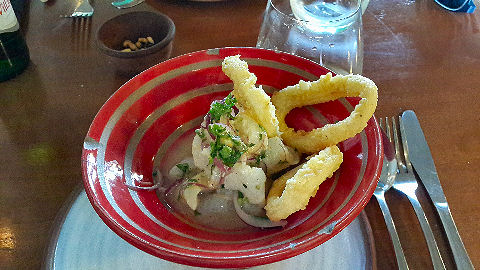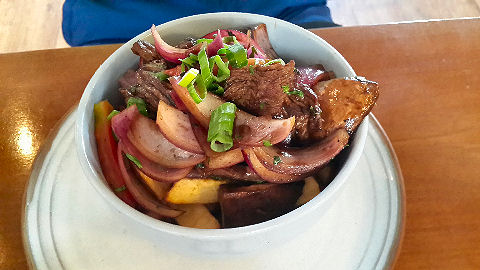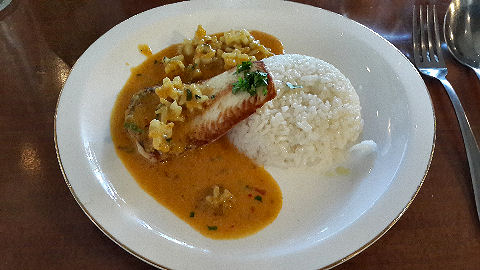 I'm late to the party in checking out Olaya, Humboldt 1550 in Palermo. Why, you might ask? After all, we tend to head out to Peruvian restaurants, fusion or classic, pretty much all the time. It's because of expectations, no question. The chef was the leading light behind places like Osaka, the Sipan restaurants, and Mullu. Now, Osaka, I like a lot, but it's outrageously expensive. The Sipans, I'm not as enamored with, and they're just as pricey. And Mullu, which I think is god-awful. Now, it seems the chef has broken away from his various partners and moved on to a spot of his own, but, with such a mixed track record, I wasn't rushing to get there. But Henry and I were in the area and feeling peckish, so we decided to stop in and have lunch. The space is narrow, long and soaring – one reviewer compared it to "the style of restaurants in NYC's Meatpacking District" – no. No, really just no. Tables are way too far apart – easily two meters between them, which makes it feel a bit cold – not that I want to be on top of my neighbors, but there's a balance point. The service, friendly, a bit inattentive – waiters, bartender, and cooks spending too much time behind the bar looking at stuff on their phones. At lunch there's a menú corporativo, for a reasonable 129 pesos given that it includes a choice of appetizer and main course, and a beverage (bottled water comes in little mini-330ml size, rather than the usual 500ml here in BA) – especially since the a la carte menu, presumably with larger portions, has appetizers ranging from a low of 150 pesos to over 300, and main courses that soar from the mid 200s to over 400 – dwarfing the prices at the spots noted above, unless they've also gone way up. Maybe that's what they meant by in the style of the Meatpacking District – New York City prices. Still, we were perfectly happy with the quality of the food – two excellent ceviches, and decent if nothing special lomo saltado and unidentified fish in ají amarillo sauce (no one seemed to know what fish they were using), and we left still hungry. It's good, but, if I'm not harping on it too much, stupidly expensive.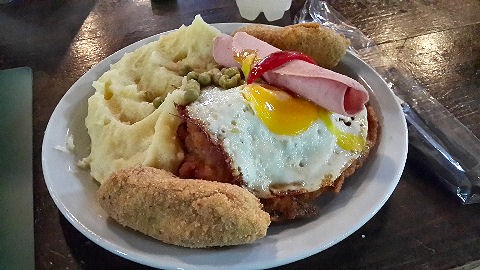 Let's go old school for a moment. Really old school, at one branch of the bodegón group, Bellagamba. I think they have half a dozen around the city, I dropped in on the one at Francisco Acuña de Figueroa 1291 in Palermo, mostly because I was waiting between two doctors' appointments at the clinic that us "gastronomicos" use. No surprises on the menu, it's minutas, or one plate meals, all the way. And there's no waiter service – you go to the cash register, order and pay, and someone brings the food out to you from the kitchen. I figured I may as well try my old line staple, the chicken maryland. Big portion, two, count them, two fried bananas, plus the egg, ham, canned peas, and mash. Not a speck of seasoning on anything, and without waiters, no one to ask for salt and pepper, except going back up to the counter, where they dole out little paper packets like you'd get at a fast food joint. Meh, but cheap (I think with beverage it was 70 pesos).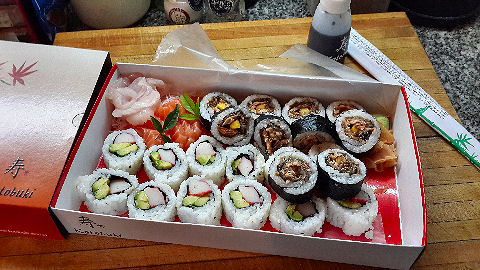 Yet another sushi delivery service, Kotobuki, this one out of Palermo, on Guise. A decent selection on the menu, I was happy that they offered (and actually had), more than just salmon and shrimp, I'm getting ridiculously tired of one place after another telling me "there's no other fish available today", which is, bluntly, complete crap. It's just lazy. And, probably, knowing that most locals don't order anything that's not salmon or shrimp, and plied with cream cheese. So, at least two types of fish in the "mixed sashimi", not quite the "variety of fish" implied on the menu, but, it was something. A couple of rolls, tasty, but so loosely rolled they fell apart picking them up. 200 pesos. Another meh.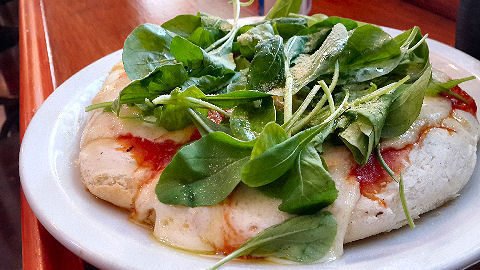 (68) Given that most of the remaining pizza spots on the great 92 Bus Pizza Trek are either only open at night or only serve whole, larger pizzas, plus I just needed a break from pizza (I know, I know, what?), the project has slowed to a crawl. But here and there I'll still make my way to each and every spot. Dixs, at Mario Bravo 1063, technically just inside Recoleta from the corner where it, Palermo and Almagro come together, is a small cafe (and how does one pronounce that "xs" combo?) with a focus on pizza and a few sandwiches. They offer a full size and an individual size, and the latter makes for a quick snack, being really a little smaller than two typical slices of pizza. Good cheese, good sauce and a reasonable amount of it, plenty of arugula packed on top, the flaw, an undercooked, bland, sort of pillowy crust that more or less fell apart into mush. Cook it through and add some seasoning and I'd recommend it, but as it stands, it goes in the middle of the pack.