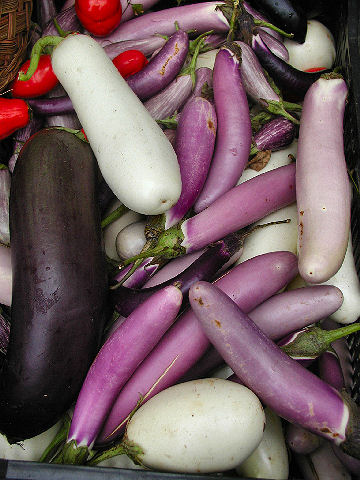 I had so much fun with the new vegetable cookery class last week, that I started thinking, maybe I should work my way through all the vegetables available here, and stay on the "A"s – but, I'd already put the progression through the alphabet out there, I can always go back later and play with other vegetables, in a class or on my own. So this week we move on to "B", and Berenjena, or eggplant (or, for my non-norteamericano readers, aubergine). Initially I was thinking, "this is one of those vegetables I hated growing up", but I don't think that's true – I don't think I ever had eggplant when growing up – they're not exactly a popular veg in Michigan. I was probably in college, at an Indian or Middle Eastern restaurant, before the first time I tried one – likely in either a curry or a babaganoush.
They're a vegetable that I see everywhere here, but there seem to be few recipes that it's used for: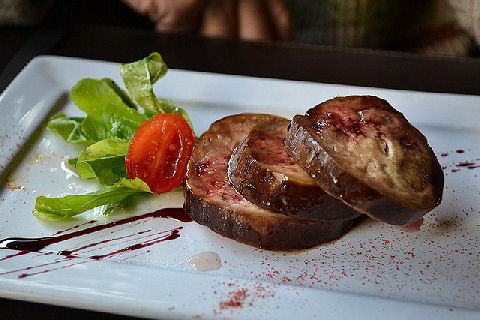 en escabeche, or, basically, lightly pickled, and served as an appetizer, is probably the most common.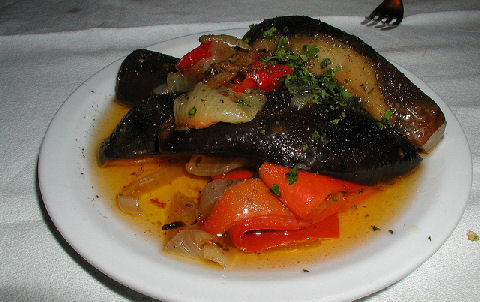 As part of chambota, an old school condiment here of braised eggplants, peppers and onions. Now and then I see it as part of a pasta sauce or stir-fry sort of dish, and I've very occasionally seen it as either a vegetable tart, or gratin. In searching local recipes, the only other prominent one that came up was a sort of creamed eggplant – slices of it in bechamel – which I've never actually seen someone serve. And, of course, I see it in non-Argentine restaurants, used in Italian, Middle Eastern, and Asian dishes in various ways.
Now, it probably shouldn't be a surprise that there aren't a lot of traditional recipes – after all, the vegetable, or fruit actually, is not native to the Americas, but to Asia, and far and away the most common (and over time, probably my favorite) recipes come from somewhere in Asia, stretching from the Far East to the Middle East. And we've certainly played with that genre here at Casa S, in both dinners and classes: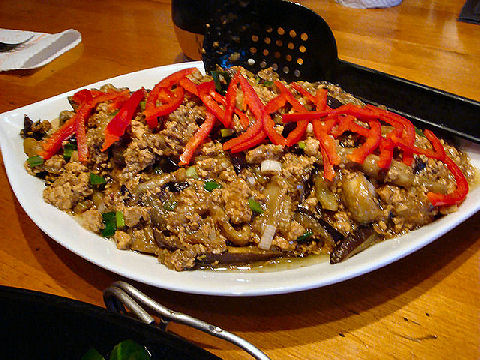 A Chinese classic, eggplant yu xiang – a spicy preparation with ground pork.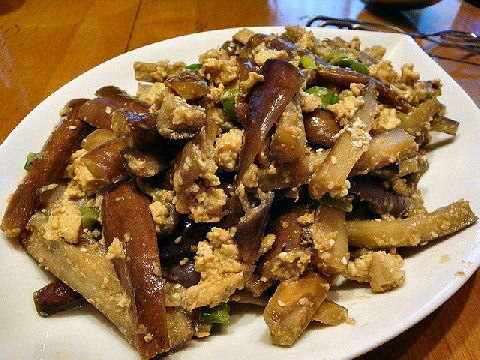 A Japanese fave, piri kara nasu, a sort of spicy and sweet saute.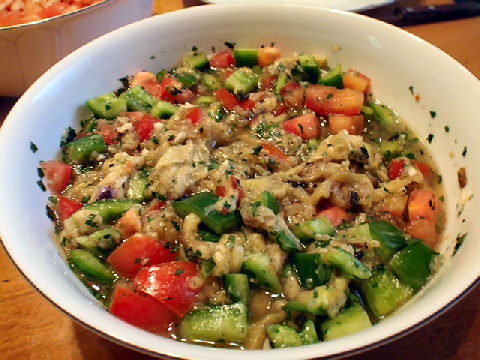 And of course we've made babaganoush, which is nothing much to look at, but we've also made salatit banjan, a classic Syrian dish of mashed eggplant with peppers and tomatoes; and stuffed baby eggplants in one of our Indian vegetarian classes, and stewed ones in another Middle Eastern – the list goes on.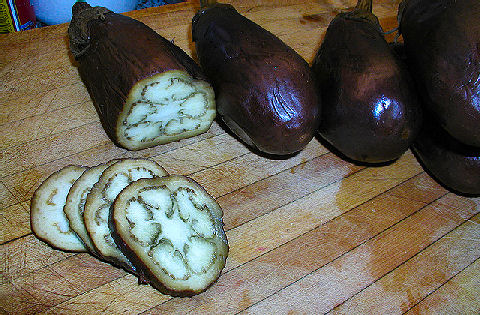 We've smoked them in a wok.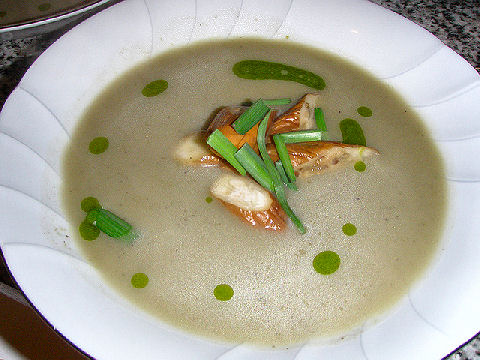 Made them into a soup, studded with more of them pickled.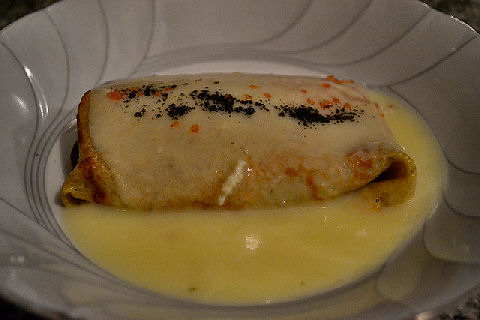 Made our babaganoush and filled crepes with it, served with lemon sauce.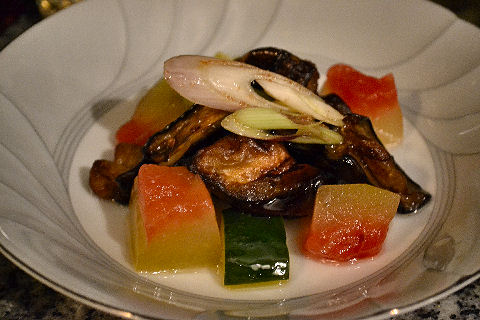 Barbecued them and served them up with watermelon pickles and spicy szechuan cucumber pickles.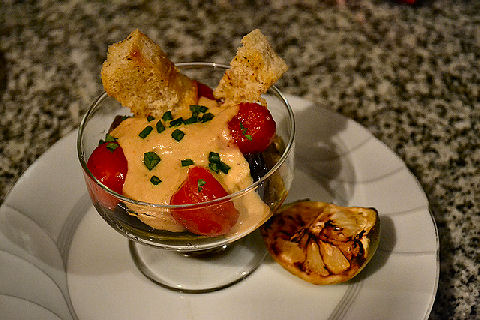 And our perennial fave, eggplant tonnato.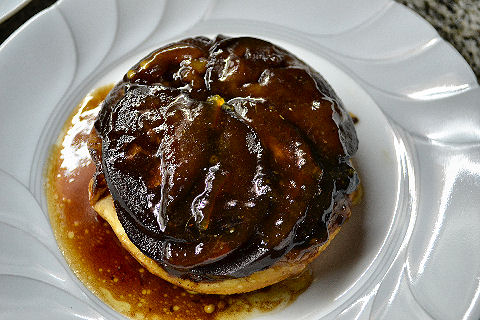 And, of course, even as a dessert, in our spicy caramelized eggplant tarte tatin.
So what were we going to do for class, experimenting around? I wanted to play with dishes I'd never made before, and we'd see how they turn out – part of this series of classes is going to be heading into uncharted territory.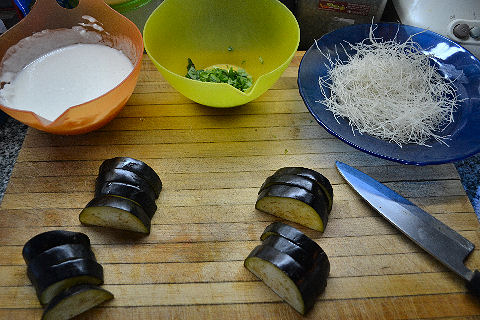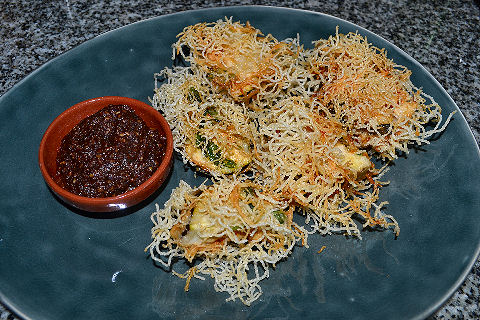 Let's start in the Far East, in Vietnam, with a little appetizer that I'm telling you, should be on the menu of every Vietnamese restaurant out there. I've never seen it on one, but I'll certainly look for it. The name is Ca Tim Phet Bot (my recipe book translates it as Curly Fried Eggplant), and basically, it's slices of eggplant dipped first in a sort of tempura batter, then into herbs – cilantro and mint, and then rolled in short segments of cellophane noodles, and then deep fried. All on their own I could just eat these, but even better was the classic plum sauce (which I think came out too thick for what it was intended to be, but I could be wrong), which is a sort of mix of rehydrated plums with spices, garlic, chilies, and peanut paste – kind of like a cross between hoisin and satay sauces. Yum all around, and one eggplant goes a long way – cut into about a dozen pieces – and I'd say a fair appetizer portion is about 4 of them. Bet you can't eat just one.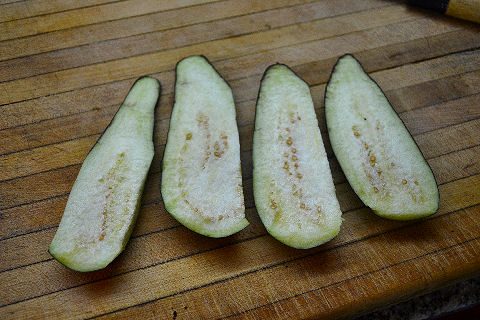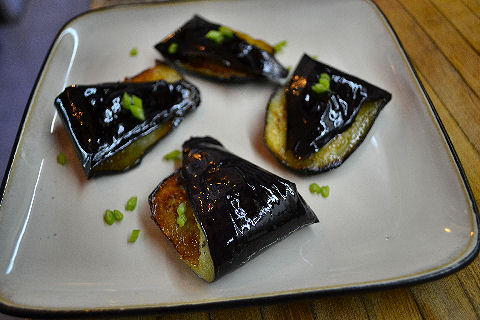 Our main course was going to involve an eggplant peeled down to the core, so I looked around for something classic to do with the peels, because, why not? And it turns out there's a traditional Zen dish from Japan, called Nasu Murasaki no Itamemono, which my cookbook just translated as "Eggplant Purple" (I know nasu is eggplant, I think murasaki is purple and itamemono means fried). Incredibly simple, and really tasty. It's just thick slices of the peel, fried in oil, salted and peppered, and presented folded over, either warm or room temperature. Next time you're peeling an eggplant, consider it as a snack.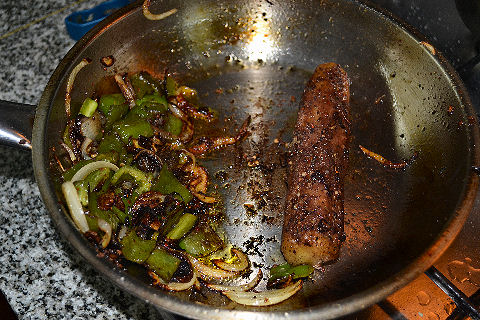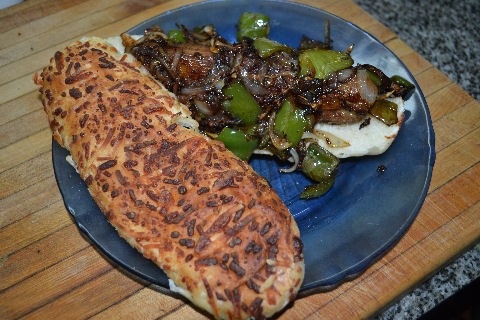 And, something made up entirely, though inspired by some vegetarian dishes out there. The idea was to use the core of the eggplant (or you could just peel a thin small or Japanese eggplant) as a sausage. Doused in olive oil and red wine until it soaked them up like a sponge, then coated in the herbs I'd use for making a classic Italian sausage – fennel, sage, oregano, red pepper flakes, salt, pepper, and more – left to sit for about an hour, and then browned in a pan along with some onions and peppers. Served up on a parmesan roll (fun to make as well), it was reminiscent of a classic Italian sausage and peppers sandwich in flavor, but the texture was, well, we thought a little weird – just too soft.
Join us next week when we dive into the nooks and crannies of Coliflór, or, obviously, Cauliflower.