There are three famous Gorritis in Argentine history. The first, José Ignacio de Gorriti, was an Argentine statesman and military officer, probably most famous in those arenas, respectively, as both a signatory to the Congress of Tucumán and subsequent declaration of independence for Argentina and later as the governor of the province of Salta, and on the military side, as the leader of the "gaucho cavalry". One could also make a case that his legacy is perhaps best represented by the second Gorriti, his daughter Juana Manuela Gorriti, a literary author of note during the mid to late 1800s, who wrote both articles and novels with a strong political theme. She also had strong ties to the political communities in both Peru and Bolivia, and married, and later divorced, and had a child out of wedlock (post-divorce, causing quite the scandal) with the Bolivian president, Manuel Isidoro Belzu. The third Gorriti, her uncle José Francisco "Pachi" Gorriti, younger brother of José Ignacio, was a well known military figure at the time, also quite active in the gaucho cavalry.
None of this has anything directly to do with this post other than the family name, which is given to a street running through Palermo here in BA (at least I assume it's named after one of them), that is home to quite a few Italian restaurants. In fact, prior to the sudden influx of Italian restaurants along Cerviño in Palermo "Botanico", Gorriti was sometimes referred to as BA's Little Italy. Just as another approach to my dining adventures, I give you "The Gorriti Pasta Project". I decided, in launching my diabolical plan for this post, that the pasta dish of choice would be left up to my waiter at each spot – one shot to impress.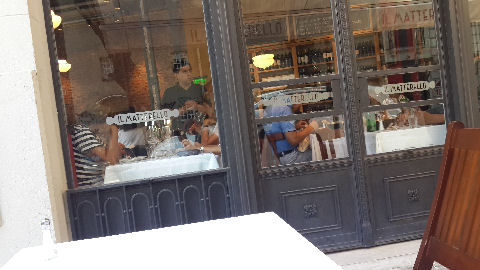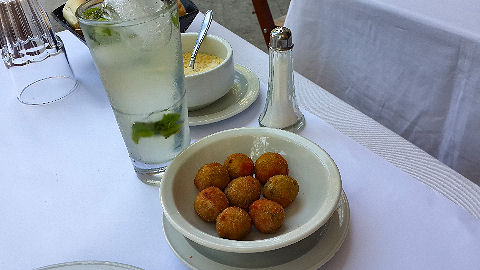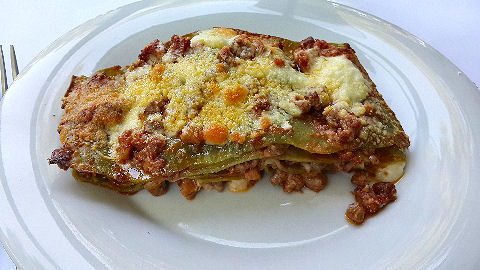 Many, many moons ago I wrote up the great pastas at Il Matterello in La Boca. I've been back a few times over the years, and it has stayed steadfastly one of my favorite Italian spots in the city. A year or two ago they opened a second location in Palermo, at Gorriti 5110, corner of Thames – as a note, there's not a single Italian restaurant on Gorriti from it's inception point at Sanchez de Bustamante (#3391) to Thames, a seventeen block stretch – the closest is a takeout pizza counter. I haven't written it up before, but this is the perfect opportunity. The ambiance is a bit more trendy, as befits the neighborhood, the pastas are as good as ever – the menu is, as best I can tell, a duplicate of the La Boca original. Now, I know that Il Matterello is most famous for its Ligurian dishes, those tortelli that I wrote up in the original review are what made their reputation. So I have to admit to a surprise when my waitress unequivocally recommended the lasagna as the best pasta on the menu. And even more surprised when what showed up on my plate was a rectangle of, simply, over-aged casserole – the edges of the pasta were all dried out, the vibrant green color of the spinach infused dough that you can see in the tortelli from nine years ago faded to a grey-green that would make an army uniform look festive. From tasting it, I could tell that this had likely been a quite good piece of lasagna, probably 2-3 days earlier. So why the choice? Here's my surmise, as I looked around and saw that half the tables in the room had lasagna on them – someone made too much, it was a Sunday afternoon, they're closed on Mondays, the chef, or a manager, told the waiters to push the lasagna to sell it out. I'll be honest, had this been my only experience of Il Matterello, I'd write the place off (though damn, those stuffed and fried olives are as good as ever, though 94 pesos for a measly eight olives is a rip-off, even in today's market in Palermo, I was expecting a bowlful big enough to share over drinks had I had a dining companion). It's one of those facts of life in the restaurant biz, that sometimes a decision is made to push something that is better consigned to the staff meal to use up – it's not that it's gone bad, it's just past its prime to be serving to paying customers. In this case, not a good decision. Still, I know the place is good and recommend it, just maybe don't take that snap recommendation on a Sunday afternoon.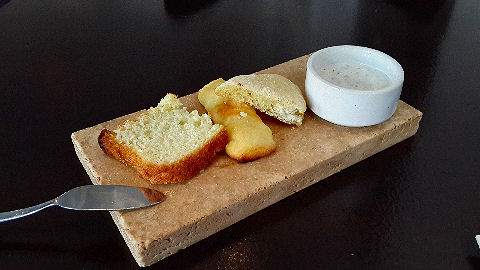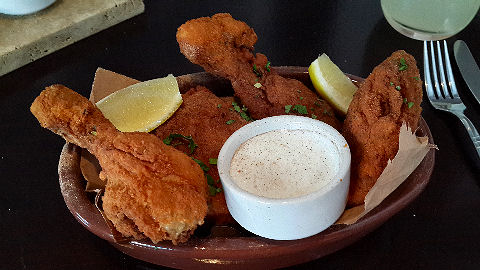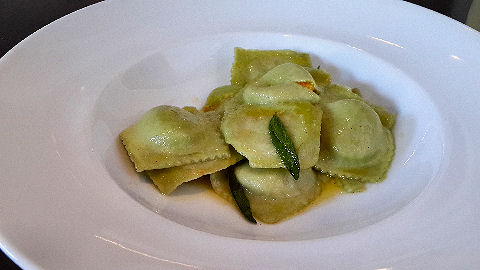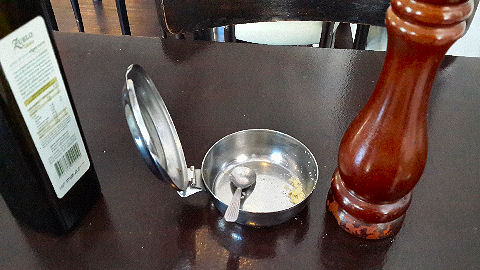 Just a block further on, at the corner of Uriarte (and, technically addressed at Uriarte 1504 although there are entrances on both streets), is Italian Garlic. It's fairly new, it's modern and sleek, and despite the fact that it purports to serve "LatinItalian Food", it's not, at least not just. Because while the menu has a selection of pastas and pizzas, it's also got local fare like milanesas, and various "Latin" things like ceviche and tortillas, it's also got stuff that's neither Italian nor Latin, like cajun fried chicken – which is not, in any sense, cajun, as best I can tell, though decent fried chicken at 80 pesos for two legs and two thighs, which is just a tad larger serving than the waitress' "oh, it's a small appetizer for one" – on what planet? All that on a menu that's only got about three dozen items on it to begin with. Basically, it strikes me as "whatever we want to cook". And I have no objection to that as long as it's done well. Good breads. My waitress' recommended squash raviolones with sage butter were okay, if not exciting, though 9 of them for 105 pesos seems a bit steep – I'd also note that while there aren't any rules about it, "raviolones" usually implies something much larger than "ravioli" – these were maybe just over an inch on a side. Note, also, the cheerfully served condiments – decent olive oil, an empty cheese bowl, and an equally empty pepper grinder – actually placed on the table that way along with the pasta, though one of the managers came by swiftly in response to a wave of the hand and replaced them immediately. [Closed]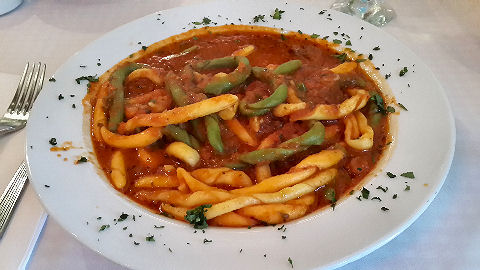 And, on to Il Ballo del Mattone Trattoria Originale, Gorriti 5737, touted mostly for its hand rolled pastas and pizzas. The name literally translates as "The Dance of the Bricks", but mattone also is slang for a pizza (I didn't see any pizzas on the menu at lunch, maybe they're only served at dinnertime). The room is small, with just a few tables, there's also a small patio with a couple more. Service at lunch was snail-paced – despite the room not being full, and three waiters being present, they were congregated at the bar and chatting with each other, paying little to no attention to guests. I was there a solid ten minutes before one of them deigned to walk over to my table (and I'd tried getting their attention, to no avail) – I was actually at the point of simply walking out. And he did little more other than ask if I was waiting for someone else, and when I said no, took away the other place setting and left, not to return. A few minutes later a waitress approached and asked if I wanted anything – I suggested a menu, which consists of blackboards that they move around the room, finding somewhere near your table to prop it up. She brought one over – at lunch time there is basically just the option of a fixed price menu, in three price levels depending on which pasta you order. When the waiter finally returned (I was now going on 25 minutes), I asked what the house's best pasta was, he said "the fussili with tomato sauce" – so, let's go with that. He returned shortly with a bottle of water, followed mere moments later by the waitress with the pasta. It is good pasta, and it was cooked a perfect al dente. A bit flooded by the sauce, which was decent, though needed more seasoning (salt and pepper added, along with some cheese) – after I'd finished the pasta the bowl was still half full with sauce. About ten minutes after finishing the pasta the waiter returned, asked me if it was as good as he'd claimed, and without waiting for an answer, walked away with the bowl. The prix fixe included a coffee, which I was ready to just walk out on, leaving the payment on the table, when the waitress wandered back into the room. I asked for the coffee and bill at the same time, tossed the former down, and left 105 pesos on the table, only 6 of which were a tip. Decent pasta, though nothing exceptional, lousy service (which seems to be a steady complaint on both Foursquare and Guia Oleo).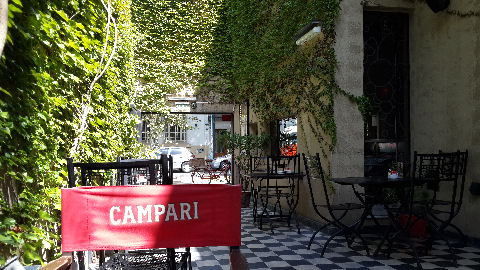 Just a few doors down at #5751 is the Palermo branch of Piola, the Italy-based pizzeria chain. I actually wasn't even sure they had pastas on the menu until looking – I've only ever tried the pizzas, and have never been overly fond of them. So, with some trepidation, but willing to bite the proverbial bullet, I sat down on a Sunday afternoon in their lovely, leafy patio. Right off the bat, I like the ambiance far better than the downtown branch. Service was friendly and efficient, points right there. I asked the question. My waiter went straight for the fettucine with ragú as his absolute favorite. I was surprised – the fettucine, and some of the other pastas of similar sort are all made from boxed, dry pastas (though admittedly, top of the line, DeCecco), and there's a whole list of "housemade" pastas alongside. He avowed that though the ravioli were quite good, they simply didn't hold a candle to the fettucine in his opinion. I went with it. And you know what? Fantastic. Perfectly cooked, and of course, given the quality of the starting product, that provided a great base. But top that with what may just be the best veal, tomato, sun-dried tomato, and basil ragú around town and I was one happy camper. I wonder if their pizzas are better than the downtown branch….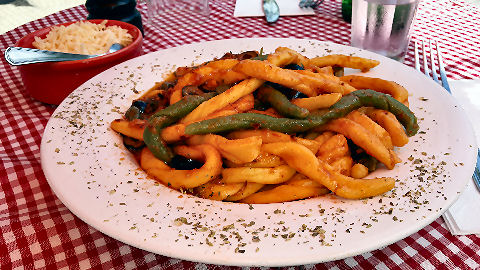 Just down at the corner, what may look to be an awfully familiar dish. The folks behind Il Ballo del Mattone own two more restaurants along this stretch – the first, Altura Crucero, technically addressed at Carranza 1601, the entrance faces onto the corner. Service was far better, friendlier, more attentive. And, while the same bit with the blackboard ensued, when I asked for a pasta recommendation and the waitress responding with "fussilli with tomato sauce" in what seemed rote fashion, she must have sensed my disappointment (I would have ordered something different, having just tried it down the block). She quickly noted that, though it's not on the menu, the chef makes a "killer putanesca sauce, really spicy". Shortly thereafter, a large bowl of pasta arrived, properly sauced this time, and contrary to my expectations, it really was quite spicy – I was breaking a sweat – even Henry did with the half of it I brought home. 99 pesos for a bowl of pasta bigger than I cared to finish at one sitting, and a beverage, not a bad lunch deal.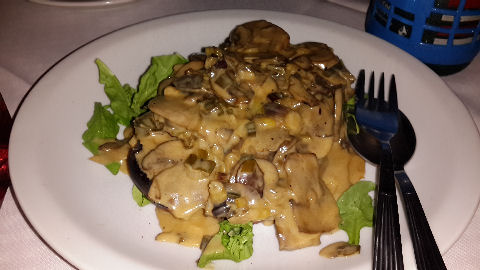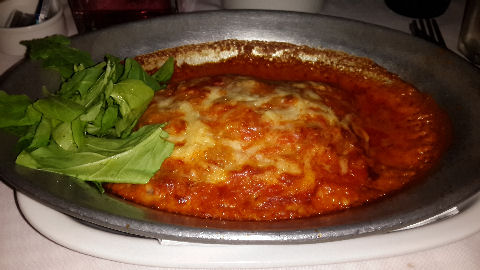 Finishing up this little adventure, Trastevere Trattoria, at 5893 – the third in the Il Ballo de Mattone group (there used to be a second branch of Il Balllo itself at 5936, but it closed sometime last year). The menu is basically the same as at the other two spots, though this one focuses more on wood-burning oven pizzas, and is only open for dinner, and Sunday lunch. The pasta lineup was pretty much the same, and as our waitress started to recommend the "fussili con scarparo", I cut her off and asked for "any other recommendation" – she seemed taken aback, and I quickly explained why (and my dining companion ordered the fussili a la putanesca, though he found the version at this spot to be far less spicy than I had at the previous one), and she highly recommended the lasagna. You know I'm a sucker for lasagna, and I kept hoping someone would recommend it. Score! And, a great lasagna it was too. Good sized portion, packed with meat, cheese, and some of the great tomato sauce. Couldn't ask for more. Well, we did have the crostini al funghi, absolutely delicious toasted bread topped with creamy mushrooms. Service was initially attentive, we were greeted and taken care of almost immediately – at the time there were few people there (we sat outside, inside was empty). But, as the place filled up, things got really slow and inattentive – our appetizer took a solid 20 minutes or more to arrive, and our main courses more than half an hour after they'd cleared the appetizers. There were three waitresses handling the tables, and several large parties, but it was clear that the kitchen got overwhelmed, and so did they. After waiting another half hour after finishing our mains for some sign of a waitress (they all seemed to stay inside, or pop out briefly and avoid looking at any tables other than the one they were headed to), I got up and went inside to get our check, and then back again to pay it.
Now, did I eat at every place offering pasta along Gorriti? No. There are a dozen parrillas and probably as many cafes, a couple of French places, a couple of pizzerias, even a Peruvian spot was there, though now closed, and more, and most of them have one or more pasta dishes on their menus, but pasta isn't a mainstay of what they do, rather an alternative to whatever their focus is. So I decided to limit it to the Italian spots where pasta was a major part of their menu.