A trio of main courses, the principales, from the last week or so of dinners, with public and private events crossing our threshold.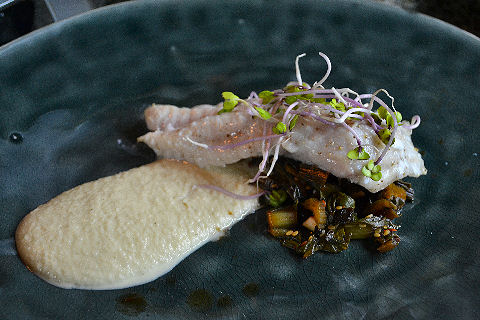 Let's begin at the fish. As you might have noticed over the last month or so, I've been on a little bit of a kimchi kick. Having tried a few different versions, including some that didn't make it to these pages (yet), I keep going back to the chard and radish kimchi (which will also feature in this week's "A is for Acelga" cooking class) created for one of our online cooking challenges. Here it's served with seared sandperch, and over a daikon, brown butter and balsamic vinegar puree (with the butter and vinegar blended in instead of drizzled over), and topped with radish sprouts.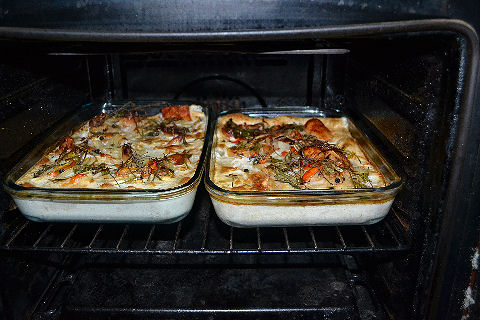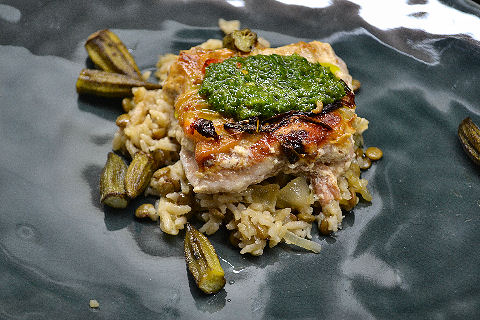 A return of the amazing, melt in your mouth, matambrito, or pork flank, braised in milk. I've got the process down to an art now. And I really love the mujedrah, rice and lentils with caramelized onions and butter to accompany it. Roasted baby okra seemed a perfect accompaniment.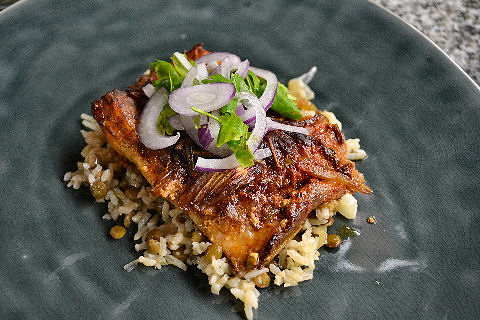 Now, this may not look all that different, but it is – at least a bit. It suddenly occurred to me that our other time and time again hit pork dish, adobo de chancho, is also braised, though usually it's cooked in a big pot on stop of the stove over low heat. And while it gets great texture with chunks of bondiola, or pork shoulder, it's never quite that soft, silky texture of the matambrito. I thought – what about fusing it with the process of the Italian dish above? So I made adobo de matambrito – pork flank, coated in cumin, black pepper and salt, then topped with onions, garlic, rosemary, thyme, oregano and parsley, and covered in a mixture of amber ale, milk, and pureed ají panka. After cooking down for around five hours it turns out, well, just perfect, and combines just as well with the mujedrah. Instead of the okra, the traditional salad of red onions and cilantro – I might spike that up on the next go-round with some thin slivers of rocoto peppers to give it a touch more of a kick, though for the group that enjoyed it, I think it was just the right level of heat.