We managed to pull it off. It was the most uncoordinated and contentious effort so far in our online cooking challenge series. Days before the event Jenn fired off that she'd already picked her ingredient, the humble avocado. Rather than doing a more or less simultaneous reveal of food stuffs, Kevin and I now found ourselves treading around an open pit, a pit filled with alligator pears.
At our usual day or so beforehand time, the two of us connected, and Kevin fired off another salvo, proclaiming that he wasn't going to pick any ingredient, but a cuisine, and after a bit of faffing about, threw out "the French Lesser Antilles". I imagined him putting on an affected accent as he typed it, and mentally saying "Le" instead of "The".
I completely forgot whatever it was that I'd planned to offer and did my own flip-flopping around. After doing a quick online search for just exactly which islands constituted Le FLA (Martinique, Guadaloupe, St. Barthelemy and St. Martin), and a few references to what sorts of foods tend to be served, I neatly lobbed back "blood sausage" at him, which elicited protests of lack of access to the finished product and no clue as to making his own – I figured Jenn would be in the same boat and might even bow out on that one – and hesitantly fired off "eggplant", mostly because there was one sitting on my kitchen counter.
So much for three randomly selected ingredients revealed simultaneously. It also meant only about 30 hours to figure out just what the heck comprised French Lesser Antillean cooking style and/or flavors.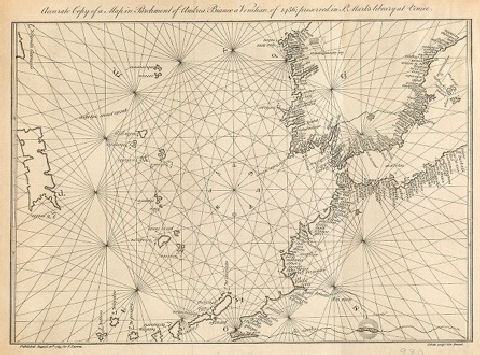 Post fact, however, it's turned out a bit fascinating – not the cooking, but you know I like my history and geography, and I found myself wondering just exactly what, or who, were "Antilles" and why do we have them?. Surely it meant something. And, it does. First off, just a quickie geography lesson – the Antilles are the chain of islands, an archipelago if you will, that separate the Atlantic and Caribbean Seas. The Greater ones are, in a surprisingly logical approach, the big ones, like Cuba, Jamaica, Puerto Rico, Hispaniola (Dominican Republic & Haiti), and Caymans. The Lesser ones are the collection of little ones, which consist of eight independent nations and a whole bunch of non-sovereign ones, and are further divided into Windward and Leeward categories, depending on their positioning. Enough of that.
Back to the Antilles – it comes from Antillia, a mythical, "phantom" island that appeared on navigation charts throughout the 15th and 16th centuries, apparently based on an 8th century legend of seven christian bishops who fled from the Moorish invasion, across the sea, finding an island on which they established seven towns – Utopian of course, severing all ties with their former homeland. Word of this island only reached Europe through a Portuguese trading vessel centuries later. There are a whole bunch of theories as to where this island really was (ranging from claims of mainland North America, nearly 800 years before Columbus, to Iceland, Ireland, the Canary Islands, and more). It actually makes for some quite interesting reading. In the end, I gather, after Columbus' first voyage or thereabouts, the name was given over to the archipelago and the rest, as they say, is history.
On to the challenge. Jenn is up first, weighing in from Morelia, Mexico: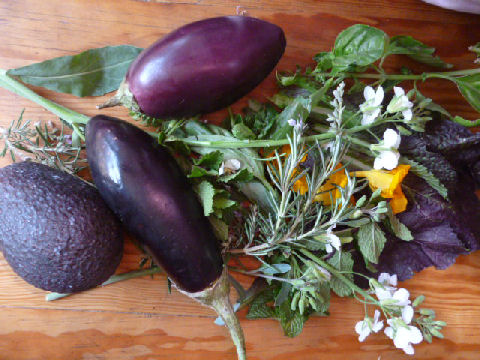 The French Caribbean theme threw a real wrench into things. There was no way I'd be able to get bacalao soaked and ready to go in the space of 24 hours, so that idea went out the window. I'd made pork floss last weekend, it seemed as good as anything to toss in for the protein, and we'd just call it fusion. "Martinique inspired," yeah, that would work. "Inspired" and "fusion" always work when you don't know what origins to attach to one of those blends of cuisines which is more mongrel than anything else, when you're just faking it. Avocados and eggplants, those were easy, since I prepare both at least weekly. It was time to break out of the sliced avocado and imam bayildi iterations.

In case anyone out there in blog-o-land is wondering, the word avocado comes from the Nahuatl, better known as Aztec, word for testicle: "ahuácatl." I toyed with the idea of frying avocado slices, but that's just so last year. Instead, I decided to caramelize them, something I'd never tried before. The idea was sparked by Victoria Challancin, but I added cayenne pepper to the sugar mixture, dredging all sides of the avocado before they hit the cast iron frying pan and liberally sprinkling shichimi over the finished product.

Grilled slices of eggplant, basted with rosemary-infused olive oil, were topped off with a sprinkling of garbanzos and pork floss, followed by a couscous-based farrago of shallot chips, lemon zest, giant red Japanese mustard, basil, mint, and pine nuts, showered with more pork floss, and shored up with barely-steamed Chinese broccoli. Everything green that went into this production was plucked from the kitchen garden.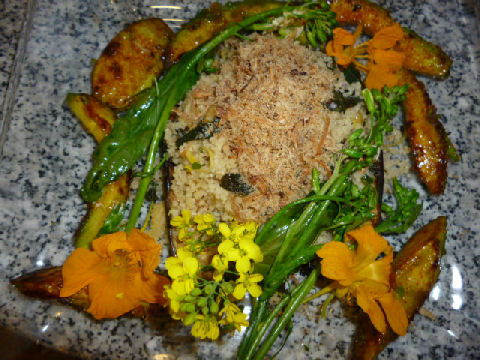 Well, that's how it was supposed to go. But for the impressive grill marks, grilling the eggplant on the gas barbeque grill was a waste of time. The eggplant could've been easily pan-fried or oven baked. I was hoping that the greens would dominate the couscous, which could've been remedied by using more greens or less couscous. I wasn't sure how the pork floss would work with the other ingredients, but I just had to put it to use. And it actually made a better showing than the couscous mixture. Still, something was missing: a picante Caribbean chile sauce, Kevin's chutney, or even a streak of sriracha.

The star of my evening was the one item that took the least effort: caramelized avocados. I'd make those again in a heartbeat, tossing them in a salad or even serving them up on a plain soda cracker. In fact, I'm making those again Friday evening. The blend of sweet, salty, picoso and crunchy encasing the warm, smooth nutty avocado bears reprise.
Kevin's turn at his Florida Keys' keyboard:
This weeks's challenge was to make something exciting with eggplant and avocado within the wide variety of French and African cuisine that marks the French islands of the Lesser Antilles. I decided to create a kind of lasagna using eggplant and sweet potato as the layers of pasta, instead of an Italian marinara I developed a west indian curried pineapple sauce, grouper and cod as the protein and for the avocado I created a mouse with a touch of lime.

For the curry I toasted the following seeds and ground them as well as I could in my mini ninja.

1½ tbsp turmeric
1½ tbsp coriander seeds
1½ tbsp black mustard seeds
1½ black peppercorns
1½ cumin seeds

I cooked down onions and garlic with alcohol, an island rum would work, mixed in chopped habanero and garlic, then added the curry mix, chopped pineapple and green apple. Eventually putting it all the blender until the proper consistency.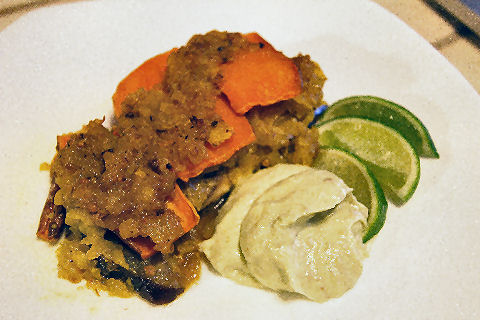 I prepared the eggplant and par baked thin layers of sweet potato, layered them with grouper and cod while spooning the sauce where necessary. The avocado and lime mouse was prepared while the 'lasagna' baked in the oven.

It was enjoyable, wholesome, just like a lasagna should be, and once again these challenges take me places that I'll never find in any restaurant. Thanks Dan and Jennifer!
My turn: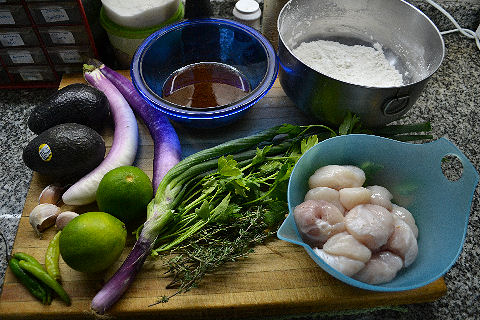 About the only things that stuck in my mind from my quick research on the cuisine of Le Petites Antilles Français (there, hear Kevin saying that with an accent?), were West Indian style curries, and a classic condiment of Martinique and Guadaloupe, Sauce Chien – literally "Dog Sauce" – a.k.a. Sauce Antillaise. I decided to do something with the latter – it's kind of in my wheelhouse, being more or less an emulsified vinaigrette of oil, vinegar, lemon, hot water, chives, parsley, thyme, bay leaf, garlic, onions, bird chilies, and salt. I gathered all that stuff together, plus some Japanese eggplants, because, why not, and avocados, and then turned towards the fish market.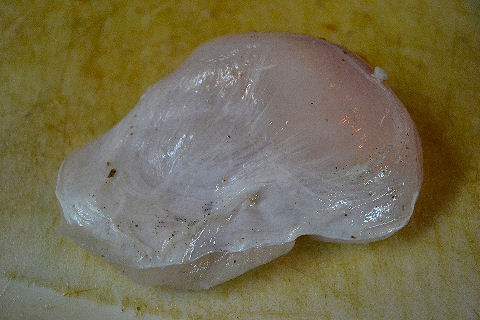 Like Jenn, I'd realized that there was no time to prep bacalao, and was thinking of using cod cheeks, a product I've worked with before. But there, out of the blue, something I'd never worked with, and didn't even realize existed, skate cheeks. With no clue how to prepare them, I bagged a couple of handfuls and brought them home. A little online research revealed that skates indeed have cheeks, two of them, and that they're considered a delicacy. Preparation is relatively easy, they're covered with a membrane that has to be removed as it toughens when cooked – a few minutes work. After that, they're treated like scallops, more or less.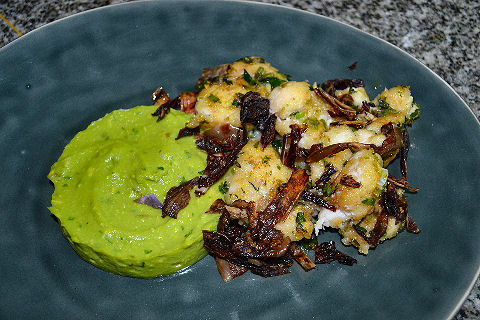 Not exactly what I'd envisioned – I was thinking of a lightly gelled avocado puree (using agar-agar so that it would stay slightly set when warm) as a sort of pool on which to place the other ingredients – but it wasn't liquid enough to create a pool and I ended up with a sort of oversized round against which to place things. It also set a bit firmer than I would have liked. [I have since learned how to do it correctly – my ratios were fine, I just didn't realize that a fluid gel had to be blitzed with a hand blender to get the creamy fluid texture.] I'd pureed the avocado with garlic, lime juice, parsley, small green chilies, and salt – more or less a simple guacamole. For the eggplant, I thought I'd give another shot at making eggplant bacon – it really does need dehydrating to get crispy, and there just wasn't time, so it came out more chewy, but long strips of the eggplant marinated in soy, cider vinegar, olive oil, liquid smoke and hot paprika, which I then griddled until they got well browned and then dried out a bit in the microwave, then chopped them up. Tasty, just not the texture I was going for.

I dusted the skate cheeks in a mix of flour, cornstarch, salt and pepper, and then sauteed them until golden brown. At the last moment I tossed them with my Sauce Chien. I think if I were to do it again I'd lose the dusting of flour and such and simply saute them as is, or, go completely the other direction and do a sort of tempura deep-fry. It's a dish I'd consider making again, though I'd also spike up the heat a whole lot more than the level of the dog sauce recipe I had to work with.