I've had this slowly growing realization over the last few years that I really don't like to go on vacation. Don't get me wrong, I love to travel, I love to see and do new things, I love to meet new people. It's the "vacating" part of vacation that I'm not enamored with – when I run out of things to do in a particular place, or just don't feel like going out and doing anything, when the thing to do is sit by a pool and read a book or something of that sort, I just want to go home. It's not that I'm incapable, by any means, of more or less doing nothing, of just relaxing and reading or watching TV, I can do that – but if I'm going to, I'd rather be at home doing it – far more preferable to being in a hotel or strange apartment. I miss my, as George Carlin would put it, "stuff".
Oh, just a note – I was pleasantly surprised to find that my taxi app, EasyTaxi, that I use all the time in BA, works in San Jose – if you have a smartphone it's well worth it, particularly to get cabs in slightly out of the way places – they don't tend to cruise around SJ, they sit and wait at specific taxi stands.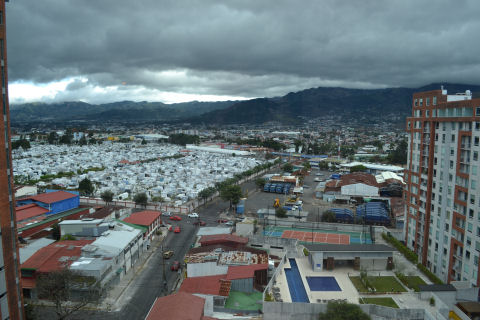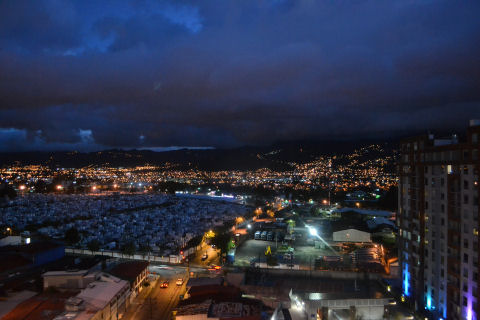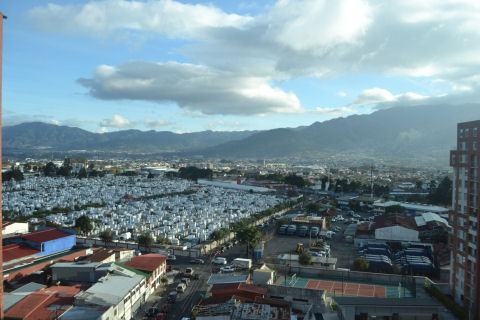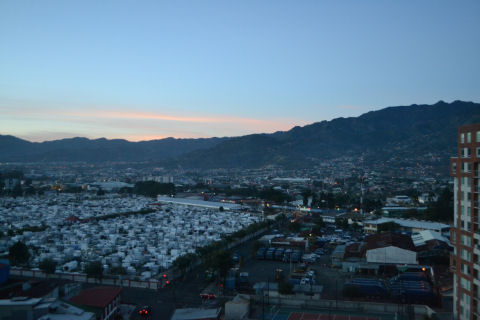 Not that I didn't have, finally, a decent view from my room at the Park Inn – cloud covered as it was on arrival back in SJ on Sunday, and on until it started to break up late Monday. By Tuesday a.m., at sunrise, it was gorgeous out.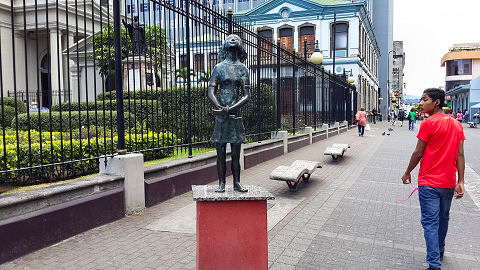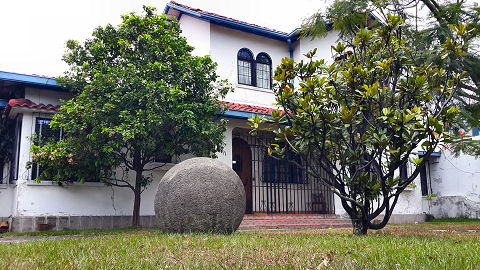 And, not that I didn't find things to occupy my time. I hadn't mentioned the "spheres", which you see in front of government buildings and wealthier homes – these are pre-columbian era stone sculptures, made by a long extinct culture during the period from roughly 600-1000 BCE, many of which have been relocated to SJ and other towns over the centuries since, though there's a whole preserve devoted to them in the Diquis delta area. I also was clued in to this small statue off to the side of the Catedral Metropolitana, that I'd not seen on my pass by there the previous week – it's a statue of a 15-year old Anne Frank, bound, as she's being led away to a concentration camp – it's a 2008 gift to the people of Costa Rica from the people of Holland as a reminder of the horrors of Nazism, though I'm not exactly clear as to the why of it all. Was Costa Rica in some sort of Nazi upheaval or conundrum seven years ago?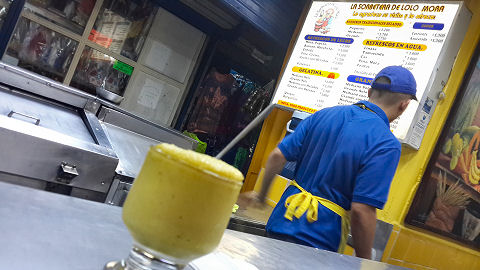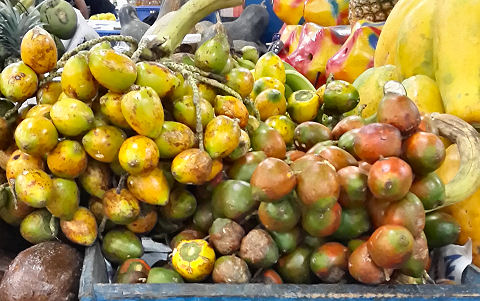 I revisited the Mercado Central and a nearby market at Avenida 6 and Calle 4 (that I'll come back and add the name of if I can find it out – locals, any help here?), where I sampled the famous helado of the more than a century old Lolo Mora – they have one flavor, vanilla cinnamon, and they're sticking to it. Apparently many decades ago they made a stab at adding in other flavors and there was a customer revolt, so they went back to just their original flavor – available in half a dozen sizes. It's a very grainy, crystallized sort of ice cream that tastes more of a water base than a milk or cream base – I'd call it a vanilla cinnamon sorbet – and in fact, they don't call themselves a heladeria, but a sorbeteria, so it may well be. I also finally found some fresh pejibayes, or palm peaches – they're not, apparently, edible raw, I gather they're the fruit of the same plant that we get hearts of palm from, which now makes the relatively common salad of palm hearts and these "peaches" quite sensible.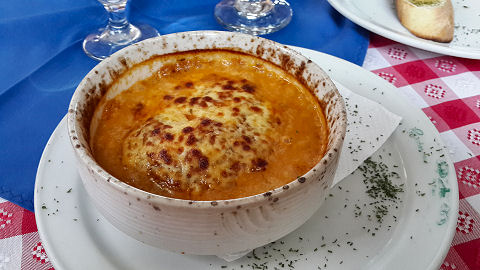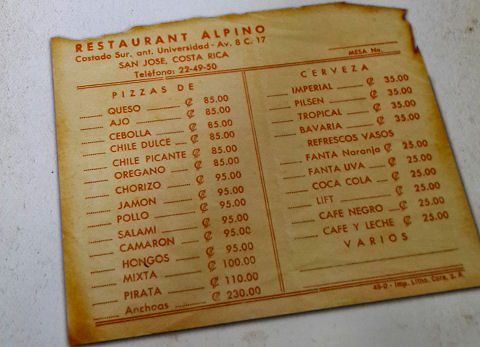 And, of course, I ate – all very casual. A couple of recommendations for "the best lasagna in the city" were given out to Restaurante Alpino. It's either not the best, or there's a very low bar for lasagna quality. Three thick, gooey sheets of noodle with unseasoned ground beef in between, the whole thing bathed in what seemed to be a puree of sweet cream and tomato, topped with melted cheese. Thankfully it was smaller than a white bread sandwich with the crusts trimmed – and I still didn't finish it.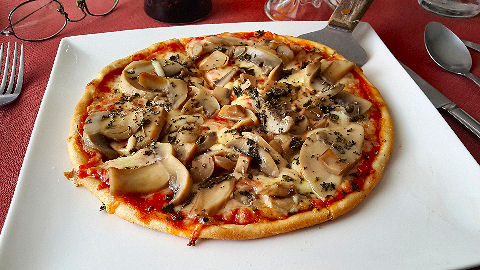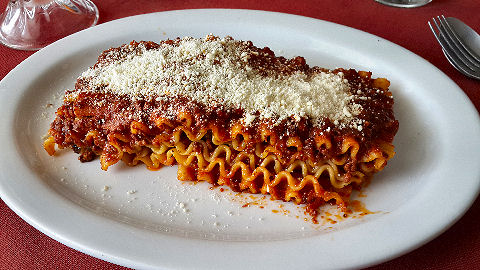 And it certainly didn't come close to the quality of the seven-layers of pasta lasagna interleaved with tasty bolognese sauce and topped with parmesan, at double the size and only about 3/4 the price, at Ana Restaurant, where we also dug into a delectable fresh mushroom pizza. Maybe I should make finding good lasagna a mission….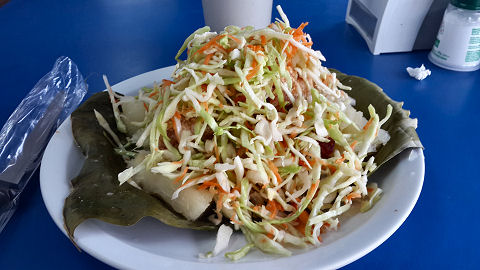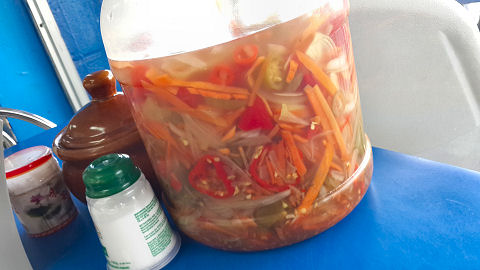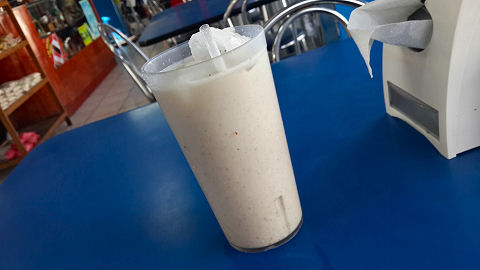 I tried a vigorón, a traditional dish from neighboring Nicaragua consisting of boiled yuca, the ubiquitous cabbage salad, pork cracklings, and some pieces of roasted, spiced pork. It definitely needed livening up, and the classic chili accompaniment that one sees everywhere here was on each table – the version at Sabor Nicaraguense has mild chilies, carrots and cucumber in vinegar. Washed down with a refresco, a puree of water, sugar, and some sort of fruit or seed – seeds are very popular in Costa Rican refresos, far more than I've seen in other places – in this case, the seeds of the jicaro.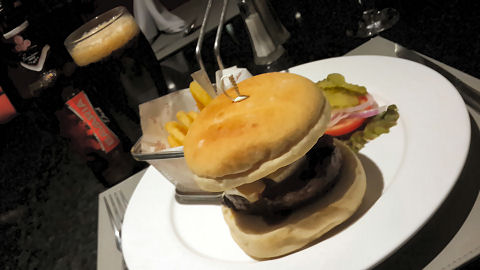 I stayed in one night at the hotel's restaurant, RBG (which apparently stands for Restaurant, Bar & Grill), and had what they tout as "the best burger in the city". It was decent, but not great. Service recalled some of those early conversations I used to have, going on ten years ago now, about cooking temperatures:
Me: "I'd like that cooked rare."
Waiter: "We cook them well done in Costa Rica."
Me: "I understand, but I'd like mine cooked rare."
Waiter: "How about we cook it to three-quarters?"
Me: "Rare."
Waiter: "I can offer you halfway cooked."
Me: "Less, I want it cooked rare."
Waiter: "Maybe just a little less than halfway…?"
Me: "I'm not trying to negotiate, I want it rare."
It was cooked well done.