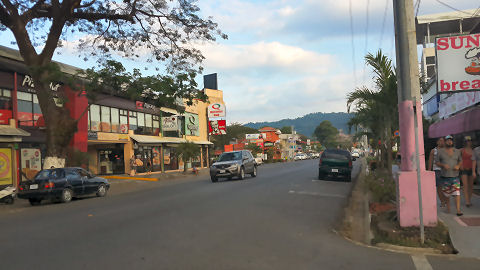 Look, Jacó, Costa Rica, is not going to win any awards for World's Most Beautiful City, or Best Place in the World to Dine, or anything else of the sort. The town of 10,000 is pretty much a strip mall of bars, restaurants, surf and souvenir shops. There seem to be two kinds of tourists here, at least traditionally – surfers, because I gather that this is some of the best surfing in Central America, and middle aged (or older) men who are "on a fishing trip with friends" getting away from their wives or girlfriends in order to smoke dope, snort cocaine, drink to excess, and pick-up hookers, all of which are eminently and openly available. There's a push to increase family and foreign tourism, and there are certainly a smattering of folk vistiing who fit other models, but they're not the mainstay.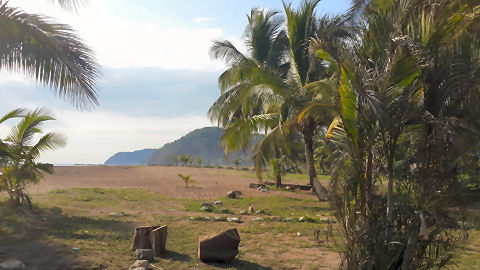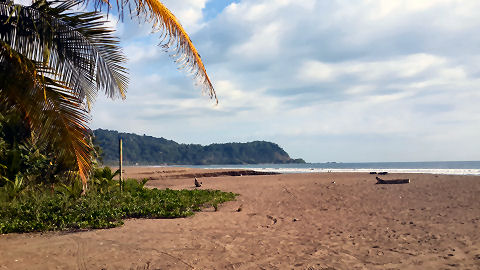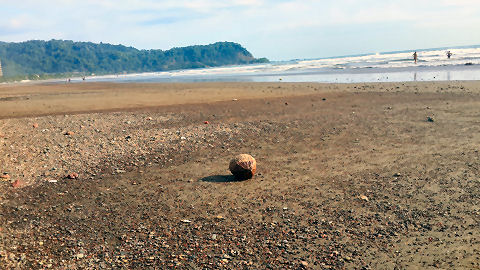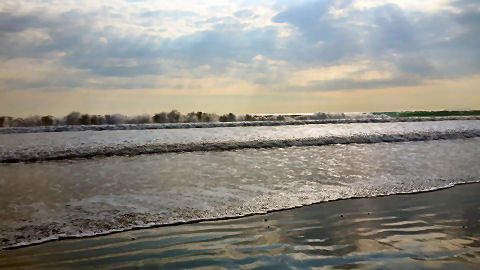 On the other hand, if you walk a block off that main avenue, it's a pretty spectacular beach – spending a couple of days just a five minute walk from this, albeit blended with all the work on my side of putting on our popup supper, was a delight. It was also nice to "come down off the mountain" – not that San Jose is a particularly high altitude city by comparison to some I've been to, but it's slightly over a kilometer, and it's kind of hilly, and smoggy with vehicle exhaust, and every now and again I found myself a bit short of breath. Breathing the sea air, at sea level, was a really nice change. I'm going to save the popup for a separate post, and, of course, dive into my favorite topic, food.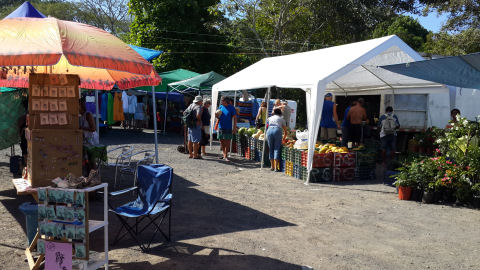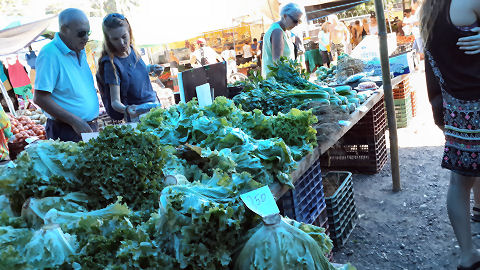 On Fridays Jacó plays host to a local farmers' market, and it's loaded with great produce. The taxi driver who took us over there for a bit of a wander is Peruvian and he led me straight to a cache of fresh rocoto chilies, a must in Peruvian based cooking, and a great boon to putting on the popup, as, though local chili farmer Chad had brought in a selection of those that he grows in his garden, I hadn't found anything that could fill in for that rocoto flavor.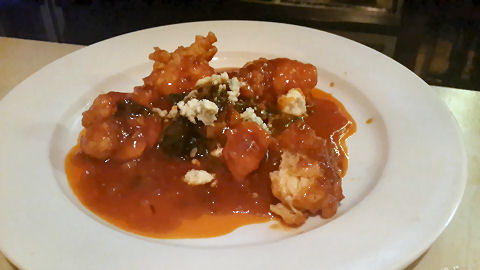 My first dinner was at Lemon Zest, a bit of a hike from where I'm staying, but touted as one of the top dining experiences in town. It's a bustling, popular place, clearly with a lot of regulars. I grabbed a seat at the bar, giving me a view and an earful of the open kitchen. Bahamian native Richard Lemon, who's a bit of a yeller, is turning out a fairly extensive menu of "international cuisine" – from sampling through a trio of appetizer plates and seeing what comes out of the kitchen, it's sort of a fancied up bar food kind of place. That's not to disparage it at all – he clearly knows his customer base, and everything I tried was delicious, if edging towards a trifle sweet for my tastes. I'd really hoped his signature "Buffalo Lobster" would give me a good hit of spice, but the sauce was more of a Chinese "duck sauce", with just a hint of chili. Then again, locals really aren't into overly spicy food. Also tried an excellent crabcake and some red quinua coated "popcorn shrimp" (he doesn't call them that, but it's kind of what they are).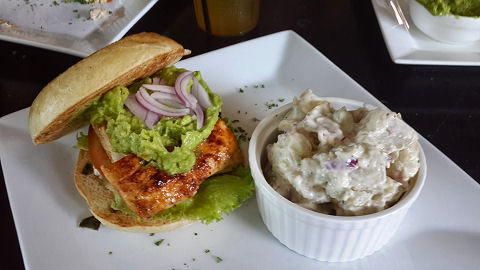 Lunch at my host restaurant, Side Street Bistro, was of course a must, and talented chef Danny Clark, who has been in town for about 25 years, recently opened this spot as a casual offshoot of his top-rated flagship restaurant in town. Here, he's serving up great sandwiches and burgers – on two different days I tried his mahi-mahi "burger", a fantastic fish sandwich, enlivened by a splash or two of hot sauce from the aforementioned Chad, who grows his chilies mostly to make a series of local condiments that range from mild to fiery hot. On another day I tried their version of a Cuban medianoche sandwich, one of my favorites, and executed perfectly. An onsite baker makes all their sandwich breads daily, and Danny is an avid homebrewer and in addition to a casual wine list, cocktail menu, and beer selection, includes on tap beers that he brews himself for the restaurant.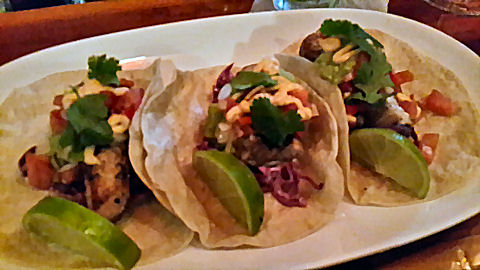 And, of course, a visit to that flagship restaurant for dinner, Graffiti, where Danny's chef de cuisine Thomas, a temporary transplant from Montauk, NY (soon to be headed back there), is whipping up great renditions of what I'd call upscale lounge food. Great riffs on bar food dining including a lobster corn dog, jalapeño poppers filled with gorgonzola and wrapped in smoky bacon, his signature coffee and cocoa crusted steak, and some of the best fish tacos (blackened mahi-mahi) that I've had, anywhere.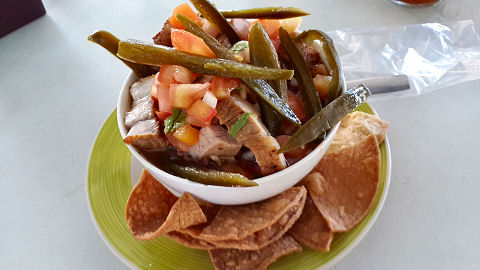 Had to hit up a local classic diner, and Soda Isaga is apparently THE place to sample local dishes. I can't fault anything about this CR fave, a chifrijo – a bowl of rice and red beans topped with tender pork, slivers of pickled jalapeño, tomato and onion, and accompanied by crisp tortilla chips – a perfect, small, casual lunch. The mainstay, of course, is the casado, the huge platter of everything that I mentioned in my last post, but that's just more food than I generally like to eat.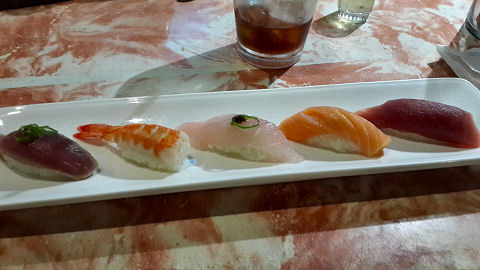 In the mood for something a little lighter, I asked Danny for a recommendation for sushi – he's a trained sushi chef and at one point years ago had co-owned a spot here in town with some Japanese chefs – they've now struck out on their own at Arigato, and despite the noisy, bar-style ambiance, they're turning out what is probably the second best sushi I've had in Latin America, after Maido in Lima. Perfectly, pristinely fresh fish (how could it not be with the ocean just a block away?), fairly traditional in style, though with a few modern plates as well. These guys are really, stereotypical Japanese (almost like it's a put-on, rather than real), with no smiles and very gruff customer interactions, but hey, they're turning out great food, so I'm not complaining.