I had planned to take a couple of days to go "somewhere" in Costa Rica between San Jose and Jacó, where I am now. The idea of visiting a cocoa plantation had gotten stuck in my mind, and I'd sent off inquiries to various spots that offered tours and/or accomodations, mostly along the Caribbean coast near to Limón, and not one of them ever got back to me. I'd read about a place a bit closer to San Jose, Tirimbina, that was a combination cocoa plantation and biological reserve. My first thought was to just head up there, they have housing on site, and it's inexpensive. As I did a bit of research, however, I found a small tour company that offered a day trip up there with a naturalist guide, that would allow me to stay in San Jose, where, let's face it, the likelihood was I'd be able to eat far better. So I booked that, and decided that given that there were two spots I particularly wanted to eat at on the west side of town, I'd book in for those two nights at a hotel on the north side of the La Sabaná park, that I talked about in yesterday's post.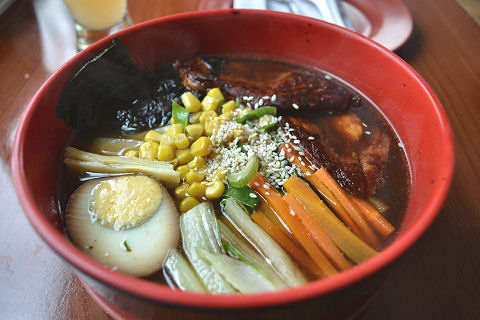 One must fortify for a voyage, even if just crosstown, and besides there's all that pesky check-in and check-out timing. So I checked out of the Radisson, left my bag, and headed back to Ramen Fusion, this time to try the ramen itself. And this is the signature "fusion" bowl, with a mix of meats, vegetables, etc. A quite good bowl of ramen too, the broth could have used a little more depth of flavor, just something more "umami", but it was really good. And, given their whole foodie-centric approach it would have been cool if they make their own ramen noodles rather than use packaged ones, but they were cooked perfectly. Added to their excellent pizza, if I lived in town, this would be a weekly visit kind of place.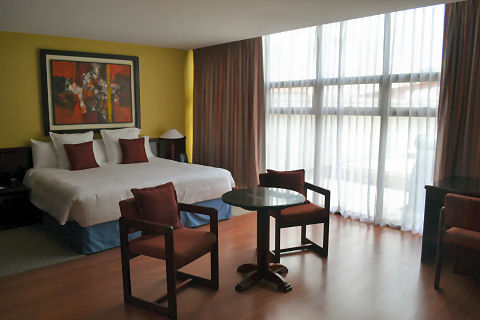 After lunch I hopped a cab over to the Palma Real hotel, where I had a very nice room awaiting, in a clearly more upscale neighborhood, though still slightly outside the touristy areas – on the other hand, having more or less exhausted the touristy stuff to do in town, there was no reason to be in the center of it all…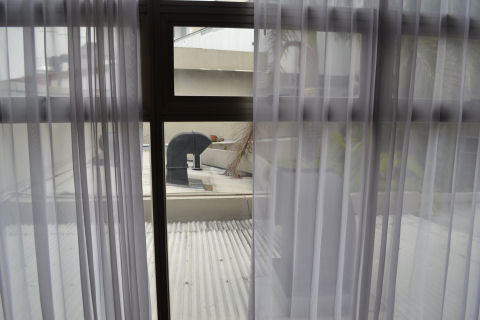 …perhaps I had a lesser "view" from the windows. About the time I checked in, the cloudy skies decided to open up with a deluge, and the entire afternoon was a major thunderstorm, so instead of going out and wandering around, or sitting in the park, I stayed in and got some writing done. The two places I particularly wanted to try weren't open on Mondays, so, I took a roll of the dice on some other places that sounded interesting, and headed off in the evening to Gastro Bar en la 38, which turned out to be the restaurant in the Wyndham Tryp Sabaná hotel. They have a reputation for interesting cocktails and tapas.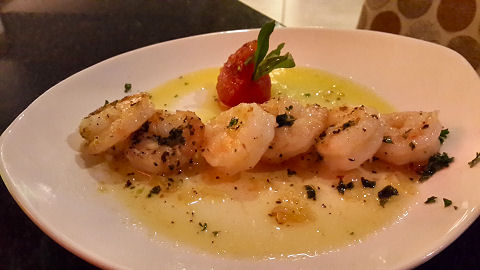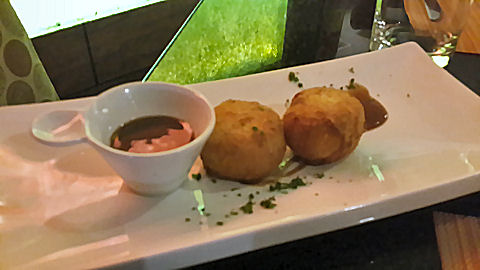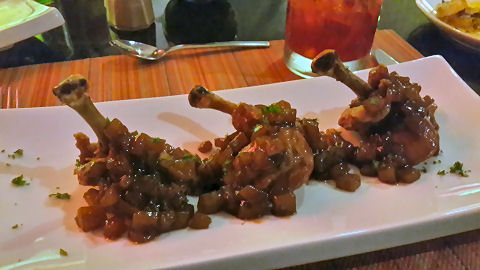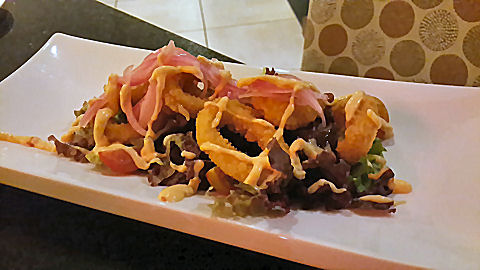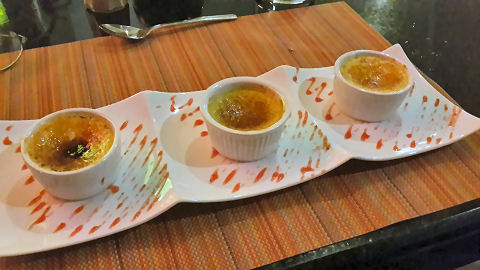 On the cocktail front, everything sounded very frou-frou and sweet, but my very charming, very cute, and very flirtatious waiter said he could have the bartender make their house specialty, a strawberry and thyme and rum sort of concoction, without the added sugar syrup – I decided to give it a go, it was still very sweet with the fruit, I'd hate to imagine it with more sugar. On to the food. First up, a plate of gambas al ajillo, as I mentioned the other day, the Costa Rican version is more or less a shrimp scampi – quite good here. Next up, some yuca croquettes filled with pejibaye, a palm peach, a local fruit I hadn't tried yet (I'll try to get a picture at the Jacó farmers market today), served with a tamarind sauce – another winner, though it could have used a little chili or something. Follow that on with the chicken drumettes in a pineapple and paprika sauce – a bit overcooked and dry, the sauce was nice, but again maybe too sweet. Winning dish for the evening, crispy calamari with a spicy mayo. And, finishing up with a trio of creme brulees – vanilla, pistachio, and lemongrass, the last of which was the only one that was flavorful and interesting. It was all decent "lounge food", though a little too much on the sweet side for my personal tastes. Reasonably priced, coming in at a whole $39 for the meal, with tip.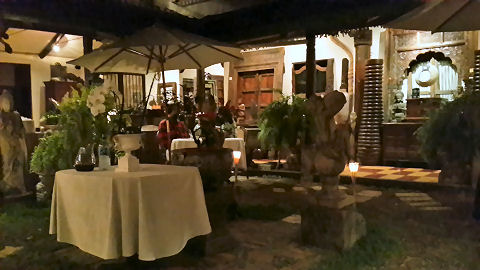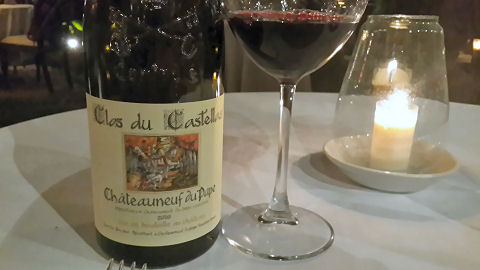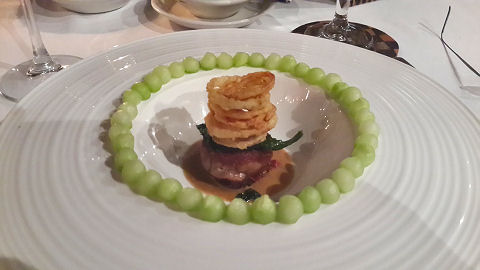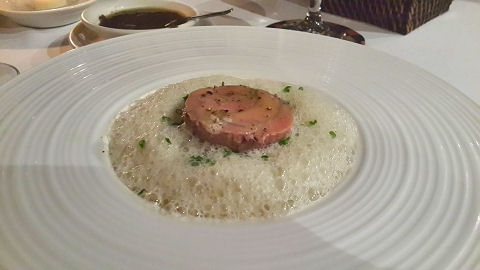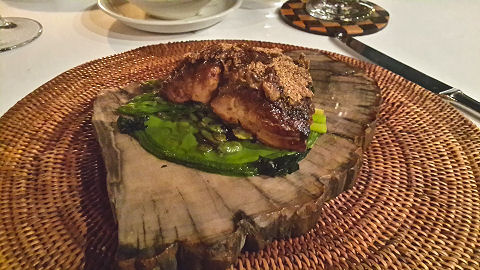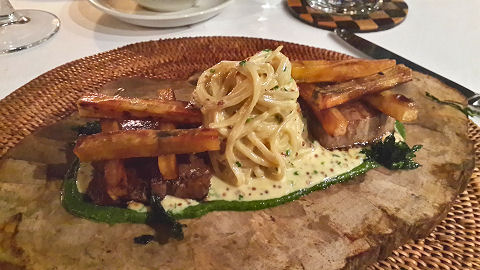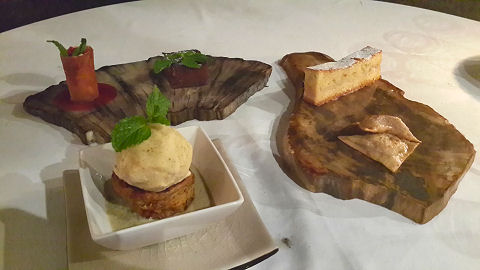 Here's the splurge night of them all. Regular readers may remember my review of Observations from the Kitchen, a rather odd autobiography by two-Michelin starred chef Richard Neat. He'd up and left the starred restaurant in London and disappeared to Morocco, which is, if I recall, more or less where the book left him. I had no idea that he'd likewise abandoned that country and found himself a new home in San Jose, Costa Rica, where he now has a small little spot called Park Cafe. When I heard about it, I knew I just had to try it, and given that I'd not been able to get a seat all of last week ("booked weeks in advance, sorry"), garnering one for my last night in town was a pleasant surprise. At the duly appointed hour, after confirming phone calls, I walked the three blocks to where the restaurant was to be found, only to not find it. I had no idea that it was simply a house, an old hacienda, with no sign. I wandered up and down the block, and finally walked a block further and asked in another restaurant, and they pointed it out – if you head there, look for the big white house off the corner with a guy standing around in front of it.
Inside, stunning. A beautiful courtyard, filled with antiques and Japanese lanterns and soft lighting and a trickling waterfall pond. And although there's probably space for 30 tables, they only have about 10, spaced well apart – the courtyard itself only has one table for four in each corner, and then the other six tables are placed in secluded spots around the surrounding terrace. It all feels very private, you barely notice that there are other people dining. Richard's wife, who runs the dining room and collects and displays the antiques, came over to greet me, we chatted a bit, decided on a quartet of courses (the whole menu, surpisingly extensive given the size of the restaurant (17 menu items), is made up of "small plate" food, meant to be able to design your own little tasting, each plate priced between roughly $8-15, with one exception). She informed me that Richard would decide on the order and that there was no option other than that – which is completely fine, he knows his food better than I do. She turned me over to the sommelier, and I decided since it was a special night to go with a bottle of wine, a tasty Chateauneuf-du-Pape – I really do miss having a wider range of wines to pick from in BA.
The food: prosciutto wrapped scallop in reduced gazpacho, topped with crispy onion rings and surrounded by little cucumber balls – excellent start, perhaps a little disappointing that it's one, single, small scallop. Next up a slice of foie gras torchon in a celery "capuccino", and hidden underneath, crispy potato dice – excellent, this plate being the one price exception, coming in at $28 – pretty steep, but then, I imagine foie gras is hard to find here. Then a fish course, red snapper coated in a porcini crust and served with fava beans and what was supposed to be grilled palm hearts but came out as grilled asparagus. Then a meat course, Braised veal tongue with tagliatelle in a creamy mustard sauce. Full, sated, happy – all the dishes were delicious, and perhaps at that point I was glad there was only one small scallop to start. Since I was splurging for the evening, why not go with the calories too, the dessert sampler with a little quintet: little fried ravioli filled with pineapple, a slice of a pear and frangipane torte, a square of a slightly gelled chocolate mousse, a little crispy cylinder that was filled with mascarpone and strawberries, and a pain perdu, or french toast, with vanilla ice cream. All good, but the standout was the fried ravioli. Now, half the bill was the bottle of wine, but this place still comes in pricey for San Jose, all inclusive at $200. But you know what? It was worth every penny of it – excellent dinner.
Next day I was slated to head to Jacó, but there were no time constraints on it, other than a check-in time at the place I'm staying of 2pm, so I decided to stay into the afternoon and take the 2:30 shuttle, giving me time to have lunch at the one remaining place on my list, Beirut, just a short two blocks away from the hotel. Checked out, left my bag, walked over, and had an absolutely delightful meal. I was the only person there for lunch, the owner greeted me and chatted about the place (open 29 years), and the food (all his grandmother's and great-grandmother's recipes) – Lebanese food. He offered to put together a little sampler of appetizers, excellent hummus, good babaganoush, perfect labneh, and an excellent tabouleh, along with warm flatbread right from the oven. Then, the main course, the signature dish of the restaurant for its entire three decades, a five hour (not one minute more, not one minute less) braised lamb. A whopping plate, though I think this was probably bigger than the usual portion, an 8-rib rack of baby lamb chops (you're my only customer, enjoy!), so tender the bones just slid out without resistance, delicately spiced in what I'd guess was a mix of za'atar (sesame, thyme, mint), and perhaps a touch of coriander seed, pepper and salt. Spectacular. Just spectacular. What a great way to end up my time in San Jose with two superb meals.
Next up, the Tirimbina biological reserve and cocoa plantation, and then on to Jacó….