As best I can tell, Costa Rica's only real industries are tourism, coffee and cocoa. The first is clearly the dominant one, and everywhere I turn here there's something being offered that's designed to involve some sort of tour or activity, preferably that I will part with dollars for. In fact, they make it as unattractive to pay for things with the local currency, colones, as they can, often offering up prices in dollars that are 20% or so below the same item offered in colones. And change houses do the reverse, of course – with an official rate of around 539 colones to the dollar, and many of them are only offering around 430-450. Banks, thankfully, don't seem to limit making change to only their own customers, and give the official rate. Just a tip there for visitors.
Now, generally, I hate organized tours. Especially bus tours with multiple stops to take a quick round of photos and then back on the bus to move on to the next spot. But trying to organize getting around to some of the things I either a) want to see, or b) feel sort of like because I'm here, I ought to see, is more work than I want to put in, so I picked some parameters and searched for a couple of tours that sounded interesting. Friday, I headed out with Expediciones Tropicales to a combo visit to a coffee plantation, volcano climb, and waterfall hike. This being the dry season, I was assured that I was in for a treat, with beautiful weather in the offing – after all, the company said, there's only one rainy day in February, if that….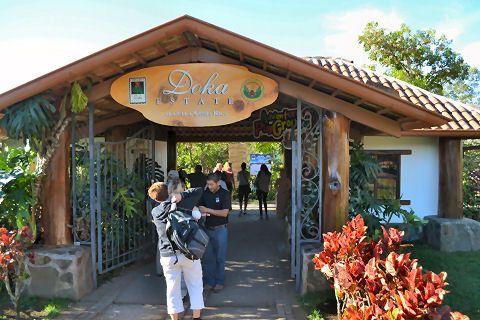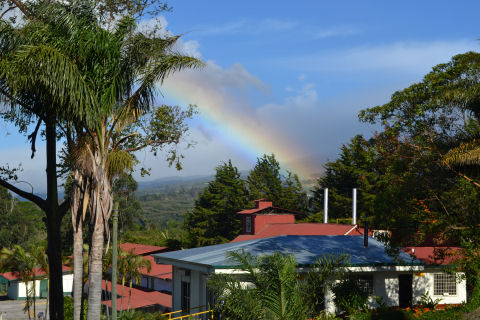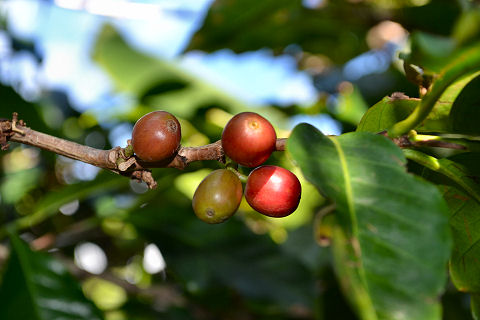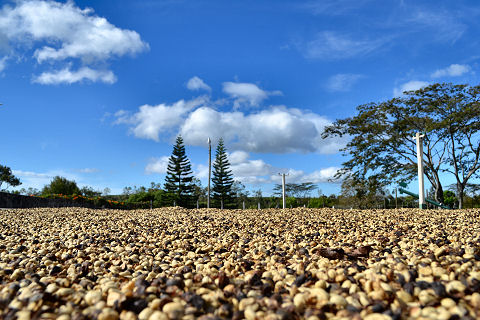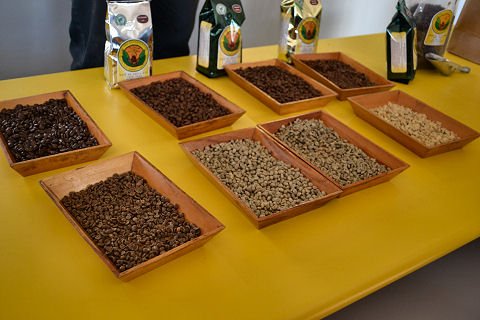 And, it was indeed a beautiful day as we headed out of San Jose. The bus, was thankfully, not huge – there were just 20 of us on the tour, our guide was friendly and cheerful and fluent in both Spanish and English – one thing I've noted here, almost everyone, regardless of social or economic class or line of work, seems to speak at least conversationally fluent English – I'm sure it's the tourism factor, it's simply a necessity of life here. Nicer yet is that they speak it clearly – one of the things I've gotten used to in BA is that while many Argentines speak English, they rarely speak it any better than I speak Spanish (although they think they speak it clearly and fluently), and I, like most of my expat friends, have just gotten used to interpreting what they mean to say – here, they speak it like they were raised speaking it, which may actually be the case. Of course, Costa Rica is far closer to the US than Argentina is, the tourism here is dominated by norteamericano visitors, and that's likely a significant factor.
Back to the tour – about an hour or so northwest of town and we arrived at the Doka Estate, one of the better known coffee plantations in the country. I'd have loved to go to Tarrazú, the premium coffee growing area to the southeast, but not one of the coffee plantations or tour guides in that area responded to inquiries – and, it wouldn't have been a day trip – well, it could have been, but most of the day would have been taken up with travel. It was actually a quite nice tour, we started out with breakfast, as the tour had left at around 6 in the morning, not suprisingly, a "traditional Costa Rican breakfast" of gallo pinto, scrambled eggs, and in this case accompanied by fried plantains – hot sauce and salsa Lizano on the side. I nibbled at it, I'm just not a breakfast person. After, a tour through the plantation, looking at the coffee plants, talking about the whole growing cycle, harvesting, and processing – our guide was really quite thorough and knowledgable about it, which was a big plus. We finished off with a coffee tasting of the various types and blends of coffee that Doka produces.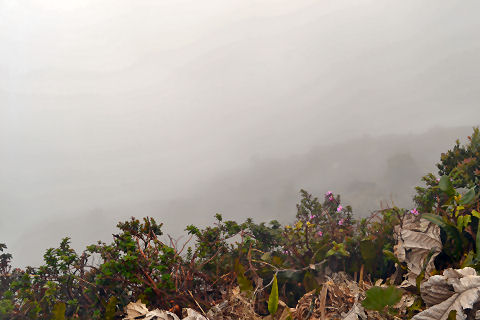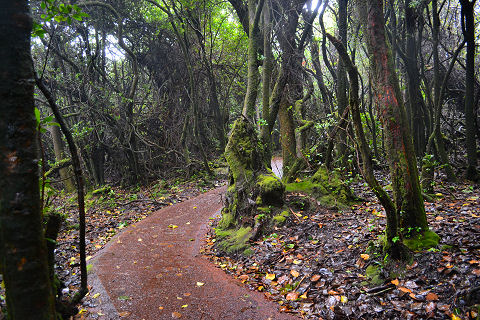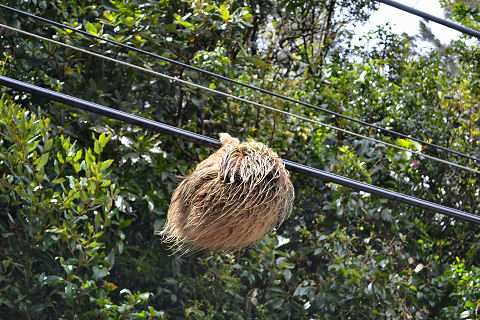 From there we headed to the Puas Volcano, one of Costa Rica's most active volcanos. Here, we were assured, we'd see deep into the crater, but have to limit our time because of sulfur fumes and such. As well, a second crater with a lovely blue lagoon was in the offing, all in a several kilomter hike up and down the mountainside. On the other hand, our guide, in contrast to the tour agency, asserted that it would be wet, cold, windy, and we probably should have brought warm jackets, wet weather gear and hiking boots (the agency said "bring a light jacket, tennis or walking shoes, camera, binoculars, and sunscreen"). Sales versus reality. It was an interesting hike, though chilly and wet, as it rained the whole time… and, I'd have to say, I can't really claim to have visited a volcano, since the first photo is about as good of a view into the crater as we got, and this video shows what it was like at the top:

Given the inclement weather, we really didn't see any animals, birds, insects, nada, other than just as we were leaving the volcano park and headed back into sunnier territory, a two-toed sloth was spotted hanging from a power line.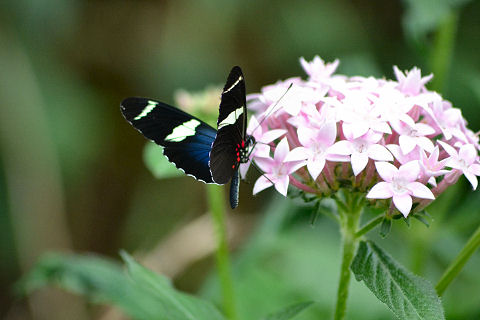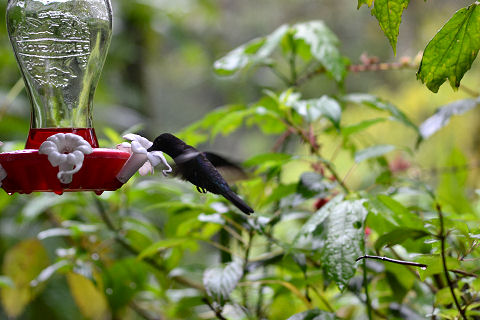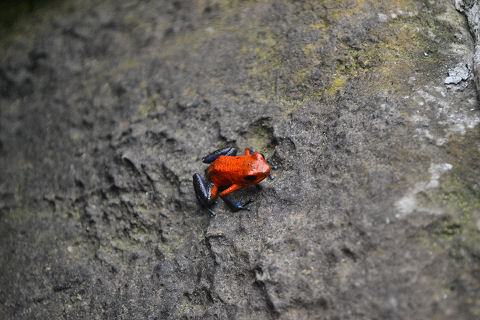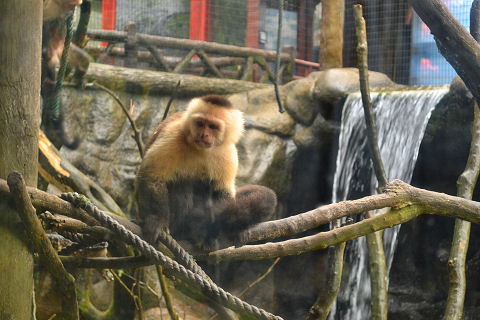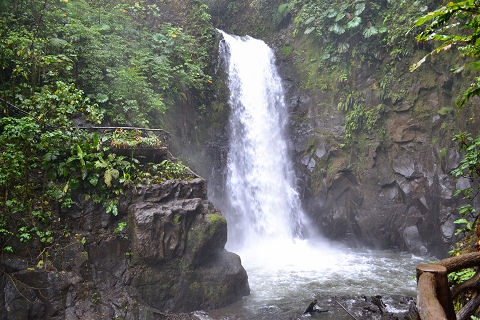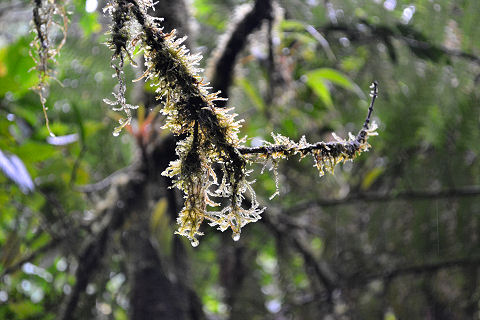 From there, we headed to the La Paz Waterfall Gardens. Now, from descriptions, I was expecting something pretty spectacular – first off, we were told that we'd be wandering the beautiful gardens and seeing butterflies and hummingbirds and the occasional monkey or other wildlife. It sounded like a truly lovely spot. And, in some ways it was, though we were back almost immediately into rainy weather. But "gardens" is a misnomer, it's a park, with two waterfalls in it, the tallest of which I think I recall was 89 meters – after our recent visit to Iguazu, I can't say I was overly impressed. And it was an up and down hill 2 plus hour hike through a forest, though that came after a visit to the "wildlife refuge", which was actually just a very sad zoo of netted in areas with butterfles and hummingbirds and frogs, and then glass cages for monkeys, snakes, jungle cats, and insects. Oh, and lunch, which was a mediocre buffet in the middle of the hummingbird habitat. Yawn. I imagine if the weather had been nicer it would have been a far more interesting day, but as it was, I was just wet, cold, and bored after the coffee plantation visit.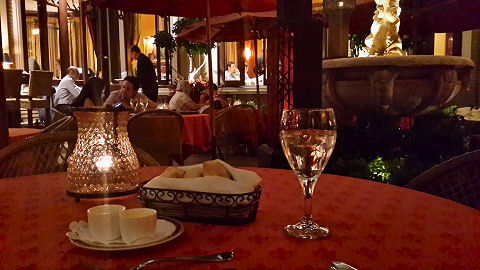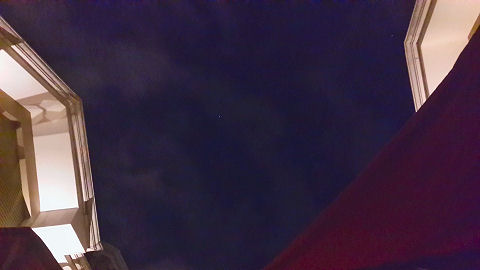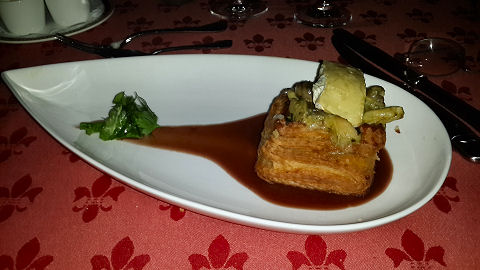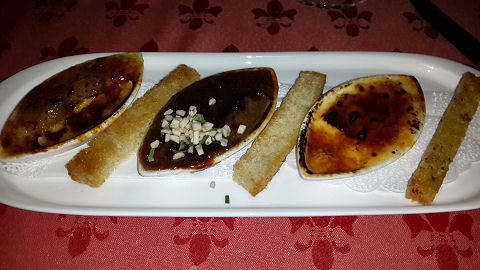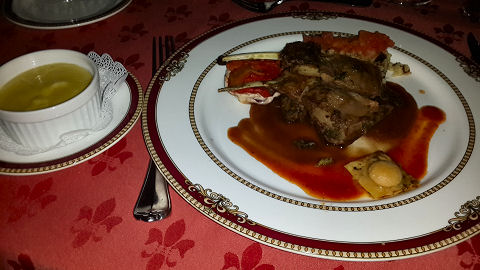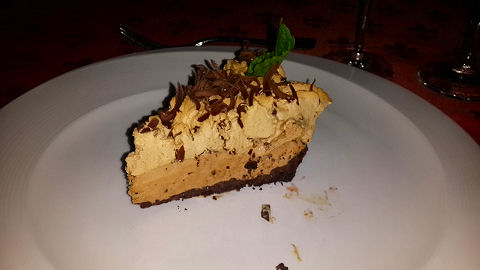 Back to the hotel, time to warm up, take a shower, relax a bit, and then out to dinner at one of the more elegant spots in town. Not local fare – it's a mix of traditional and modern French, with touches of local ingredients of course, but as best I've been able to determine, no one in town is doing anything fancy with local fare. There are a couple of spots in nearby Escazu, a wealthy suburb a few km to the west of San Jose, where there are some, and I'm going to try to hit at least one or two of those while here, it's just not overly convenient to get to. But, dinner at the restaurant in the Grano del Oro hotel. First off, a truly elegant and lovely setting – I had a choice of the dining room or the courtyard, under a starlit sky. I went with the latter. It's a bit of a romantic spot for the city, and I think other than one other person dining by himself, every other table was occupied by a couple clearly out on dates. And some of them, particularly in the dimly lit courtyard, were, shall we say, getting a bit amorous.
A splurge, both in price and calories, I decided to try two different appetizers – a voul-a-vent of local, organically raised escargot (snails) with oyster mushrooms, in a puff pastry shell, topped with warm local camembert cheese; followed that up with a trio of savory creme brulees, a house specialty, from right to left, goat cheese, porcini mushroom, and gorgonzola; main course of perfectly cooked lamb chops with artichoke couscous, a little vegetable and cheese stack, lemon thyme reduction sauce, and a strangely inappropriate goat cheese gelato (a weird burst of cold on an otherwise hot plate, and a scoop about the size of an olive); and finished up with a coffee pie – a sort of semifreddo of capuccino topped with espresso whipped cream. Great wines to accompany it, they have not only an excellent wine list of imports from Argentina, Chile, France, Spain and Italy, but a good number of them by the glass – with my apps a glass of Ophalum Albariño, with the lamb Planeta's La Secreta, and with the dessert Pellegrini's Moscato de Pantelleria. All to be had at a price – 62,100 colones, or $114 (then again, I did have an extra appetizer). Service, impeccable. Food, all beautifully prepared, nicely presented, and, all three savory dishes lacking in salt (brought to the table on request, and that handled it, but dishes really should be seasoned properly in the kitchen).
And thus ends the second full day in Costa Rica.