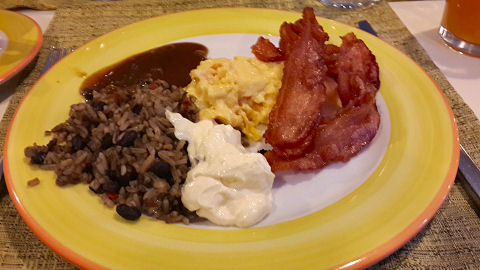 One, of course, must start out a new adventure fortified, and with local fare – so my first morning brought with it a traditional tico breakfast of gallo pinto (rice and black beans) with scrambled eggs, options to add – various sauces, ranging from a simple ranchero (not spicy, like the Mexican version, just a tomato sauce), to hot sauce, to, as here, the national condiment, salsa Lizano, which is more or less a take on worcestershire. A little sour cream and some bacon, coffee and juice, and I was ready to face the day.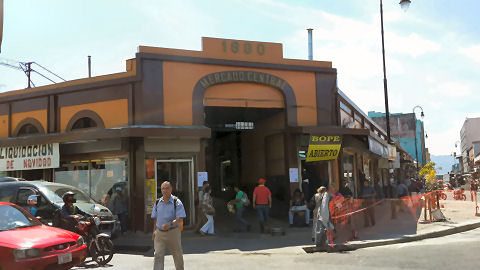 As I tend to do when I travel on my own, I like to plunge right in. Through one of the chefs that I'm working on the popup with, I made contact with a chef and restaurant consultant here in San Jose and she offered to give me a little tour of the Mercado Central on Thursday. So, bright and early I climbed aboard her Austin Mini and we headed into the center of town – what turned out to be only about a dozen blocks from where I'm staying.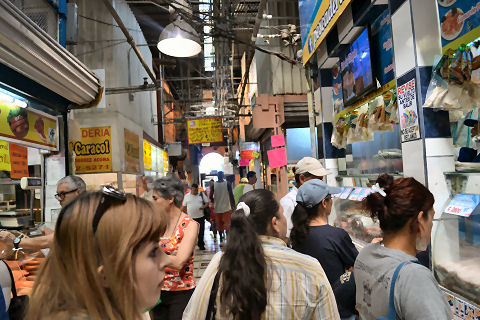 Compared to other mercado centrales that I've been to in Latin America, I have to say this is one of the cleaner, more well organized ones. All the meats, fishes, dairy products, etc., are refrigerated and in glassed in counters, people are handling things of that sort with gloves or tongs. Fruits and vegetables are neatly laid out in crates and displays of one sort or another.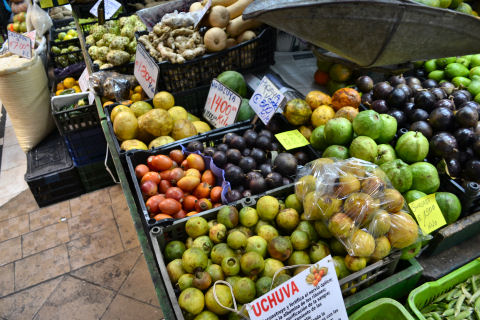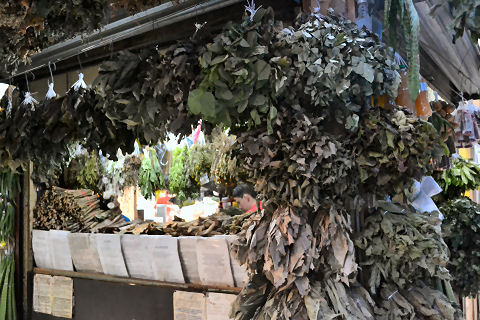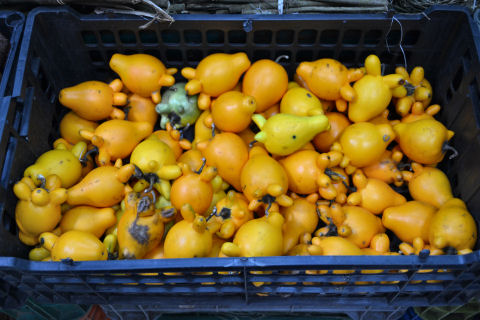 There wasn't a whole lot in the way of anything unusual. In fact, far less exotica than I've found dipping into markets in other places. There were varieties of certain fruits that are unique to Costa Rica, but they're not wholly new fruits and vegetables to me, just different species in the same families – guavas, passionfruits, sweet potatoes and things of that sort. Spices are pretty limited – some various dried peppers, nothing too spicy, a lot of turmeric, which is heavily used in tico cooking apparently.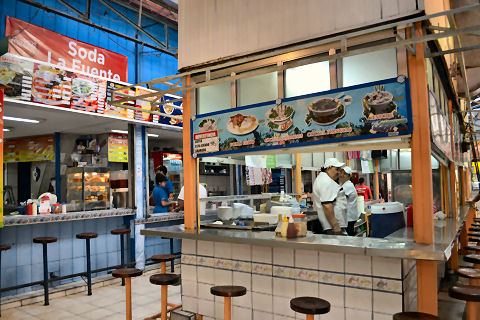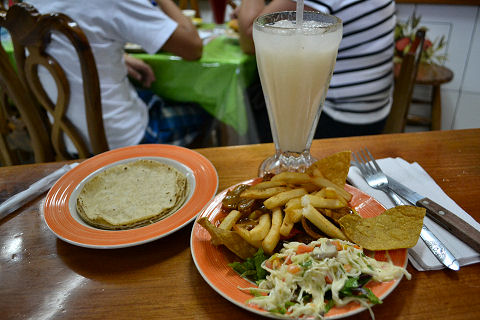 The center of the market is home to various sodas, or lunch counters, and we plopped into seats at one of them – Vivi suggested I try a local classic mid-morning snack, a gallo, which is basically some sort of braised meat served up with french fries, shredded cabbage salad, and tortillas. In this case, lengua, or tongue, meltingly tender in a really lovely gravy – tongue and liver are, I gather, the offal of choice here. They don't work a lot with the other innards.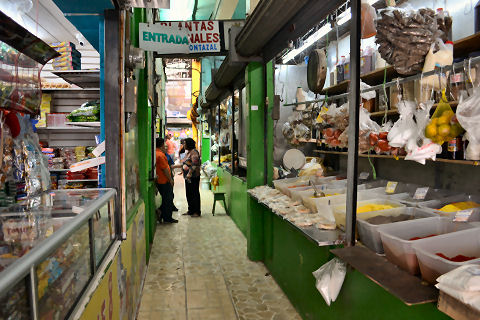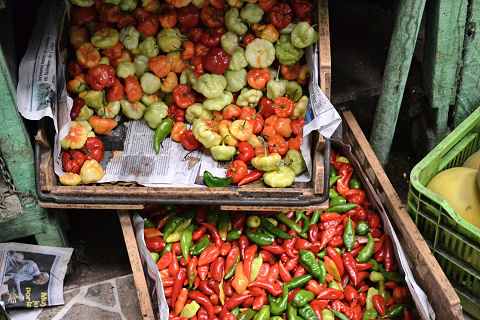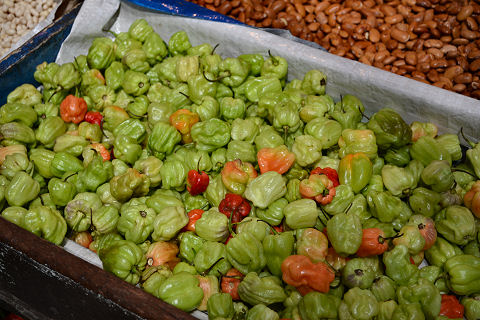 From the Mercado Central, we walked a couple of blocks to the nearby Mercado Borbon, a bit grittier and less well organized, but having selections of some of the stuff that, though it wasn't phrased this way to me, I'd guess are more popular among the lower classes, including a small selection of chilies – in these photos, cayenne peppers (surprisingly not very hot at all), large sweet campanitas, and small, perfumed and moderately spicy panameñas.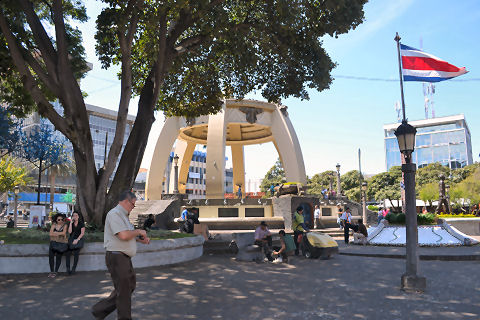 After the mercados I took a bit of a wander downtown, with an invitation to meet up with Vivi later in the day for a beer tasting of local craft brews. This is the Plaza Central.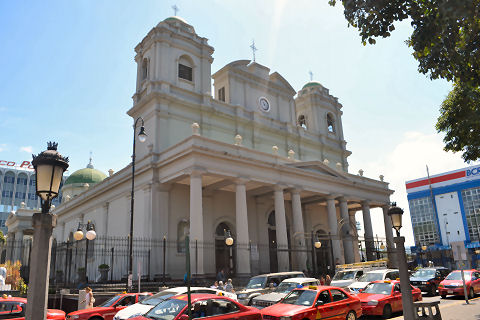 The Metropolitan Cathedral. Fairly unadorned both outside and in.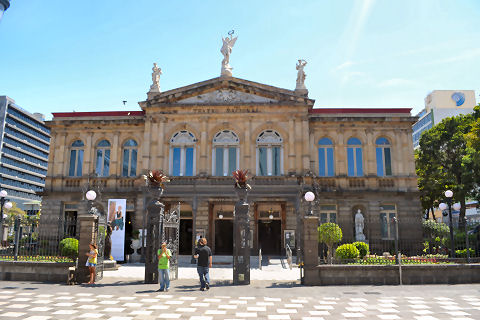 The Teatro Nacional, which was temporarily closed as they were prepping for a noontime concert, a daily free cultural offering – I'll come back to it in a future post.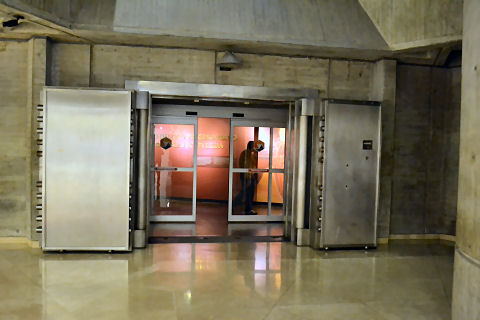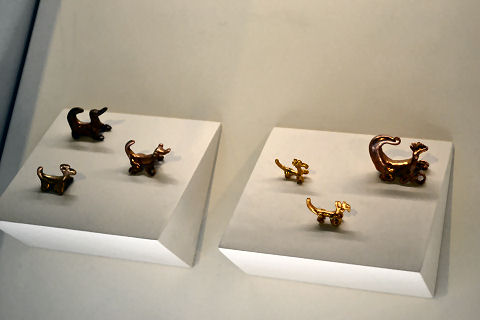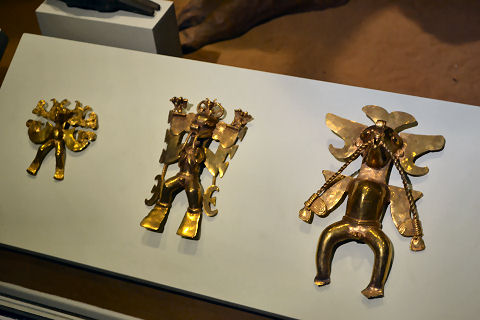 A visit to the underground Museo de Oro, or gold museum – some pretty stuff to look at, but not much here, and by local standards not particularly cheap to enter given the paucity of the exhibits. The same facility houses a small art museum of traveling temporary shows and a single room currency museum dedicated to the art on the local bills.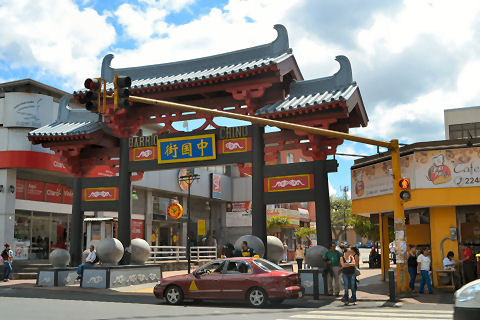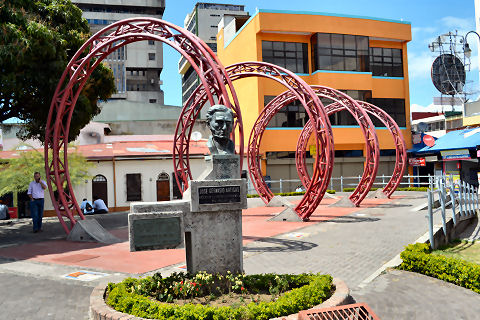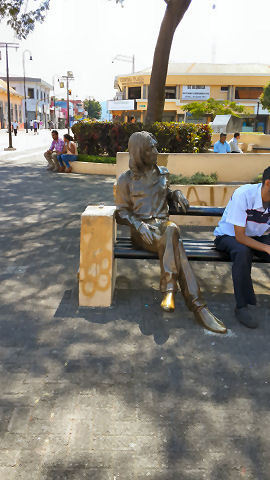 Barrio Chino, or chinatown showed up next on my radar, but it turns out it's a failed experiment. There's just no call for one here, and it was the idea of a local chinese businessman, who put up the money to convert a five block area into a chinatown, but it simply never took off, and all that really remains of it is the entrance archway. I think there's only even one chinese restaurant off the plaza. There is a quite famous statue of John Lennon seated on a bench in the plaza, marking the spot where there was a big protest many years ago where locals showed up and smashed Beatles' records to bits in protest of his one time statement that The Beatles were more popular than Jesus.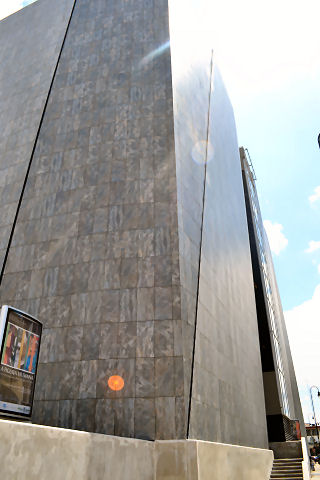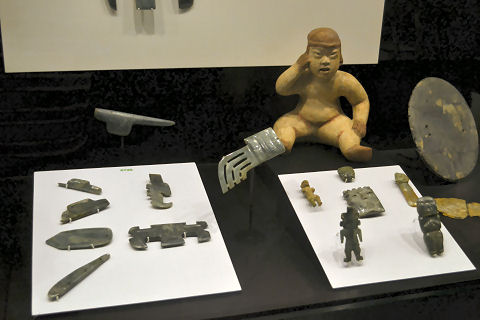 Another couple of blocks to the new Jade Museum, most of which is an anthropological museum filled with various clay, stone and metal tools, ornaments, etc. – after so many similar museums as we've traveled around, I just couldn't get all that into it, there's one floor dedicated specifically to jade versions of the same, which was only more interesting because they were prettier….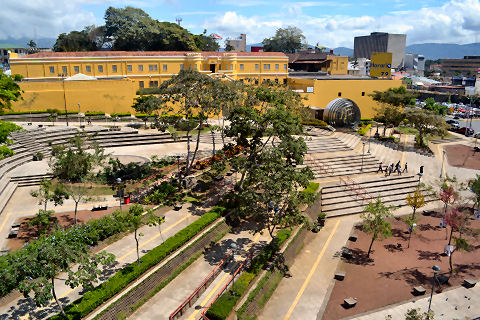 There is a great view over the Plaza de Democracia from the museum.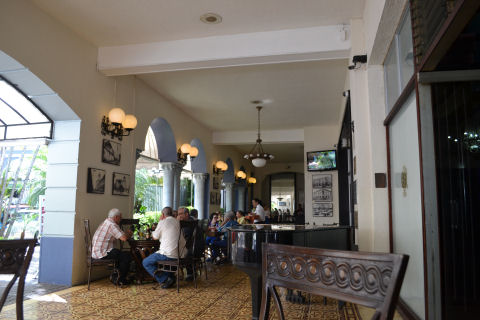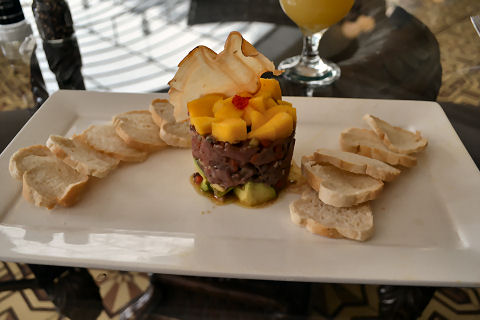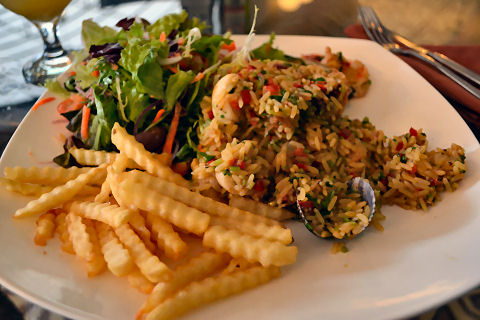 Time for a late lunch at this point, and Vivi had suggested the restaurant at the Gran Hotel Costa Rica – a little pricey, but a mix of both traditional local fare and modern dishes. I opted for the outdoor terrace and lunched on a decent tuna tartare with avocado and mango, followed by a quite good local classic, arroz con mariscos – seafood rice, spiked up with a little tabasco and salsa Lizano. Indeed a touch pricey, coming in at nearly $50 (with a glass of fresh guava juice during and an espresso afterwards). Oh, and noted on the bill that the tip, of 10%, was already included – I asked Vivi about it, and something I'd not seen in either of my guidebooks, the 10% tip is automatically included on all restaurant meals here, by law, no exceptions. So tipping anything extra is only done if you receive exceptional service and isn't expected.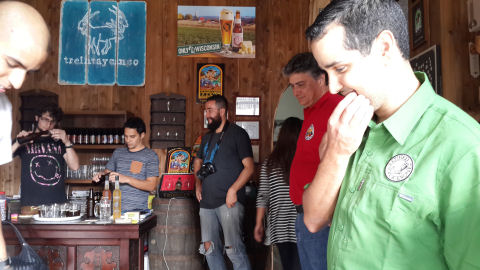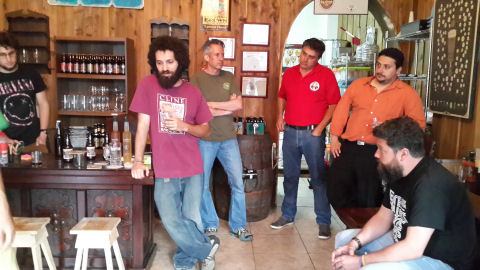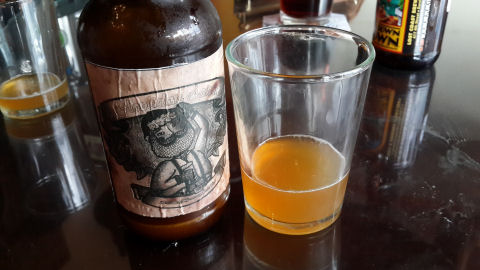 Vivi retrieved me from in front of the hotel and we headed to La Bodega de Chema, a local craft brew store located in the southeast part of town. Here, Chema (the guy in green in front in the first picture), sells various local and imported craft beers, and, teaches classes in homebrewing. This was a gathering of some local homebrewers, some of them showing off their beers (the one pictured is Vivi's own Sloth Christmas Ale) to each other, plus, they had a visiting brewmaster (the guy in black seated in the second picture), who makes the beer at White Rabbit, out of Chicago. They had about a dozen beers planned for the tasting, and three hours into it we'd only tried five of them, so the two of us bowed out – they were figuring on taking it well into the evening. This wasn't a tasting like a fancy wine tasting, this was just drinking of one beer after another.
I was a bit worn out at this point, and pretty much sated from the day's eating and drinking, so I decided to just stay in the hotel, and had a bowl of asparagus soup and a sushi roll in the hotel's lobby restaurant. Not bad, but nothing special. Though, the sushi roll was made with regular long grain rice – I haven't checked out other sushi spots, and probably won't, but I wonder if they just don't have sushi rice available here.