Arrival safe and sound in San Jose, Costa Rica, where I'll be putting out these missives for the next couple of weeks. Almost no sleep, and arrival early afternoon, so I was dead tired – there's not going to be a whole lot to report on for the first day – I pretty much got to my hotel, ran a couple of errands that I needed to get settled, had a late lunch and an early dinner, and was in bed by 9pm, sleeping through to about 6 this morning. But full days planned out ahead!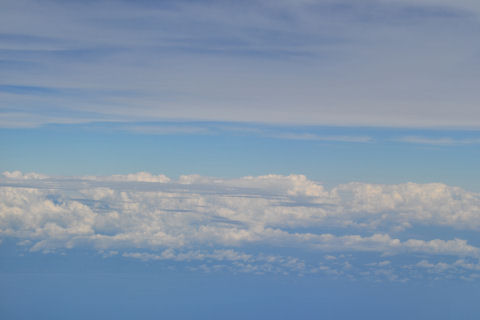 My first view of Costa Rica was all cloud cover.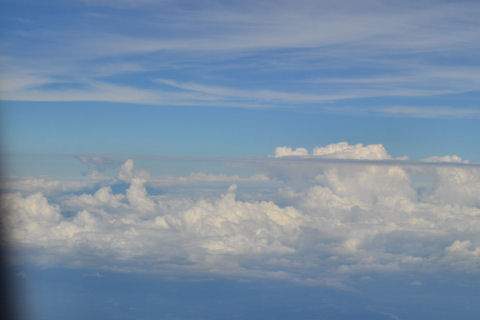 You can actually see all the way across to the other side of the country. I hadn't realized quite how narrow it is. On the average it's not much over 70 miles wide.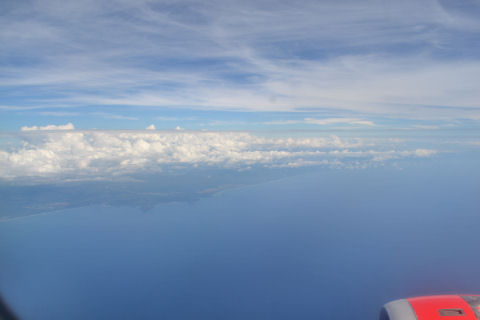 Land ho!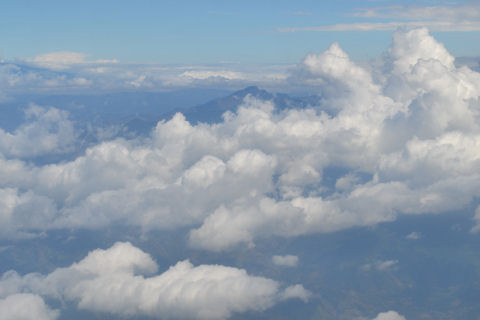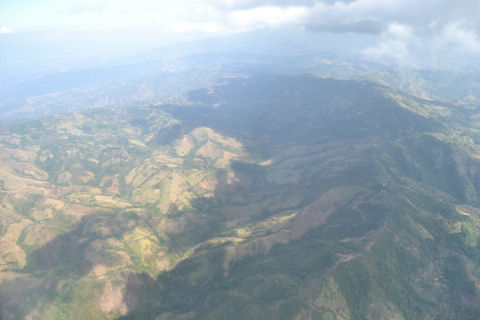 Very mountainous. I guess I knew that somewhere in the back of my mind.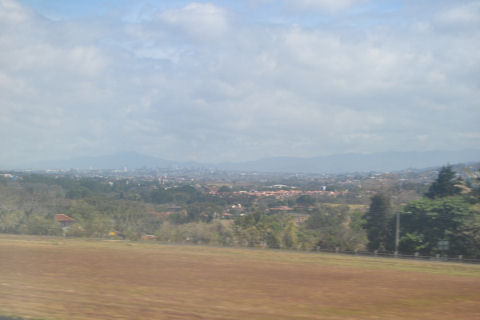 A first view of San Jose, off in the distance to the left, as we land.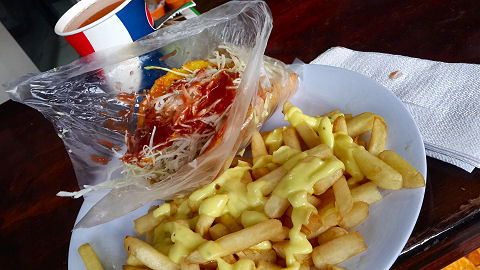 I'm going straight to the food, as I hadn't yet started snapping photos as I was walking around – I pretty much just hit the commercial district near to my hotel to get a couple of things I'm going to need on this trip. Lunch at Soda La Miga de Oro on Calle 3 near to Avenida 9 – a "soda" in Costa Rican culture is basically a breakfast/lunch counter – quick eats. In this case, a small spot with three stools at a bar facing onto the sidewalk and a choice of a couple of dozen combo plates. For 1800 colones (the local currency, $1 as of today exchanges for 536 colones officially, but so far I've found most places seem to divide by 525), or just over $3, a "taco", which turned out to be a soft, pillowy sort of cornbread round, somewhere between a soft corn tortilla and an arepa, wrapped around diced chicken, shredded cabbage, and a dollop of sweet tomato sauce. A mound of rather good fries, doused in the brightest yellow mayo, and a cup of fresh melon juice.
Got some organizing of my trip done, I'm spending today with a local pastry chef touring the markets, and whatever else occurs to her. In fact, I'm going to cut this short as I need to put in an hour in the gym before she gets here – I have the feeling that like my trip to Bolivia, this is going to be a starch heavy eating frenzy the next two weeks.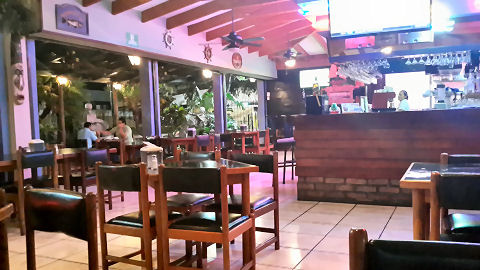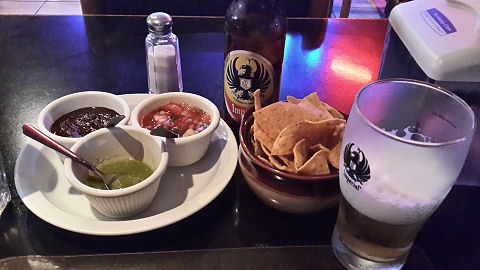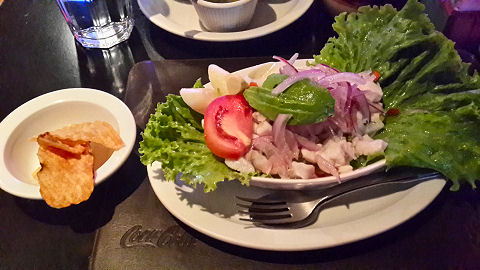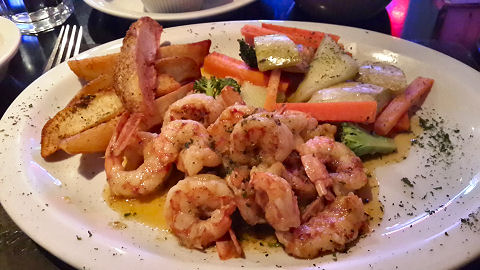 Now, everything I've been reading is about how safe Costa Rica is, and that San Jose is one of the safest metropolitan cities in the world. My taxi driver from the airport asserted the same. But everyone at the hotel is telling me how dangerous it is to go out and walk around, particularly at night. They wouldn't let me even consider walking the three blocks to the restaurant I wanted to try, Papa Pez, in the Centro Comercial El Pueblo. I'm wondering if the choice of this hotel, which seems to be more in an industrial area than the "heart of the nightlife and restaurants" area that Radisson billed it as, was a good one – perhaps I should have gone with their property in the heart of downtown.
Either way, a quick $4 ride to the restaurant, which seems rather high for 3 blocks, but I suppose it's that there'ss a base price in getting in to a taxi, and I was deposited at the restaurant – the driver walked me in and made sure that the host knew to call him when I was ready to leave. Now, dinner was really quick – for the type of food, I was in and out in under an hour, probably only about 45 minutes, though, given how tired I was that wasn't necessarily a bad thing – otherwise I'd have probably felt a bit rushed. Ordered the local beer, Imperial, which arrived with tortilla chips and a trio of salsas – a vinegary and very spicy hot sauce, which surprised me given that everything I've heard about Costa Rican cuisine has been "not spicy", but maybe it's that they leave you to spice it yourself. The other two sauces, a basic salsa criolla or pico de gallo – tomato and onions in vinegar, and, the dark sauce, is a rather good black bean puree.
Then a ceviche of corvina, or sea bass, could have used more seasoning – salt and citrus both – given that it arrived within five minutes of my ordering it, and the fish was cured through, they clearly marinate the ceviches well in advance. No heat – I added a couple of good spoonfuls of the hot sauce and some salt and I was happy.
Main course – sweet shrimp al ajillo, not like the Peruvian version of ajillo, which is a creamy garlic and chili sauce, this was more like an Italian-American shrimp scampi – butter, garlic, oregano. Decent steak fries and a nice mound of sauteed vegetables, likewise doused in the garlic butter. Good, not great, but a nice quantity of food, and what seemed to me a reasonably pricetag of 13950 colones, or just over $26.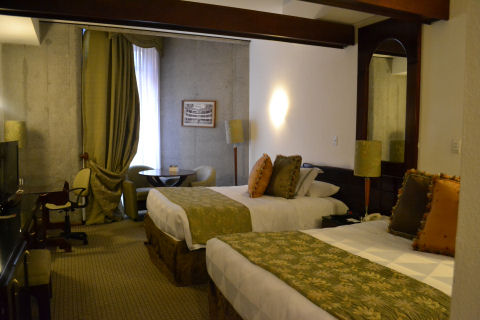 And, back to the hotel, where that bed was calling.