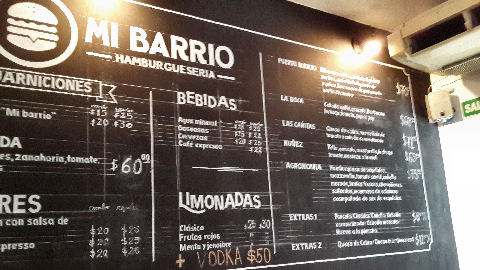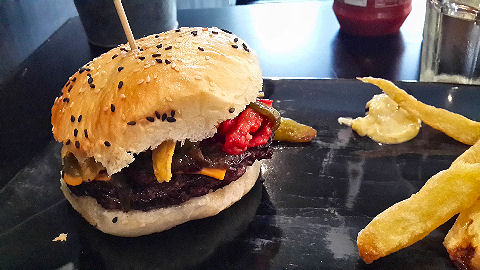 The world of gourmet hamburgers is blazing off the grill these days in BA, as one after another new hotspots opens up and tries their manos at burger flipping. And, I tell you, I'm ruined. Why? Because one of the better ones is now open just a few blocks from home – Mi Barrio Hamurgeseria at Arenales 2609, just off the corner of Ecuador here in Recoleta. And they're serving up a great, well seasoned burger, cooked the way you want it, and with some of the best fries I've had in town. Now, unlike a couple of my leading favorites, they don't offer up a "top your own", but they've got a dozen great sounding, creative combinations (the one pictured above is the "Puerto Madero" – a combo of guacamole, pickled jalapeños, refried beans and a nice crunch from tortilla chips). And it wouldn't surprise me if you could ask them to play around with a combo of your own design, they certainly have enough different toppings available. Depending on the burger choice, combos with fries run from about 70-85 pesos. Completely reasonable for the quality.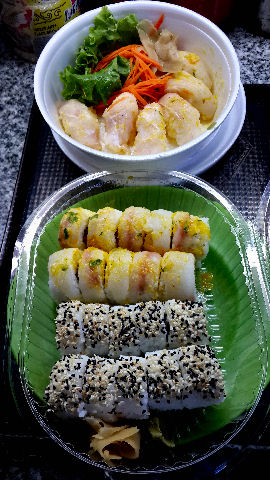 Another stab at sushi delivery, and a reasonably good result from 2020 Nikkei, Lavalle 2020 in Once. Quality was good, some interesting and creative rolls that are different from the usual suspects. Henry tried a ceviche which was quite good as well. Two negatives – we'd ordered online through Sinimanes, and gotten no confirmation of the order via email. After about an hour I called the restaurant directly to see if they'd gotten it – they had, but despite it having been an hour since they'd gotten the order, they were just starting to prepare it then, and it took more than an hour after that before it arrived. And, it arrived with a ticket for almost 20% more than the online price (415 versus 355 pesos). The delivery guy told me it happens all the time – the online prices are discounted, but the owners hope that people won't pay close attention and just pay the higher price – I declined, and he gave it to me for the discounted price. So, while it's recommendable in terms of quality, keep in mind that they charge more for call-ins than they do for online ordering, and, even if you do the latter, they'll likely try to trip you up on paying the higher freight. That makes it only semi-recommendable.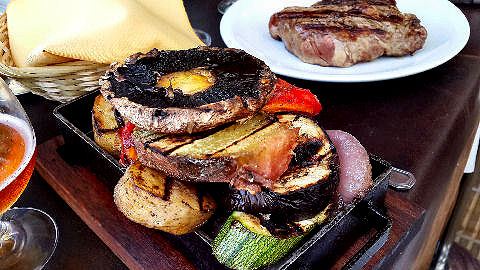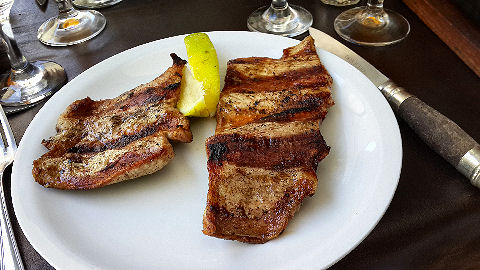 When friends come to visit and want to go out to a steakhouse, the first place we think of, or send them to, is almost always Don Julio, Guatemala 4691, corner of Gurruchaga, in Palermo. And though we've been many times over the years, I realized that the only time I did any kind of a review for it, was way back, during my second year here in BA. And I didn't even take any photos of the steaks, or, much of anything for that matter – based on the review, it looks like I grabbed a couple of camera shots of the flaming dessert with my old little telephone that was well back in pre-smartphone days – it made calls, sent texts, had a built-in FM radio receiver, and, you could snap little teeny photos – I don't think those are probably even resized.
So, with some folk visiting us after ending a Latin American cruise here in BA, who wanted steak, we headed off on a Sunday afternoon. Now, first disappointment, they were out of my ever favorite hanger or skirt steak, the entraña, which for me is practically the raison d'etre for going to a steakhouse, but they also have a great cuadril, rump steak, and ojo de bife, rib-eye. With a table of five of us, we ordered up one of the former to split, a half of the latter for one person, and for me, just to try something different, the matambre de cerdo, pork flank. Also a couple of sides of grilled vegetables to share. Delicious as always. Prices have certainly risen over the years – let's see, 1 rump steak, 1/2 ribeye, 1 pork flank, 2 empanadas, 1 provoleta, two sides of vegetables, a trio of cokes, two beers, a glass of wine, and five waters, and before tip it came in just shy of 1500 pesos, or $174 at official exchange rate, $115 or so at the blue rate. By international standards still a great deal, though back at that first review the price for the same probably would have been about a tenth that in pesos, or 150, more or less, though with a different exchange rate at the time, that would have come in around $50. Still tops my list for favorite steakhouses in town.