There's always somewhere, new, old, interesting to try out to eat, that's one of the things I love about this city. time once again for another round of casual bites….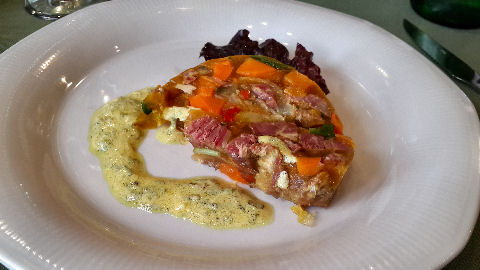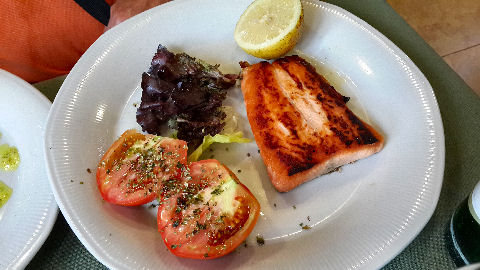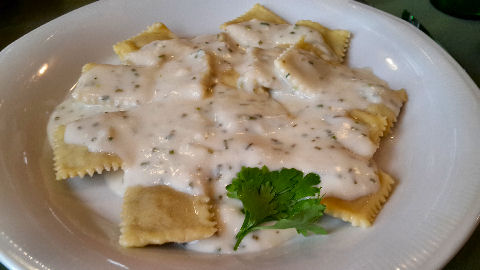 There's nothing like finding a place that understands the roots of local cooking, and thinks that there's nothing wrong with serving dishes that could have been found on a menu 20, 30, 40 years ago or more. Classic local cooking with no updates and no apologies. And, appropriately named, you can find just that at Old Times Bar, Hipolito Yrigoyen 561, in Centro. The place has a bit of an old saloon feel to it, it's actually quite a beautiful space, though for some odd reason my photos of the interior didn't turn out – they're all bright green and out of focus. It has its modern touches as well – it's a bit disconcerting that just inside the entrance an entire wall on one side is lined with beverage coolers displaying water, sodas and beers, but most of it is appointed like a place out of history. At lunchtime it's a popular place for to-go orders, and the line at the door gave us pause on entering, until we realized that's what they were there for and we could bypass the whole line and head straight for a table.
There's an a la carte menu and four different daily lunch menus at very reasonable prices. Apparently there are also some "hidden" classic dishes that change day to day, if you know to ask "the right way", which I have no idea what it is, but so assert a couple of articles about the place that I've read. Now, the only difference in the menus and their pricing is the main course – all of them start with a real classic, a prosciutto terrine – I don't think I've seen an aspic style terrine since cooking school, and we only made them then as part of exploring the history of French cooking. We weren't so sure about digging in, but once we did, we pretty much licked the plates clean – it was delicious, accompanied by a creamy mustard sauce. My lunch companion went for the grilled salmon, asking for it vuelta y vuelta, essentially just seared and left raw to rare on the inside, it came out a bit closer to medium, but still nice and juicy. I went for the turkey ravioli with a chive cream sauce – very happy camper here. The menus all come with a dessert, but neither of us are big dessert eaters – the only disappointment at this place was that they didn't let us sub coffees for the dessert, they charged extra for them – I think that's the only time that's ever happened to me in BA. Still, we left sated and happy for 130 pesos apiece including tip. And, I'll be back to see if I can get access to one of those secret dishes.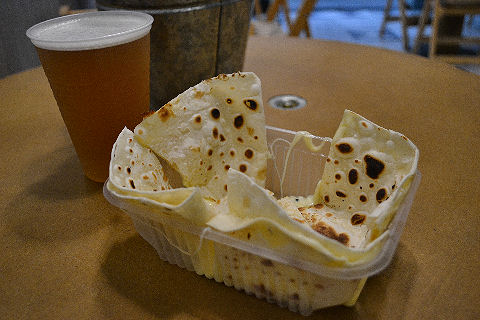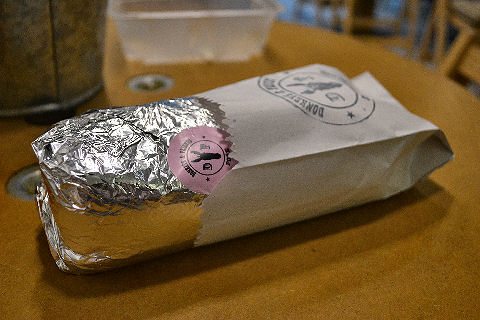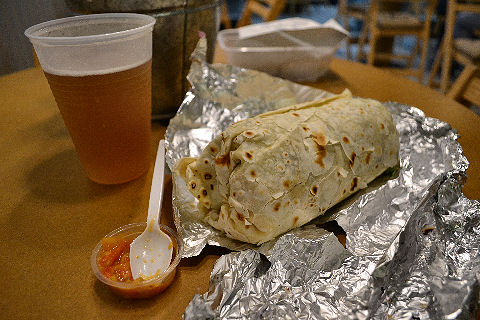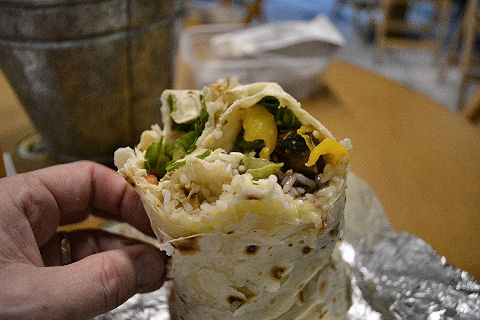 Always on the lookout for decent Mexican food here, just for a nice change of pace. As I've mentioned before, given that there's not much of a Mexican community here, there's just not much of a demand, and given the local aversion to picante, most of what is here is pretty bland and uninteresting. I'd heard a rumor of a new burrito place in Palermo, and without much work tracked it down. Donkey & Friends, Thames 1889, goes for a cute play on words – "burrito" being not just a popular fast food item, but a "little donkey", and providing for a logo that can echo Mexico's capital city, Distrito Federal, or as it's often referred to, "DF". It's a small place, just a few tables, you order at the counter and then grab a seat, or take it to go. The choices are nachos, quesadillas, and a selection of burritos. They're not made in the moment – everything is premade and reheated when ordered – I'm guessing some sort of toaster or steamer oven, as with the foil wrapping it's probably not a microwave….
The flour tortillas are decent. The quesadillas are kind of plain – just melted cheese of either "white" or "cheddar" – both kind of bland. No condiments are on the tables or counter, though on request you'll get a very small plastic ramekin of "hot sauce" that has the heat level of cocktail sauce. The burritos are big, certainly bigger than the competition out there, but they're kind of loosely rolled – there's a lot of airspace and at least half of the filling is just lettuce – the whole thing began to fall apart from the first bite. Decent flavors – I tried the pork burrito – nicely seasoned cubes of grilled pork, rice and black beans, a few desultory pieces of tomato. They're good, though not great, and, in Palermo, I'd rather head to Real Revolución – the burritos are smaller, but more flavorful and there's some great hot sauce available. Donkey & Friends does have two artesanal beers on tap from Dust – a blond ale and an amber ale. Pricing is decent – the quesadilla, the burrito, and a pint of ale ran me 150 pesos.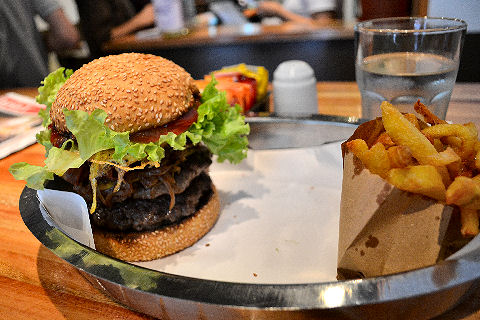 Oh how we expat norteamericanos long for decent burgers with all sorts of toppings. And oh how often we're just simply disappointed by the size, cooking, and condiments available. The other day, on one of my walkabouts (coming soon), I stumbled across Burger Mood, Viamonte 359 in Centro, a place I've heard about but not tried. Walking in and seeing a blackboard with not only a selection of pre-ordained burger combos, but the Holy Grail, a design it yourself burger, the only place I've seen anything similar here, really, is 180 Burger, my current top of the heap. The ordering process here is well organized – there are pads of forms all over the place, and plenty of pens, and you simply check off boxes of either the combo you want or the toppings you want on your design it version. You pay, leave your name with the order, and go find a seat, either downstairs or upstairs, and someone brings you your order when it's ready, a nice plus rather than standing around waiting
I'm afraid I went a bit overboard, picking out not only a double burger (who knew these were going to be decent sized patties, they so just aren't here in BA normally?), but almost half of the nearly two dozen toppings choices – according to my receipt I picked bacon, avocado, fried egg, lettuce, tomato, grilled onions, cheddar, tapenade and spicy ketchup. Side of fries, of course. Well seasoned burger(s), a little overcooked for my tastes, decent sized, obviously. Really, the only negative here is a completely sucky bun that's just not built to handle a burger – way too soft – the part underneath was already compressing into a sodden bit of pulp by the time it reached my table, and within a couple of bites the upper part did too – the fact that they serve the burgers with a knife and fork implies that they may have some idea of this already. That's an easy fix and one I hope they'll do, because this is a great burger, and while not toppling the ones at the pinnacle of my list, certainly moves into that category – still, given how close to each other they are, I'd probably opt for 180 Burger – better burger and fries, albeit fewer choices of condiments. Good fries here. The pricing is decent – the combos are definitely the best value, as the do it yourself one adds up quickly with 5 and 10 pesos per topping – but still, a whopping double burger, side of fries and a bottle of water came in at a mere 126 pesos (god that sounds awful considering how cheap everything used to be here, but, it's still under $10 at the blue rate).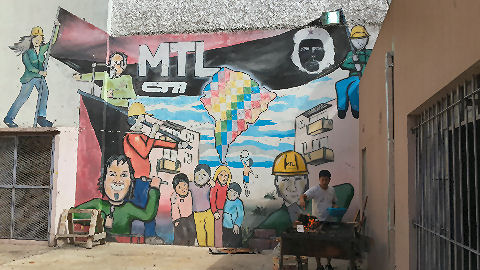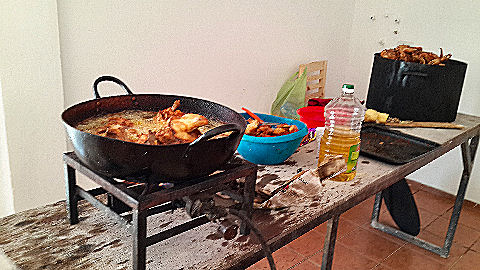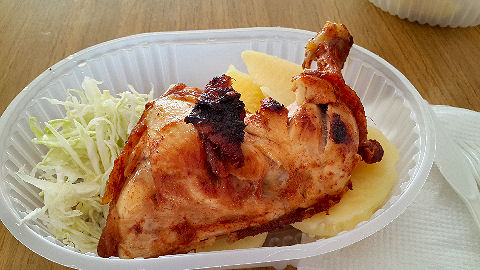 Stepping outside the restaurant world for a moment, Henry and I attended a pollada. Now, the term can sort of translate to "a chicken happening". It actually has a double meaning, it's both the name of a traditional Peruvian dish – essentially spice marinated chicken that's been fried (without breading), virtually always served up with boiled potatoes and a shredded cabbage salad, but it's also the "happening" itself. And it's a tradition that's specific to when a family falls on hard times due to a sudden event, in this case, two of Henry's students' home burned down a week or so ago. The pollada is kind of a fund raiser for the family that's affected, but one that they put on themselves – there's a level of "pull yourself up by your own bootstraps", as the saying goes – no one is going to put on the pollada for you. But, your friends, family and neighbors do contribute, in two stages – donations of money towards the costs of putting it on (or of the ingredients needed), and then attending the fiesta itself, which is generally an all day affair (this one started around 1pm, I left around 4pm, while Henry stayed until midnight and it was still going strong), and buying a portion of the pollada dish. We did both with a couple of hundred chipped in in advance, making our two portions of fried chicken (50 pesos each) and a couple of beers (35 pesos per liter) probably the most expensive ones I've ever had, but it was for a good cause. (Not to mention having to spring for taxis each way as it was held in a pretty dicey area of Parque Patricios where we didn't want to be walking to and from the closest bus lines – it was hard to even get the taxistas to enter, and several refused.)