I find myself this morning thinking that I should have a political blog in which I can comment on things that incense me about the way the world works, or doesn't, around me. And I could use this one – I have now and again delved into local Argentine politics and the system here, and what it's like to live here, of course, but I'd probably just end up a raving loony. Waking up to the news that the federal prosecutor who just last week accused the president and several advisers of being complicit in the cover-up of the AMIA bombing in 1994 that took the lives of 85 people was found dead in his apartment, just hours before he was supposed to present his evidence to Congress, is sobering at least (and despite a team of 10 federal police officers assigned to protect him against something like this, the 6 of whom who were on duty last night apparently all having "stepped out briefly" at the same time). It will no doubt be found to be a suicide, at least publicly and officially, but I doubt there's anyone here in this country who actually believes that – the question is, what impact will it have on this last year of La Presidenta's term? Will it have an effect on the elections towards the end of the year?
Couple that with rising insecurity – a repairman who was due to show up here this morning texted me to say that he had to cancel because yesterday afternoon, in broad daylight on a public street, his brother was robbed and killed for his cellphone – and I find myself musing as to just WTF am I doing here? Yeah, he wasn't in any neighborhood that I'm likely to be in, probably… but still. For the moment, however, life goes on, and I had this post lined up for publication this morning, so with this gloomy preface, we plunge back into the world of gastro-train trips.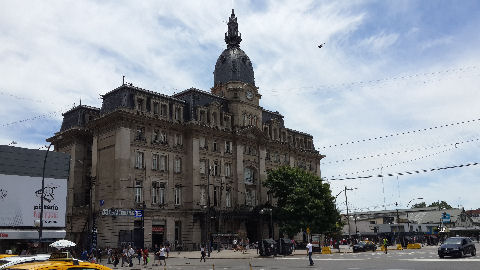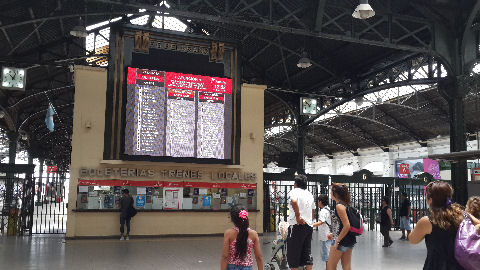 People often forget that there are two train stations in Retiro – the main, beautifully appointed Mitre line station, and this smaller one, devoted to the Belgrano line. The random generator picked that line – as far as I know there's just one route headed out to Villa Rosa, a mere 9 km or so outside the city to the northwest. Next train out, leaving in 15 minutes…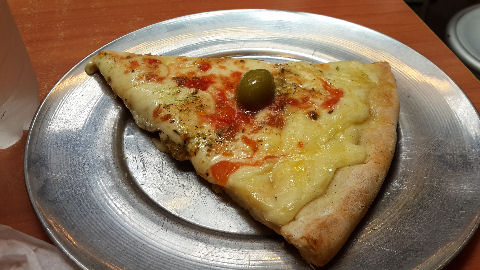 So, time to grab some fortification for the trip, because, hey, the 92 Bus Pizza Trek passes this station and I'd missed La Barra just inside the doors to the terminal, on the left (make that #67 on the trek). Wood-fired oven turning out what was actually a pretty decent slice. Nothing special, but a nice smokiness and char on the crust, okay cheese, and even a touch of lightly spiced tomato sauce.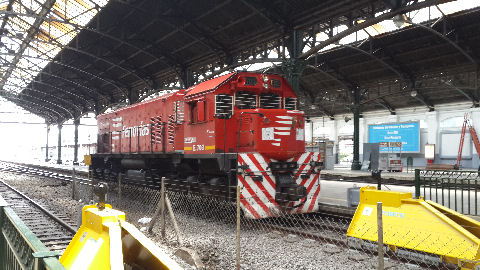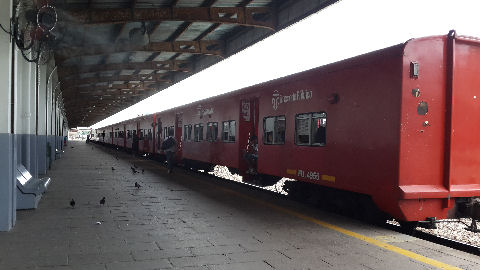 The trains on this line are still diesel, and in pretty rough shape. Luckily, perhaps, I just had a short trip ahead of me, as the numbers picked out Villa Martelli, just over the city line into the suburbs.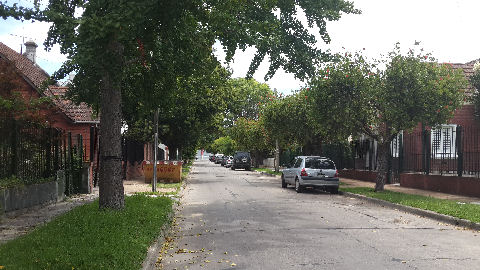 Less than half an hour later (well, after the train finally got underway about 20 minutes late), I was deposited in a nondescript station in the pretty little middle class neighborhood. Now, most of Villa Martelli is taken up by Tecnopolis (which I've only been to for the Raiz gastronomic festival) and the military research base, so there's actually very little to see, even if it hadn't been a Sunday. It was a scorching hot day and the thought of wandering through Tecnopolis was not at all appealing – to be visited some time in the future, so it became a quick walk to the main street…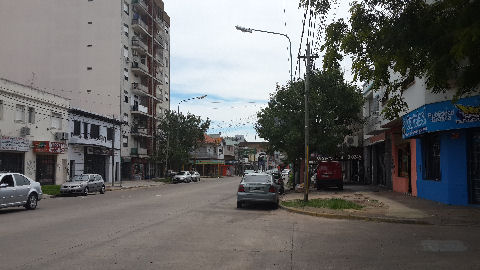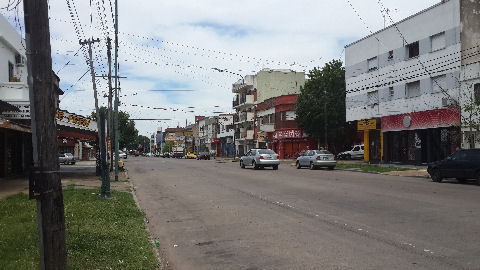 …where I quickly realized that virtually everything was closed. Sundays and the 'burbs again. Especially ones that aren't along the river where there's at least some leisure activity. Resorting to Foursquare yielded a grand total of two possible places that would be open for lunch, and one of them was the lunch counter at the Shell station. They were both at the same corner, just a few blocks walk away.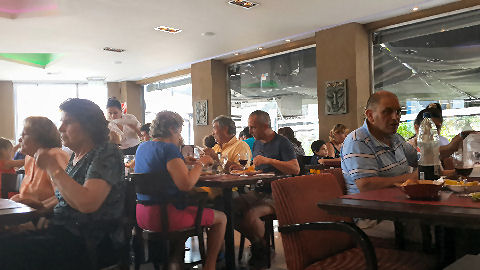 I opted against the gas fumes and headed into Aquiles, Av Bartolomé Mitre 298 at the corner of Laprida (and yes, the Shell station was directly across the street). It was packed, I had to wait about ten minutes for a table to clear out.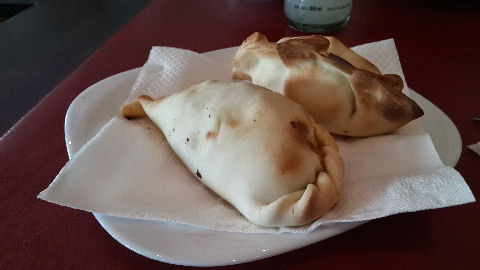 I hate to say it, but mediocre empanadas. Actually, the seasoning wasn't bad – I had one chicken and one beef, but they were really dry inside, still partially cold in the center, and the dough was only partially cooked. Not pleasant, and not boding well for my main course.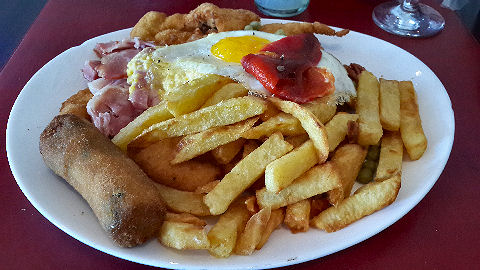 Recommendations on FS ranged from pizza to steak with mushrooms to… oh wait, an apparently spectacular Suprema Maryland. When it arrived I just sort of gawked at it. It was enormous – an entire boneless chicken breast – not just one side, the whole thing, covered the plate, with a mound of fries, a fried banana, ham, bacon, peas, roasted bell pepper, and instead of the usual bechamel sauce with a bit of corn in it, a whopping smothering of creamed corn, and the whole thing topped with a perfectly fried egg. And you know what? It was spectacular – easily the best version of the dish I've tried to date. It was just fit for two people and I barely made it halfway – maybe had I not eaten those empanadas… Oh, and cheap – I think it was the least expensive version of the dish I've tried as well.
Interestingly, I tend to think of this dish as pretty common – I mean it's not at every place that serves Argentine food, but I certainly see it pretty regularly. There were two couples in their early 30s, with their kids, who came in shortly after me and were sitting at the next table over. They were reading the menu and spotted the dish and started discussing it – none of them had ever heard of it, and were talking about how bizarre it seemed to them. We had an Argentine guest this last week at dinner and somehow the dish came up in conversation, and he'd never heard of it either – then again, he wasn't from BA, so maybe it's a more local thing?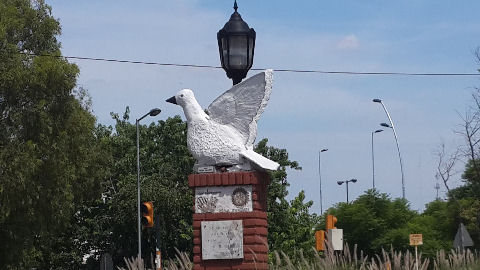 I stepped back out into the steamy heat, which had only increased – by the time I'd walked a couple of blocks to the "ring road", General Paz, that borders the city proper, I was sopping wet with perspiration and not ready to walk anywhere else. I grabbed the 93 bus back from there (not air conditioned), which an hour later dropped me off half a block from home and done for the day. I have no idea why the "entrance" to Villa Martelli is watched over by a seagull, albatross, or whatever bird that is.