It's time once again for the results of our online cooking challenge, Reinventing the Whisk! I bring to you, right here on this page, Episode #7, with behind the scenes tales and photos. There were three challengers this time around, as there have been most of the past few episodes, myself, Kevin Hopp coming to you live from Key Largo, and Jennifer ringing in from the highlands of Morelia, Mexico. Kevin and I had decided that our favorite challenges were the ingredient ones, and we decided to give a shot at just three ingredients, with each of us picking one and revealing them 48 hours before the cook-off began. I threw squid into the pot (any kind, any part), Jennifer tossed in acelgas, or chard, and Kevin fired off jalapeños. Nothing too out there this time around in terms of flavor combinations, so the challenge was to come up with some creative and interesting ideas featuring those ingredients.
We now go to the mountaintop, and bring you the words and photos of Jennifer:
Back in the 60s, before it started putting on airs by calling itself "calamari," squid was a cheap seafood available even at the pedestrian and very white-bread Food Basket in San Diego that my mother patronized every Thursday afternoon. Always encouraging us to try new things, she leaped at the opportunity when I had a school project focusing on the future. "More and more as the world population increases, we will look to the sea for food" was my opening line as I demonstrated how to prepare squid, chatting away about its virtues like Ron Popeil and his Veg-O-Matic. How I cooked it, except for the part involving an electric skillet and soy sauce, is long forgotten, but the disdainful look the teacher and the rest of the class gave me as I offered everyone samples remain frozen in memory. More than two decades would pass before that fifth grade class would chow down on fried calamari rings.

When Dan brought up calamari as one of the ingredients, I held my breath. Calamari is one of those things that I'll enthusiastically order at a restaurant. But it's something that I've cooked maybe three times in my entire life. I offered up Swiss chard, which we know as acelgas around these parts. And then Kevin threw a monkey wrench into it all by coming up with jalapenos.

The finger-sized, already-cleaned calamari were not to be found in my closest grocery, so I had to opt for giant clean-it-yourself tentacles bigger around than my thumb, which for some reason were priced more than the steak. Still, I marveled at how calamari had to be the cheapest protein around, even cheaper than eggs. Holding my nose, I cleaned the squid, reserving the gross parts for the neighborhood cats and the not-so-gross parts for a fish chowder. The dog, who always is on the ready to help out when there's food around, quickly decamped.
The acelgas came easy, because I grow it in every hue imaginable. I decided to go with the yellow. And living in Mexico, jalapeños are available anywhere. What I thought would be a walk in the park took a malevolent turn.

While the squid marinated in turmeric and salt, I started the arepa dough, adding sliced acelgas, a little salt and a modest slug of olive oil to the PAN, arepa flour imported from Venezuela.

The sauce started off with mustard and cumin fried in coconut oil, sliced onions and jalapeños sautéed until practically caramelized, freshly harvested red and black tomatoes stewed with cardamom, ginger, garlic, Spanish pimentón de la vera, a little powdered chili from New Mexico, and unsweetened coconut.

Just before the arepas had finished grilling on the comal, I tossed the squid into the sauce, thinking maybe I'd cook it for a whole minute, then deciding that it might take as long as thirty. It went from rubbery to worse. Plating it over the arepas which reposed over just-plucked tatsoi, I garnished it with chopped cilantro and mint and tossed a handful of chopped peanuts over everything.

An epic fail. Dan identified that I'd likely been using Humboldt squid, which requires a lot of cooking to render edible. No wonder it was cheap. The arepas de acelgas worked out fine, but not as a base for anything, because they hardened while I was readying everything else. Polenta with acelgas would've been a better bet. The sauce? Divino. There is enough to thin down and cook with some sole tomorrow.

The most important lesson learned? Don't buy the cheap cephalopods. Better yet, don't try this at home.
Part of the fun of these challenges is challenging ourselves to try to do new things and seeing what works and what doesn't work. We've all had failures along the way, and we've all learned from them! Now, to the Florida Keys and Kevin's words of wisdom:
It's nice to have some time on your hands to think about food. It's also nice to be asked to turn it up a bit on a weeknight. Really. How many of you are cooking squid tonight?

So many ideas, so many ideas. Maybe a spaniard living dockside in Hualtuco would serve a jalapeño popper lined with a calamari hood stuffed with chorizo, shrimp, garlic, red pepper and cheese. The trick to that dish would be to know enough about boiling jalapeños to control the heat index. I imagine the prep on the pepper would be what makes or breaks this beer-friendly appetizer idea.

My first thought was to create a cold calamari roll using the chard as the seaweed wrap. The wrap can take on a Peruvian ceviche perspective or a contemporary Japanese sushi roll, why not, right? These directions would be a great way to showcase the flavor of each ingredient by marinating or a picklin'.

And while we're at it, why not make a Venetian inspired seafood sausage. Or, how about cutting the calamari hoods short and make ravioli – braise them in one of your favorite Italian pasta sauces.

But the idea of these challenges is to do something new, outside your comfort zone, whether preparation, flavor profiles, or technique, it's a free night to experiment. Like Dan said, "What's the worse thing to happen, ya have to dump the food and order Chinese?" Right Jennifer?

In the spirit of curiosity and the satisfaction of discovery I'm going to try to create Baked Calamari with Mussel Stuffing wrapped in Collard Greens served in Tomato-Saffron Broth topped with Orange Gremolata. I want to know how squid, mussels, collard, saffron and tomato taste together, and to see if a rich earthiness is developed.

Instructions

1. Clean mussels, cut 2 cloves garlic and shallot, measure two cups of dry white wine, steam the mussels, save the cooking liquid minus any sand from the mussels. Extract mussels, coarsely chop.

2. Add a pinch of saffron to a tablespoon of water. Use as much saffron as you prefer. Make your orange gremolata so that it's nice and dry by the time the plate is ready. You want to be able to sprinkle this nicely on the plate, not all wet and clumpy at the last minute. Remember how strong orange is, and the garlic will be spicy so keep that in mind.

3. Heat the oven to 375 degrees. Dice one onion, cut 2-3 sage leaves, and use as much heat/jalapeno as you want. Cook together in olive oil until al dente/translucent. While cooking, you can make your fresh bread crumbs. I pounded down Italian bread sticks because I was out of time.

Mix together the mussels, onions, bread crumbs and an egg. The most important part of the dish is to make sure that your stuffing is perfectly seasoned because you won't be able to taste it until you cut into the squid after it's finished.

4. Start thinking about your broth – peel and seed several plum tomatoes, depending if you want to incorporate the tomato or not you should cut them to your liking. Add the cooking water from the mussels, your tomatoes and saffron to a sauce pan. Simmer and season to your liking. My advice is to start slow so you can stuff the squid.

5. The stuffing is already done, so time to stuff the squid hoods. My stuffing was not very dry so I couldn't roll it into logs and insert them into the hood. Instead I had to hold them like a beer bottle as if I was going to pack sand into the mouth, using my hand as a funnel. If you try making this at home I'd love to hear how about your technique.

6. I used a kabob to close the end of the squid that was packed about 80% full of goodness. Then quickly browned them in an iron skillet and placed it in the oven for 10 minutes.

7. Start your blanching water for your chard or greens. Prep them by cutting the spine out of the big beautiful leaf. Blanch for 15-30 seconds. Lay them out and get ready to use them as a sushi wrap or a grape leaf or box wrap, whatever works for the size of the squid.

8. Finish the broth with butter, season to your liking. I strained out the tomatoes because I wanted a nice minimal presentation. Place the wraps in a bowl and slowly shower them in the broth, top with gremolata.

I'd make this again. It was really light without any accompanying starch, so maybe the ideal plate is to have 4-6 small wraps that have either squid or mussel as well as saffron rice… some kind of way to make it a filling entree. Maybe you could serve more broth with a side of rustic bread to enjoy the mussel-y saffron tomato broth. Happy eating.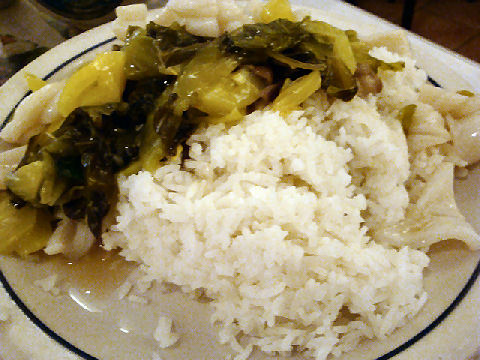 Now, my turn. One of my favorite Vietnamese dishes popped into mind, a quick saute of squid with pickled mustard greens, Muc Xao Dua Chua, I believe it's called. It can get a bit fancier than this, with tomatoes and/or peppers, and other ingredients, but this is the version at its simplest.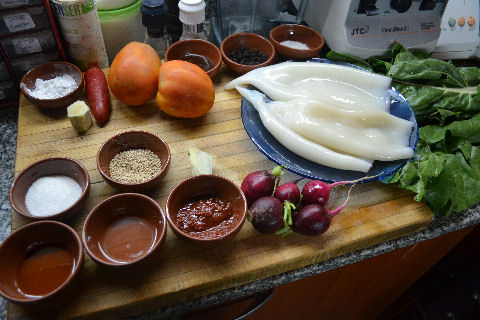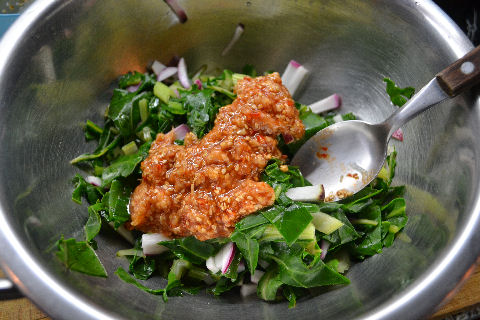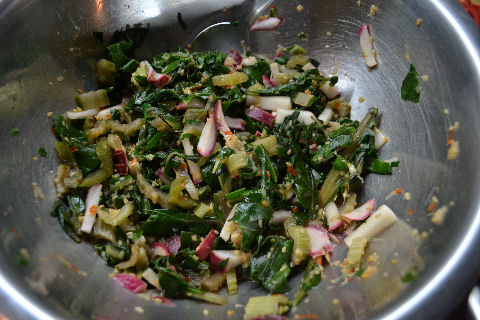 A simple pickle of the swiss chard occurred to me first, but, I decided to go for a wallop of flavor, and make a quick, one-hour kimchi out of it. I have no idea if the Vietnamese and the Koreans would approve of mixing those, but I did it anyway. I chopped the chard and some radishes, put them in a bowl, and poured boiling saltwater over them to quickly brine them and soften them. After ten minutes I drained off the water and mixed the vegetables with grated ginger and garlic, some toasted sesame seeds, fish sauce, rice vinegar, sugar, garlic-black bean paste, and finely chopped hot red chilies. Then, stirring now and again, I let that sit off to the side for about an hour. Given that the rest of the prep is pretty quick and easy, I spent much of my time watching Jennifer and Kevin prep and cook, a fun change for me! This kimchi will keep for several days, so you can make it in advance.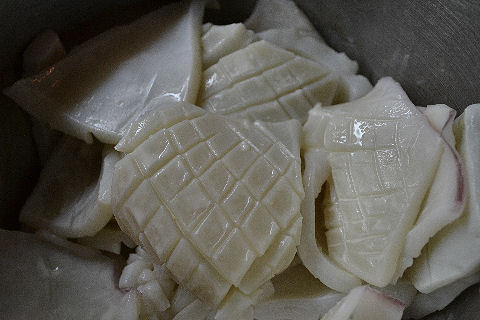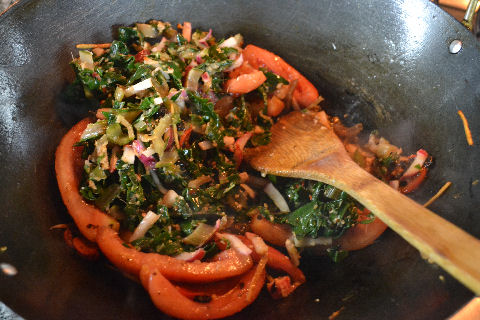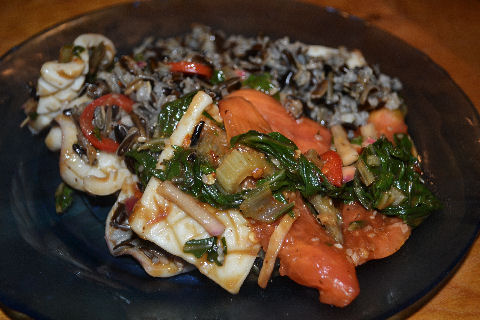 I've cleaned roughly a zillion squid in my career, and I only wanted the cleaned bodies, so I simply bought already cleaned ones rather than mess around with the guts and tentacles this time. I cut them in roughly 1-1/2″ squares and scored the outside in a diamond pattern – I could have gone a little deeper and they'd have curled up better in the final stir-fry. Blanched in boiling saltwater for about 10 seconds, then plunged into cold water, then tossed with some cornstarch.
The remaining ingredients – fresh ginger cut into fine threads, slices of red jalapeños, tomato "tongues" (peeled and seeded tomatoes cut in long canoe shapes), salt-cured fermented black beans, garlic-black bean paste, and sugar. In the background, I had put some wild rice on to cook, I thought the nuttiness, and also the color, would be great with this dish.
Once the kimchi was ready it was a matter of about 3-4 minutes to put the final dish together. Heated the wok up to smoking hot, put in a couple of tablespoons of cooking oil plus a splash of sesame oil, tossed in the garlic and chilies and cooked those for a little under a minute, then added the tomatoes and fermented black beans and gave it another minute of flipping about. Then the garlic paste and sugar, along with the kimchi (I probably didn't need the additional garlic paste and sugar given that both are in the kimchi, but it heightened the flavors a bit), another minute, and finally, the squid, quickly stir-frying for just a minute more. Then, out of the wok and onto the plate along with the wild rice.
Definitely happy with this reinterpretation of the Vietnamese dish, and I loved the quick kimchi, in fact, so much that I ended up swapping it into one of the dishes I have on the menu at Casa S for this week in place of some simple garlic sauteed greens that I'd planned!