From near and far, more casual eats!
A Sunday day trip to Tigre, the plan was to stop and try a much touted burger from Sweet Pepper, a weekends only food truck located in the Puerto de Frutos, but, despite a post on their Facebook page the day before saying they'd be around, they were not to be found. A few vendors in the area pointed vaguely at a spot with a "they're usually over there". So I wandered, and found myself at Boulevard Saenz Peña, at 1400 on the street of the same name. Lovely little patio, relaxed atmosphere, friendly staff, simple menu of sandwiches, pastas and salads.
While not a scorching hot day, it was up there, so a full pitcher of excellent lemonade seemed just perfect, and it was. Accompanied that with one of the best chivito uruguayos I've had (they call it a chivito BSP on the menu) in Argentina. Tender, melt in the mouth steak, just slightly quivering fried egg, lettuce, and a creamy, slightly tangy sauce, all in a toasted thin bread roll akin to a cubano sandwich bread. Definitely a place to drop in on again next visit to Tigre.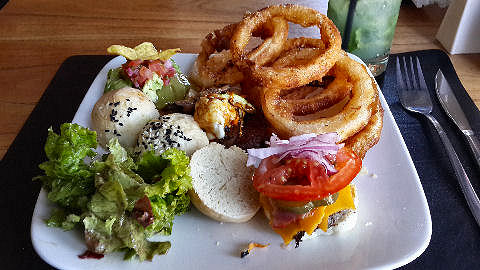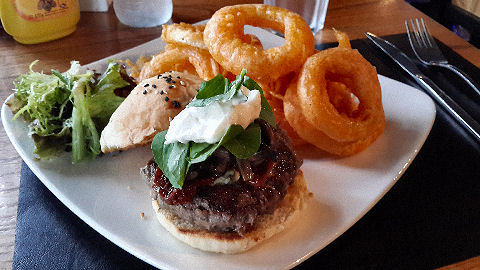 More burgers! A visit to Bar MAD, Av. Libertador 6002 at the corner of Juramento, in Belgrano. I'd heard great things about their burgers, and for the most part, completely deserved. The place is done up like a classic norteamericano dive bar, though a bit too clean for that. The owner is, I believe, Russian, at least based on two visits where he spent a lot of time having very loud, agitated conversations on his phone in Russian as he moves around the room – take it down a notch and/or get out of the customer service area, you know? The menu is short, a selection of ten different burgers (though a few of them aren't really burgers – one is a chicken sandwich, another a salmon fillet, there's a veggie burger… of the remaining seven, four are beef, two are pork, one is lamb. There's an option for a trio of mini-burgers, but they're really mini… 40 grams before cooking, so at the end, even with bun, none of them is more than about a bite and a half. Even the regular burgers are a little small, especially for the well over 100 peso price apiece – I'd guess that cooked weight they're only about three to four ounces. But, the flavors are great, even the veggie burger, which I tried in the mini-trio form. My favorite so far, the 1789, ostensibly with aioli, blue cheese, sun-dried tomatoes, mushrooms and arugula – though I'm pretty sure that wasn't blue cheese on it the day I tried it – it was of a whipped cream cheese. Oh, they have onion rings! They do vary in quality – you can see the difference in the photos – the first time they were thin, barely coated with batter, and oily; the second time they were plump, crisp, perfect. I'd prefer the latter, thank you.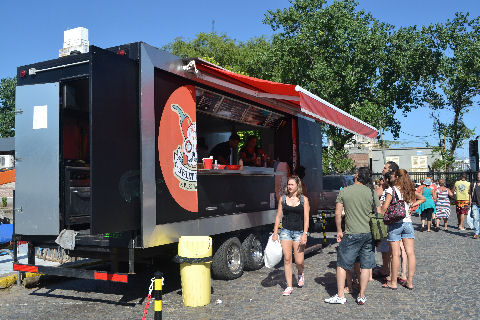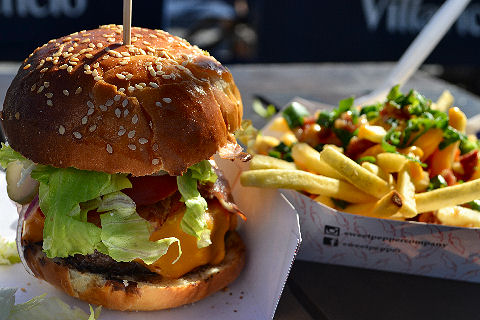 And more! Another trip up to Tigre, this time after verifying that Sweet Pepper would be open in the Puerto de Frutos. They turn out to be easy to find, when they're there – I'm still not clear how they manage the address of Los Mimbres 1220, which does indeed pop-up in the right place on Google Maps, but at the same time, the buildings on the street all only have addresses that run from 1-200. A little more like a food truck this time around, it's still a trailer, but the cooking is all done on the spot. At the same time, the cooking, like at El Puesto de Fabio, is not done to order – the burgers are precooked and reheated and topped with the appropriate toppings – which means, despite having ordered the burger rare, it arrived to my table (they have a bunch of tables set up on the plaza, and waitress service for the delivery of the food, though not for the ordering, which you do at the truck), completely well done, and in only about four minutes after having ordered it. Delicious, just over cooked for my tastes. Great selection of toppings, and condiments (including things like sriracha!). Not a big fan of their fries, though many people would be – they're kind of the "McDonald's" style – very thin cut and crispy, but to me, (and I may be the only person who really doesn't like McD's fries), they're more crust than innards, and I like the soft, creamy potato insides. Overall, certainly better than any of the other fast food options in the Puerto!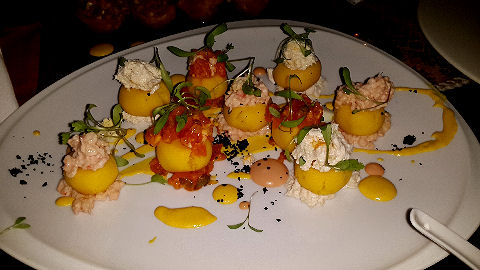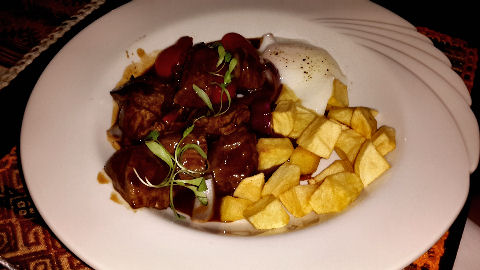 A trio of re-visits, just to give them a bump up to consciousness. Bardot Nueva Cocina Peruana, Honduras 5237 in Palermo is still turning out spectacularly good Amazonian influenced fusion cooking. It was Henry's first visit since Luis Oxa took over the reins of the kitchen and he loved it. [Closed in early 2017]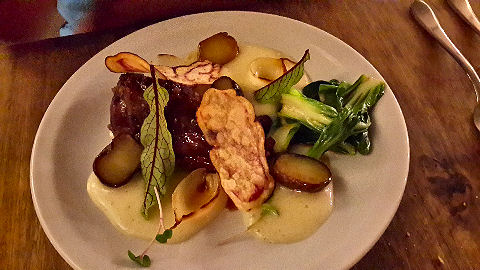 And, his first visit to Astor, Ciudad de la Paz 353 in Belgrano. It was also the first time I'd been for dinner rather than lunch. As delicious as always, though I did think the portions, at least for a three course evening meal, were a bit small. They also have a five and eight course option, each with successively smaller portions. Still, we were, while not full, very happy campers!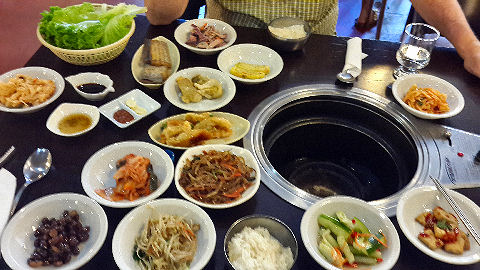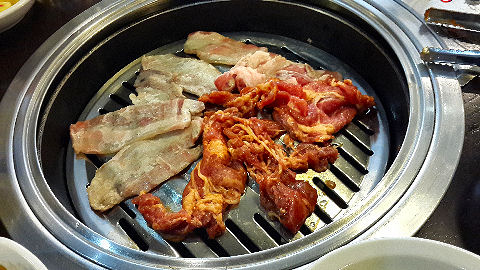 And it's been forever it seems since I was last at BBQ Town, Juramento 1656 in Belgrano (prepare for some music videos on the link). Not surprisingly, it's gone up in price, but still a quite reasonable price of, I think it was 180 pesos, for more food than you can really eat. A little disappointing, at least on this visit, that some of the more expensive ingredients seem to have disappeared from the array of food served – no more giant prawns to slip on the barbie, for example. Not that we had any complaints as we rolled out the door, stuffed to the gills.