Each January, like so many other folk out there, I take a look back at the last year shortly after it ends. In past editions, I've focused mostly on what amounted to the statistics of Casa SaltShaker – how many people and dinners, strange requests, food allergies, etc. When it comes down to it, there wasn't that much different in that arena that's worthy of note. So, this year I'm going to (mostly) take the attention off the business and look back at the things we did in our personal lives. 2014 was a year for a fair amount of traveling for us – Ushuaia, Iguazu, a whirlwind around the eastern U.S., Peru – focus, not surprisingly, on the food, but not entirely.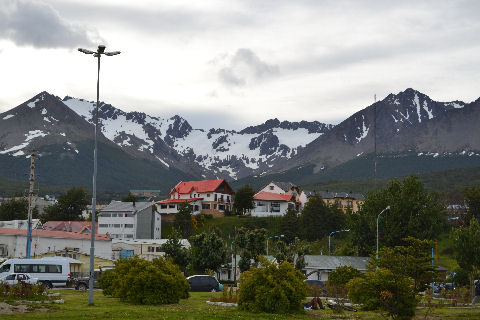 We kicked off in mid-January with a several day visit to Ushuaia, best seen in the videos that I put up at that link. It was my second trip, and much of it was a reprise, for Henry to get a chance to see and do what I had.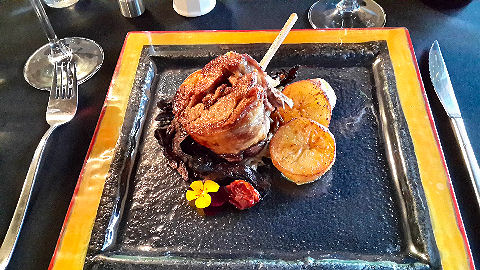 Unquestionably, the best meal overall was at
Kalma Restó
, simply for creativity and amazing flavor combinations.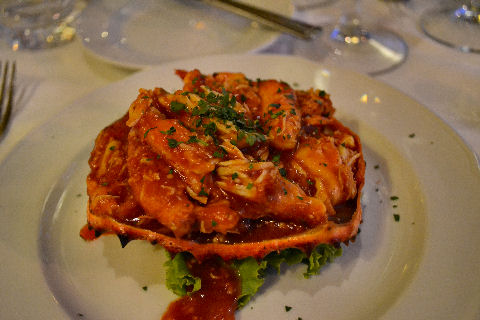 At the same time, I think our favorite dish was at a much more casual meal at
Tante Nina
, where the
centolla endiablada
packed a punch of garlic and chili that we loved.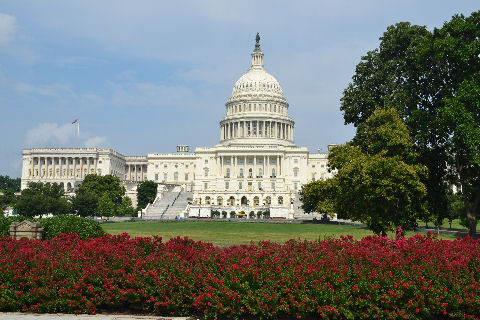 In July we headed off to the US. The first time for Henry, and it was a whirlwind – we flew into Miami, spent a few days with friends, flew to Chicago for him to meet some of my siblings, then picked up a car and drove to Louisville to visit my folks. From there, a one-day break in Virginia on the drive to WDC, then on to there where we explored the nation's capitol – something I've spent limited time doing in my life. Left the car behind, Baltimore to visit a friend, another sister picked us up and we headed to Lancaster for a day or so, then on to NYC for a week, including a side trip up to Connecticut. Three weeks to do it all!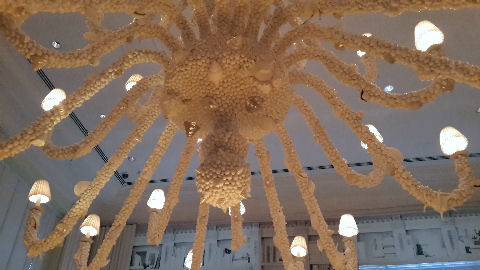 Most disappointing meal of the trip, at
The Bazaar by Jose Andres in Miami
. Not that it was a bad meal, everything we ate was perfectly acceptable. It's just that that's all it was – we expected so much more out of the whole experience.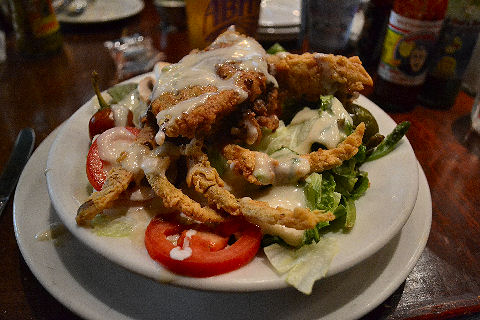 Hands-down the worst thing I ate, or at least tried to, on the whole trip, the "crab salad" at
Heaven on Seven in Chicago
. Again, probably not the worst meal, just the single worst dish – a bowl of lettuce with a couple of tomato, cucumber and mushroom slices dressed in a sickly sweet mayo and topped with a whopping deep fried soft shell crab.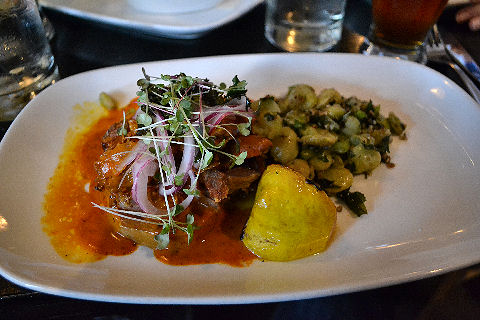 At the opposite end of the spectrum from most disappointing is probably "best surprise" of the trip, the meal at
Mayan Cafe in Louisville
, where we had spectacularly good modern, creative Mexican fare.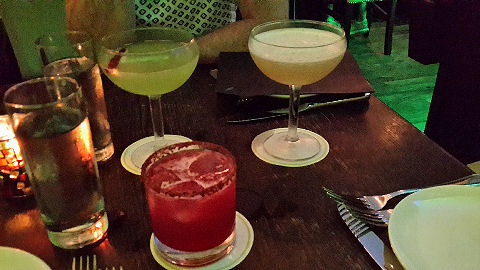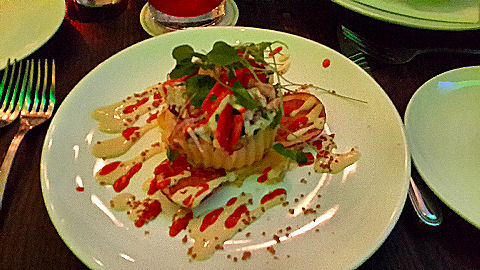 Best cocktail of the trip, the Ilegal at
Yerba Buena in New York City
, where we also had a truly excellent meal, that also included what I think was the best dish of the whole trip, a lobster
causa
.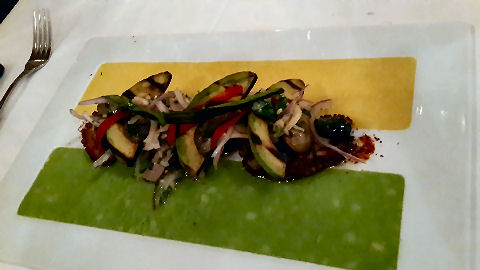 Despite having both best cocktail and dish of the trip at Yerba Buena, the Best overall meal of the trip award has to go to
Del Campo
in Washington, D.C., with its excellent fusion of modern Peruvian and Argentine food, from a chef who turned out to be a friend of a friend!
From there, it was on to Peru – where we split up – Henry headed to Trujillo to visit family for three weeks, I had originally planned to just head home and get back to work, but decided to take a five day "me-time" break after the US trip, and treat myself to some dining out in Lima.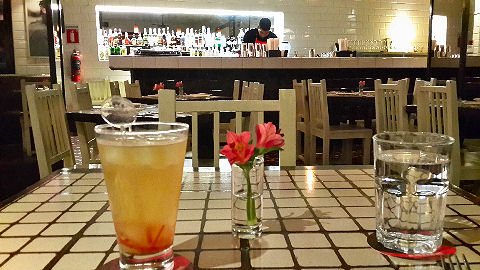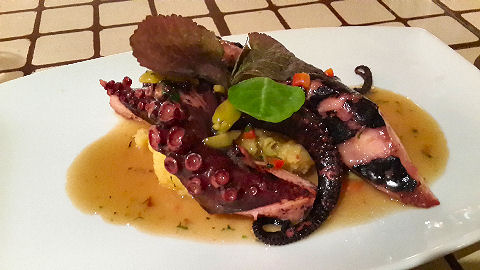 Best cocktail and best meal both have to go to
La 73
in Barranco, in fact it was so good I went back a second night. A rocoto chili infused
chilcano
has become an inspiration for some of our own new cocktails. And the food, all simple, but all just delicious.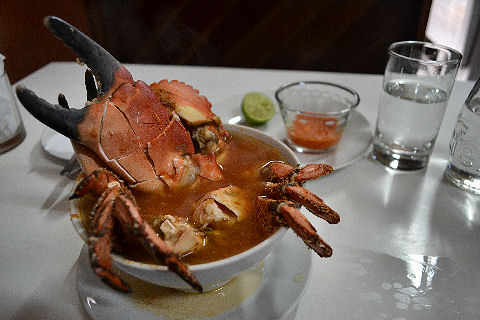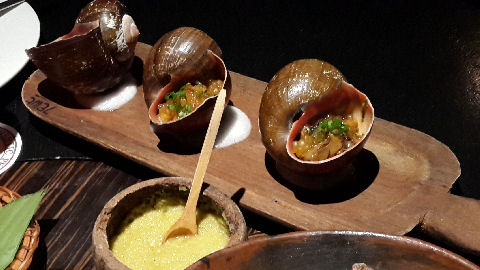 Since they're all on
the same post
… Most disappointing meal,
Rafael
– again, not that it was bad food, I just expected so much more from a place that's gotten so many great write-ups – though, as I noted in my post, had I spoken with local food-friends, I'd have been clued in that it's more hype than substance. Best surprise, the little
huarique
Mi Peru
, the
concentrado de cangrejo
, a simple crab boil in many ways, testament to what can be done when someone focuses on perfecting a single dish. And the best single dish, or again, maybe just a surprise, because I ate so many good dishes over the five days, but the giant river snails with tapioca pearls at
Amaz
still standout in my memory.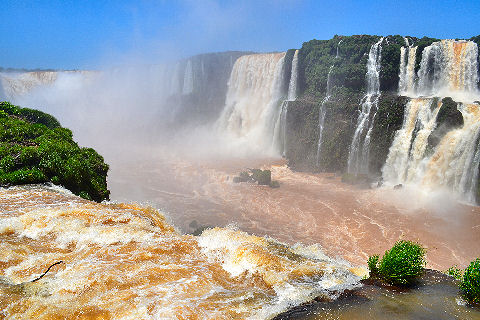 And our last trip, recently, to Iguazu for a three day visit where we hit both the Brazilian and Argentine sides of the falls.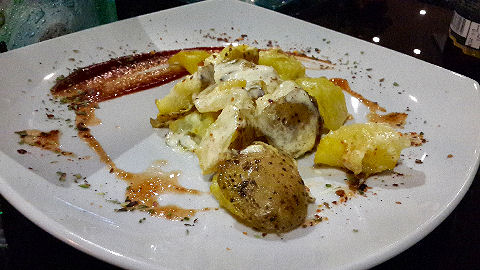 I can't say we ate particularly well on the trip – the lunches were mediocre at best, in all you can eat buffets arranged by the tour company, the dinners were good, but nothing outstanding – it's telling that the best thing we ate in three days was a plate (well, two) of papas bravas at Vinosophie.
So let's return to BA and do a similar look….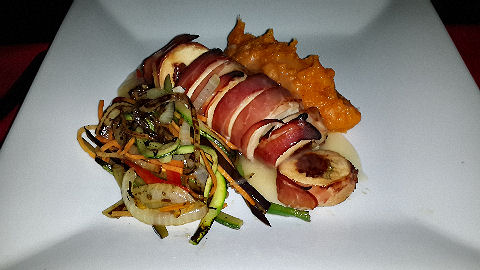 Most disappointing meal has to go to
Te Matare Ramirez
, one of the places I had to check out on this year's round of reviews for Fodor's (
a project that took me to a whole lot of interesting places
). Again, this isn't "worst meal", just a place I expected a whole lot more from – the food was uninspired and uninteresting.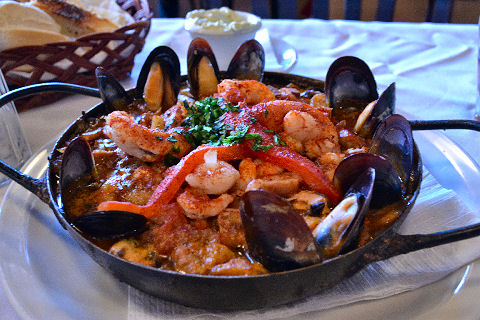 Worst dish, probably worst meal, easily goes to the
cazuela de mariscos
at
La Robla
, which was just unacceptably awful.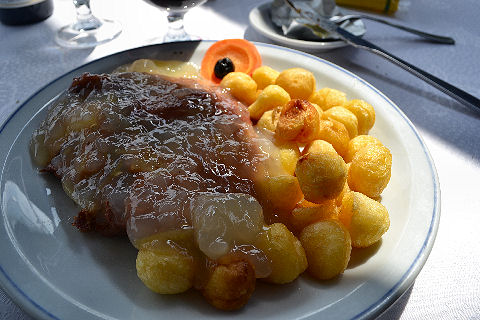 A day trip to Tigre took me out to
Gato Blanco
, where I have to say I had the weirdest dish of the year – it was just soooooo retro – a pork flank in lemon champagne jelly, a throwback to hotel service of the early 80s. It was good, don't get me wrong, and even intriguing for what one might do with it in a modern style, it was, however, just weird.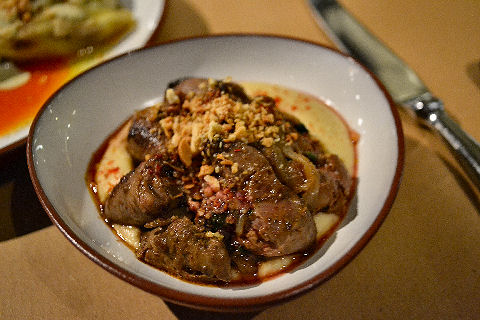 Best surprise has to go to Mishiguene, with its modern Israeli cooking – I just never expected it – the food is superb – creative and delicious. I was just expecting a hyped, over-priced (it is a bit "dear" when you pull out your wallet) middle eastern restaurant and it's not, at all.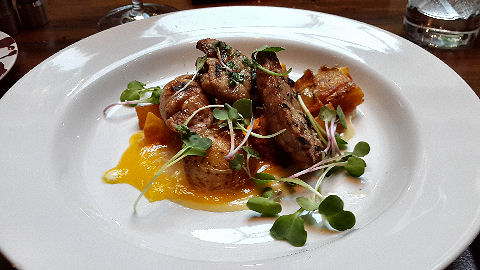 I ate at so many good places and had so many good dishes, it's hard to pick a single dish (or meal), but in the end, given that this plate of grilled sweetbreads over crunchy oven roasted potatoes and a gooey, soft poached egg at
Elena
was the only dish I described as "complete heaven", I have to give it the nod for Best Dish.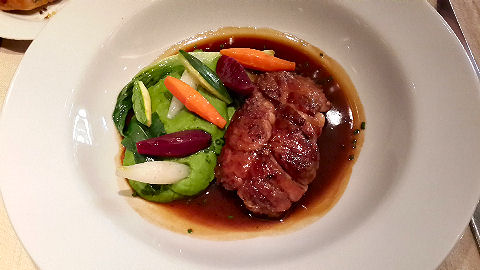 And likewise, it was hard to pick a Best Meal, but in the end, I give it to
Casa Umare
, oh, and hey, another great sweetbread dish!
I can't completely ignore Casa SaltShaker in an end of year round-up, but, like one's children in some ways, it's too hard for me to pick favorites and worsts. I can pick out the worst dinner experience here, it's the only time in over nine years of hosting dinners that I just wanted to throw people out of the place for their behavior, and should have.
The single most bizarre reservation request I got all year:
Just to inform you, we are strict vegetarians. We DO NOT EAT meat, seafood, egg, mushrooms of any kind, and also seaweed. My wife has more strict diet – she cannot eat onions, garlic, carrots, and potatoes also. We can eat milk, yogurt, and cheese. We can eat all green vegetables and all beans and fruits. As we are coming for our honeymoon, we REALLY want to experience your private dinner.
All I can say is… no, never mind, I can't say it.
As I mentioned above, we've gotten a bit more creative with some of our cocktails, and I'm particularly proud of two of them that worked out even better than I'd hoped, in fact, one has become what we're calling our signature house cocktail (not as a name, which we haven't come up with, but should) – a blend of reserve pisco, passionfruit liqueur, fresh ginger and ají amarillo, and orange juice. The other, was created to go with all the recent holiday dinners – vodka infused with ras el hanout spice mixture, Legui (a local liqueur), vanilla sugar, and plum juice. I've not taken any photos of the cocktails, sorry.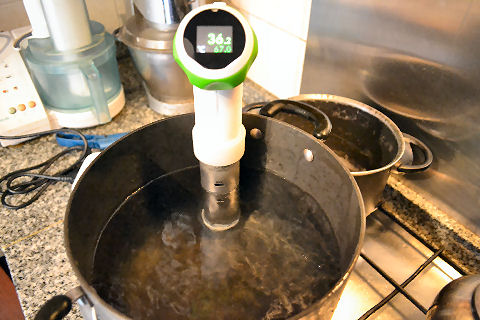 I bought a sous vide circulator, a
Nomiku
, and have been
having fun playing with it
at various dinners, as well as experimenting for us.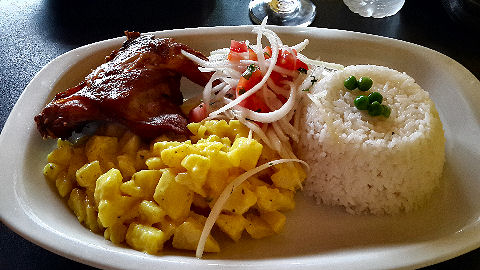 I had all sorts of pet projects for the year – I continued the 92 Bus Pizza Trek, I filled in various new spots on the searches for great burgers, shawarma, leche de tigre, and a new one, rabbit with chili potatoes, or ajiaco con conejo.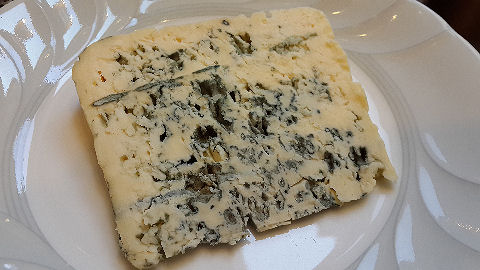 I
started exploring the blue cheeses of Argentina
, with some tasty results.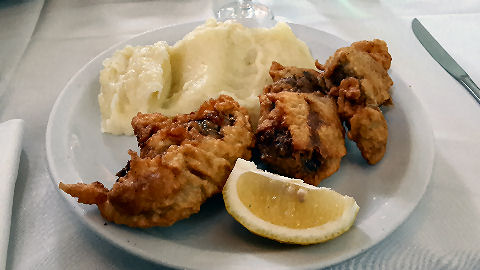 I trekked out to find the best
sesos a la romana
, fried brains, but quickly gave it up and…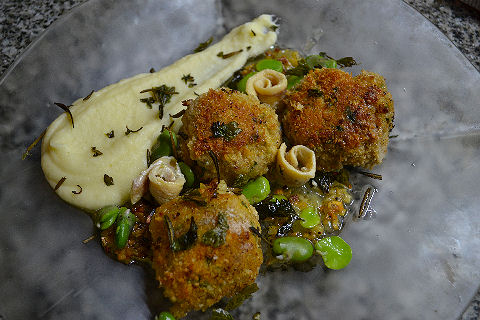 …focused on coming up with
my own creative, modern version
.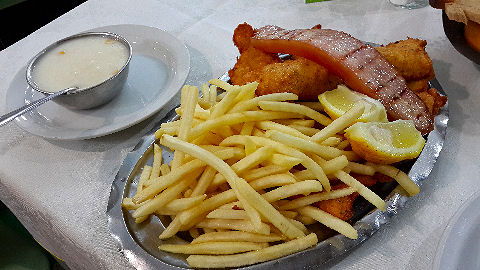 A similar series of ventures to find the best
Pollo Maryland
, a dish that I'm still working on a version of.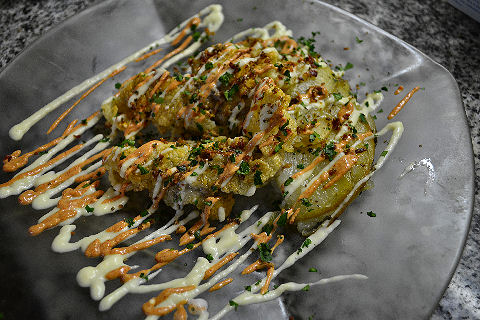 And, saving the best for last, friend and former student Kevin, who now lives in the Florida Keys, and I, started a series of online cooking "challenges" – a sort of mashup of Chopped, Iron Chef, Top Chef, Masterchef, and probably some others, that we're now, at least for the moment, calling
Reinventing the Whisk
. Almost right off the bat we were joined by another friend, Jennifer, who lives in Mexico and whom I've gotten to know mostly online, after she joined us for dinner way back in 2007. The series is picking back up in a week or so.