"…I said we should celebrate my new found feelings by eating a bucket of fried chicken, with 16 ounce drinks filled with sausage gravy to wash it all down with, and she readily agreed so we walked to the local chicken joint to affirm our commitment and love for one another…" – Jarod Kintz, A Story that Talks About Talking is Like Chatter to Chattering Teeth…
When I wrote up last week's menu I promised you that if this week went as well as I hoped, I'd be telling you about our new take on the classic Andean chicharrón de pollo, more or less, Peruvian or Bolivian fried chicken. Now, fried chicken is one of those things. There aren't many people who don't like it, and there are plenty of people who love it. But the question is, does fried chicken have a place in tasting menu that purports to be some sort of gourmet experience. Now, it's true, here at Casa S, we're not aiming for something all gussied up like you might get at one of those 1-2 bite series of courses – we serve food, plenty of it, and, I think, packed with flavor. As I've often told guests when they look at the next plate arriving on the table – "I grew up in a Jewish household and trained in Italian restaurants… these ARE the tasting portions!" Sometimes fancy, sometimes simple, but I hope, always filling and delicious.
Still, we've been questioned now and again about fried chicken when it shows up on the menu. Now we're not talking classic southern fried chicken. There's no soaking in buttermilk. It's not coated in some sort of thick, crispy breading and deep-fried. We don't even have a deep fryer. There aren't any grits, there are no stewed greens. And there aren't any buckets of take out. In fact, just short of two years ago I remember one guest commented, "i was disappointed that our main course was fried chicken. As an american there is nothing special about breaded chicken". And yes, the chicken on the main course was fried – but it was coated in parmesan cheese and panko crumbs, pan-fried, and then simmered in a sauce of tomatoes, green olives, jalapeños, garlic, and mixed herbs. Not exactly what you'd pick up at "the local chicken joint". It's also one of our favorite dishes.
But as we've turned to playing around more and more with traditional dishes from the Andes, recast in our, well, my style, I knew that sooner or later I'd have to turn my attention to fried chicken. Now, there's a difference, culturally, between the different sorts of fried chickens in the Andes – what the Peruvians call one thing, the Bolivians call another (I did a little writeup on it here, towards the bottom.) So, the dish I've been diligently working on behind the scenes, is a sort of melding of different styles and flavor ideas, along with my touches. Details coming up down below….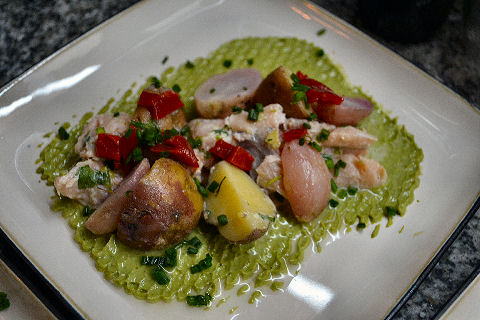 Now, we're not backing away from our newfound commitment to spice things up either. A new take on our trout ceviche, mostly in presentation. Spicy avocado puree; trout cured in grapefruit, lemon, lime, ají limo chilies, and cilantro; butter poached radishes sprinkled with sea salt; Andean potatoes cooked in fish stock and then tossed with the curing liquid from the trout; fire-roasted piquillo peppers; chives.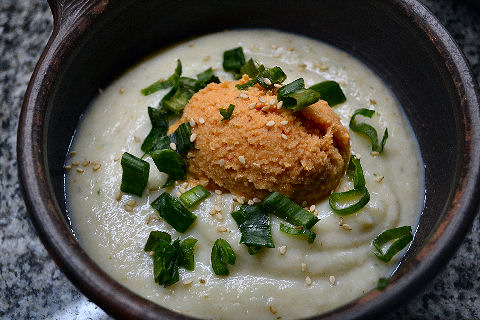 A reprise of a chilled cauliflower soup from last year, with some tweaks. The cauliflower steamed, then pureed with milk, mint, garlic, red onion, olive oil, rice vinegar, smoked salt and white pepper. The sherbet a blend of fresh tomatoes, honey, Chinese black vinegar, sesame oil, lots of togarashi chili blend, salt, and just enough sour cream to give it a creamier texture than the sorbet last time around. Toasted sesame seeds, green onions.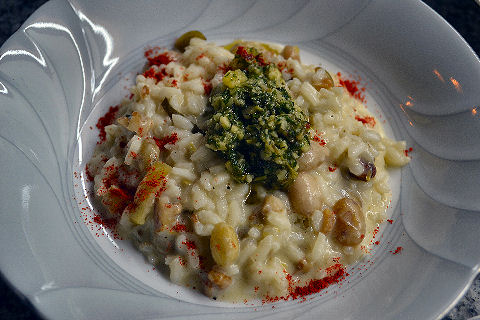 Risotto flavored with a white wine and mustard seed stock. At the end, the addition of a saute of butter beans, shishito peppers, pickled frying peppers, walnuts, and lemon peel, and a little whipped cream cheese blended through. Topped with a "Scarborough Fair" pesto – olive oil, pinenuts, garlic, Thai chilies, and, parsley, sage, rosemary and thyme.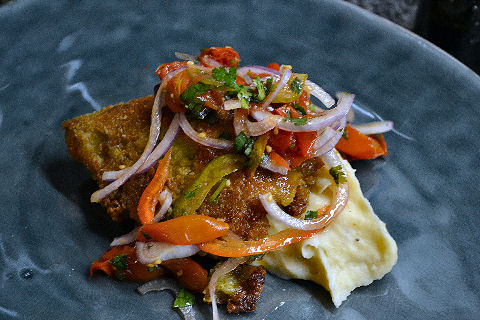 Let's get to the aforementioned fried chicken. Boneless chicken breast, marinated for 6+ hours in a blend of olive oil, lime juice, cilantro, Chinese hot mustard, Korean chili flakes, salt, and black pepper. With the marinade still coating it, rolled in flour, then dipped in beaten egg, and then into panko crumbs. Pan-fried to a crispy, golden brown. Served over our popcorn mashed potatoes. A salad of roasted cherry tomato halves, red onion slivers, rocoto chili julienne, chopped cilantro and mint. Yeah, it's just fried chicken. Right…. I'll take that head to head with anyone's fried chicken around here. ¡Viva El Chicharrón!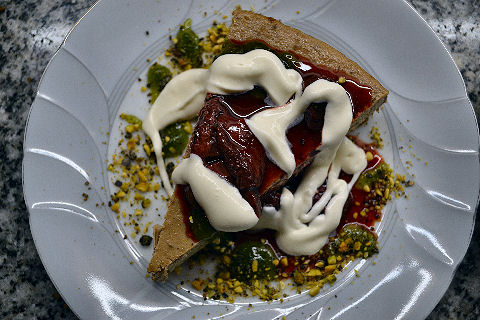 Pecan brown sugar cheesecake. Strawberries roasted with molasses and vanilla. Semi-beaten whipped cream. Mint fluid gel. Pistachio crumble (spiced with brown sugar, cinnamon, allspice, clove, cayenne).
—
Every year I promise myself I'm not going to do holiday dinners again the next year – it's a pain to get ingredients and deliveries and everything else logistically, people have trouble getting to and from us because of the lack of taxis and public transit, and we always hear from at least one or two folk how our version of the holidays isn't the way they would do it back home. And every year, Henry talks me into it. Next year, you guys have to talk me out of it. We launch into the next two weeks of fun in the sun starting tomorrow! This year, I carefully laid it out on our website – "Dinners will follow our usual format, though we "up the game" with higher level wines in celebration. Just to be clear, as it always comes up, there's no special entertainment, nor a dance floor – it's an opportunity to spend a holiday dinner with new friends." We haven't even had the dinners yet and I've had a dozen or more complaints from people that we're not offering something "more special" to their tastes. None of them got reservations.