We went for it again, another dinner with plenty of chili and other spices, and once again, nothing but raves. I'm not sure that two weeks can be considered "on a roll", but it seems to be eliciting a lot of pleasure amongst our diners.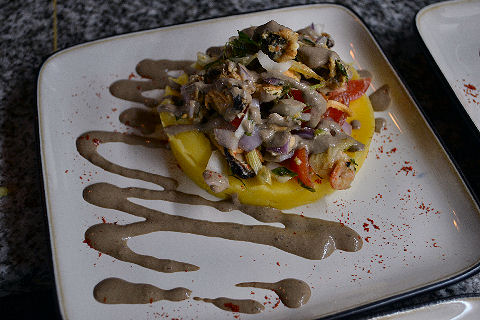 A new version of a causa I've been playing around with, a little more Mediterranean fusion coming into play, and ready to share with our guests. Instead of the usual lemon, ají amarillo and olive oil infused potato base, this one is with orange, rocotos and olive oil. The salad atop is a fresh mussel salad, just quickly steamed open and then chilled, mixed with parsley, fennel fronds, red onion, and roasted fennel. Initially the sauce was to be a black olive mayo, but I was thinking it would be nice to get away from flavored mayos and do something related – I made a mussel and prawn stock out of shells, strained it and reduced it, simmered salt-cured black olives in it and then pureed the whole thing smooth with an egg yolk for richness and it also thickened as it puree in the blender, from the heat. Henry says the plate needs more green, perhaps I should have left the parsley and fennel fronds to the side of the salad and scattered them over the top. I like it as is, I'm not one of those who thinks every plate needs herbs sprinkled on it.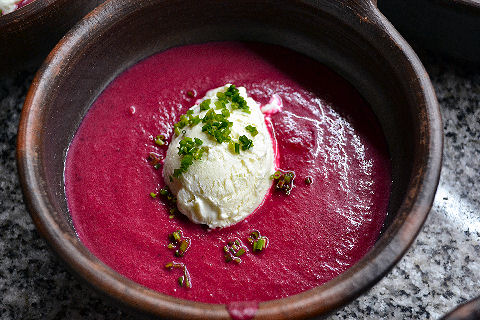 Although, they sometimes do make things prettier…. New take on our chilled roasted beet soup. Instead of the fairly straightforward recipe I've used in the past, I thought about the roasted beet salad that we often use for our most popular (to date anyway) version of the causa above, and turned that into a soup – so it's roasted beets and onions blended with cumin, merquén, parsley, lemon juice and rind, tamarind, salt and pepper. The gelato is a serrano chili sour cream one. Chives.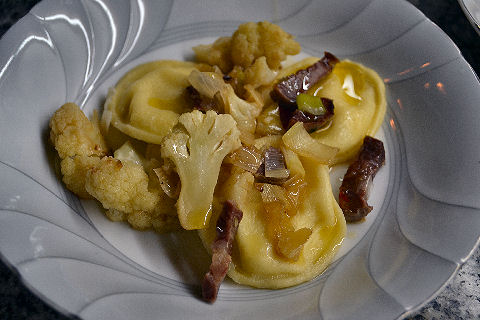 This one I might agree could use some more green. Pansoti filled with a puree of butter poached cauliflower, garlic, shallot, ricotta, mascarpone and grana padano cheeses. More of the same puree underneath. Atop, a saute of leeks, sopressata, cauliflower florets, ají limo, and salted lime. I'm thinking, different plate, spread out the pansoti and let the puree be visible, scatter the "sauce" around a bit. Maybe some fava beans, or peas. But damn it was tasty.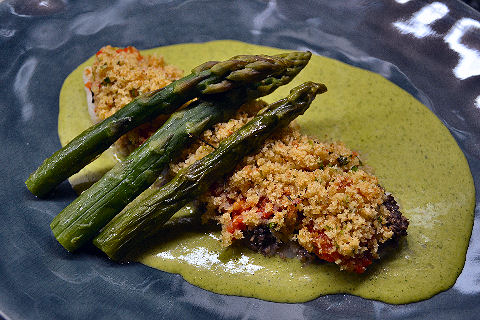 Had planned on our take on "cod viennoise", but no cod in the markets, in fact, very little in the way of good quality fresh fish last week – not sure why, but such are the vagaries of Argentine markets. Found some good sea bass and whipped them up the same way – a layer of stoneground mustard, portobello duxelles, tomato fondue, fresh breadcrumbs with herbs and butter. Served over our cilantro "salsa nieve andina". Griddled fresh asparagus. There, we got in a whole lot of green.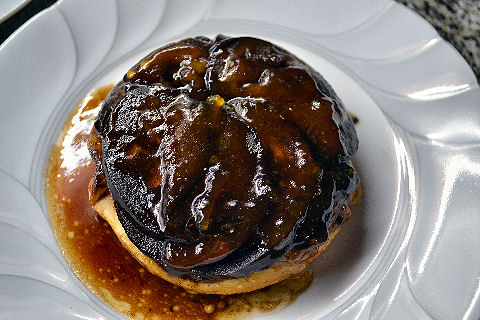 And, a reprise of our eggplant tarte tatin with the eggplant caramelized in butter, brown sugar and Chinese five-spice. The sauce, a minor change, instead of a slightly thickened orange coulis, I went with orange marmalade flavored with cardamom. Even better!
More to come. If all goes well, I'll be reporting back on a successful introduction of our reinterpreted chicharron de pollo next week.