It wasn't until after we were serving our menu this last week that I realized that I'd ended up with four savory courses in a row that featured chili in one form or another. The good thing, it was a hit, and we got nothing but compliments for providing a good dose of spice for four evenings straight! We've been leaning more and more that direction, and I think we're probably at the point where we're going to pretty much just do that as our core – it doesn't mean unrelenting heat, but the truth is, that's the kind of food we like, and for the most part, the way I prefer to cook. There will still be dishes that don't feature lots of spice, and certainly many where the spice isn't chili, but I'm tired of toning things down to appeal to a wider audience – I'd rather build a solid one of people who like some punch to their food.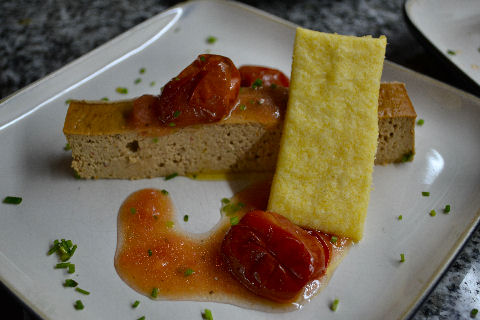 A reprise of our smoked tomato and merquén chili cheesecake with fresh tomato and olive oil emulsion, roasted cherry tomatoes, polenta crisp, and chives.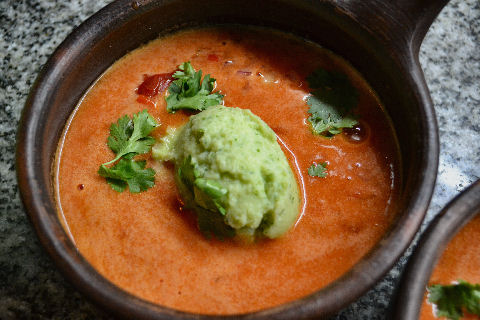 Continuing with bringing back (and soon experimenting with new) cold soups for summer – Watermelon gazpacho – a puree of watermelon, garlic, rocoto chilies, olive oil, red wine vinegar, salt and pepper; a dice of roasted red bell pepper and red onion; cucumber ají limo sherbet; cilantro.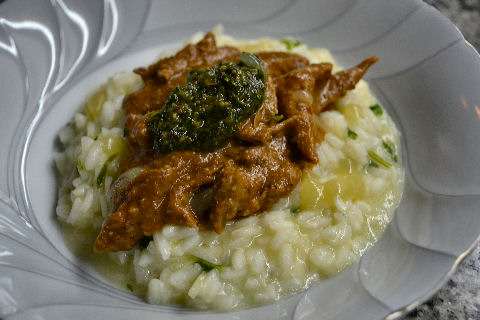 This went through a couple of iterations on plating, but ended up here. It's probably the most multicultural mashup I've ever done, which wasn't intentional – I started with the core flavors and blended preparations together – and it just ended up that way. I was inspired by a dish, a stew, at Amaz, in Lima, earlier this year – I've been playing around with ideas for duck, chocolate, and lemon. In the end, from the base up, a risotto finished with olive oil, morbier cheese, and radichetta; a duck confit mole (this particular mole a blend of onion, garlic, almond, peanut, chipotle, pasilla, and de arbol chilies, cinnamon, black pepper, clove, raisin, sesame, tomato, thyme, oregano and cocoa, all thickened with lime-treated corn masa (tamale base)), pureed and added to confit of duck legs and thighs; a lemon puree; zhoug (a Yemeni inspired Israeli hot sauce of cilantro, parsley, green chilies, cumin, coriander, clove, salt, sugar, garlic, olive oil).
Brought back our Huatia Sulcana, our slow braised Peruvian beef shoulder in herbs and chilies. And here, I hit a snag – one of the things not mentioned earlier in this post, the whole dinner was planned gluten-free. And our Huatia uses beer in the braise. It didn't even occur to me, and there we were the first night, and thank goodness I said what the beef was braised in, with someone who wasn't just on a fad gluten-free diet, but coeliac. Luckily, I had some frozen prawns and was able to whip up a quick saute pan of langostinos en sidre – prawns cooked in cider with a good hit from the matbucha, the red paste in the photos, of bell pepper, tomato, garlic and chili. And, for the remaining nights, instead of beer we used red wine for the braise, since there were several other gluten free requests. We also had a few "no beef" folk, for whom we made a chicken version – subbing in white wine for the red and ají amarillo for the ají panco as a better flavor match, and a shorter braise time. Served up with our popcorn-infused mashed potatoes and the aforementioned matbucha.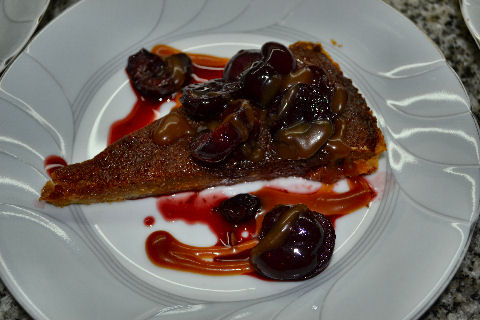 Honey tart flavored with vanilla and baharat, a Middle Eastern spice mixture, almond crust, vanilla roasted cherries, and a Pineral caramel.