Argentina has a large middle eastern population. Within the context of a 40 million or so general census, approximately 1.3 million are directly of middle eastern heritage, and another 2.2 million are of mixed middle eastern and latin american ancestry. By far the largest percentage are Syrian or Lebanese, with significant percentages from Armenian, Egyptian, Moroccan, and Palestinian heritage. Israelis, logically given the short existence it's had on this planet, are few in number. And, while there are many, many middle eastern restaurants, there are few that I can think of that have any relation to "Israeli food" (Teamim for falafel, is actually the only one that comes to mind). And, that's a difficult genre to define, as, at this point, Israel is a nation, for the most part, of immigrants.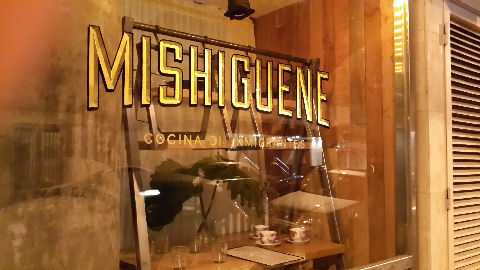 Enter Mishiguene, Lafinur 3368, Palermo, specializing in modern Israeli cuisine, or, as 35 year-old chef Tomás Kalika calls it, "cocina de inmigrantes", or "immigrant cuisine". Kalika is Argentine, and spent his formative chef years, from 1997 to 2004, working in Jerusalem, since then he's worked in hotels here in Buenos Aires, for Princess Cruise Lines, and is the founding chef behind Food Factory, which still holds the front runner for my favorite smoked salmon sandwich in BA. To be clear, because among the various folk I've talked to or whom I've seen writing about it, Israeli cuisine does not necessarily mean Jewish cuisine – again, whatever that is, given the wide ranging backgrounds of Jewish people – it's a religion, not a place. If someone said "Christian cuisine" they'd be looked at as if they were nuts to suggest that one such thing existed. That's not to say that there's not a relationship – Israel's population is close to 80% Jewish of one stripe or another, but, they come from the world over, and bring influences of a myriad of cuisines.
It's a spacious room with an open kitchen, everything done up in earthtones. The walls are decorated with a collection of small photos and handbills, all neatly framed, and all relating to Israel and its cuisine. There's klezmer music playing in the background. I've visited twice, once for lunch, once for dinner – at lunchtime it was mostly local businessmen, many of them likely Jewish, at dinner there were a lot of guests from the hotel in which the restaurant is located, the Awwa Suites & Spa, and also a large number of women "of a certain age" whom I'd guess to be Jewish. Though it's hard to generalize from just two visits, it wouldn't surprise me if the mere existence of a place with a connection to Israel is a draw for local Jewish foodies with a decent income (this is not an inexpensive place). There are clearly, already, quite a few repeat visitors, as both chef and waitstaff are greeting a good number of diners as old friends.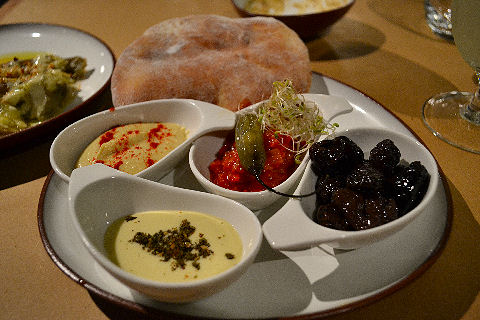 Let's jump right to the food. No, wait, a little about service – friendly and relatively efficient, but it's still finding its sea legs. In fact, while upfront I'll say that the food is pretty close to flawless, the front of house needs some work. At my visit for lunch, two missteps of note – one a more general thing, when I went to order an iced tea off the menu, I was told that they didn't have any because there was no bartender to make it, and the same turned out to be true of all of their in-house soft drinks, except some "leftover lemonade". How hard is it to make iced tea? You need a bartender for that? The second, the chef sent me out an extra plate of food after I ordered three platitos, small plates, but my waiter, seeing a plate on the table that I hadn't ordered, without saying a word, whisked it off the table and took it back, presumably to be tossed, before I could try it. A little communication between food runner (and/or kitchen) and waiters would have helped. I'll get to dinner stuff in a moment.
These are the "dips" – hummus, lebaneh, matbucha (a favorite that I hadn't made in years – a slow reduced spread of tomato, charred bell pepper, garlic and chilies – coming up in this last weekend's menu, and probably again in some menus coming up soon) which I was warned by the chef was very spicy (it wasn't, just mildly), and olives, all with a great pita bread to dip into them (95 pesos).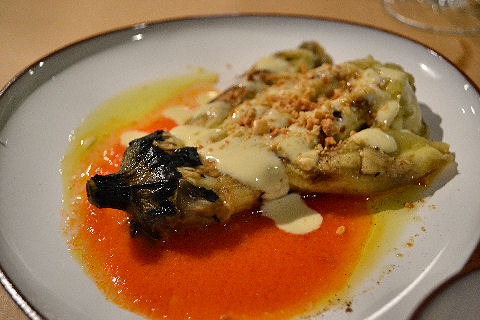 The babaganoush, a single wood-smoked eggplant served over a bell pepper and tomato "oil", dressed with lime, a garlic-yogurt, toasted almonds and parsley. I wouldn't have minded a bit more smoke, but it was delicious (and it had better be at 75 pesos for a single eggplant).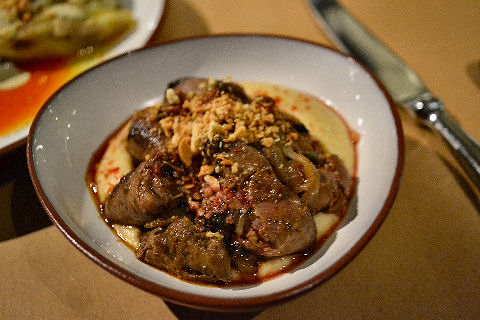 My favorite dish at lunch, the Meorav Yerushalami, or "Jerusalem mixed grill" – chicken giblets – gizzard, heart, liver – coated in spices and sauteed – served over a tahini-hummus foam and garnished with lime, toasted almonds, and cilantro. All around yum, and despite the small portion, a flavor wow for 85 pesos.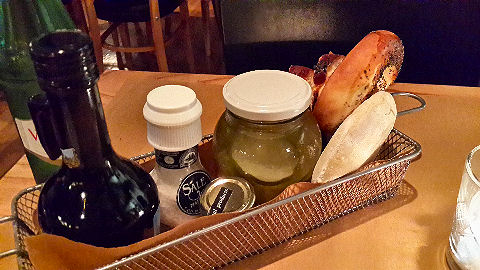 Let's head to dinner. Henry was hosting a pre-birthday party and invited close to a hundred people to come to the house last eve, with plans to not only fete the evening, but the night away, continuing on to this morning, to be finished off with a ceviche lunch. I spent the day yesterday helping him prep all the food – aji de gallina, tamales, anticuchos, and snacks, plus readying some of the stuff for today's cevichada, and then took off for the night (I need my sleep). I was originally planning to take a couple of day mini-vacation and go to Montevideo, or Tigre, or somewhere else that's a relatively short trip, but with inclement weather in the offing decided to take the opportunity, check in to a little boutique hotel for a nice, relaxing 24 hours, and get a chance for a night out at a place I know he's not overly keen on trying. So, booked a table at Mishiguene, tried to get a cab there, gave up in the storm, borrowed an umbrella from the hotel, and walked the ten blocks.
A lovely little basket of breads – more of that great pita, dinner roll, and a "bagel" (more of a bread roll with a hole in it), served up with house-pickled vegetables, the best mustard I've tried in BA (Arytza, I'll be searching it out), salt, pepper, olive oil. Back to front of house for a moment – I was solo, so they didn't present me a winelist or cocktail list because "they didn't think I'd need it". Weird, just weird – I mean, I still might want a cocktail, or a glass of wine – even if not a bottle, though I might want that as well. But then, it turns out to make sense, because they don't actually have any of the cocktails on their cocktail list, because why? They don't have a bartender – it's not just a lunch thing, they actually don't have one, so the best they could offer was a "classic" cocktail, like a gin and tonic or something that a waiter could make. And they only have about half the wines by the glass that are listed (there are only 4 whites and 4 reds, but they only had two of each). Now, another misstep, the wines by the glass on the list all run around 45-50 pesos a glass. My waiter offered that they had a bottle open of something different, and I accepted it for my second wine (first off an Andeluna Sauvignon Blanc), a Tikal Malbec-Bonarda blend. I think I would have liked to have been warned that it was 120 pesos a glass – on the other hand, they comped the white wine, so it more or less balanced out, but still….
A note here about "special wines by the glass", just from my years in the biz – in general (there are exceptions), there's an open bottle for one of three reasons: a) a salesman left a sample bottle, they tried it, and are selling off the rest to make a little extra money; b) a customer didn't finish a bottle, or sent it back, and they're selling off the balance to make a little extra money; or c) the owner and/or chef decided to drink something good with their own meal and they're selling off the remainder to make a little extra money. Back to the food….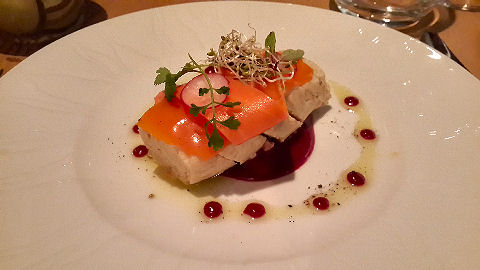 Sous vide gefilte fish wrapped in gelled carrots and served with a reduction of beet tinged horseradish. Yum! There were a couple of pockets of the gefilte that were slightly salty, but not off-putting (95 pesos).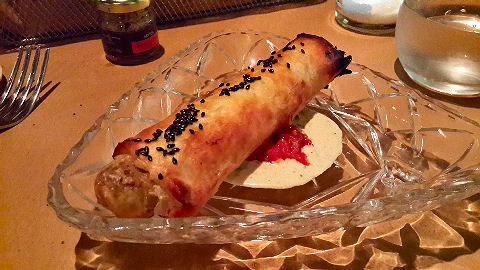 The "Moroccan cigar" – a confited lamb filled crispy phylo dough wrap served up with tahini (house made from freshly roasted sesame seeds) and more matbucha. The lamb could use a hint more spice to stand up to the intensity of the two sauces, but delicious all around (90 pesos).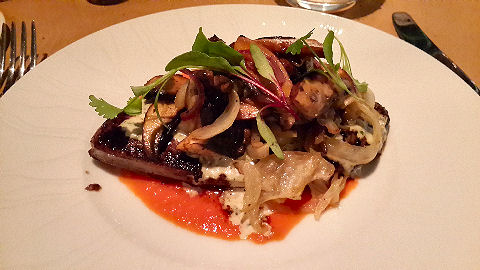 Now, I'd ordered two small plates to start – actually, I was planning to order four, but as soon as I'd given my waiter the first two, he grabbed the menu off the table and walked away. To the credit of the management, however, when I made mention of this to the young woman who popped over to the table to see how things were going (I hadn't started yet, other than the first wine), my waiter was replaced by a waitress for most of the rest of the dinner, and she was far more attuned to what was going on with her guests. Either way, around the time I finished the second plate, a third waiter had asked if I'd like something more, I ordered my next two plates. Then the first waiter returned with this plate, a gift from the chef, something not on the menu, a seared calf's liver with wood-fired mushrooms and onions, spicy tomato sauce, micro greens – easily the best calf's liver I've had in years – he'd be meshugenah not to put it on the menu!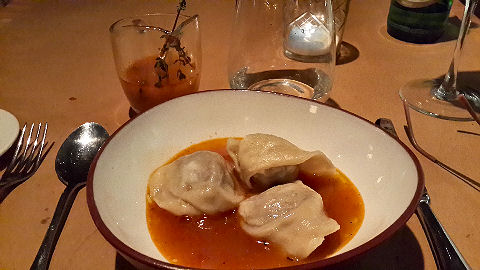 And then I waited. After about 10 minutes the waitress came back and asked if I'd like dessert or coffee. I said I was waiting for more food. She went over and talked to the original waiter and then headed to the kitchen. Apparently he'd decided, without asking me, that after the chef sent me an extra plate, that I'd no longer be interested in the food I'd actually ordered, so he'd cancelled it. She got things back on track, and in short order, I had a plate of three lovely kreplach filled with braised osso buco and bathed in a lamb reduction sauce – this, by the way, the same plate that had been whisked away at lunchtime. Another hit, however, also another hit when the bill came – although listed on the menu as only available in a full plate size at 165 pesos, I'd asked if I could have the smaller lunch portion of just three kreplach (85 pesos) and, of course, the waiter had said yes, but I got charged for the full size plate (unfortunately not realizing it until this morning).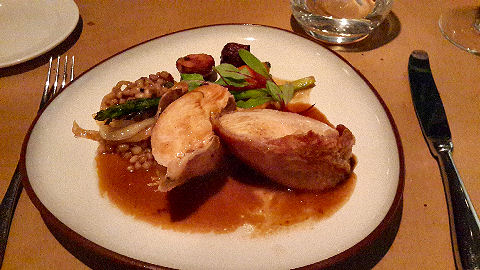 And, finished up with the pollo oi va voi, (oi va voi is the Spanish version of "oy vey", or "oh dear") – sous vide cooked chicken with crispy skin, fresh organic baby vegetables, farfel (a traditional pasta shaped like a wheat grain), all in a rosemary broth. Yum, and the only minor kitchen misstep in two meals, the farfel was borderline cold (85 pesos).
So, overall, great room and ambiance. Service needs some work, and, hire a bartender already. Food, just generally spectacular. Pricey, especially so as at least at dinner I'd say I was overcharged 80 pesos on the kreplach and only wasn't on the wine because they comped one of them, however had they comped it and I'd been served a wine in the same price range as the others on their wine by the glass list, I'd have saved about 70 pesos more. And, my bad for not reviewing the bill carefully when it was presented. Still, all in all, highly recommended, just know it's a splurge. No one else is offering middle eastern (for the most part) or eastern european (for the smaller part) food like this in the city that I know of.