Now that Peru is the new "it girl" in the gastronomic world, we can expect to see all sorts of trendy mashups. I may as well get ahead of the curve. I mean, we have – there aren't many people out there doing a fusion of Andean and Mediterranean flavors and techniques, as is our core focus. Most of the new modern Peruvian cooking is focused on Nikkei cuisine, a now somewhat traditional (at least going on a couple of decades in Peru) connection between Peruvian and Japanese heritages. But there will likely be far more varied combos coming down the pike. Just to pick one – recently we had a Pad Thai reinvention challenge in our online kitchen games (temporarily suspended while Kevin figures out the logistics of being a new dad and Jennifer is off for the month traveling). I liked that dish enough to play with it a bit and incorporate it into dinners a week ago (with our own travels to Iguazu I didn't get around to posting a writeup).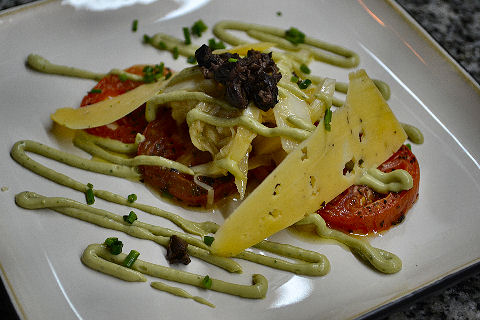 Our "Ensalada Amazonica" – herb roasted tomatoes, hearts of palm dressed in roasted garlic and lemon vinaigrette, spicy avocado puree (I've been using that a lot lately, it'll come up in this past weekend's dinners too – and then time to move on), basil cheese, dehyrated black olives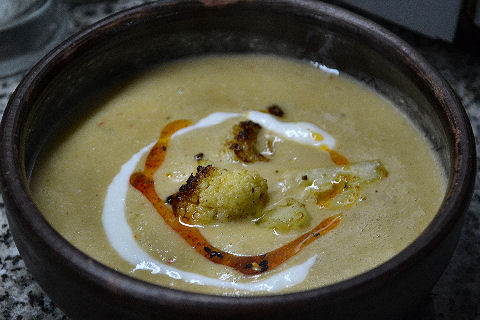 I need to start experimenting with some new soups too, not just more "solid" courses, but here, a perennial favorite, hummus soup with charred cauliflower. We do love it and so do guests, but hey, we're moving into hot weather here – time to head back to some chilled soups. Coming soon.
And here's the Peruvian Pad Thai rework. Not many changes from the online challenge – I increased the ají panka in the sauce to give it more kick, found some palm sugar (I did have it in the cupboard, it had just gotten moved to an odd place), and used a mix of fish sauce and soy sauce. I used homemade rice noodles to wrap the prawns, though I think the wheat ones turn out better baked, in retrospect – the rice noodles turn a little crumbly when baked rather than boiled, and, there were no fava beans around so I used fresh peas, though I'd rather the beans. And, of course, played with the plating a bit. All in all, a successful dish – we got lots of compliments on it.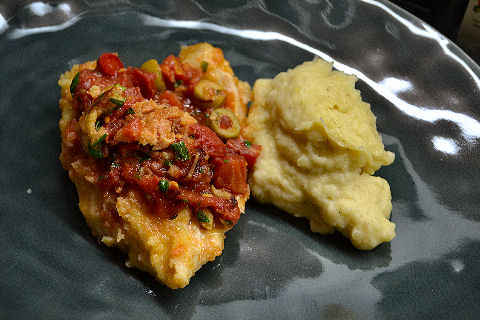 To some extent, of course, repeating dishes that have been successful is just a sensible move in a restaurant – why fix something that ain't broke? But that doesn't mean there aren't tweaks to be made. Another long time fave, spicy green olive chicken, the tweak is using our new "popcorn mashed potatoes" as the guarnición – I have to say, those potatoes might have been the hit of the week. They really are good. I've also never figured out how to make such a rustic dish look prettier – then again, maybe it doesn't need to.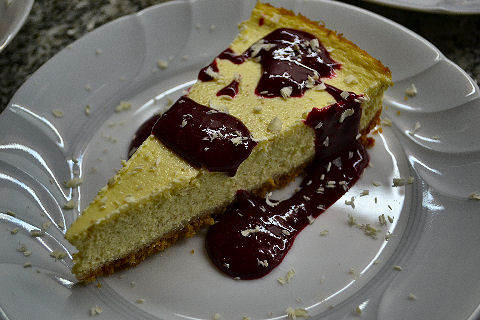 And, finally, brought back a long ago hit – pear and white chocolate cheesecake, a sauce of blackberries cooked down in port and Chinese five spice, pureed and thickened, grated white chocolate. Just as good this time around.