It's rare that I have a weekend evening off. But Henry had an event to go to with some folk from the university, and I decided to go out and get a little evening wander in. My first thought was to go hit some of the 92 Bus pizza places that are only open for dinner, but I just wasn't in the mood for pizza (I know, I know… how can I, not be in the mood for pizza?). I figured I'd start with a glass or two of wine and maybe some cheese, which…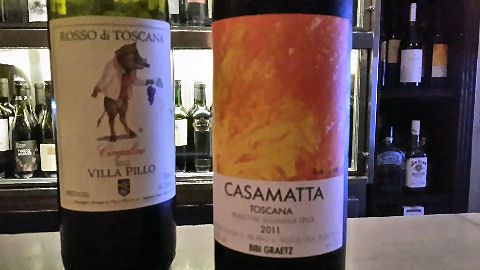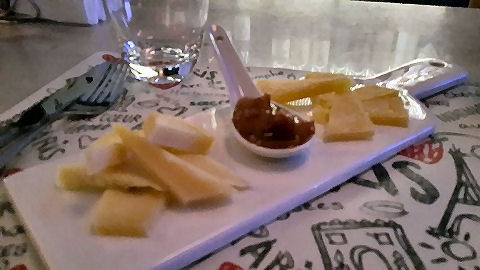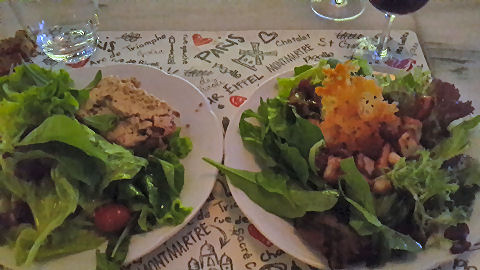 …led me back to Bar du Marche, Nicaragua 5946 6002 in Palermo. A couple of side by side Italian Sangioveses, neither of them worth writing about, though the Casamatta was at least a bit more interesting than the watery Cingalino, and a couple of decent cheeses – an Idiazabal and an English Cheddar. I thought I'd try a couple of their appetizers as well, but on the menu, the only options are a two or three course meal, no a la carte. However, the waitress said I could order a couple of things from the appetizer selection and they'd just charge them individually, "roughly 35-40 pesos each". An okay octopus salad and a really mediocre rabbit terrine that was falling apart, because it wasn't actually wrapped in the promised pancetta, and both heavy on greens rather than anything else – and, they came in at, respectively, 80 and 60 pesos, basically double what the waitress told me – she just shrugged, "oh, I didn't know what the prices really were". Got it, but then, ask someone rather than telling your customers a price that's false. Oh, plus a 20 peso cubierto charge. I'll stick with wine and cheese on future visits.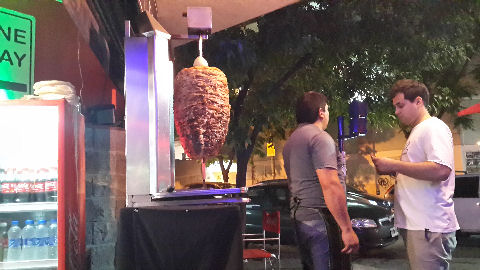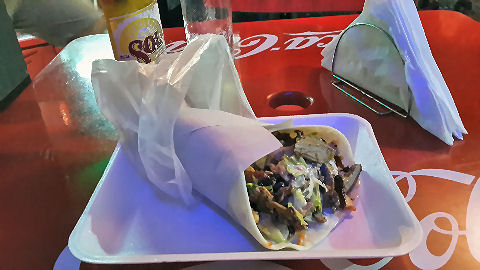 What to have to continue the evening? Oh wait, I was just a few blocks away from One Way, Niceto Vega 5601, on my list for The Chronicles of Shawarma, but not visited previously because they only offer shawarma on Thursday, Friday and Saturday evenings, and only after 9:30 p.m. Not a bad shawarma as it turns out – big, packed with meat, nicely spiced, maybe just a little saltier than I would have preferred but not over the top. Instead of the usual lettuce, tomato and onion, they chop in a bit of a slaw with carrots and red cabbage, toss the whole thing with a yogurt sauce and, have an acceptable, if mild, hot sauce.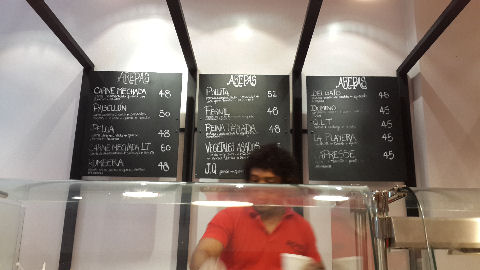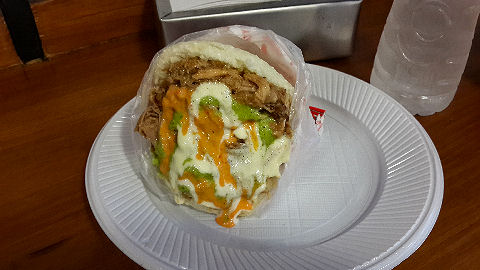 Wandering in downtown I spotted a new shop that's just opened, Arepera, Esmeralda 612. Decided to pop in and give it a try. First off, unlike some of the other arepa shops around, it's not specifically Venezuelan or Colombian, but general Caribbean. As such, they have fillings available from a variety of cuisines. Interesting, however, they don't make different types of arepas to reflect the various cuisines, but rather a thick, doughy, white corn style that's about the size of a large english muffin. Tried the "perníl", braised pork leg. Absolutely delicious! Easily the best arepa and associated filling that I've had in Buenos Aires – actually, come to think of it, anywhere. The meat was just perfectly cooked, juicy, and a good amount of cheese melted inside the arepa as well. The trio of available sauces – cilantro, garlic, and chili (mild), just made it all the better. This is going to be a regular lunch place when downtown. [Closed]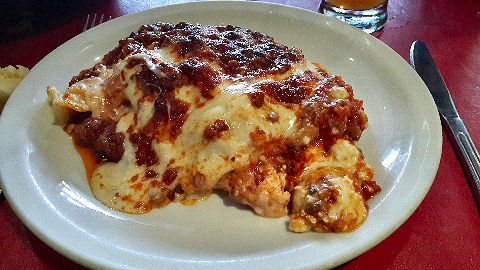 Not a new spot, but I was downtown and wanted to try the "famous" lasagna at Broccolino, Esmeralda 776 in Retiro. It's excellent. Not the prettiest plate of food, but excellent. I'd put it as only second to the lasagna at Trattoria Olivetti, which remains my favorite casual Italian spot in Buenos Aires.